We use affiliate links. If you buy something through the links on this page, we may earn a commission at no cost to you. Learn more.
Most of the gadgets that I use have batteries that recharge via USB. But one of the most important devices that I use for every review that I write for The Gadgeteer, uses AA batteries – a speedlight flash for my Nikon digital camera. Of course I don't use regular old alkaline AAs to power that flash, I use rechargeable NiMH batteries. To charge them, I have an ancient Radio Shack charger that takes forever to charge. For that fact, I've been on the lookout for a smaller and faster charger. The folks at Engergizer have sent me their compact charger to review. Let's take it for a test drive…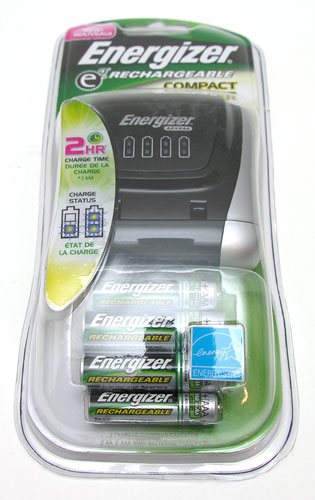 Hardware Specifications
Model: CHDC8
Chargers AA NiMH batteries up to 2450mAh, AAA NiMH batteries up to 900mAh
Input Voltage: 100-240V AC
Charging Current: 700mAh for 2 or 4 AA/AAA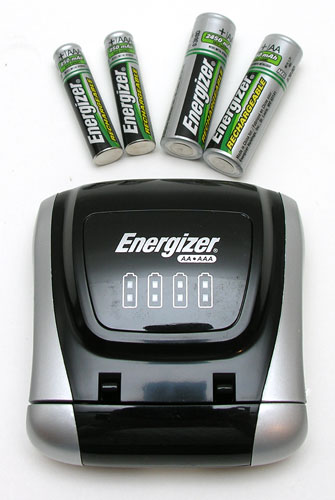 Package Contents
Charger
2 AAA NiMH 850mAh batteries
2 AA NiMH 2450mAh batteries

The compact charger is made of Black and Silver plastic and has a footprint of approximately 3.25 x 3.50 inches when closed.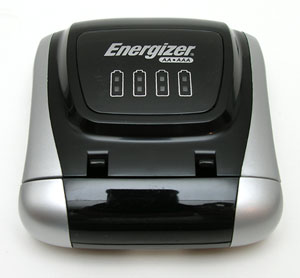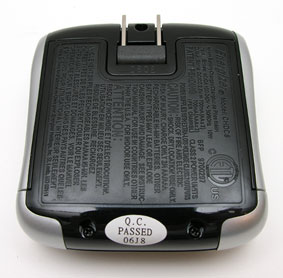 The top has four sets of two LEDs that will display the status of the charging batteries. On the bottom of the unit, is a flip out two prong power plug.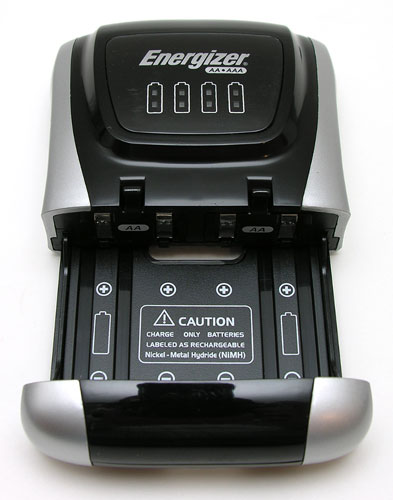 A slide out tray reveals four battery bays that can accommodate AAA or AA sized batteries.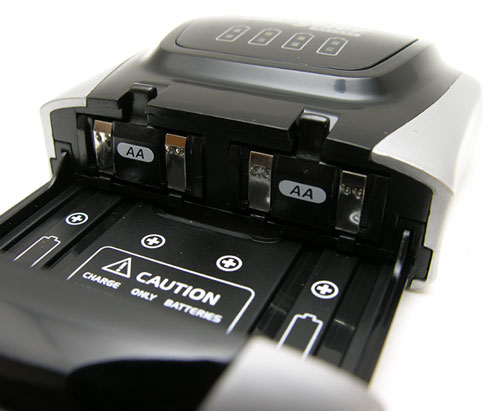 By default, the charger will hold AA sized batteries.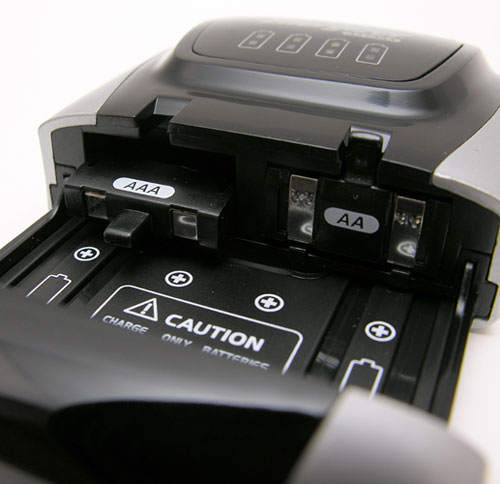 To load AAA sized, you just flip down the little AAA adapter.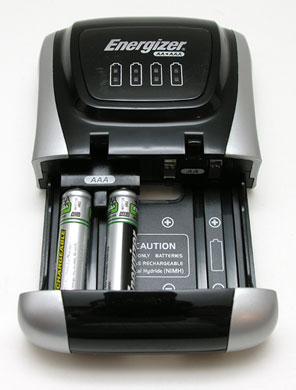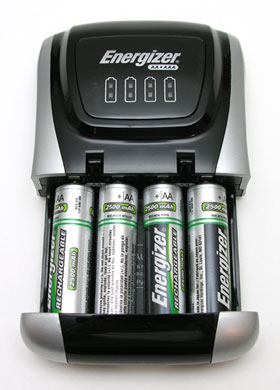 Here we see two AAA batteries loaded and then four AA batteries loaded. At any one time, you can charge two or 4 batteries.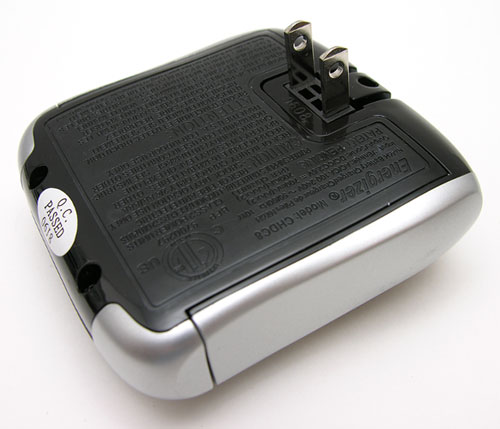 To use this charger, load your batteries, flip out the power plug…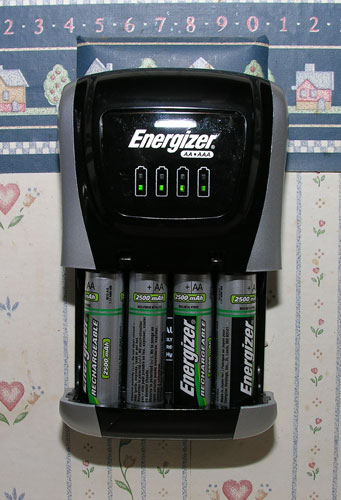 And plug the charger into an outlet. According to the instructions that ship with the charger, you do not want to plug the charger into an extension cord.
Once the charger is plugged into an outlet, the status LEDs on the front will begin blinking. There are two LED segments for each battery. As time goes by, the segments will light up, to let you know the progress of the charge. When both segments are lit and not blinking, charging is complete.
How long does it take to charge your batteries? Well, that part is a bit misleading. If you scroll back up and look at the picture of the packaging, you'll see that it says 2hr charge time. That's only true for 850-900mAh AAA batteries. If you pretty much only use 2450-2500mAh AA's like I do, it's going to take 4hrs. Yeah, I know that the specs say that this charger is only good for 2450mAh AA's, but it seemed to charge my 2500mAh just fine… That said, there are higher capacity batteries available from other companies that might not work well with this charger.
Am I going to ditch my old Radio Shack charger in favor of this one? No, probably not… Although I do like its smaller size, I like having my charger sitting on my desktop, and this one is better suited for plugging directly into a wall outlet. There's really nothing special about this battery charger… I do think that the Engergizer Compact Charger makes a good back up charger and also is good for travel. When closed, it will easily fit in your gear bag or luggage. It's nice that they also include 2 AA and 2 AAA batteries with the purchase.
Can be found online through various stores for less than $20.
What is your favorite battery charger?
Product Information
Price:
39.99
Manufacturer:
Engergizer
Pros:

Small
Good for travel
Includes 2 AA and 2 AAA batteries

Cons:

Max capacity for AA's is 2450mAh