We use affiliate links. If you buy something through the links on this page, we may earn a commission at no cost to you. Learn more.
Since my first experience with digital audio recording with a Sony M1 DAT more than ten years ago I have been an avid fan of new digital audio gadgets. I even got myself a (volunteer, non-paying) gig recording a weekly chamber music series locally, which is an opportunity to spend even bigger bucks on fancy microphones and preamps. But when last year a friend gave me a 1905 Edison Standard Phonograph cylinder player, I really was in gadget heaven. No bits, no bytes, no electrons, just a wind-up motor, and audio out of a groove onto a diaphragm into a horn. And it was damn LOUD. This of course eventually led me to upgrading to my forum avatar, a 1912 Edison Opera, top of the line cylinder player, and to hang out at various internet old time phonograph chat areas, where a few months ago I learned of a kit put out by a Japanese company, Gakken, which specializes in retro tech science kits. Reports from other Victrola forum members indicated that the kit worked, both for playing records and recording, and was not too hard to assemble, even though the instructions were all in Japanese (the eBay auction site has recently added a brief English translation of the parts dealing with recording, but not assembly). So I ordered one (from eBay seller minorinminorin, $82 plus $32 shipping to US, $37 to Europe, very fast delivery), and this weekend I put it together.
The kit comes tightly packed in a surprisingly small box.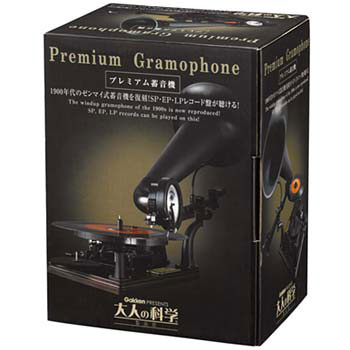 The parts are all sorted and sealed in clear plastic bags, and the instruction illustrations suffice to enable you to assemble it in about two hours.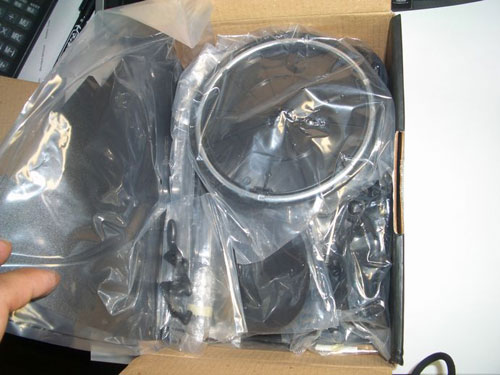 The finished phonograph is about 16" long and a foot high.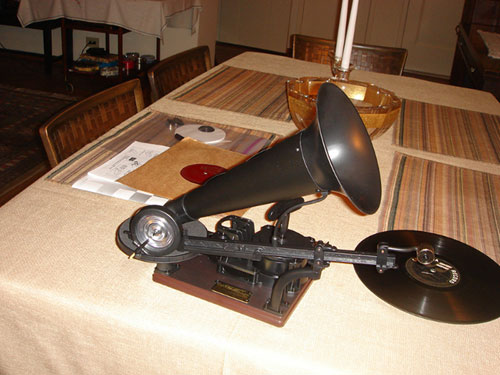 The only problems I had were interpreting the illustration of the odd (but effective) way they use scotch tape to seal the horn inside, and a brief panic at the end when I had not only a few extra screws left over (which I am pretty sure are there just to compensate for normal clumsy-finger losses), but also two medium size plastic rings. There was also an odd metal tool which I never got to use. But the last three pages of the manual illustrate the use of these items: you can take apart the soundbox (using the tool and the supplied small Phillips screwdriver) and insert one or the other of the plastic rings to give the link from the soundbox to the horn a different shape. This, and recording on different materials, constitute the science experiment part of the kit. But I was happy just to crank up the motor, cut a piece of bamboo into a needle (phonograph fans call this a "fibre" needle), and let loose with Caruso (adjusting the speed to get an approximation to his tenor pitch: you can use an included strobe disc to set the speed more exactly):
Using a "Tungs-tone" multiplay needle or a regular steel 78rpm phono needle produces a louder sound:
Neither of these needles works too well with LPs, though the Premium Gramophone has the three canonical speed settings (33/45/78). The micro-grooves are too narrow for bamboo and steel will damage them. I stuck to 78s.
My only disappointment with this kit is that the two most interesting parts come fully assembled. The spring motor is all there in the baseboard (though you get to attach the small spring and the arm that controls the governor), and the soundbox is assembled as well (though you get to experiment with it to some extent).
I see that there are now two sellers of the kit on eBay. I recommend Minoru most highly, for quick problem free delivery and help with questions, even though the new seller is undercutting him by a few dollars. There are also on eBay two cheaper (and inferior) Gakken audio kits, not to mention their Sterling engine and vacuum engine car. You could get hooked.
Product Information
Price:
82.0
Manufacturer:
Gakken
Pros:
Cons:

Instructions and explanations in Japanese only
Not really a full graduate course in old-time audio engineering