We use affiliate links. If you buy something through the links on this page, we may earn a commission at no cost to you. Learn more.
While the life of a Palm Software Reviewer at a prestigious site like The Gadgeteer may seem glamorous, in reality I have to wade through a lot of mediocre stuff to find something that rings my bells enough to write about it- whether it is because I love it or I hate it. Toyspring's 'Bike or Die' ($14.95) is a breath of fresh air in what has been a rather tedious season.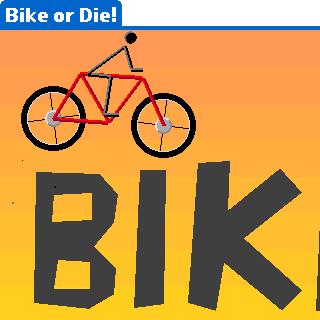 [Bike or Die- Part of the opening screen video]
Bike or Die is one of the rather new category of games based on physics simulators, like Line Rider or Crayon Physics. While a lot of the games in this group are not real fun to play, Bike or Die manages to combine several elements to make it a very playable game. I think I have spent more time trying to break to new levels on this game than I have on anything in a very long time!
The basic idea is almost too simple. You are riding a bike. Pressing UP pedals, DOWN brakes. LEFT leans left (backwards or forwards depending on which direction you are facing) and RIGHT leans right (as with left.) Then, you are presented with a landscape to conquer with your bike. The landscapes are increasingly difficult and like all good tutorials, you are challenged to learn a new skill each time to win.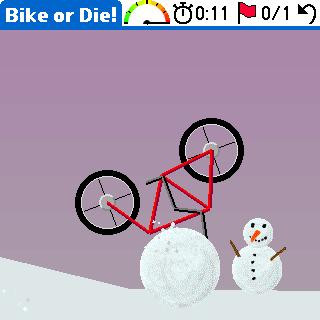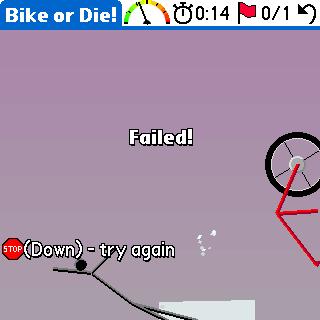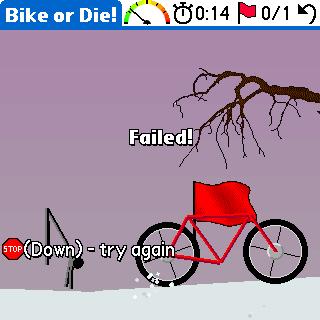 [Going, going… gone. I wipe out a lot in this game.
– The little icons on top are speed, elapsed time, and how many red flags you've collected.]
It is the 'other touches' that add some of the pizzazz to this game. The bike is elastic- you pedal and it compresses then rebounds. Small bumps create waves of motion that you can use in your favor or that can throw you out of control. Gravity behaves in a realistic manner (unless you create a world with different rules- more on that later.) The program measures mechanical stress on the bike and impact on the rider- exceed the
acceptable levels and you die and your bike breaks up. Even the blood droplets behave as they should!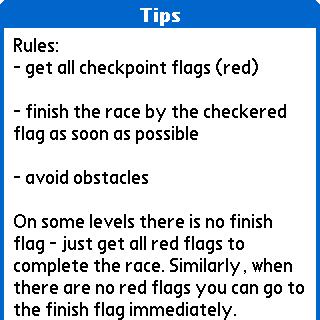 [The basic rules- simple, huh?.]
I'm on Level 4, still trying to learn to jump over a stupid little barrier, and I watch videos on their site of people doing some sort of rolling jumps effortlessly and without exploding into a spray small red dots. Wow. It is one of those things that impresses you, spurs you to greater efforts, and kinda bums you out at the same time.
I am using the free demo of the game, so am somewhat limited in what I can do. The full version includes what looks to be an impressive level editor that allows you to manipulate gravity itself. Even in the demo game, the control over gameplay and appearance is impressive and intuitive. Blood drops bother you? Turn them off.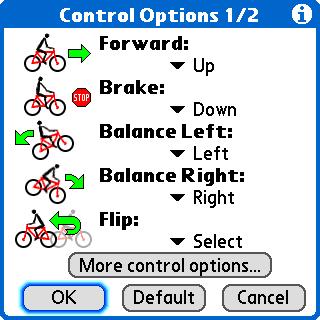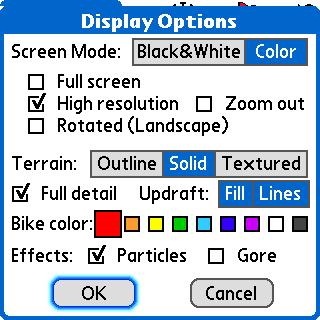 [Some of the options you can set,]
The look and sounds of the game are simple enough- a stick figure over a plainish background, to simple sound effects. The simplicity allows the game to run on most Palms and lets it run smoothly and safely. After a series of high-rez glitchy game trials, I really appreciate this aspect of the game.
Product Information
Price:
14.95
Manufacturer:
Toyspring
Pros:

'A minute to learn, a lifetime to master'
Decent tutorial levels
Stable, intuitive program
Addictive (which might be a con!)

Cons:

Not a lot of helps
How do you get over level 4?