We use affiliate links. If you buy something through the links on this page, we may earn a commission at no cost to you. Learn more.
Do you collect a lot of stuff? Is it hard to go shopping for even more stuff when you don't know what stuff you already have back at home? Avid collectors of books, CDs, DVDs, games, etc. now have a new tool to help them manage their stuff more effectively. It's the Groqit Personal Inventory Management System. Put this device in your pocket when you go shopping and it will tell you if the item you're about to buy is already in your collection at home. Let's learn more about it…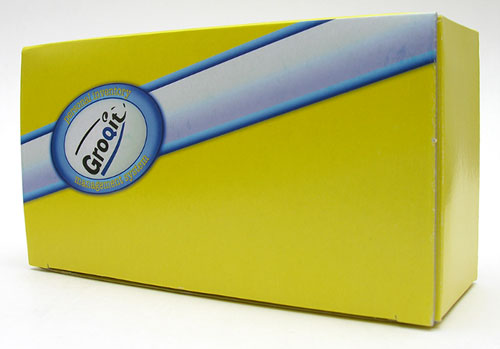 The Groqit (say it like grock'et, which rhymes with rocket) comes packaged in a cheery Yellow box.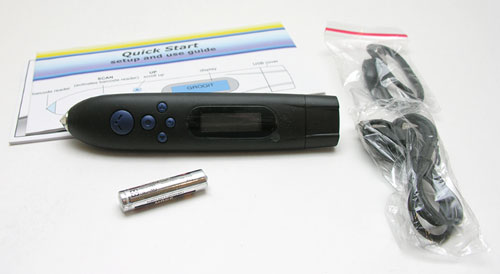 Package Contents
Groqit scanner
AAA battery
USB extension cable
Handstrap
Quick start guide
Manual
What is the Groqit?
It's a small pocketable device that you can use to scan and remember the barcodes on your books, DVDs, CDs, and other items. You can then take it with you when you go shopping. When you find an item that you're not sure if you already own, you just put the Groqit in check mode, scan the barcode on the item, and it will report back if it's in your inventory.

The Groqit is a six inch long barcode scanner, with five buttons and a 2 line backlit display.
Never miss one of our posts again. Sent MON, WED, and FRI with the latest gadget reviews and news!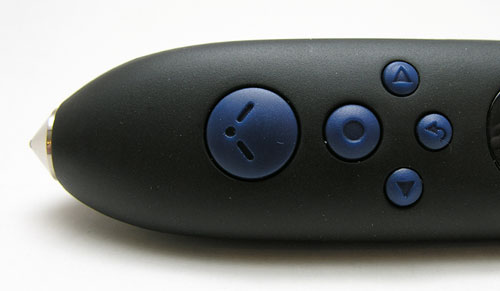 You can scroll up and down through the on screen menu items by using the up / down arrow buttons. Pressing the larger middle enter button selects an item, while pressing the curled arrow backs up one menu level. The largest button initiates the scanning feature.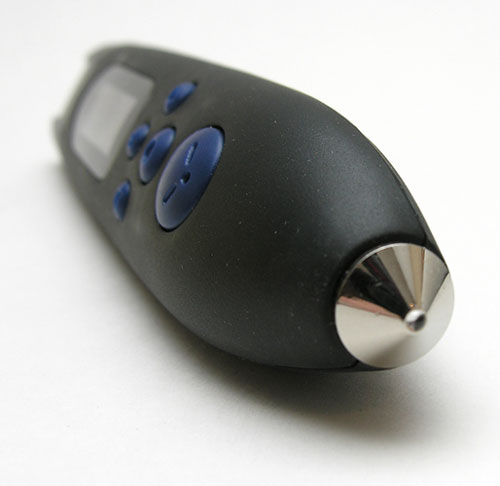 The scanning tip glows red when in scanning mode. I should mention that the Groqit does not scan like the handheld scanners that you see at retail stores and supermarkets. You don't just point the tip at a barcode and press a button to scan the code. Nope, the Groqit has to be swiped across the actual barcode. More about that in a minute.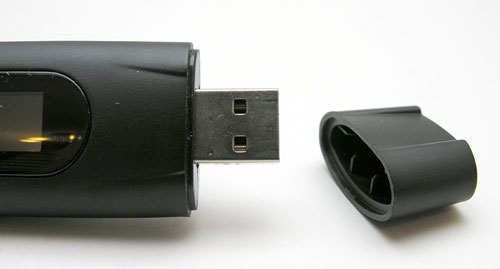 The end opposite the scanning tip pulls off to reveal a USB connector. You can either plug the Groqit directly into a free port on your computer, or you can use the included USB extension cable to connect it. Once connected, you use a small application on your PC or Mac to sync the scanned data to the web.
How do you use it?
Just install the included AAA battery and then hold one of the five buttons for two seconds to power on the device.

You'll then be presented with a list of pre-set categories that include Books, Example1, Example2, Games, Music, Video, Wishlist and Househol. These categories can be renamed, removed or added to by connecting the Groqit to your PC or Mac and the web. You can add up to 510 categories to the device. Naming the categories might be challenging due to the 8 character limit.


Say that you want to add a book to the books category. You scroll to that category and press the enter button. From there you have three options. You can either add a new barcode, check to see if it's already in your inventory by doing a check or deleting a barcode. Let's add a barcode…


When you select Add Barcode, you then have the option to scan the code, key it in manually or do multiple scans. Choosing the scan option will then wait for you to press the large scan button. At that point, you have about 2 seconds to swipe the scanner across the barcode on the book, CD, DVD, etc.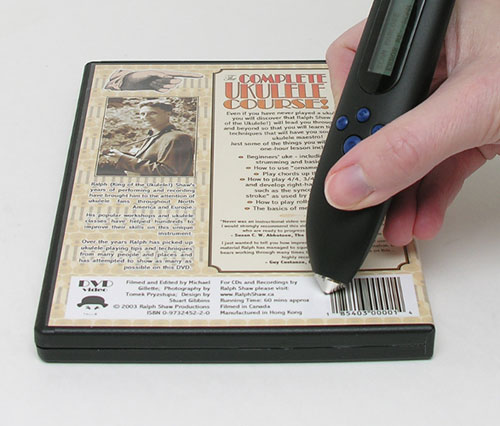 You have to make physical contact with the scanning tip as you swipe it across the barcode. You also have to do it FAST. I mean really fast… like striking a match. If that sounds easy, let me tell you, it isn't… It takes quite a bit of practice.

If the scan is successful, you'll hear one long beep. If the scan is unsuccessful, you'll see the message show in the image above and will also hear two beeps. You can then press the scan button and try again. It took me probably 10 tries before I was able to record my first scan. After at least 100 scanning tries, I've gotten better at it, but for me it is still hit and miss. I think maybe that I lack some necessary scanning gene, so I gave the Groqit to someone else to try and they fared a little better. Listening to an endless string of beep-beeps became quite frustrating to say the least. One nice feature is the ability to turn off the beeps…


When a scan is successful, you'll will see the code and can then press a button to search for the code. If it is already in your inventory for that category, it will tell you. Otherwise, you can add it. The Groqit has an internal flash drive memory of 128 MB which can hold about 3.5 million of barcodes.
Of course, the whole idea is to scan all of your items at home and then when you go shopping, you can use the scanner to check barcodes for things you're about to purchase.

By using the check barcode feature, you will find out if that item is already in your inventory.
Besides the finicky scanning action, there are a couple other caveats to this product. The major one is the fact that you can't scan CD barcodes through the plastic jewel cases. It just won't work because the barcode itself is too far away (because of the thickness of the plastic case) from the tip of the scanner. This a real bummer for people that would use the Groqit primarily for managing a CD collection.
Another problem is that you have to pay attention to the categories that you're adding barcodes to. If you screw up and put a bunch of your books in the music category, when you go to do a search at a store, it won't find an existing code if you're not searching in the correct category. I think there should be an All category that would allow you to search every category for a code. It's just too easy to accidently add new codes to the wrong categories.
I should mention that it is possible to manually add and check a barcode instead of using the scanning tip. You can use the up / down arrows to insert the numbers of the barcode. It's a bit tedious and time consuming, but it is doable if you have infinite patience.
Backing up and syncing the data
Once you've scanned your collection of a bazillion CDs, DVDs, Books, etc., you probably want a method of backing up that data right? Luckily, there's a small application for Windows and Macs that you can download to give you that ability. You'll also need this app to sync your data to the Groqit website.
The application (I only tested the Mac version), is quite basic. You can save multiple dated backups and can restore them if needed. You can also sync the data to the web. Unfortunately, the local application gives you absolutely no way to manipulate the data. To do that, you have to sign up for an account on the Groqit website.
Signing up will get you a 30 day trial of their paid basic services. The free services include the ability to backup your data, but not restore it to the device. You can already do both with the local application though. You don't have to sync your data with the website, but the advantage is that extra information will be added to your inventory list, turning the basically useless barcode number into something that a human can understand. Some of the extra info that is offered includes:
Books: Author | Title | ISBN | UPC | Publisher
Pop Music: Album title | Artist name | UPC | Composer
Classical Music: Album title | Performer names | Work titles | Composers | UPC
Movies: Titles | Genre | Release date | UPC
Games: Game title | Platform | Accessory title | UPC
This information will only be added if that item is in the Groqit database. I scanned several new DVDs that I owned and some were there and others were not. You can add the info yourself though… if you can figure out what info goes with what barcode.
The web services also allow you to create wish lists and buddy lists so that your friends (even if they don't own a Groqit) can check to see if you own an item before buying it for you. Also, your friends can create a free account on the site and create their own list of items, so that you can use the Groqit when you go shopping for them. Even people that don't own a Groqit can reference people's wishlists to help them figure out what items they can buy without duplication.
The paid basic membership ($4.95 after the 30 day trial) gives you the ability to both backup and restore data to the device and export your data in the form of CSV files.
Conclusion
The Groqit Personal Inventory Management System is an interesting tool for someone that enjoys collecting things. I can definitely see its potential benefits, but for me it really didn't work all that well. The issue that it can't scan through the plastic jewel cases that CDs are packaged in leaves out one big group of collectors. Yes, you can remove the barcode portion of the CD packaging from the case, and scan it that way. But that won't help you if you're in a store and want to do a lookup to see if you already own that particular CD. And yes, you can manually enter the barcode numbers, but I really don't see anyone doing that more than a couple of times before just deciding that it's more trouble than it's worth. At $95.00, this tool needs a bit more work both hardware and software-wise, before I would recommend it for primetime.
Product Information
Price:
95.0
Manufacturer:
Groqit
Retailer:
Groqit
Pros:

A computer isn't required to record and search for items
Can back up and restore info by USB
Syncing with the web app adds extra info like title, author to records

Cons:

Can be difficult to scan an item
Can't scan through CD jewel cases
Barcode lookups have to be done in the category that the item was saved in to find them