We use affiliate links. If you buy something through the links on this page, we may earn a commission at no cost to you. Learn more.
Since I recently started playing a ukulele, I've been interested in various accessories that go along with playing a stringed instrument. Admittedly, there aren't many. But the main accessory that I use every time I sit down to play (or try to play) a song, is a tuner. A month ago, I took a look a the Intelli IMT-500 tuner. I like it very much, but like any good gadgeteer, I'll be happy to dump it for something better. Today I'm going to tell you about the eNote Clip On Digital Chromatic Tuner from ELECA. Read on to see if it beats the Intelli.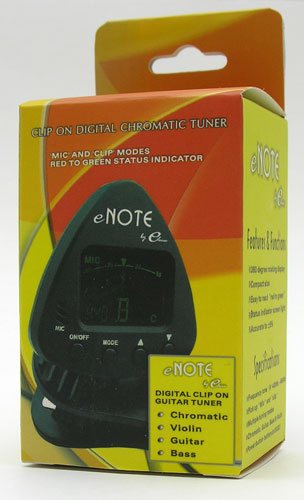 Like the Intelli IMT-500, the eNote is a chromatic tuner. Chromatic tuners aren't specific to the type of instrument. You can use them to tune guitars, violins, banjos, dulcimers and other stringed instruments. You just need to know what note corresponds to each string. Then no matter which key the instrument uses, the tuner will help you find the note for the string.
Hardware Specifications
Tuning range: "A" 430-450 Hz
Tolerance: Power source: 3V CR2032 coin cell battery
Dimensions: 2.08 x 3.15 x 1.69 inches
Weight: 2 oz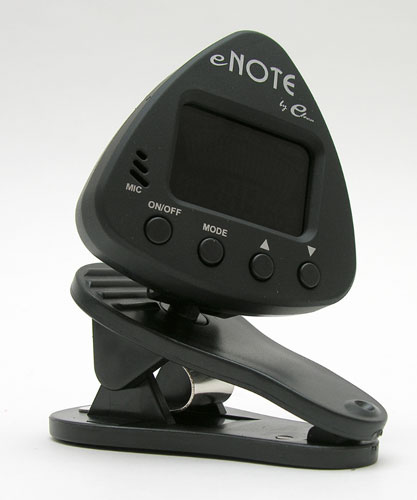 The eNote is powered by a coin cell (CR2032) battery. There was actually a replacement battery included with mine. Not sure that's the norm though.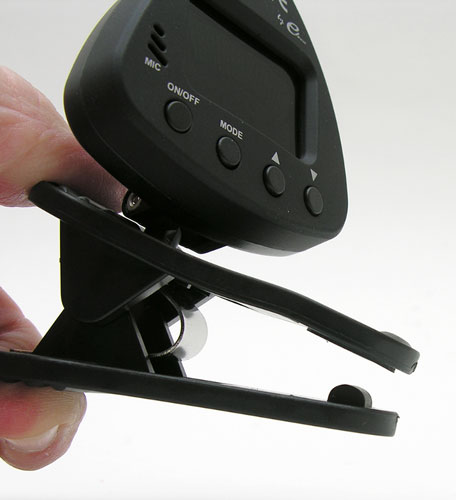 This is a clip on tuner and the clip is quite strong. The jaws are padded with rubber though, so it should not harm the finish of your instrument.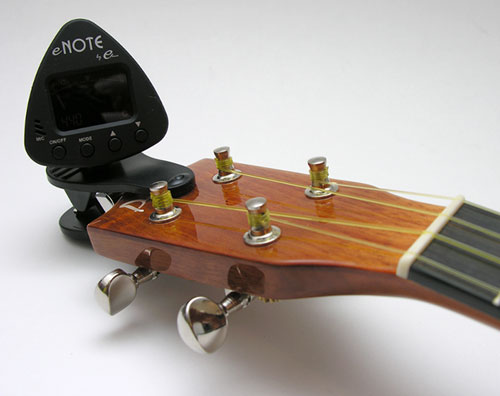 The tuner part of the eNote is on a hinge that can swivel up and down as well as rotate 360 degrees. This makes it quite easy to position for optimal viewing while holding your instrument. In the picture above, I have it clipped to the headstock of my Ko'olau Pono ukulele.
Your stringed instrument can be tuned either by vibration (like the IMT-500), or by using the built-in microphone. When you first turn on the tuner, it is in vibration mode by default. Pressing the power button a second time will toggle to Mic tuning mode. There is also a mode button that allows you to switch between Chromatic mode, Guitar, Bass and Violin tuning modes.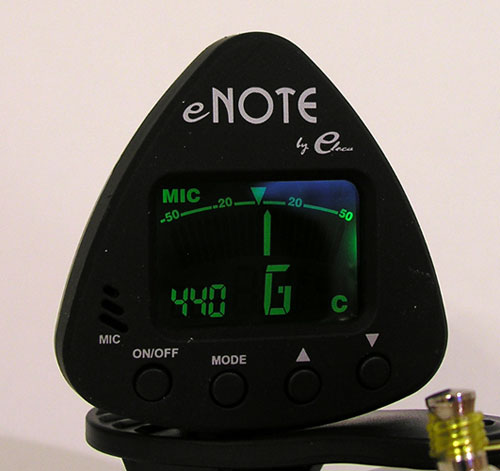 The unique feature of the eNote is that it LCD display will glow Green when a string is in tune…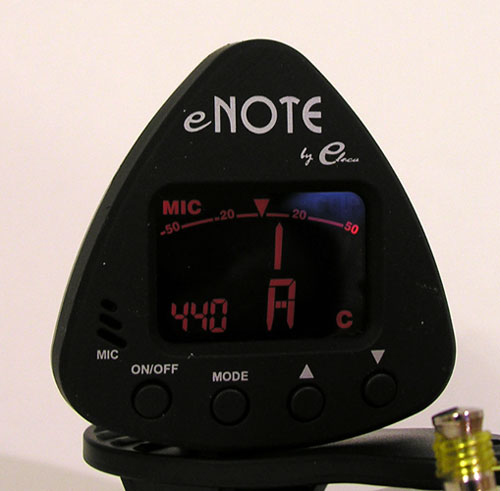 …or Red when the string is not in tune. That sounds very unique, but in reality, I found this feature to be more annoying than helpful as the display will flash back and forth between the colors while you're trying to tune a string. It will also glow Green when the string isn't exactly in tune… See the image above, where I'm trying to tune the G string. The display isn't as bright as I'm used to with the IMT-500 either…
I found the vibration and Mic tuning methods to work exactly the same. I don't play in a band or anyplace other than my house, so I didn't have any problems with loud notices effecting tuning. That said, I haven't been that impressed with this tuner. While it will allow you to tune your stringed instrument, it seems to operate somewhat sporadically at times. Often, multiple string plucks would result in entirely different reports of the note being played. Some variation is to be expected, but I'm talking wild variations that would make no sense. That issue along with the red and green flashing LCD hasn't made me a huge fan of this tuner. I'll keep it around as a spare, but ithe Intelli IMT-500 remains my favorite tuner.
Product Information
Price:
25.0
Manufacturer:
ELECA
Pros:

Tunes by vibration or built-in microphone
Strong clip

Cons:

Red and Green flashing LCD somewhat annoying at times
Reports different notes with multiple string plucks