We use affiliate links. If you buy something through the links on this page, we may earn a commission at no cost to you. Learn more.
Toshiba isn't normally a brand name that comes to mind when a conversation about portable media players takes place. Today I'm going to take you on a tour of two of their gigabeat players, the T and U-Series portable media players.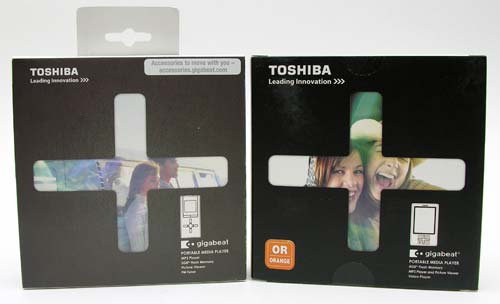 These gigabeat players are inexpensive digital audio players that can also display images and videos (T-Series).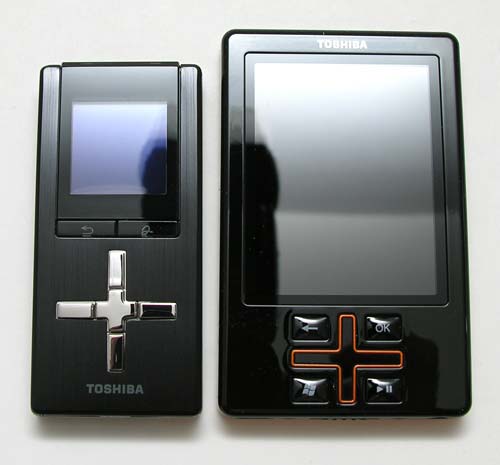 Left to right: U-series gigabeat, T-series gigabeat
Let's take a closer look at what each player has to offer…
Toshiba Gigabeat T-Series Portable Media Player Hardware Specifications
Audio Playback Format: MP3, WMA, WMA Lossless, WAV3
Bit Rate: MP3 stereo 32-320kbps
Video Playback Format/Bit Rate: WMV: up to 800kbps, 320 X 240, 30fps
Photo Format: JPEG, 320 x 240
Battery Type: Built in Rechargeable Li-Ion Battery
Battery Life: Up to 16 hours (audio), 5 hours (video)
Storage Media: (Internal) 4GB NAND Flash Memory
Maximum Songs: Up to 1,000 songs
Display: 2.4" Color LCD (QVGA), up to 262,144 colors
Audio Output Level: 16mW + 16mW
Audio Frequency: 20-20,000Hz
Audio S/N Ratio: 95dB
USB: USB miniAB (USB 2.0)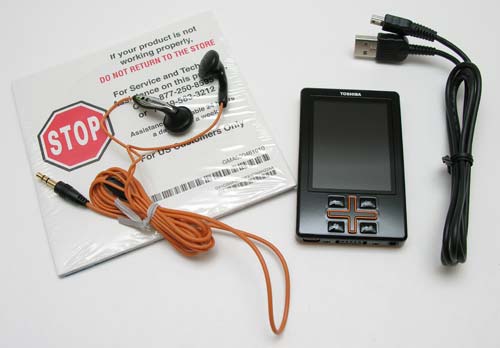 Never miss one of our posts again. Sent MON, WED, and FRI with the latest gadget reviews and news!
Package Contents
Toshiba gigabeat T-series portable media player
Earbuds
USB cable
Software and documentation CD
Quick start guide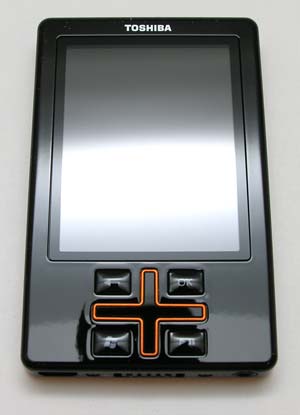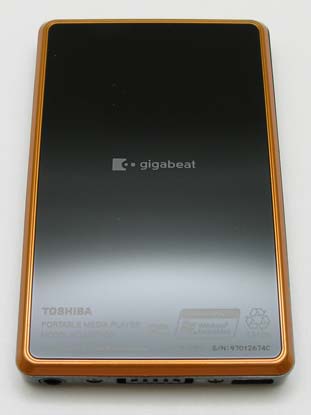 The T-series gigabeat is the larger player in both physical size (2.125 x 3.375 x 0.375 inches) and storage capacity (4GB). Available in Pink, Blue and Orange, I was sent the Orange model.
The casing is made of very shiny Black plastic (I think… it might be aluminum, but I don't think so…) that is a magnet for finger smudges and smears.
The user interface consists of the PlusPad, which is a cross shaped button. When pressed Left or Right, the PlusPad controls track playback and when pressed Up or Down, it controls volume levels and is also used to scroll up and down through lists.
There are also four other control buttons on the face of the player. A Back button, OK button, Play/Pause button and a Start button. Since this player is only compatible with Microsoft Windows Media Player, it's not surprising that it has a Start button with the Windows logo on it. Pressing this button will always take you back to the top menu level.

On the Left edge of the player, there is a recessed reset button.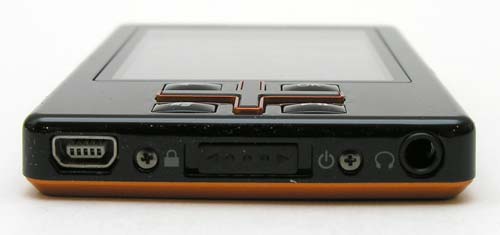 Along the bottom edge, you will find the mini USB port, Power/Hold switch and earphone jack.
To start using this player, you must first charge it via the included USB cable. You also need to load some music, photos and videos. This is accomplished with Windows Media Player version 10 or 11. Sorry, the gigabeat has no support for the Mac.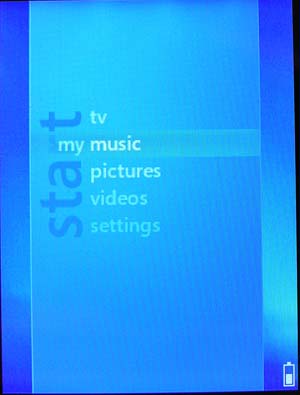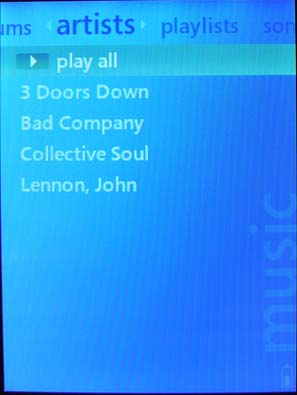 You can turn the player on either by sliding the power switch, or by plugging
the earbud cable into the jack. You'll be greeted with the main menu as seen
above. The user interface is easy to read and navigate. As you can see, you have
four choices: My TV, My Music, My Pictures, My Video and Settings.
Like the majority of audio players, when you choose the Music option, you'll be
able to view your music by several criteria. These include Artists, Albums,
Genres, Songs and Playlists. From there, you can then choose to play all or to
filter your selection even farther.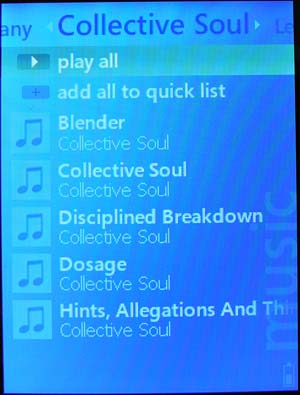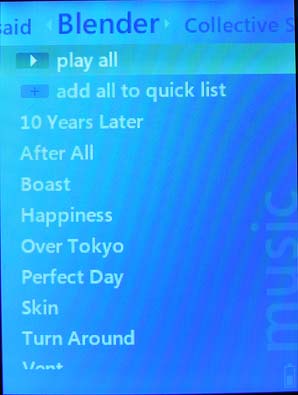 Album lists will show album art if you have it (as you can see, I didn't install
the album art, so the default icon is displayed instead). Once you choose an
album, all the songs for that album will be displayed in list form. From there
you can play all or choose an individual song. You can also easily display the
song lists for additional albums from the same artist. This is done by scrolling
Left or Right with the PlusPad.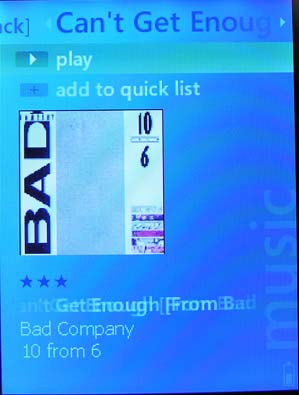 During song playback, album art will be displayed if you have installed it.
Audio quality is very good. No complaints there. In the settings, there is a harmonics function is supposed to play music with better quality. According to the manual:
When this function is set, you can listen to music data loaded from
CDs at a level of sound quality close to the original CDs.

Specifically, this function compensates the treble range of 16 kHz
or above that was cut off when the data in a music CD was
compressed to the WMA or MP3 format.
This treble-range compensation technology (H2C Technology) was
developed jointly by Kyushu Institute of Technology's HIT
Development Center and TOSHIBA.
Playing with H2C Technology consumes the battery faster, so
the continuous playback time will become shorter compared to
when the Harmonics function is turned off.
The benefits of H2C Technology cannot be recognized unless
the sampling frequency of music data is 44.1 kHz or above.
I tested this feature with several songs that I verified had been ripped at 44.1 kHz and seriously could not hear any difference with it activated or not activated. Since having it on supposedly uses more battery life, I ended up turning it off.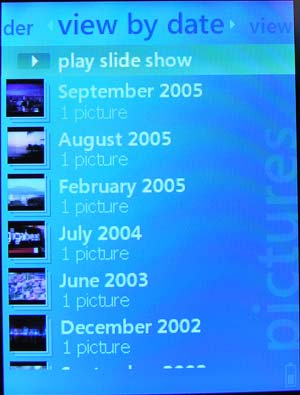 In addition to music, you can also view images on the color display. Like music files, you have to sync your photos to the gigabeat using Windows Media Player. Once you have some images installed, you can view them by folder, or date.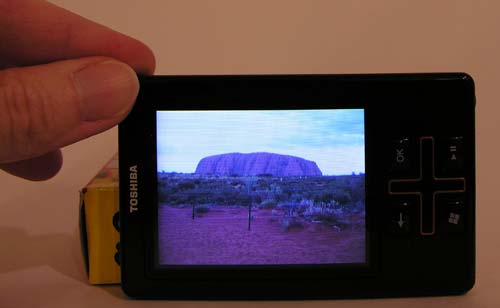 You can set the picture orientation to be landscape or portrait and slide shows can have tunes playing in the background. Image quality is good. I do wish the display could be a little brighter though. The picture above was at full brightness and no flash.
You can connect the gigabeat directly to a USB mass storage device, PTP digital camera, etc., and transfer the photo data saved in the connected device, digital camera, etc., to the gigabeat. This might come in handy as when you're shooting pics and run out of space on a flash card. Just dump them into the 4GB on this player and you're ready shoot more pictures.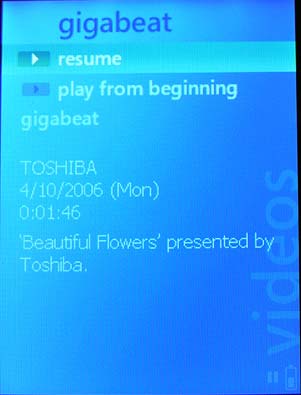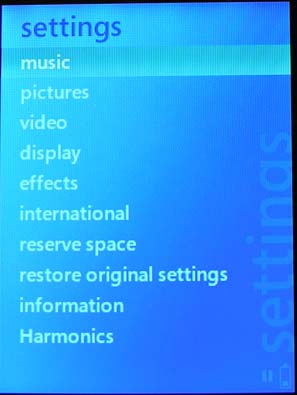 The gigabeat can also play videos. Like music and photos, videos are transferred to the player using Windows Media Player. As such, the only format supported is WMV. If you happen to have a Windows Media Center Edition 2005 or later, you can also transfer TV shows to your gigabeat. I wasn't able to test this feature though…
All in all, this is a nice, slim little portable media player that as a nice feature set, good audio quality and won't break the bank.
Price: $114.99
Toshiba Gigabeat U-Series Portable Media Player
Hardware Specifications
Audio Playback Format: MP3, WMA, WAV
Frequency Response: 22.05/44.1/48kHz
Bit Rate: MP3 MONO: 32-192kbps, MP3 STEREO: 32-320kbps, WMA MONO: 32kbps, WMA STEREO: 32-192kbps, WAV MONO: 16bit,
WAV STEREO: 16bit
Photo Format: JPEG
Battery Type: Built in Rechargeable Li-Ion Battery
Full-charge Time: Approx. 2 to 2.4 hours (charging via USB or AC Adapter)
Battery Life: Up to 20 hours
Storage Media: (Internal) 2GB NAND Flash Memory

Maximum Songs: (Audio) (128kbps WMA) 480 songs

Display: Color Panel 1.1" (measured diagonally) OLED
FM Tuner: Yes
FM Frequency Band: 76-108MHz, 10 station presets
Equalizer: (6 Modes with Flat)
USB: USB miniB × 1 (USB 2.0 device)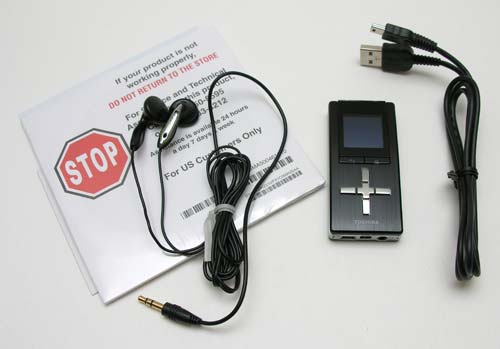 Package Contents
Toshiba gigabeat u-series portable media player
Earbuds
USB cable
Software and documentation CD
Quick start guide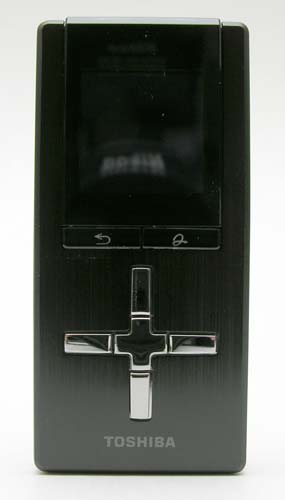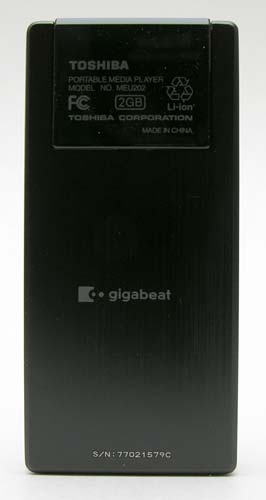 The U-Series gigabeat is a much more basic player than the T-Series. It is available in either Silver or Black and is approximately 3.00 x 1.375 x 0.375 inches. The case is made of brushed aluminum as far as I can tell. Unlike the T-Series, it doesn't show smudges and finger prints.
There are seven buttons on the face of the player. There's a cross shaped button configuration that is made up of five buttons. A select / play / pause button in the center with up / down, left / right buttons surrounding it. Directly below the display are a back and special menu button.

The U-Series player has a reset switch located on the Right side.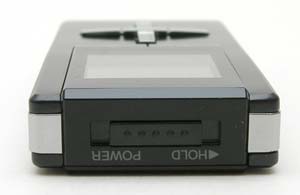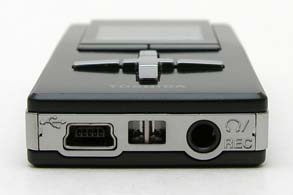 On the top edge, there's a Power / Hold switch and on the bottom edge there is a mini USB connector, lanyard connector and earphone / microphone jack.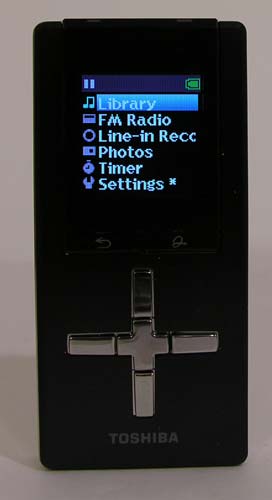 The color display is very small (1.1 in diagonal), but it's OLED, so it's bright and easy to read.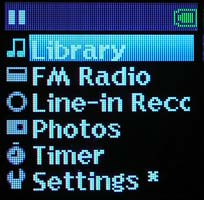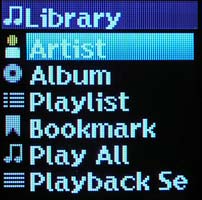 Just like with its larger brother the T-Series, this player is only compatible with Windows Media Player 10 or 11. Syncing music to it is a simple matter of dragging and dropping.
As you can see, the user interface is very simple. You can listen to music, listen to the built in FM radio, line-in record, and view photos.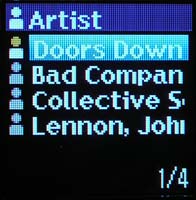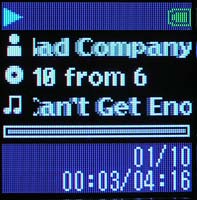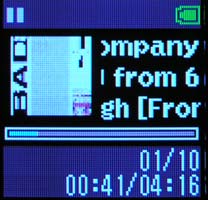 The information for playing music is pretty cramped on the small display, but it gets the job done. You can even show album art if you wish! Very tiny album art though ;o)
Audio quality is surprisingly good for such a small player. It has good treble and bass.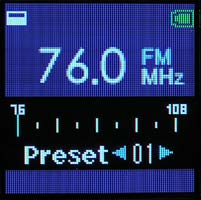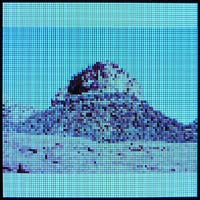 Besides having the ability to play audio files, you can also listen to FM radio and view photos on this player. The FM radio uses the attached earbuds as an antenna. Reception is decent and you can set 10 presets. Photo viewing is also possible with this player. As you can see, the image quality on such a small display is pretty bad though. For example, the picture in the snapshot above is of a mountain in Sedona, AZ.
The U-Series gigabeat is a handy little player that is easy to use and fits perfectly in your pocket.
Price: $54.99
Either gigabeat player would make a nice gift for any Microsoft Windows person that needs a simple portable player.