We use affiliate links. If you buy something through the links on this page, we may earn a commission at no cost to you. Learn more.
Many of the new Palm software titles over the last couple of years have been targeted for the medical field. You would almost think that every doctor, nurse, technician, and other health-care provider is issued a free Palm upon graduation (which might be a way to boost the sagging visibility of my favorite electronic device!) OK, I was a certified EMT in my state back some 20 years ago and actively teach various first-aid and CPR courses. Why not take some of these texts for a test drive?
I decided to trial offerings from two companies- Skyscape and Pocket Mobility, focusing on materials for Emergency Medical Technicians (EMTs) so I could compare apples to apples in a field I know at least something about. I downloaded the full versions courtesy of generous offer from Handango. After using them for a while, I then decided that comparing them head to head was not going to work so well because of the very different approaches the two programs take. So, let's just focus on Skyscape for now.
Skyscape offers a quite large variety of medical texts in many formats and is now offering some for the iPhone. They cover specialties from allergy/immunology to veterinary medicine. They offer quick guides, in-depth books, news updates, calculators an absolutely incredible array of products- including several useful free tools and titles.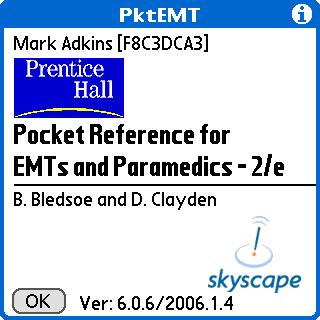 [Opening Screen for Pocket EMT from Skyscape]
The title I selected is ìPocket Reference for EMTs and Paramedics by Clayden and Bledsoe. (On their website, this seems to be called Pocket Responder for ACLS (Advanced Cardiac Life Support), which may be a newer version. See below.) It sells for $29.95 and includes a desktop version. For an additional $25, you can purchase it preloaded on a memory card. These two features seem common for Skyscape products obtained from their site. Considering the cost of most medical texts, I found the costs at the site to be pretty reasonable.
Downloading and installing the program was annoying. Perhaps because I got it from a third party, I had to sync and re-sync several times before everything seemed to work correctly. There was a mildly confusing series of registration screens and pop-ups that ended up with me having loaded several new programs on my computer. It was not difficult to do, but it felt very awkward and was time-consuming.
After installation, I had a new start-up program on my computer- the Skyscape control panel, that handles uploads, new information, and a few other programs that got loaded as well, such as
– Medstream 360, described as a collection of dynamic medical information channels that keep you up-to-date on a broad range of journal articles, medical news and research studies.
– Medline 360– Skyscape's free MEDLINE 360 search service, offers you the ability to easily search the extensive and up-to-date PubMed/MEDLINE 360 database from the National Library of Medicine and store that valuable content right on your PDA.
– MedAlert helps ensure you stay up-to-date by automatically delivering the latest medical information and breaking news by specialty directly to your cell phone or mobile device.
(Quotes used above are directly from Skyscape website.)
This will either drive you crazy because of all the elements involved, or really impress you with Skyscape's dedication to providing service for medical professionals. Which way you go may depend in part on how tight your Palm's and PC's resources are. Regardless of how you feel about that part, it does not take long looking at Skyscape's website to see that they do a nice job. Good graphics and design, well thought-out layouts and offerings make me feel that this is a quality company with solid products.
The actual Palm program whose icon reads PktEMT– is a good offering. It serves as a quick reference for people in the field, replacing the need to carry several reference cards or guides. The e-book includes such useful information as drug references- both those commonly used in the field, and those used by patients, advanced cardiac care charts and tables, information on dealing with a range of pediatric emergencies, common abbreviations, and more all organized in a quick and easy to use hierarchical menu. Many icons on each page allow you to shift levels, link information between other Skyscape offerings, etc.
A key element of any 'quick reference' guide is speed. Pocket EMT does well with this. It opens quickly (and seems stable), and with a little practice or study, you can quickly get to any screen you need.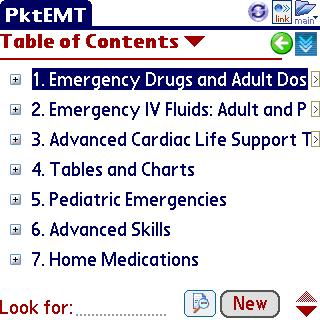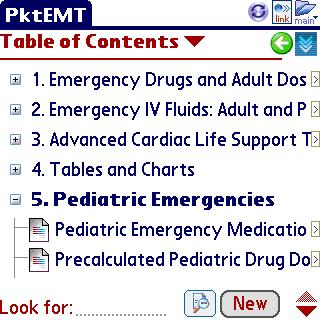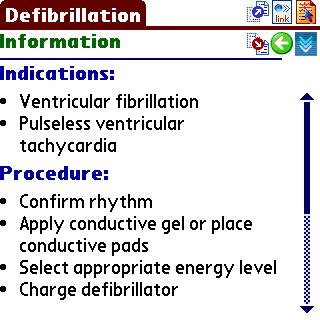 [Pocket EMT Menus. The small '>' icon on the end of some phrases opens a screen showing the full entry name]
I am nowhere near well-enough qualified to gauge the accuracy of most of the materials on this e-book, but I do know the current guidelines for CPR- and the information this ebook provides is outdated as of June 2006. Updating the software did not correct this issue, and considering that accurate CPR is a keystone EMT/Paramedic skill, it seems a rather glaring problem. (It is possible that the title listed on the website, Pocket Reference for ACLSî is an updated version of my Pocket Reference for EMTs and Paramedics. They are the same authors, but this is not addressed anywhere I can find, either. It is not also mentioned as such on Handango, which carries many Skyscape products, but not the ACLS version.) I noticed a couple of typos as well, but could not relocate them when I was looking for them as examples. Figures! It is probably karma making up for my typos.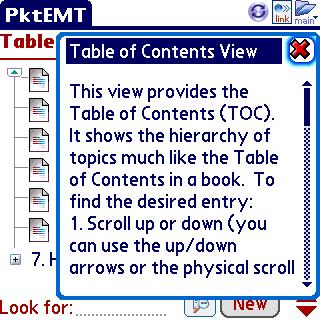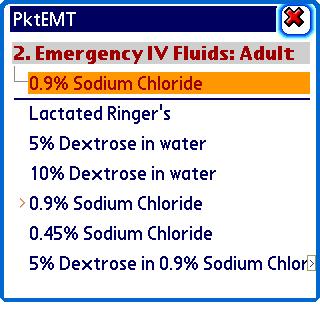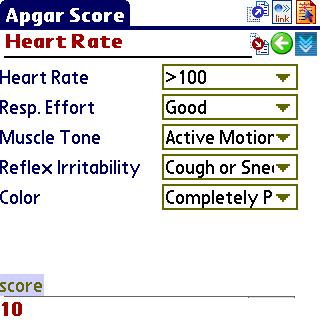 [Some of the charts and info in Pocket EMT. APGAR Scores are a way to help determine a newborn's health.]
Assuming the CPR info is updated soon, or was updated in a newer version, I would have to say that Skyscape seems to offer a useful line of materials for a wide variety of medical pros. Oh, and they have a cool line of free stuff- like the Archimedes Medical Calculator.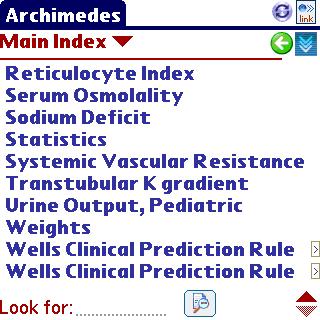 [Archimedes Calculator]
Product Information
Price:
29.95
Manufacturer:
Skyscape
Retailer:
Handango
Pros:

Good design and layouts
Good support and add-ons
Easy to use
Tons of good information included
Incredibly handy

Cons:

A couple of typos and some outdated info in this version
Lots of small files scattered across the PDA
Wants to install several other programs