We use affiliate links. If you buy something through the links on this page, we may earn a commission at no cost to you. Learn more.
We've all read stories about some lucky guy finding a classic car in mint condition stored in someone's barn for decades. I have a similar story to share. Only I didn't find a car and what I found wasn't in a barn. Ok, it really isn't that similar after all… But I did come across a nifty little nugget that some of you might find interesting.
Last week I was helping my neighbor set up his wireless surveillance system with his new HughesNet satellite dish ISP. He'd already tried for several days to get things up and running only to run into a snag. I gladly agreed to help out when he asked me for assistance (I owe him big time as he always plows the road and driveway for us in the winter). We were having a heck of time getting his wireless network to cooperate. I could connect just fine with my iPhone, but his Windows laptops refused to connect. Of course I had to jab him a little and tell him that if he was using Macs, he wouldn't be having these issues ;o) From that comment we started talking about Apple computers and he found out how much I liked them. He got a twinkle in his eye and told me that he had a surprise for me out in his garage…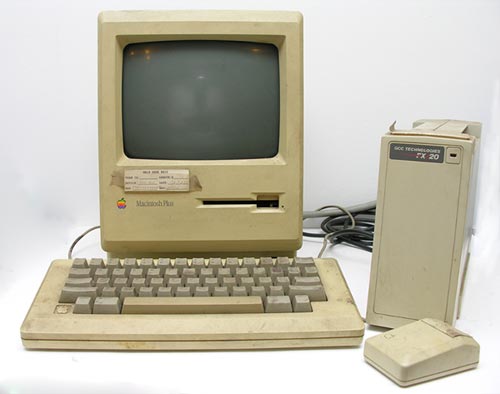 There sitting on his work bench was a Macintosh Plus! He even fired it up and it booted just fine.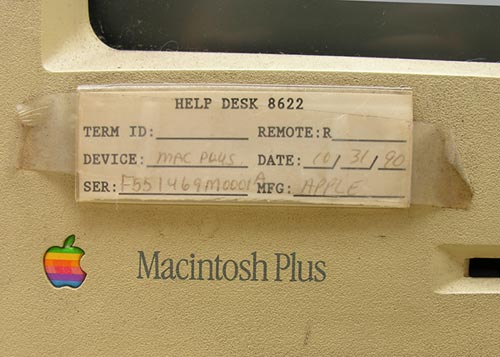 He had worked for Cummins Inc. (same company I work for now) and they had supplied this computer for him in order to have access at home. I've worked for Cummins for 20yrs this October and had no idea that they ever used Macs.
This computer has been sitting on his garage workbench for 17 years! It's really amazing that it still boots up.
Look, it's a happy little mac face…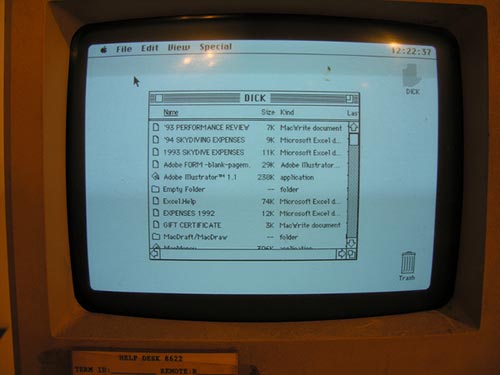 And there it is, booted and ready to go with a whopping 1024k of total memory!
Dick told me that I could have the system. He had actually considered throwing it away the year before. ACK! It is pretty grimy, but I'm going to clean it up and have a little fun poking around in this old version of Mac OS (6.0.2).
Do you have a story about some old piece of tech that you accidently found? If so, please share it with us!