We use affiliate links. If you buy something through the links on this page, we may earn a commission at no cost to you. Learn more.
Are you one of those people that find earbuds uncomfortable to wear for an extended period of time? I know I have that problem myself and I find this especially true when I try to wear the noise canceling in-ear style earbuds. As a result, I've been looking at various full size over-ear style headphones as an alternative solution. One of the first headphones I've had the opportunity to try are the Clear Harmony Active Noise Canceling Headphones from AblePlanet.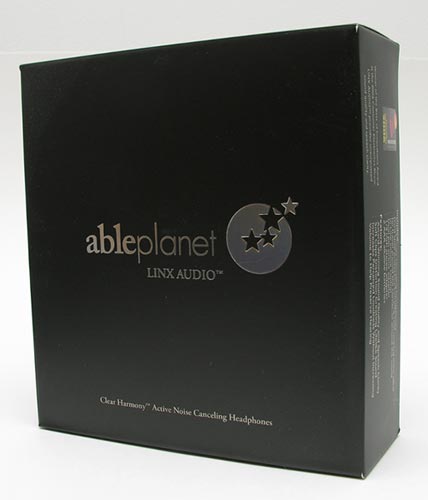 Technical Specifications
Frequency response: 20-20,000Hz
Sensitivity at 1KHz: 115dB(off); 121dB(on)
Cord length: 5′
Output power: 30mW
These headphones use new patent pending technology called LINX AUDIO. This technology "alters the audio signal creating harmonics that are not masked by low frequency sounds, filtering undesirable frequencies or noise, and soft clipping distortion". This is supposed to enhance speech clarity and increase perceived loudness without having to increase the volume level.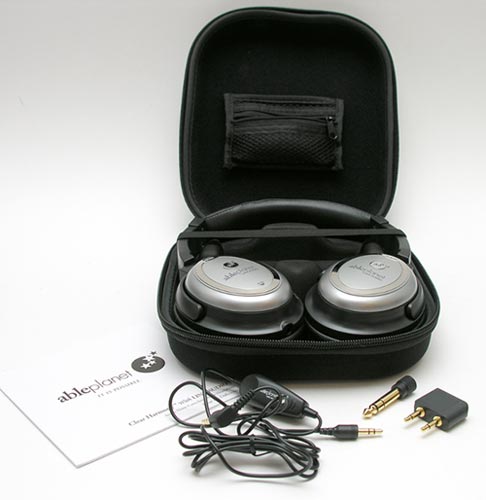 Package Contents
Clear Harmony headphones
Zippered case
2 AAA batteries
3.5mm cable with in-line volume control
1/4″ adapter
dual-pin airline adapter
Instruction manual
The headphones come in a hard-shell zippered case that is great for throwing in your luggage. There's even a slot for an iPod.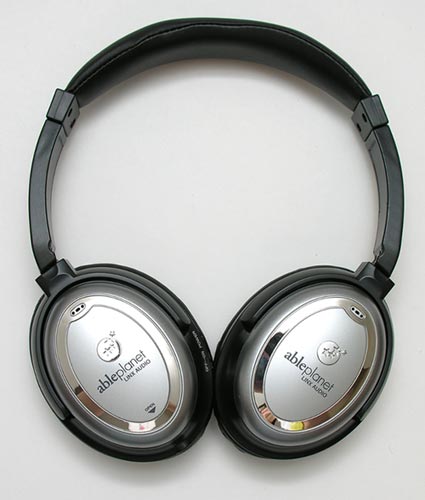 These full sized headphones are mainly comprised of plastic, with soft padded leather-like (I don't think it's really leather) ear covers and a padded headband.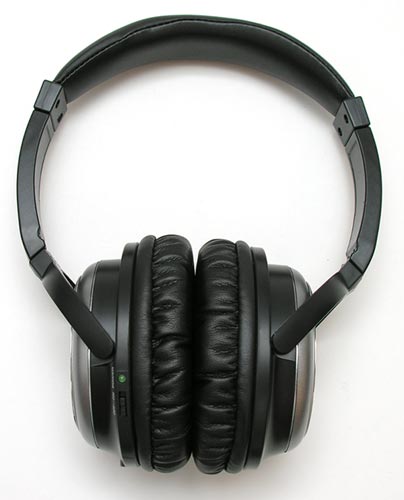 The headband is adjustable to make the fit as comfortable as possible. These headphones fit my noggin just fine. That said, I've read elsewhere that some people complain about the fit. So, your mileage may vary.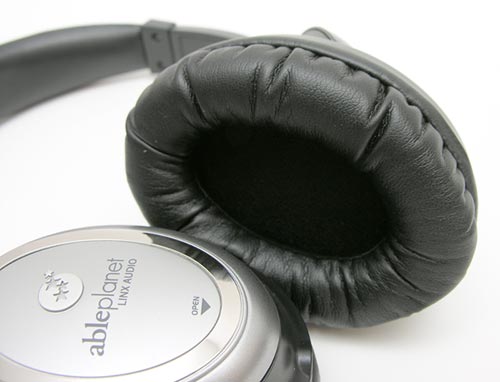 I found the soft ear covers to be very comfortable. They fit against your face instead of pressing on your ears. The only problem some people might have is that they can sometimes make your face sweat.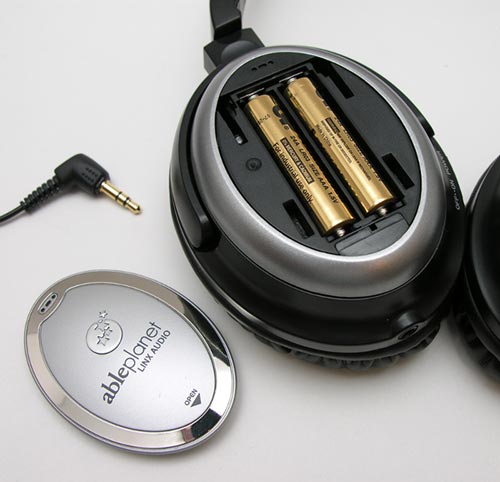 To use the ANC (active noise canceling) feature, you have to install the included 2 AAA alkaline batteries in the Left ear piece. A set should last up to 35hrs with ANC turned on.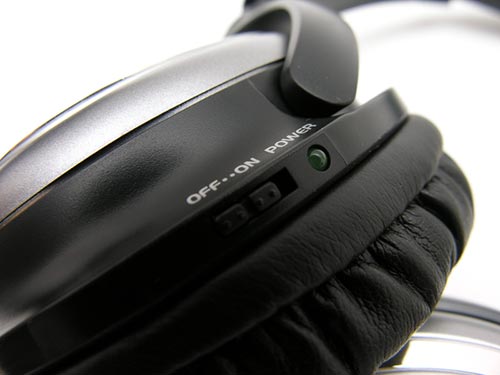 A power slider switch is located on the side of the earphone. Next to it is a status LED that glows Green when powered on. It will turn Red to alert you that the battery level is low.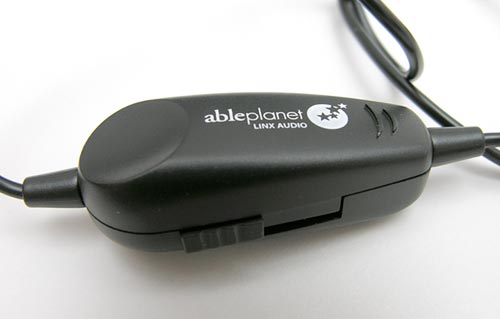 Using the provided 5′ cable, you can plug one end into the headphones and the other end into your favorite audio device such as an iPod, CD player or other MP3 player. This cable has an in-line volume control that makes it really easy to adjust sound levels while you are listening to music.
When the ANC feature is turned on, there is a small boost in volume and you can hear a slight hissing noise in the background when music is not playing. You can use the headphones just like that, without connecting them to an audio device. It helps to cancel background noises by providing 18 decibels of active noise cancellation so that you can do other things like concentrate on reading a book for example.
These headphones really show their stuff when you connect them to an audio source. Once you do that, the background hiss fades away behind the music. I was blown away by the bass response. It made me feel like I had my head inside a sub woofer ;o) While I might give the bass a score of 9 out of 10, I'd give the treble response a score of maybe 7.5 out of 10. It's very good, but not quite as crisp as I'd like. That said, listening to music with these headphones is very enjoyable. They make you feel like you're in your own little world. I don't use them at work because of that fact, but they are great for travel (on a plane) and for listening to your tunes at home when you don't want to disturb others, or when they are disturbing you. I also like the fact that you don't have to crank the volume up to hear all the subtle nuances in your music. The LINX AUDIO feature allows you to enjoy music at a lower volume level.
The only 'bad' thing about the Clear Harmony headphones is the price. $350 puts them out of the impulse buy category for the majority of consumers. I know I wouldn't drop that kind of money without really thinking about it first. I will say that having used them for the last few weeks, that I've come to realize that they are worth the price. I can recommend them if you're sitting on the fence wanting to buy a pair of full-sized headphones that have noise canceling features along with very good sound quality.
Product Information
Price:
349.99
Manufacturer:
AblePlanet
Retailer:
AblePlanet
Pros:

Noise canceling feature
Allows you to enjoy music without cranking the volume up

Cons:

Audible hissing in the background when ANC feature enabled and music is not playing