We use affiliate links. If you buy something through the links on this page, we may earn a commission at no cost to you. Learn more.
I'm such a loser. All my friends and family agree with me: I have a terrible habit of losing USB thumb drives. Not only have I left them in the most unlikely of places, but I have also laundered them, stepped on them, and even left them out in the rain. A few of the drives I've owed over the years have included a neck lanyard, but I've never used them because they look so ugly.
Cyber Snipa, a company known for their PC modification and gaming accessories, has taken a fashionable stab at solving this common dilemma by integrating a USB thumb drive and a mini-toolkit into military-chic dog tags.
Initial impressions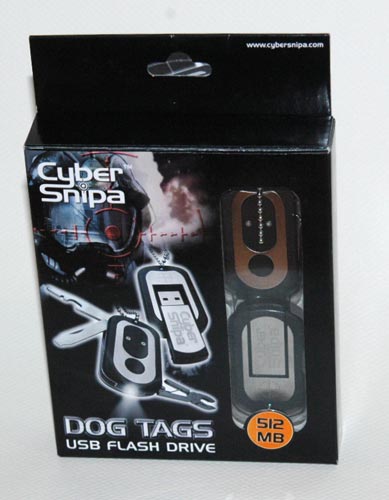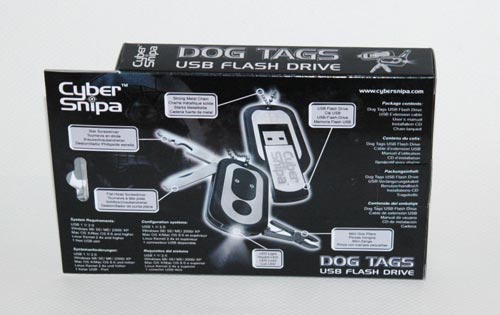 The Cyber Snipa Dog Tags are attractively packaged in a cardboard box with a plastic film cutaway that allows you to view the actual product. The uniform shape as size of the box appears to be easy to gift wrap.
The box contains the two aforementioned tags along with several lengths of beaded chain. As I have never had the honor of serving in the military, the proper assembly of the tags on the chain confused me for a few moments.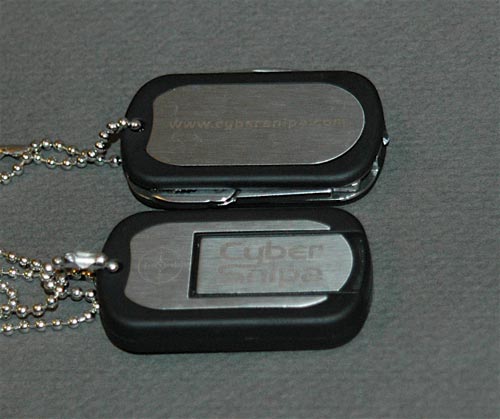 Both tags are made of etched metal, surrounded by a semi-soft "bumper" of rounded plastic around the edges.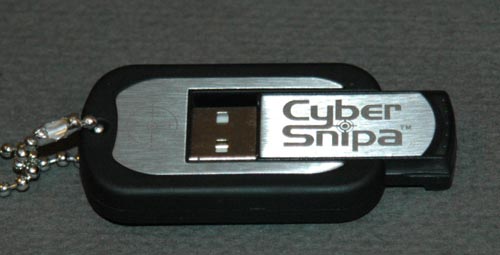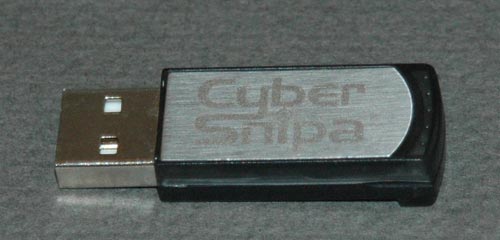 The first tag's sole function is a USB drive. The dongle portion slides away from the protective case with little resistance, but not so easily that it could be accidentally removed. I was given the 512 MB capacity version for testing, but all of the offered versions are identical to mine in size and design.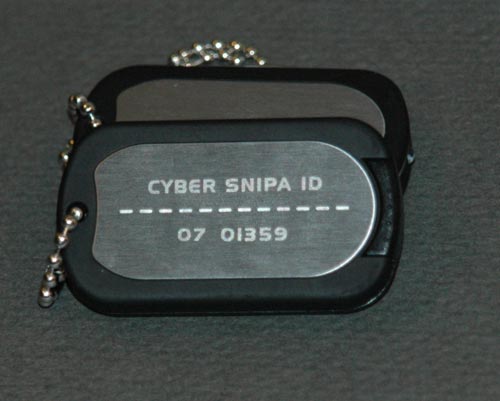 Engraved on the back of this tag is a serial number that can be registered with Cyber Snipa to expedite the recovery process in the event of its loss.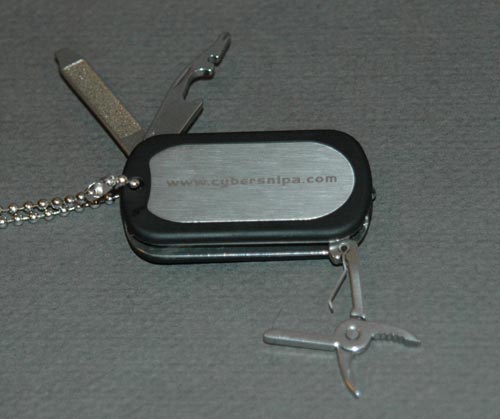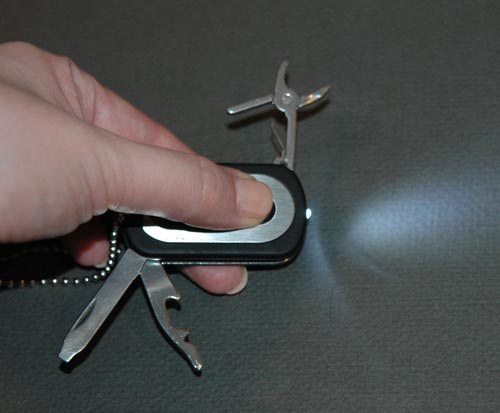 The second tag contains a set of mini-tools: a flat-head screwdriver with file, a Philips head screwdriver with bottle-opener and mysterious divet, a tiny set of pliers with groves along the inside that are excellent for stripping wire, and a led light bright enough to cause spots when I accidentally shined it near my eye. Each one of the tools are similar in quality to those in a multifunction knife: not my preferred tools, but quite serviceable
Although none of these tools in the second tag are especially dangerous (or even sharp) I imagine that the TSA would not not allow then to be carried on a plane. Luckily the design of the beaded chain allows for easy removal of either tag.
Product Testing
I have been wearing these tags intermittently for the past few months and I must say that I've found them rather useful. The length of the chain and weight of the tags make them comfortable to wear all-day.
During testing, I have experimented with adding my Secure-ID tag to the chain as well. The extra tag adds a bit to the awkwardness factor, but not prohibitively so, if you need to carry a similar tag at work or play.
While the capacity of the USB is not enormous, it is large enough for me to carry important day-to-day files with me wherever I go. To date, I have not lost (or even left behind) the USB dongle.
Although the tools are useful, I have found them to be most helpful in situations where I would never think to bring a set of tools, but somehow found myself in need of them, such as my last road trip where I needed a small flashlight to read directions. Overall a handy little set.
Cost: MSRP $39.00-149.00 US, depending on size of thumb drive.
Product Information
Price:
Manufacturer:
Cyber Snipa
Retailer:
Cyber Snipa
Pros:

Geek Chic
Variety of USB drive capacities

Cons: