We use affiliate links. If you buy something through the links on this page, we may earn a commission at no cost to you. Learn more.
I have been in the market for a new briefcase after my venerable piece of junk brief bit the dust a few months ago. Enter the Maxpedition Tactical Attache! It is designed to conceal a gun in a large pocket, but as I do not own a gun (outside a long unused Tippman paintball gun), I cannot comment on this feature.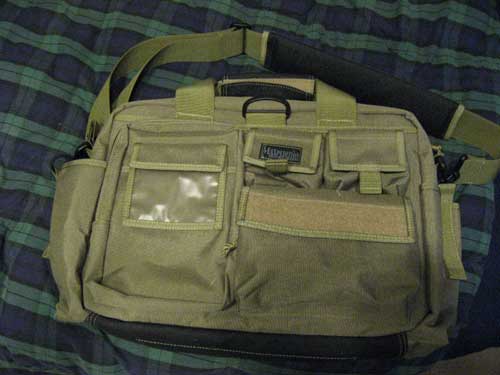 Like all Maxpedition bags, this one is built to last through a nuclear war. Also like other Maxpedition bags, there is no soft lining in most of the pockets…but the main compartment is not only lined, but padded as well! Same goes for the rear compartment. This makes a nice departure from the usual pure, stiff, scratchy ballistic nylon I have come to expect from Maxpedition.
Looking at the front of the bag, you have four pockets and a few sleeves, all fastened with (gasp) Velcro. No stealth here…opening one of these pockets makes enough noise to rouse a whole forest of enemy combatants to your presence. I like zippered pockets, because they keep items securely in the pocket, but if the items are large enough to fill the pocket, then it should be secure enough.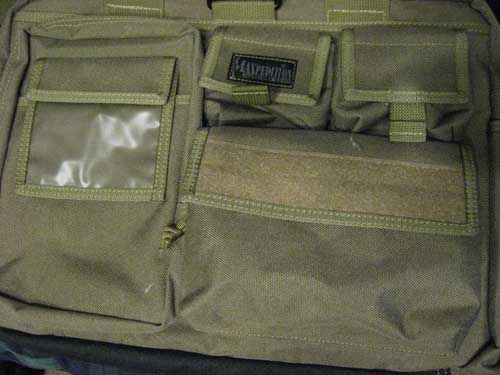 There are two small pockets measuring 3 ½" wide by 3″ tall by 1″ deep. These pockets are OK for USB keys or dongles, but be careful lest they fall out from the openings in the sides at the top of each pocket. A Bluetooth GPS unit would also fit well in one of these pockets, or a stack of Post-Its. It's one thing to protect your gadgets from slashing bayonets, rain and mud, but without significant shock protection, the outer pockets are of limited use.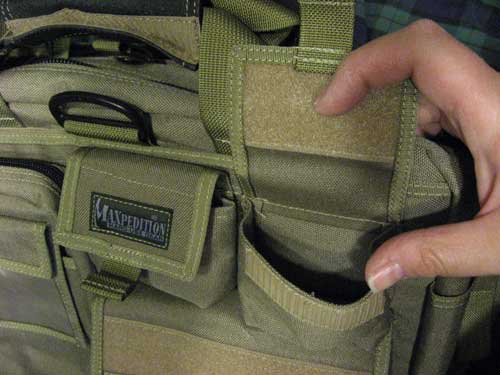 Below these two pockets is a long pocket 7″ long by 4 ½ " tall by 1.5″ deep. Inside this pocket, in the back, is an elastic band that is sewn in such a way to create four loops 1 ½" wide. These could be used for keeping batteries, USB dongles, memory cards, or any other small item you want to keep secured. The rest of the pocket is bare and unlined. The flap has a strip of loopy Velcro across the front of it.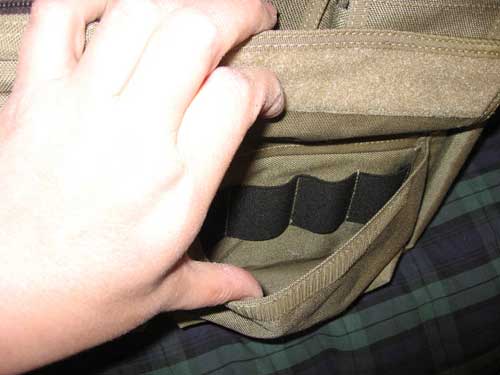 Never miss one of our posts again. Sent MON, WED, and FRI with the latest gadget reviews and news!
To the left of these pockets is a large pocket, this one zippered. 9″ tall, 6″ wide by 1″ deep, it is completely open save for a slash pocket against the front side of it. Perhaps maps, notepads, calculators or other like items can go in here. I used it to store the remote presenter control and hall passes. In front of this pocket is a flat pocket, the flap has an ID window pocket sewn into it. There are so many pockets, you might have to make a map to figure out where you put what! None of these pockets is particularly useful if you want to organize things, due to the lack of internal compartments. This large pocket is difficult to open, as, when closed, the single zipper pull is right up against the side of the pocket next to it, so you have to dig for it a little.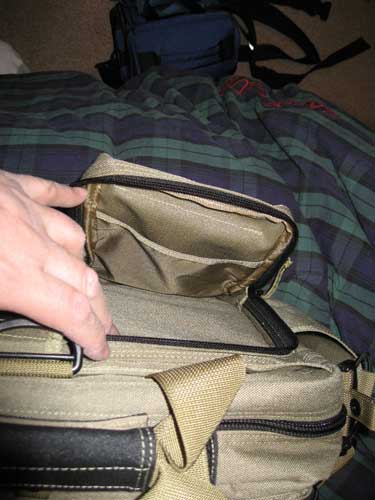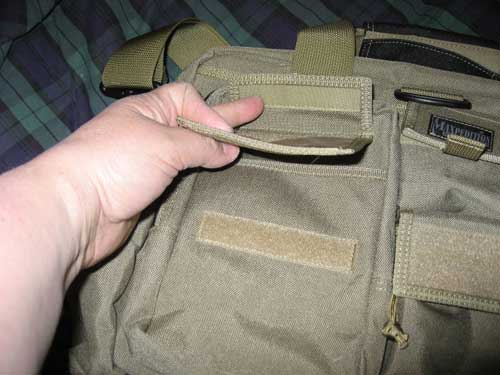 The front panel of the bag that these pockets are sewn to is the front of the concealed weapon pocket. There is Velcro inside this pocket for putting a holster (not included). It opens up pulling a plastic D ring at the top of the pocket. It is held closed by, you guessed it, Velcro! It could be used for keeping a slim notebook, if you want to use this for less tactical purposes. It is 15″ wide by 9″ tall, and is flat in depth, but you could fit something up to an inch thick in this pocket and still have no trouble closing it.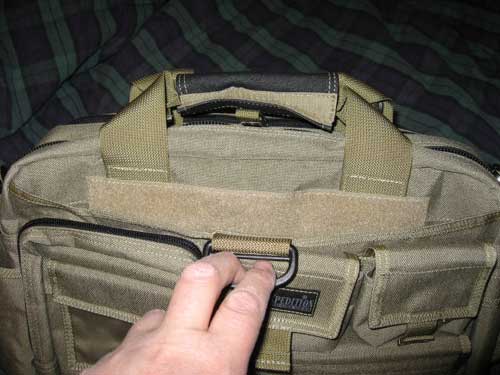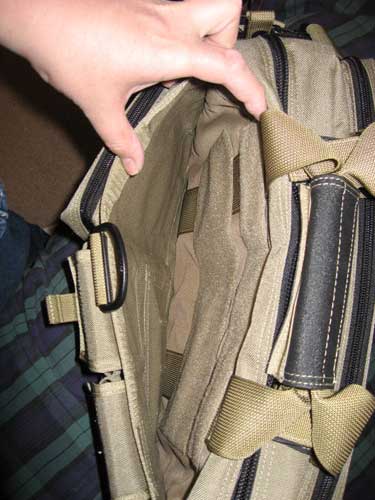 The main compartment is padded, with a stiff and lightly padded divider that is held in place by yet more Velcro. It closes with a nice, big zipper with a nylon cord pull. One side of the divider has two slash pockets, one large enough for holding a CD in a jewel case, the other too small for a CD. The inside of this compartment is lined and padded, and fits my 14″ laptop just fine. It would fit a 15″ laptop without a problem! In order to access this compartment, though, you have to undo the grab handle, which comes apart simply by pulling on Velcro. I really think Maxpedition has a lot invested in Velcro…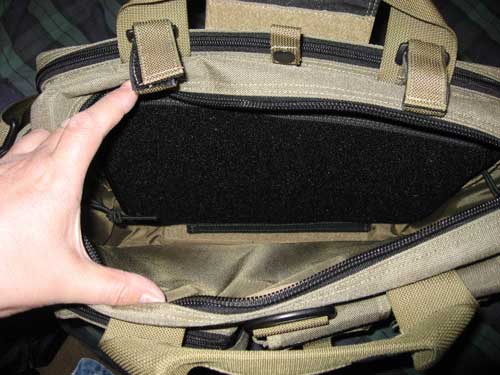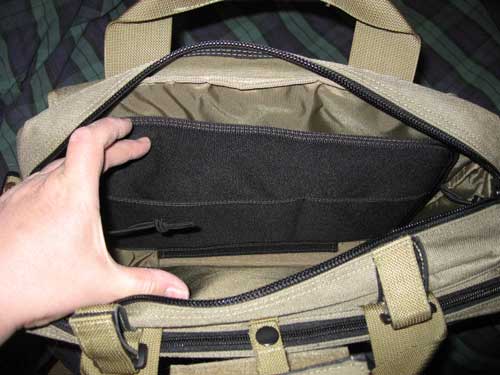 The back compartment is accessible via zipper, and it offers the only real organization in this bag. There is a large rear pocket, which can be secured with a plastic clip. The clip gets in the way of letter-sized paper or folders when closing, though. The upper part of the clip tends to mush the center of the paper a little. There are three flat pockets sewn in front of this, each one too small for a CD. They look like they were designed for floppies, but I honestly can't figure out what I am supposed to put into these pockets. The back panel is thickly padded and lined.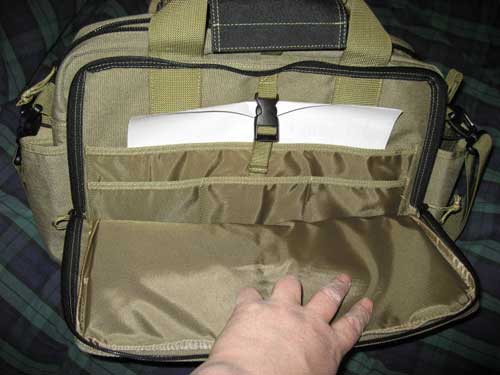 There are water-bottle pockets to either side of the main compartment. One is designed exactly like the one on the Jumbo Versipack, with a grommeted hole in the bottom. Both retract against the side of bag with a cord that is accessible from inside the main compartment.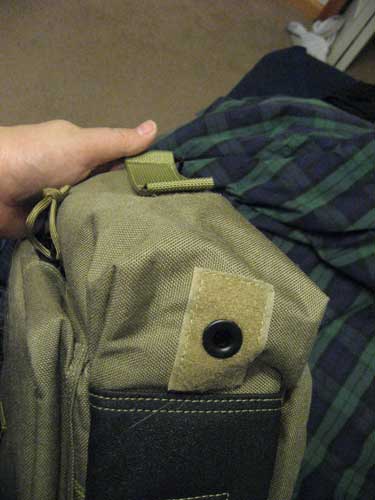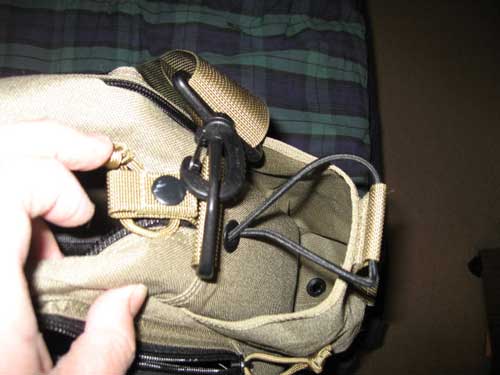 The shoulder strap is a nice, 2″ wide job that is pretty comfortable. It has a wrap-around shoulder pad that is removable by, yep, more Velcro.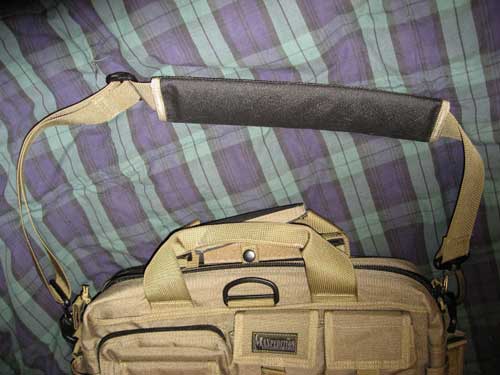 So, how do I like this bag? Well, I have mixed feelings about it. It is full of pockets, which is good, but they could have better organizing capability and less Velcro. It makes a nice bag for my laptop, but I stopped using it after about three weeks. Why? I switched back to my 9″ laptop that fits in my Ellington Europa Field Bag. I have had three Maxpedition bags now, and though they come close to being excellent bags (they certainly are indestructible), their general lack of real organization and heavy reliance on Velcro make them unappealing to me. If you want a bag that will get you through the toughest situations, if you are in law enforcement or are in the middle of a battlefield, I can't think of a bag better suited than a Maxpedition bag. For a civilian gadgeteer, though, there are better options with more organization and protection for our little gadgets.
Product Information
Price:
121.99
Manufacturer:
Maxpedition
Pros:

Tougher than Arnold at his toughest
Water repellent for running through a rainstorm…except for the Velcro-topped front pockets
Nice, roomy, divided main compartment with lining and padding
Collapsible water bottle pocket with accidental spill drainage
Wide, comfortable shoulder strap
Great place to hide a gun, if that's what you are after

Cons:

Tends to flop over toward the front side instead of staying upright when set down
Velcro front pockets can allow small items to fall out and get lost
Large pockets do not have enough organization potential or lining to protect gadgets
WAY too much Velcro
Zippered pockets only have a single zipper