We use affiliate links. If you buy something through the links on this page, we may earn a commission at no cost to you. Learn more.
06/18/07 Update: See text block in Red at the end of this review…

LapWorks is at it again with a new laptop stand. Unlike previous models, this one is meant to be on a desk, yet it light and small enough to carry anywhere you want an ergonomic computing experience.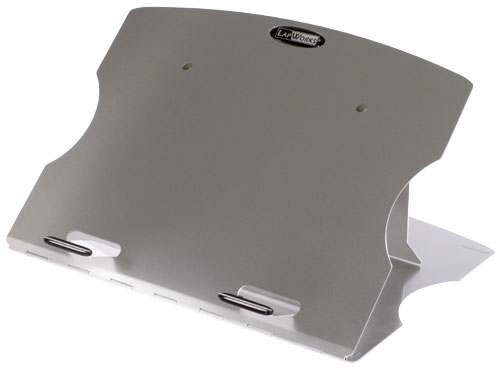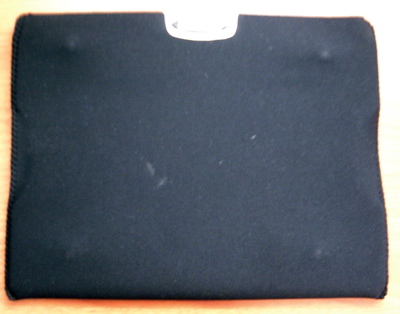 When you receive the desktop stand, you receive a nice neoprene travel slip cover that could double as a mouse pad on the road, or if you own a smaller notebook (like a 12″ Powerbook), you could use it as a minimal slip cover for your notebook. However, the beauty of this stand is it will fit virtually any size laptop, the machine just may hang over the sides a little. Also included are four clear rubber bumpers. You must attach these to the stand in places that are best spaced for your laptop so they don't interfere with the laptop's existing bumpers and so your laptop is slip-proof. Once you apply these properly, the laptop rests on top easily and feels relatively sturdy.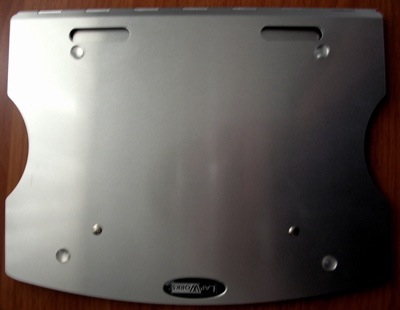 In the above picture, there's the laptop stand in the closed position with the bumpers already applied. I think the bumpers should last a good while since the adhesive felt relatively strong. However, they won't last forever. The good thing is your local big-box retailer should have very suitable replacements in the hardware department. The stand is about 12″ long, 9.5″ wide, and 1/3″ thick, weighing in at 1 lb, 5 oz.
I think the stand looks great in brushed aluminum. It should look good with any laptop, but it looks especially good with AlBooks or MacBook Pros 🙂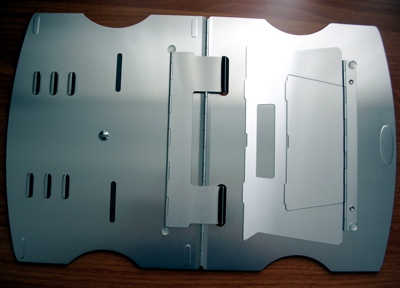 Once you open the laptop stand, the innards are quickly revealed. On the left, there are slots where the "arms" on the right fit to prop the stand open. There are two arms: a larger one and a smaller one inside. Those two arms along with the three slots give you six choices in elevation, up to 45 degrees. The smaller arm is meant to be used for direct typing, to raise the keyboard and screen to a comfortable level. The larger arm is meant for steeper angles, for use with an external keyboard. In the center, the smaller "arm" fits through the larger slots and out the front…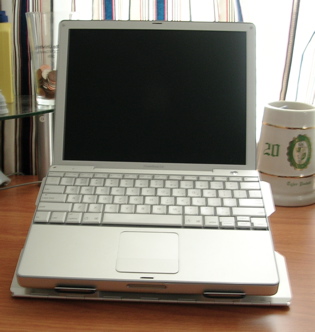 To provide a place for your laptop to rest. I don't really think this is necessary, since if your bumpers are installed correctly the laptop won't slide. Also, with the arms extended, it's very uncomfortable to type on the laptop with those things sticking into your wrists. If you have your stand set to a lower elevation, I would recommend leaving the rest bar retracted inside the stand.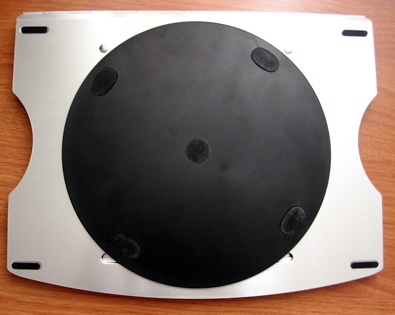 On the bottom of the stand, there are four bumpers and a large "lazy suzan." In my experience, the lazy suzan doesn't work very well. Spinning the stand with a laptop in place causes the outer edges to rub against the desk.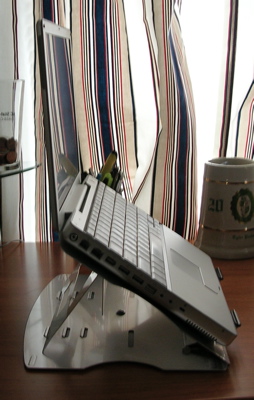 Here is our finished product. A lovely sight indeed. The stand claims to improve three aspects of your laptop usage: 1) improved screen viewing. 2) improved typing ergonomics. 3) cooler laptop by 23%. I can definitely agree with the first two, but I decided to test the third claim to see if this stand really does cool your laptop.
Using Temperature Monitor, I recorded these stats (all tests were with power saving setting set to "Better Performance" while laptop was plugged in; peak temp shown):
Idling for 5 minutes, flat on desk, Firefox, Preview, TextEdit open: 118.4 degrees fahrenheit
Idle, sitting on laptop desk with lowest elevation, Firefox, Preview, TextEdit open: 118.0 degrees fahrenheit
As you can see, in idle, there's really no difference in temperature. So, I decided to encode a CD in 256Kbps AAC:
Encoding CD, flat on desk, iTunes and TextEdit open: 129.2 degrees fahrenheit
Encoding CD, on laptop desk with lowest elevation, iTunes and TextEdit open: 127.8 degrees fahrenheit
According to my tests, the laptop desk does keep the machine a tad cooler, but it's definitely not 23% like LapWorks claims. It's not even enough to notice. However, the improved ergonomics and screen viewing make up for this.
In all, this laptop stand is a nice piece of work, and very useful for what it does.
06/18/07 Update: Because I didn't see a big difference in temperature readings when I first tested
this stand, I was asked to perform my test again at the highest elevation possible,
45 degrees. I was thinking that perhaps ripping a CD isn't the best way to tax a
machine, so I decided to play an episode of House, MD that I purchased from iTunes.
Power settings were set to "highest performance", AC adapter plugged in, video
playing full screen. Here are my results:

Flat on Desk, idling (Firefox, Temperature Monitor, TextEdit Open): 112.5F
Flat on desk, watching video in iTunes (iTunes, Temperature Monitor, TextEdit open):
142.7F
Highest Elevation, Idling (Firefox, Temperature Monitor, TextEdit open): 109.8F
Highest Elevation, Watching video in iTunes (iTunes, Temperature Monitor, TextEdit
Open): 141.3F
Again, not a big difference. I don't think my PowerBook gives off a lot of heat, and
that's why my tests aren't successful. I remember when I had my MacBook, it was
nothing for the machine to idle around 180F, so I think a machine that gives off
more heat would yield better results.
Product Information
Price:
59.95
Manufacturer:
LapWorks
Pros:

Sturdy
Thin and light
Easily portable
Easy to use

Cons:

Lazy suzan is a little "rough"
Brushed aluminum shows fingerprints
Laptop "rests" are uncomfortable for typing
Doesn't really cool down your laptop as advertised