We use affiliate links. If you buy something through the links on this page, we may earn a commission at no cost to you. Learn more.
In my mind I have two classifications of gadgets: ones that are tools and ones that are toys. Most of my favorite gadgets are both.
In preparation for a upcoming review, I needed to buy an infrared thermometer. I debated buying one of these "touchless" thermometers a few years ago, but eschewed the idea because the few available for consumers were expensive, bulky and rather ugly. Professional models, like the Fluke 63, were less unsightly but even more expensive and cumbrous.
I am pleasantly surprised to discover that the market for such devices has changed: not only has the size of most thermometers shrunk considerably, but so have the prices! However, many of the products are still visually uninviting.
Subsequently, when I saw that Q3 Innovations made a simple, inexpensive thermometer that is small enough to keep in a pocket, I decided to give it a try.
Initial impressions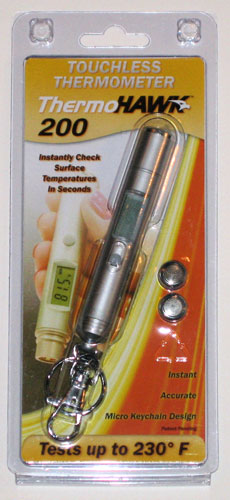 The ThermoHAWK 200 has minimal packaging and is easy to open. The package contains the thermometer, 2 L1154 watch batteries, and a user manual.

The ThermoHAWK's design is austere: Tube shaped and aluminum in color, it is sleek and unadorned.
Made from a lightweight metal, the thermometer itself weighs ~ 1.5 ounces and is roughly 5 inches long by roughly half an inch in diameter.
Temperature readings and remaining battery life are displayed on the 11/16 inch monochromatic LCD. Next to the display is the 'trigger' for taking a reading.

The model I own, the ThermoHAWK 200, has a measurement range of -27°F to 230°F which is more than sufficient for my needs. If you require a wider measurement range, Q3 makes several other models of the ThermoHAWK that have this capability.
Readings can be displayed in either the Fahrenheit or Celsius scales. It does not convert readings into degrees Kelvin, but I think it is safe to assume that if you know what the Kevin absolute temperature scale is and need to record temperatures in Kelvin, you already are more than capable of doing the conversion yourself.
On the opposite side radially is a recessed button to toggle between the Fahrenheit and Celsius scales. It can be activated with a paperclip or similar object.

Product Testing
The ThermoHAWK 200 is extremely easy to use. To take a temperature reading, first slide the sensor cap off the end of the thermometer. Next, position the sensor an inch away from the object for every inch you want to measure. For example, if you want to measure the average temperature of a 5 inch diameter surface, position the sensor roughly 5 inches above the object. This is called a 1:1 "Distance-to-Spot" ratio.
When you are finished, simply replace the sensor cap. The thermometer will automatically deactivate.
Functionality testing of the ThermoHAWK 200 was rather informal but fun. My methodology consisted primarily of wandering about my home while measuring the temperatures of a variety of household things. Here's are some of my highly unscientific results.
| | |
| --- | --- |
| Object | Temperture °F |
| Turtle Tank 1 | 80°F |
| Turtle Tank 2 | 78°F |
| Ice Cube in Freezer | 7°F |
| Can of Red Bull in Fridge | 53.5°F |
| Flatbread Pizza (~2 minutes after removal from oven) | 132°F |
| Hot Wax (melted for candle making) | 163°F |
| Water in Bathtub | 125°F |
My research background requires me to state this caveat: aside from the adhesive thermometers attached to sides my turtle tanks, I don't have another thermometer to verify that these readings are accurate. However, since the tank readings correspond with my existing, sticker-based system, and all of the other measurements appear to be plausible, I'm willing to assume a reasonable amount of accuracy. Q3 claims that the ThermoHAWK is accurate +/- 1° for temperatures within 10-100°F and +/-2.5° for temperatures within 100-230°F. I'd like to reserve the right, pending tools, to properly evaluate the ThermoHAWK's accuracy in the future.
The design of the ThermoHAWK 200 is such that it can also be used as a keychain or clipped on a beltloop.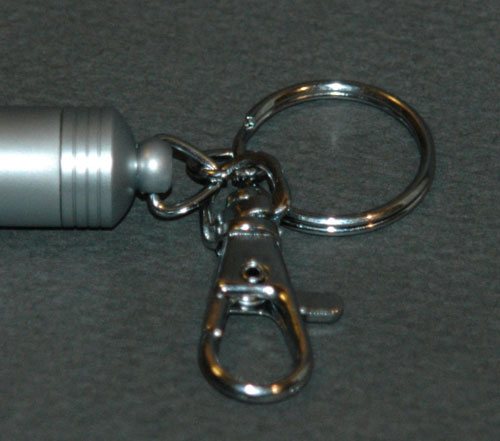 Most infrared sensors are delicate, but the cap gives more than adequate protection from the type of dangers that lurk in one's pockets.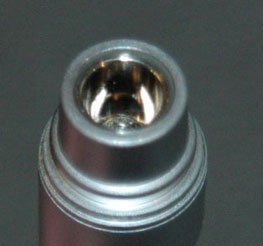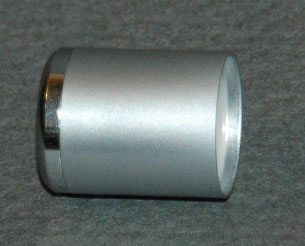 I initially found the rounded metal cap a bit tricky to remove and replace, but it became less so with use. The feel and weight is solid without being too heavy.
Overall, I'm quite satisfied with the ThermoHAWK 200. It's a great mixture of design and functionality that isn't so expensive that I have to call Julie for a loan. It is a great toy and a tool that I plan on using frequently in future product reviews.
Product Information
Price:
34.99
Manufacturer:
Q3 Innovations
Pros:

Inexpensive
Compact
Easy to use

Cons: