We use affiliate links. If you buy something through the links on this page, we may earn a commission at no cost to you. Learn more.
If you're looking for a Bluetooth headset that is both small and fashionable, then Argard's M10 headset might be one you should consider taking a closer look at. Smaller in diameter than a quarter, this little headset looks really cool. But how well does it perform? Keep reading…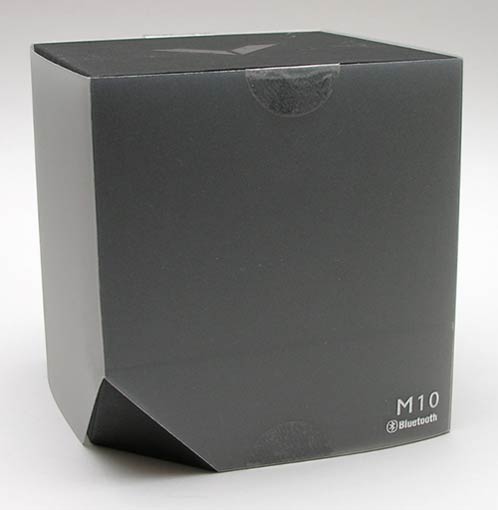 Hardware Specifications
Bluetooth Standard: Bluetooth v1.2 specification, Class 2
Talking Time: Up to 3 hours
Standby Time: up to 100 hours
Weight: 5g
Dimensions: 23mm x 22mm x 31.5mm
Operation Range: up to 10 meters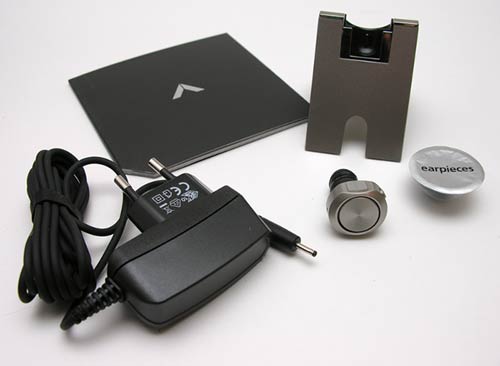 Package Contents
M10 Bluetooth Headset
Charging Cradle
AC Adaptor
3 Sizes Of Earplugs
User Manual
The M10 headset looks like it's made of metal, but in reality it is constructed of plastic. That's a good thing though as it keeps the headset light weight.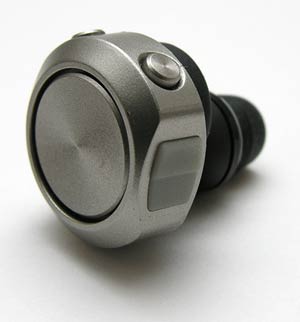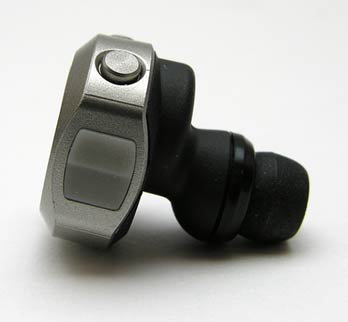 The design is simple both visually and functionally. There are no words, logos or other markings to detract from the style of this device. You really only notice two small buttons on the top of the headset. These are the up/down volume buttons. In actuality, there is a third button. The circle on the face of the headset is the main button that has several functions including power toggle, pairing, answer call, end call, redial, etc.
The Grey rubber bumpers on either side of the headset are not buttons, but spacers that keep the headset from falling out of the charging cradle.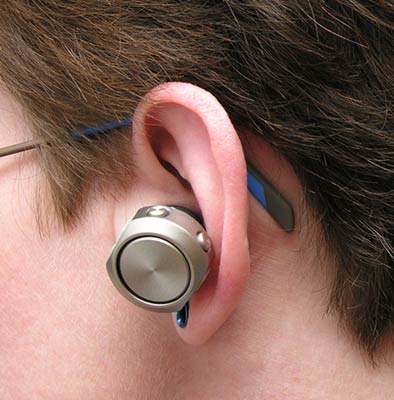 As you can see, the M10 is an in-ear style Bluetooth headset. Normally, I do not like in-ear style earbuds or headsets because they are not very comfortable. I was surprised to find that the M10 headset did not have any comfort issues. I was able to wear it for as long as an hour without pain or discomfort. The M10 comes with a couple extra ear tips to accommodate different sized ears. The only issue that I did notice while wearing this headset was accessing the volume up button while wearing the headset in my Left ear. The outside edge of my Dumbo ear got in the way.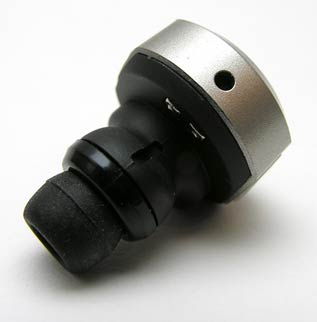 In the picture above, you can just make out the 2 metal contacts below the microphone hole. These contacts mate with contacts on the charging cradle.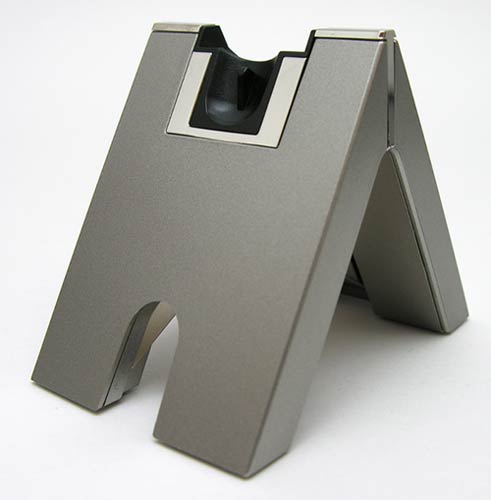 Cool looking cradle isn't it?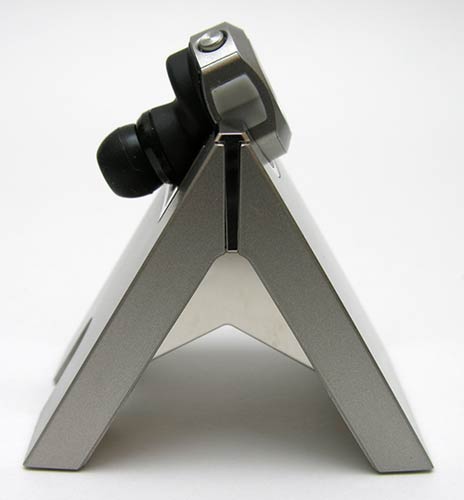 The headset rests on in the top notch and is held their via friction from the 2 rubber bumpers on either side. According to the specs, the M10 only has 3hrs of talk time per charge. That means you'll probably want to charge it every night. During my testing, I didn't have a problem with battery life as most days I probably talk on my mobile phone less than 30 mins tops.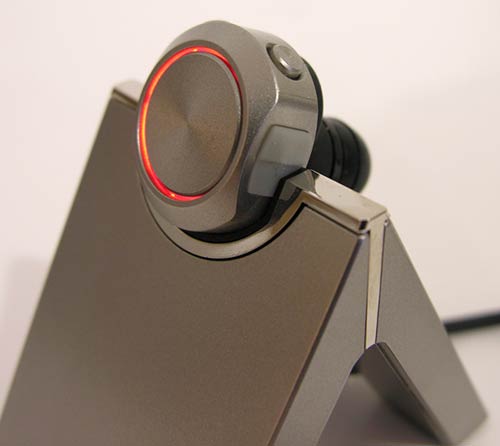 During charging, an LED around the main multi-function button glows Red. When charging is complete, this LED turns off. The LED blinks Blue when the headset is powered on and alternates Blue and Red while in pairing mode.
Ok, time for the sound tests! Below are two audio clips of the M10 headset in action. This will give you an idea of what it sounds like to receive a call from someone using this headset. I
used the free voicemail / fax service from K7.net for these tests. I signed up for a free account, got a phone number and called it using a Nokia N80, using the headset. The resulting voice-mails are then emailed to you. Pretty nifty! At test time, the phone had full signal strength. Click to listen.
Inside Test (352k .WAV file)
Outside Test (196k .WAV file)
Although I recorded the clips with the M10 paired to a Nokia N80 phone, I also tested this headset with my Treo 680 and a Blackberry Pearl. The headset seemed to perform about the same with all three phones. I could hear some hissing, static and choppy noises in the background of my calls and people on the other end would tell me that I sounded like I was at the bottom of a can.
I also had a problem where the connection between the headset and the phone would disconnect if I put too much distance between the two. I had to record the inside audio test several times because of this problem. I don't think I've had a headset drop connection like that on any of my other reviews.
While I enjoy the size, comfort and ease of use that the Argard M10 offers, I found the audio performance to be lacking. With a price in the $130-$150 range, I don't think I'd want to spend that much to listen to hissing and crackling in the background of all my calls.
Available from these retailers:
Negri Electronics
BeyondBlu Wireless
Aries