We use affiliate links. If you buy something through the links on this page, we may earn a commission at no cost to you. Learn more.
Palm seems to be doing something right given the fact that their Treo line of smartphones
has become hugely popular. I mean, I don't think I'm wrong when I say that the Treo is probably one of the most recognizable mobile phones on the planet these days. Turn on the TV and you'll spot this phone all over the place. After all, doesn't Jack Bauer of the show 24 use one?
My own personal Treo history started in 2005 with a 650 for Sprint that
had been hacked to work on the Verizon network. Then I switched to Cingular and the GSM version of the 650. Since the 700 version was not available in a GSM model, I waited until the Treo 750v to try a new device. The 750v is a Windows Mobile phone and I've been using it for the last few months. Although I like the 750v, I
have found myself wanting to go back to the Palm OS. As Palm's latest GSM
smartphone, the Treo 680 appears to be my ticket back. Let's see if I stay on the Palm train…
Hardware Specs
Operating System: Palm OS 5.4.9
Memory: 64MB non-volatile flash memory available for user storage
Processor: Intel PXA270 312 MHz processor
Display: 320 x 320 pixel TFT touchscreen with support for over 65,000 colors
Wireless: GSM/GPRS/EDGE-class 10 radio, Quad band (850/900/1800/1900 MHz), Bluetooth 1.2, Infrared (IR)
Digital Camera: VGA 2x digital zoom, Video capture with 352 x 288 pixel resolution
Expansion Slot: MultiMediaCard, SD, and SD I/O cards
Battery: Rechargeable lithium-ion, Talk time: up to 4 hours, Standby time: up to 300 hours
Size: 4.4 x 2.3 x 0.8 in (113 x 59 x 21 mm)
Weight: 5.5 ounces (157 grams)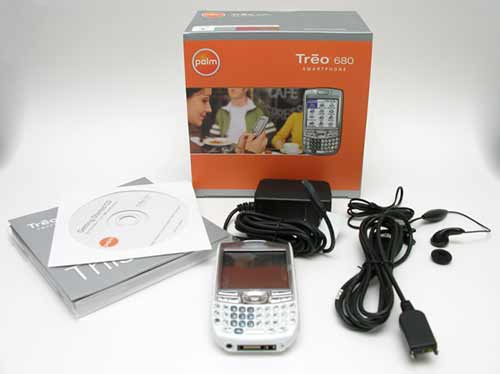 Package Contents
Palm Treo 680 smartphone
Rechargeable battery
AC power charger
USB sync cable
Headset
Stylus
Palm Software installation CD (with User Guide and desktop synchronization software for Windows and Mac)
User documentation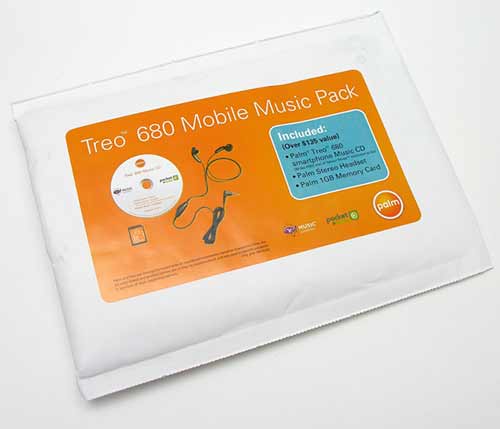 When I purchased my unlocked 680 directly from Palm a few weeks ago, I also received the Treo 680 Mobile Music Pack.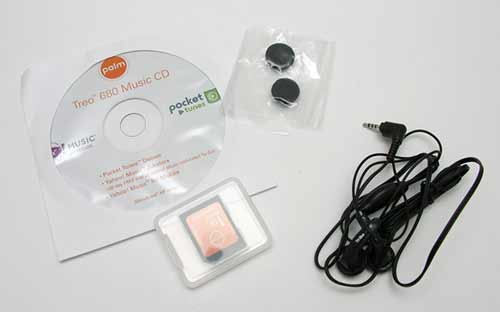 I'm not sure how much longer this pack will be included with the purchase of the phone, but it comes with a set of 2.5mm stereo earbuds, a 1gb SD card and a software CD that has the deluxe version of Pocket Tunes ($29.95 value) and a 30 day free trial of Yahoo! Music.
Hardware Design
The style / design of the Treo 680 has not changed much from the Treo 650 and 700
series devices. The most noticeable physical difference being the lack of the
stubby antenna in the upper left corner.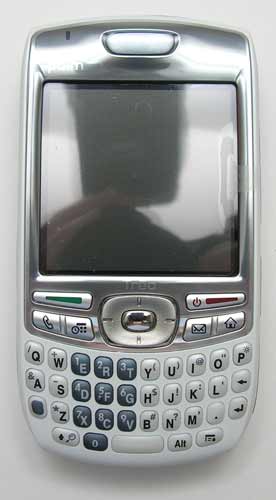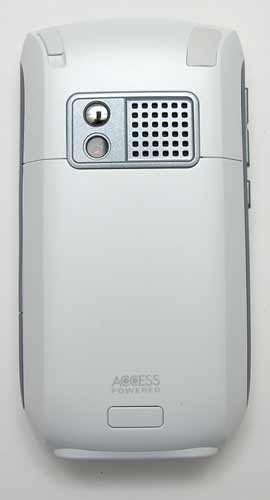 The 680 is also the first Treo to be made available in different colors. In addition to good old Grey (Graphite), the unlocked 680 also comes in Arctic, Copper and Crimson. Unfortunately the 680 which is locked to Cingular (AT&T) is only available in Graphite. I decided to go with
and unlocked White.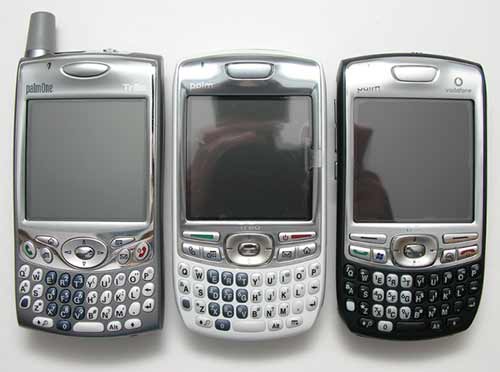 Left to Right: Treo 650, Treo 680 and Treo 750v
Front
In the image above, you can see the differences between 3 Treo versions. You'll notice that the 680 and 750v are almost identical in size and shape when compared to the 650. In hand, the 680 feels solid and rugged enough to stand up to daily usage. I do wish the 680 had a rubber coating on the body like the 750v does though… As is, the 680 feels a bit slippery. Performing my good old Gadgeteer squeeze / creak test on this phone caused no noticeable flexing or snap, crackle, pop case noises.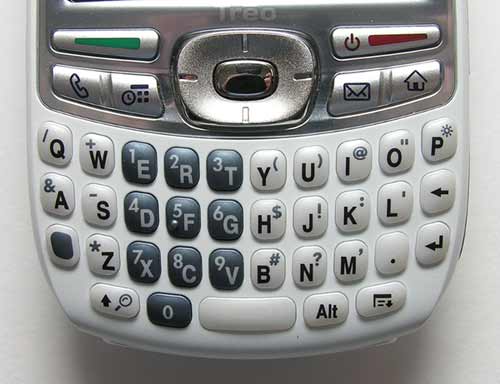 The keyboard layout hasn't changed all that much as new Treo models have come out. The buttons have good tactile feedback, but I have to say that I do prefer the buttons on my Treo 650 over the ones on the 680. The 680 keyboard buttons have a lower profile and are flatter. This makes typing (for me) just slightly harder.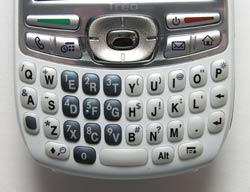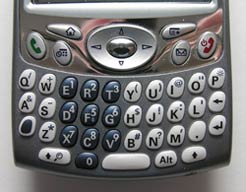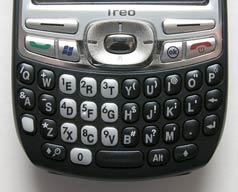 Here's a shot of the 680, 650 and 750v button / keyboard layouts. You'll notice that the 680 and 750v keyboards have more of a 'smile' than the 650.
The 320 x 320 color display is bright and crisp. When I compared the display to my 650, I found it to be the same as far as brightness and vividness.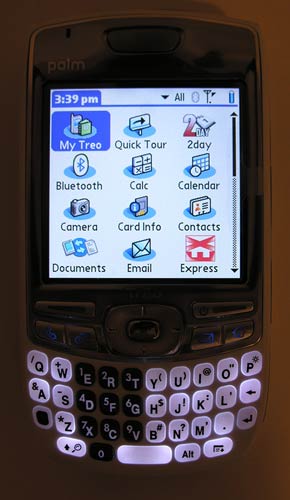 After using the lower resolution 750v (Windows Mobile) for several months, I didn't realize how much of a difference the higher resolution really makes.
Top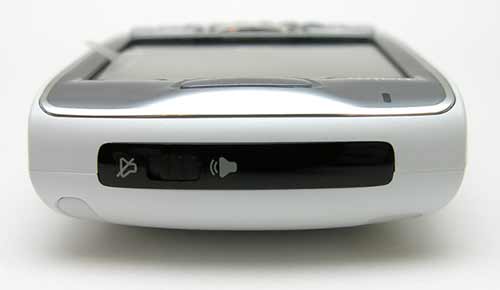 If we look at the top of the phone, we'll see the speaker on/off slider switch. When you flip the speaker to off mode, it will vibrate to indicate the new state. The IR lens is located next to the
speaker switch.
Bottom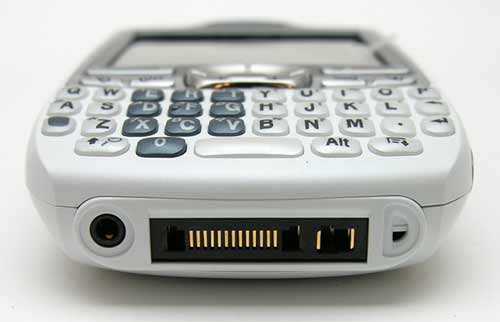 Along the bottom edge of the phone, you will find a 2.5mm stereo headphone jack, sync / charge connector and the microphone. The 680 is compatible with all prior Treo model sync / charge cables. I'm still using my several year old Seidio retractable USB cable.
Left Side

Located on the left side of the 680, are the up/down volume rocker button and a side button that by default is mapped to
the voice memo application. Too bad you can't use this audio recording application to record phone conversations. I tested it and it only records what it picked up via the microphone. It
does record both sides of a conversation if you use the speaker phone though.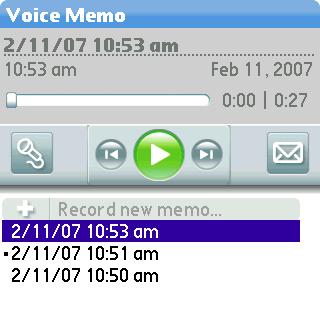 As far as volume levels while using the phone, I had no issues and usually keep the volume set to two ticks down from maximum.
Right Side

On the other side of the phone, is the SD card slot. I'm glad Palm decided to go with an SD slot instead of a Mini card slot like they did with the 750v.
The slot is an SDIO slot, so you can use it for accessories such as an SD GPS
module. The location is a bit inconvenient to have something left sticking out
the side though.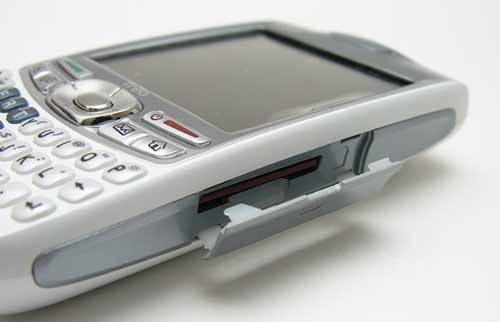 On the 750v, there is a reset switch located next to the memory card slot. Such a switch does not appear in this location on the 680. Actually, there isn't a reset switch
anywhere on the 680. So, how do you reset this device if it locks up? You have to take the cover off the back and remove the battery. Do I hear a collective grown from the audience? Yeah, I share that feeling too.
Back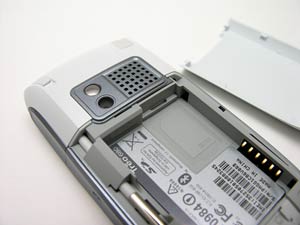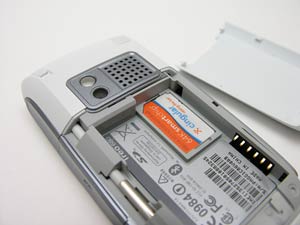 You'll find the SIM card slot under the battery. There is a little slide out tray directly under the speaker.
This Treo has a built-in VGA (640 x 480) camera. I wish Palm would put a better camera in their phones. While it's not horrible, it's also nothing to write home about…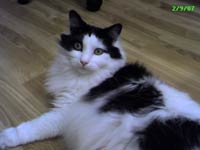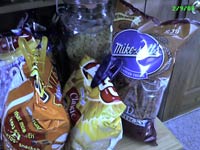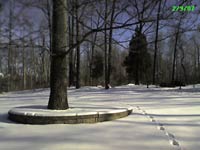 Click on thumbnails to see fill-size images
My experience using this phone has not been overly different than my experiences
with the Treo 650. The 680 feels just as snappy as far as launching and using
various applications. That shouldn't be a surprise given the fact that both
devices use the same speed processor.
The reception
does appear to be noticeably better than the 650 though. Most of the time I have
full bars where the 650 might show only 2.
According to the folks at Palm (I asked them this question during a meeting with
them at CES early this
year), the SAR rating for the 680 is lower than the notoriously high rating of
the 650 (1.51). I don't have the exact stats, but if anyone is really
interested, I can try to get the numbers. If you don't know, SAR (specific
absorption rate) is an indication of the amount of radiation that is absorbed
into a head whilst using a cellular phone, the higher the SAR rating the more
radiation that is absorbed into the head.
The 680 lacks WiFi, so web surfing will have to be accomplished using a data
package and EDGE. A lot of people complain that Treos lack WiFi, but I've never
found this to be a problem for me as I almost never find myself in an area with
a hotspot. Surfing using EDGE doesn't feel that painful to me. I conducted a
speed test using
http://www.dslreports.com/mspeed. The 200k test yielded the following
results in 3 back to back tests:
149 kbit/sec, 1.258s latency
177 kbit/sec, 1.627s latency
149 kbit/sec, 1.201s latency
Battery life with the 680 is not as good as with the Treo 650. That's because
the 650 has a 1800 mAh battery, while the 680 has a 1200 mAh battery. I will say
that battery life on the 680 is much better since Palm put out a software

patch a few weeks ago that fixes an issue with the built-in camera. Now
instead of having to charge the 680 every night, I can charge it every other
night.
I can't find much to fault with the 680's hardware. My biggest complaint is the
lack of a reset switch and that's definitely not a deal breaker. Other than
that, the 680 is pretty much the same as previous Palm OS based Treos. So, if
you have been contemplating an upgrade from your current GSM Treo 650 to the new
680, I can't really encourage you. Unless your current 650 is displaying
hardware problems, you're not going to gain much with an upgrade. Yes, you will
get a bit smaller package (no antenna) and the ability to chose a colored shell.
But those two things are not exactly earth shattering new features.
So, let's see if the software side of the 680 has been improved significantly…
Software
Installed in ROM
Blazer Web Browser
Bluetooth Manager
Calculator
Calendar
Camera
Card info
Contacts
Documents To Go 8.0
HotSync Manager
Memos
Messaging
MyTreo
Phone
Pictures and Videos
PocketTunes
QuickTour
Security
Tasks
VersaMail
Voice Memo
World Clock
Xpress Mail
Software on CD-ROM
Adobe Acrobat Reader
Audible
Bejeweled 1.0
Documents To Go Professional (including native PDF viewer)
Enterprise software link
eReader
Handmark Solitaire
Handmark Pocket Express
Palm Files
Remote File Access
Solitaire
Traffic for Treo smartphones
Treo Voice Dialing – trial version
Except for minor tweaks to the OS, the main software change I noticed
immediately with the 680 was the new calling interface.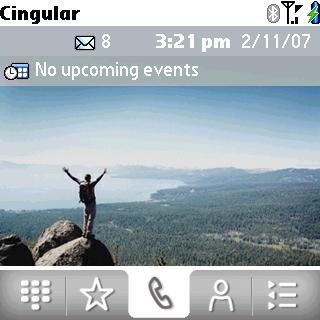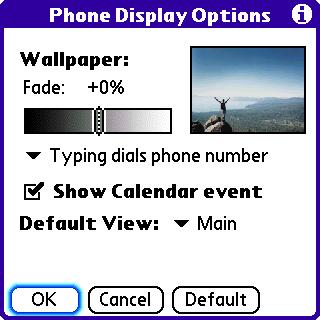 By default, when you press the call hardware button, it takes you to the screen
you see above. This screen is a minimal status screen that shows your next
calendar event, time, and number of unread emails. The only customization option
you have is the ability to change the background picture.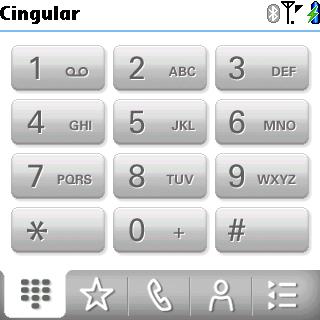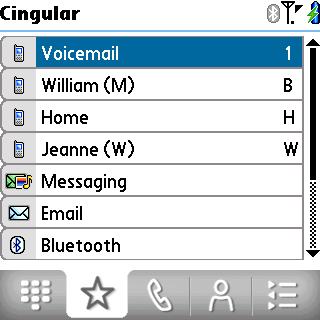 Tabs along the bottom of the screen allow you to flip between different views.
You have the familiar number pad dial view and favorites view. Your 
favorites can include speed dial entries as well as applications.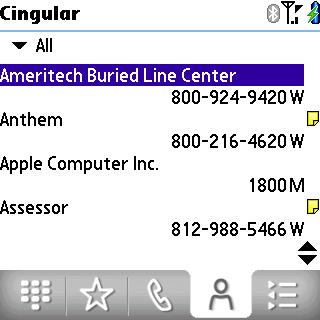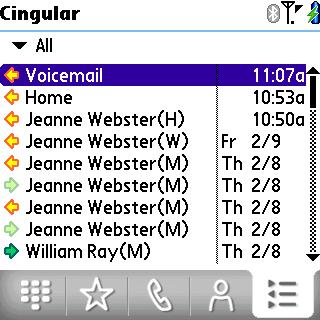 There is also a contacts view and call log view. I don't really like this new
interface all that much. It feels less intuitive than the old one screen call
interface.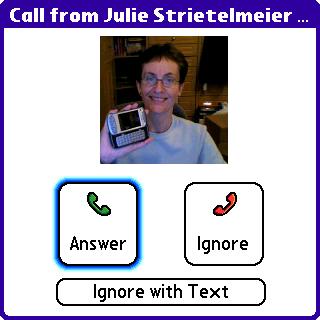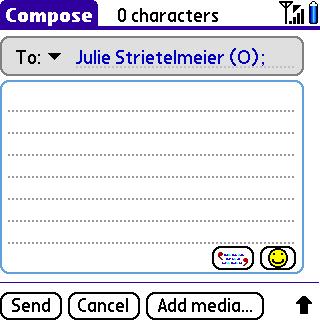 One nice addition is the inclusion of an ignore with text message feature when a
call comes in. I wonder if we'll ever have a feature to ignore a call with
special voice messages? Now that would be a cool feature! :o)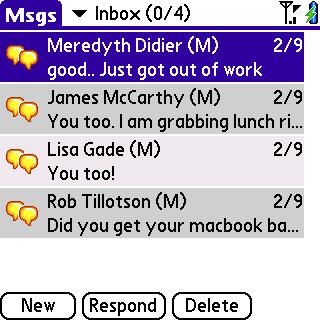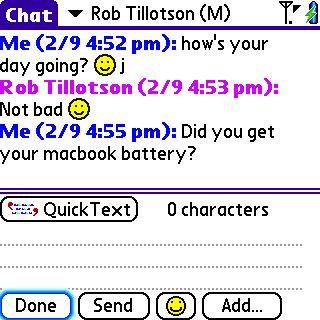 The 680 also includes the great threaded SMS application that we've all come to
love. Nothing new here though…
I feel like I'm missing telling you about some great new software feature that
the 680 has, but that's it. For the most part, it's just the new calling
interface. Exciting! Ok, not really…
So, when it's all said and done, I like the 680, but only because I also liked
the 650. To me the 680 feels like the same phone minus the antenna. For that
reason, I really only recommend it for those of you looking to buy their first
Palm OS GSM Treo, or for those of you that already have a 650 that is showing
signs of age.
I guess we'll just have to hope for something more innovative with the next Palm
OS Treo. At this point I'll probably stick with the 680 for awhile… after all,
I did just plunk down my hard earned cash for it. ;o)
Product Information
Price:
399.0
Manufacturer:
Palm
Retailer:
Palm
Requirements:

Windows 2000 or Windows XP Service Pack 2 (later versions may also be supported)
Mac OS 10.2.4 to 10.4.x
USB port (USB sync cable included)

Pros:

Slightly smaller form factor
Better reception
Available in different colors

Cons:

Battery life less than previous models
No reset switch
Not a compelling upgrade from a Treo 650