We use affiliate links. If you buy something through the links on this page, we may earn a commission at no cost to you. Learn more.
Tuesday
My 750v is really getting on my nerves. If you remember (and read yesterday's report…), I've been having a few issues with it this trip. Well this morning the alarm I had set to wake me at 7am didn't go off. :o[ I thought Microsoft fixed the problem with alarms not firing. If I can't count on a smartphone to help me keep the appointments that I set, then I really don't want to be using that particular smartphone. So, I think I'll be looking elsewhere soon. iPhone maybe? ;o) I need something sooner than 6 months out though.
After I woke up (1hr late!), I was soon out the door and on a shuttle bus back to the convention center. My first stop was back at the Central hall to finish what I had missed the day before.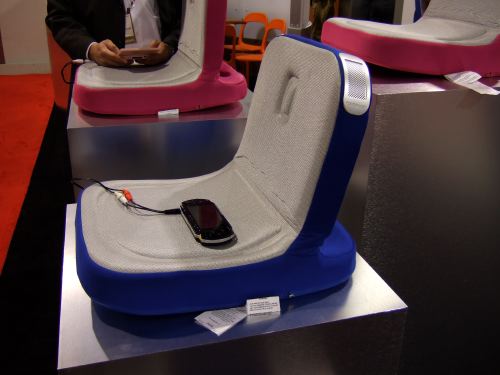 I wonder if this gaming chair from Pyramat is any better than the HoMedics iCush I recently reviewed?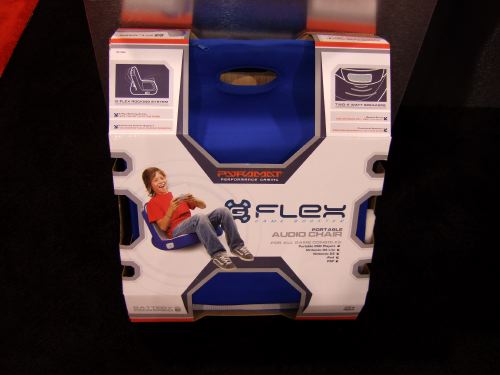 The advantage of this product is that you don't have to set it inside another chair to use it.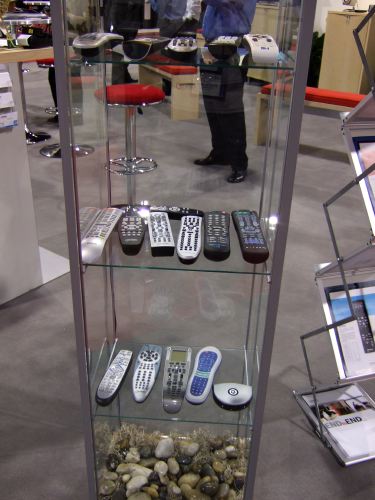 The Universal Electronics booth had all kinds of remotes on display. I really need to check out one of their high end remotes for my own home theater components at home.
Next up, I had to run back over to the South Hall where I had a meeting with Dynamism. Douglas brought along 2 bags filled with toys to show me.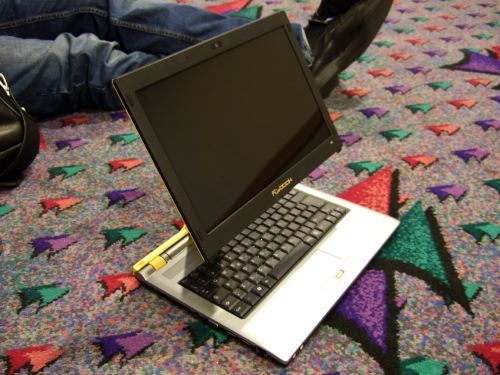 The first item he handed me was the new Flybook VM. The main feature of this slim Core Duo laptop is the unique display.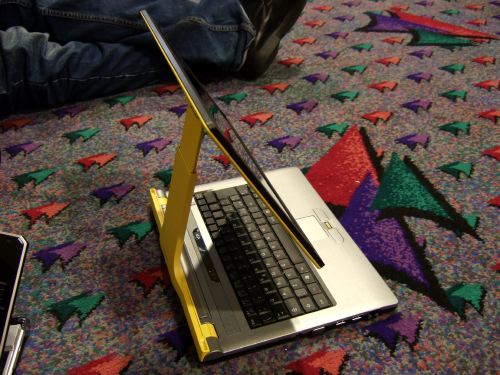 It is easily adjustable to almost any viewing angle. The only thing it doesn't do is fold down completely flat to turn into a tablet.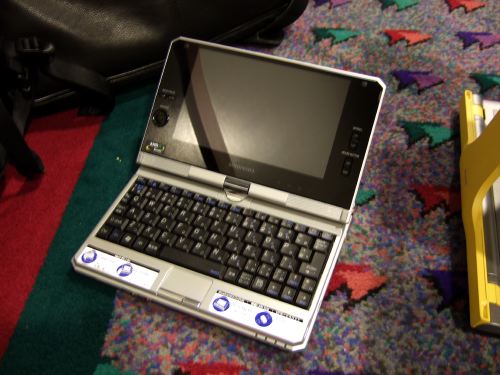 Next up was the Kohjinsha SA1F00 ultra portable.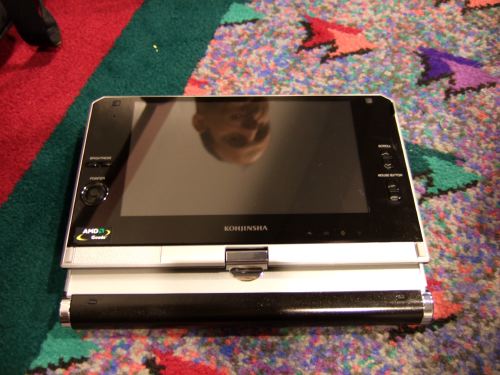 As you can see, it does have a display that can rotate and fold down flat. It doesn't have a touch screen though…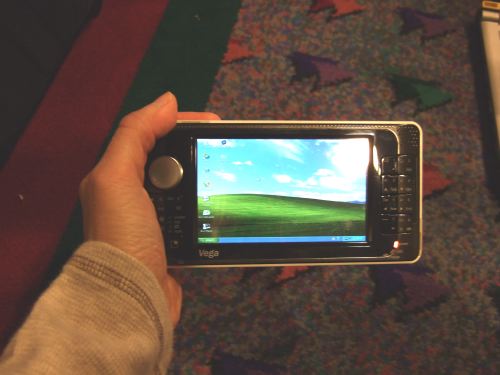 Here's the Vega UMPC. The display and size were equally nice.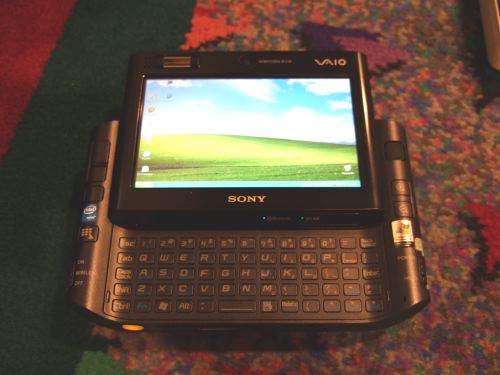 Doug also had the Sony UX90. This is different from the UX50 that they sent me last summer to review. This one has a 32GB Solid State hard drive. I was impressed by the system speed launching applications.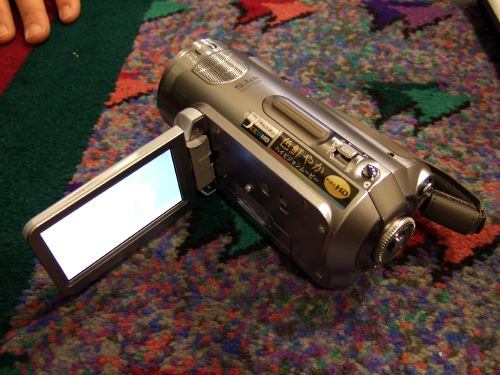 The next item that Doug pulled out of his magic bag of gadgets was the Panasonic HDC-SD1. This little guy has 3 CCDs, a Leica lens and saves to SD cards. At $1600.00 it is pretty expensive, but it does come with a 4gb SDHC card :o)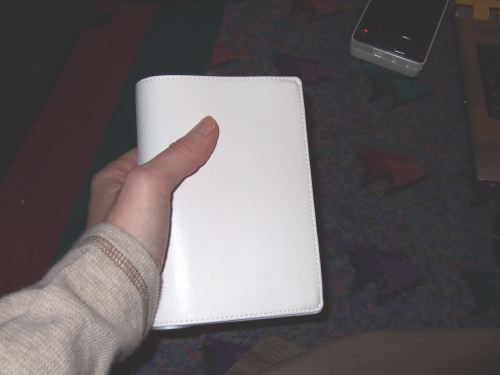 The Panasonic Wordsgear was an interesting eBook reader. About the size of a paperback book, it has a good display (5.6″ SVGA high resolution (1024×600 211ppi) display and can play movies and music and photos.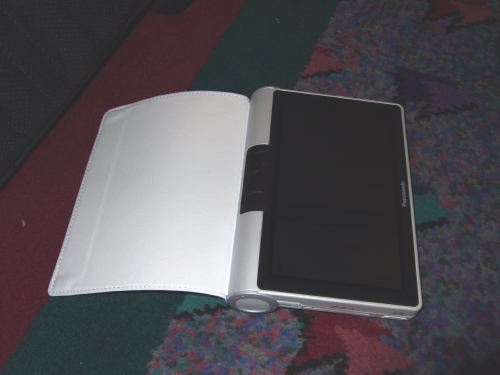 I especially liked the page turning mechanism located along the left edge. It was a rubbery pad that you just flick your finger up and down to turn the page of the ebook that you happen to be reading.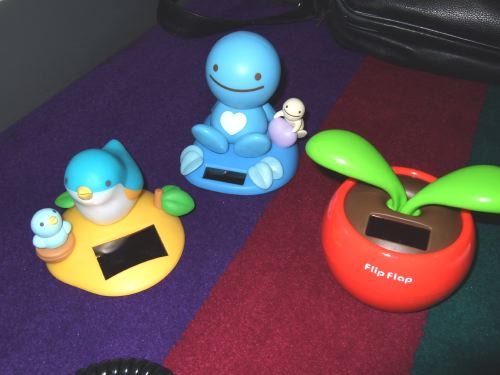 Last but not least, he showed me some cutesy solar powered desk toys. The little FlipFlap plant is similar to the Potan Poton that I reviewed from Brando, but this one doesn't require any water to power it though.
After my meeting with Doug of Dynamism, I trekked over to the North Hall to check out all the fancy cars and car audio gadgets. I'm not really into this particular genre of products, but I you guys would enjoy some pretty car pics, so here you go!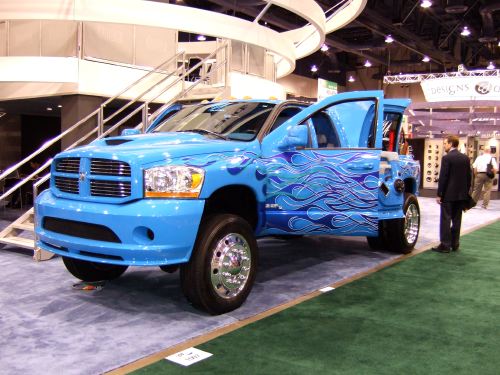 Now that's a pretty truck!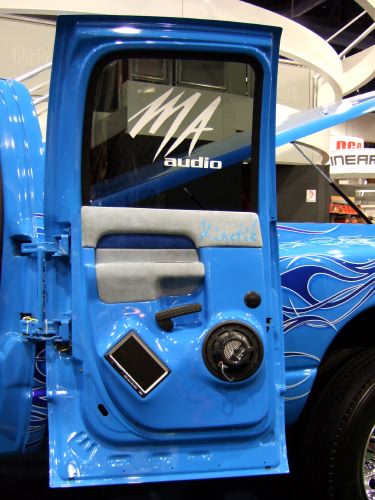 Hmmm, why do I need an LCD in the car door?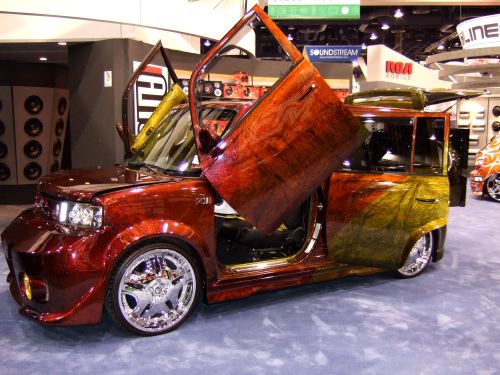 Another shiny car.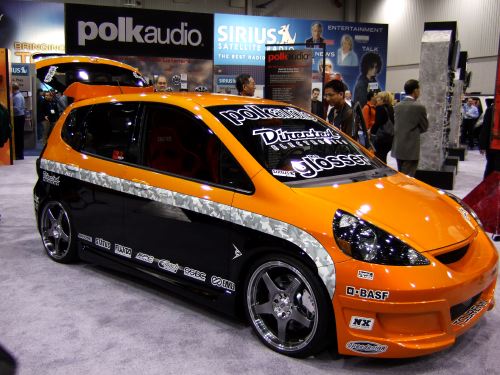 And another…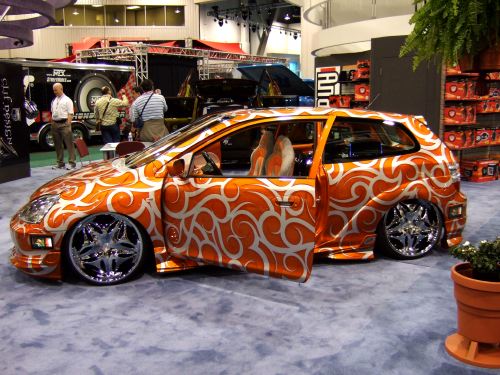 And yet another…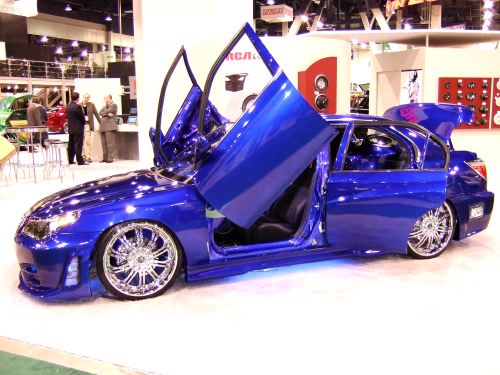 Blue is always nice.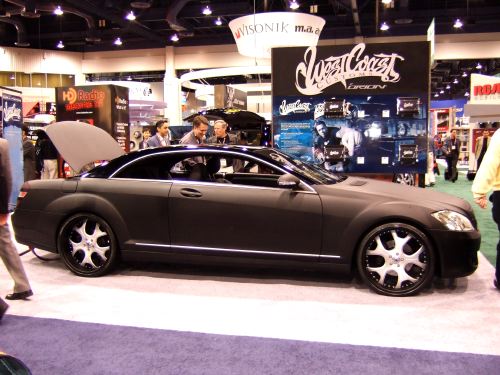 This one wasn't shiny. The paint job reminded me of a coat of primer. Very Batman-ish.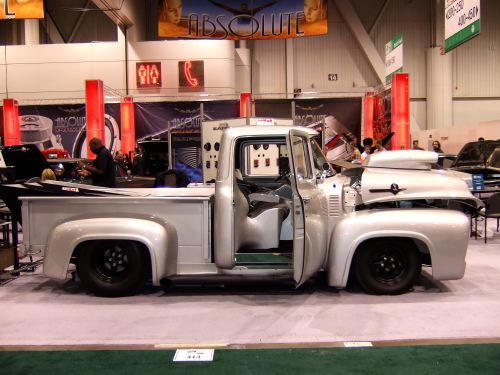 Retro techno.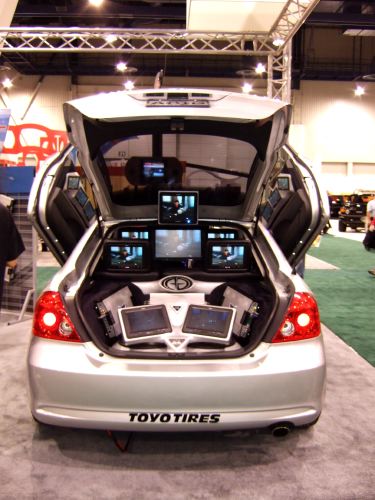 LCD displays gone mad!
Ok, that's enough cars. After a while in this hall, you felt like your brain was going to shake out of your head due to the bass rumbling in all the car speakers!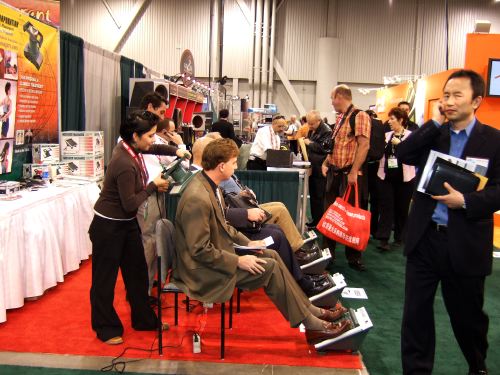 Weenies getting a free foot and back massages. I'm walking around on a bum ankle, you don't see me getting any special treatment! ;o)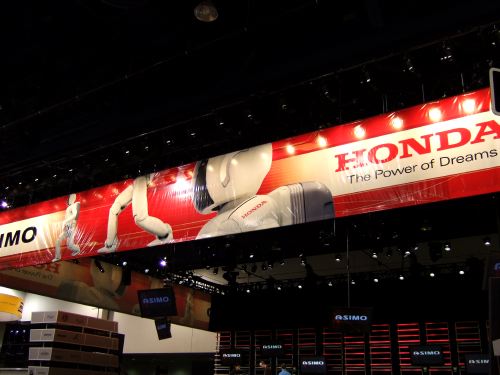 As I was trying to find my way back out of the hall, I spotted Honda's large Azimo stage. I had never seen the Azimo robot in the flesh before, so I stuck around for the next show to start.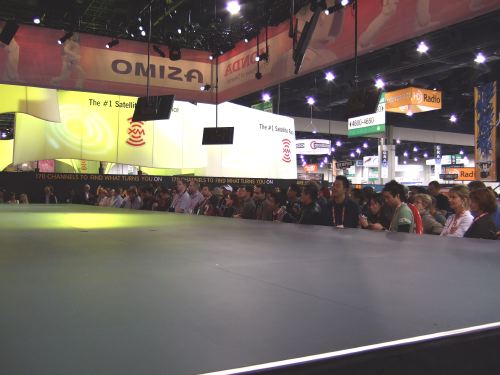 Pretty soon, the area around the stage was packed with people.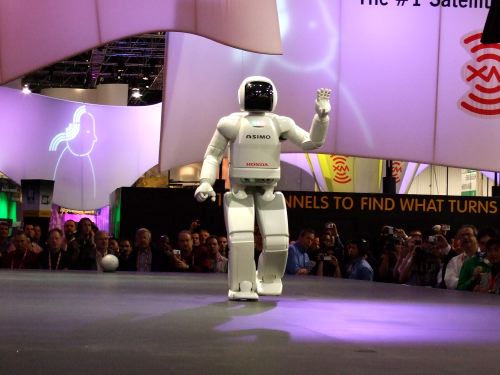 Then Azimo walked out and greeted the audience. Look, he (she?) is waving at me!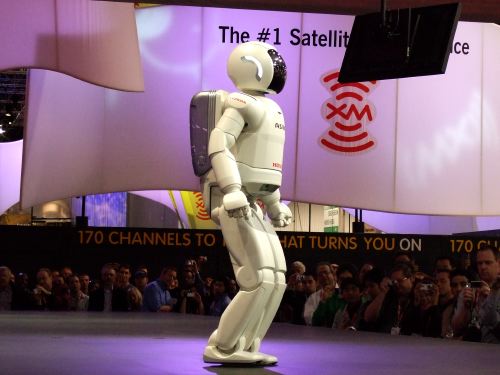 There was also a host on stage with the robot, that interacted with Azimo to give the demo. The weirdest thing was hearing Azimo speak. It has a almost creepy (to me at least) female voice. Azimo doesn't look like a girl to me. Does it to you?
See Asimo in action…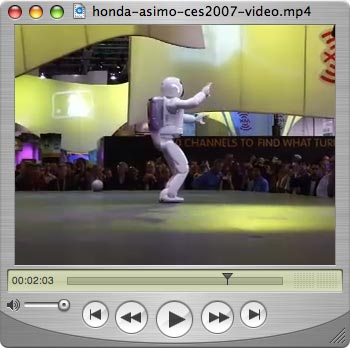 Click on image to play the QuickTime video (2min 44sec,
5.5mb). The video is encoded in the H.264 codec. You will need the latest version of
Quicktime to view it.
VLC is another free viewer.

After the Azimo demo, I grabbed a cheeseburger, chips and a diet Pepsi. Then I wandered around for a few minutes before calling it a day. Goodbye CES showroom floors! I will probably see you again next year.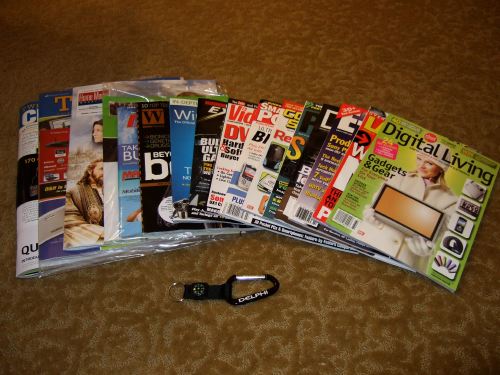 I grabbed a bunch of freebie magazines on the way out.
I took a taxi back to my hotel room and immediately started surfing for Mac World news from Steve Job's keynote speech earlier in the day. I was pretty floored when I saw the picture of the iPhone. I almost brought tears to my eyes, it is that pretty. I wish we didn't have to wait 6 months before getting some hands-on time though.
A couple hours later I headed over to the MGM for a dinner meeting with Palm. The dinner was held at a great Mexican restaurant called Diegos. I sat next to the engineer who was over the 750v and 750, so I was able to tell him my current gripes about my own 750v. He was surprised about the network time not updating. I was 'happy' when Dieter Bohn of TreoCentral.com who was sitting next to me, told me that he had the same problem when he arrived here. Yay, it's not just me!
The dinner was primarily a meet and greet kind of affair. I was surprised that they didn't ask us for comments or opinions on their products. I did come away with one useful tidbit though. I learned a nifty little trick so that you can turn it off while in an app, so that when you turn it back on, it will power up in that app. As is, if you press the red end call/power button, it will go to the Today screen and then you have to press it again to turn off the phone. So everytime you turn the phone on, it's at the Today screen. The trick is to press the Option button and then the power button. That will turn off and lock the device into that app. Great tip!
Around 10pm I left MGM and headed back to my hotel where I worked on this article and then turned in for the night. My time here in Las Vegas is almost over. I fly home tomorrow (Wednesday) afternoon. It was a good time this year! I saw some interesting products, met some interesting people and caught up with some old friends. Hope everyone enjoyed the report!