We use affiliate links. If you buy something through the links on this page, we may earn a commission at no cost to you. Learn more.

04/13/07 See update at bottom of review.

People reading this site are no doubt well aware of my love for all things iPod. I've been a fan for years now, and have eight of them (various models) strewn around my house in drawers and gear bags. Although I've tested many other brands of digital audio players, I always come back to the iPod as my favorite. Today I'm going to tell you about the Insignia NS-DV2G and NS-DA1G players from Best Buy. These are great alternatives… dare I say that they might even be a better choice than the iPod Nano and iPod Shuffle!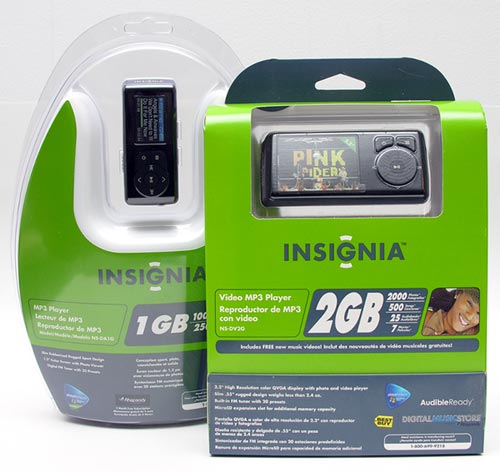 Let's take a look at the NS-DV2G Video MP3 Player first…
Hardware Specs
2.2″ resolution LCD color display
2G Flash memory
Photo formats: BMP, JPEG, TIFF, GIF, PNG, PCX, TGA, FPX, and PCD
Music formats: MP3, WMA, WAV, and RA
Video formats: AVI, MPEG-1, MPEG-4, DVD(*.VOD), QuickTime MOV, WMV, and RM
Built-in FM tuner with 20 presets
microSD expansion slot
Rechargeable lithium-ion battery
Size: 4.0 x 1.8 x 0.6 inches
Weight: 2.4 oz.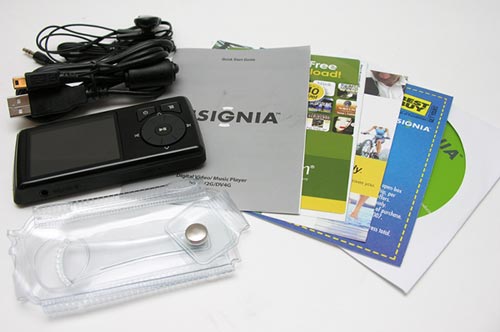 Package Contents
NS-DV2G player
Earbuds
USB charge / sync cable
Clear vinyl case
Quick Start Guide
Software CD
Coupon for 1 free Audible.com book download
Coupon for 2 free months and 5 free downloads of Rhapsody access
$2 off Best Buy coupon for music CDs (specific CDs)
Never miss one of our posts again. Sent MON, WED, and FRI with the latest gadget reviews and news!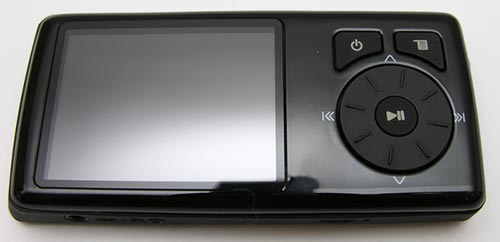 This player is similar in size to the Apple iPod nano if you stack two nanos on top of each other. It has a glossy Black face and a rubberized back. Most of the front surface is taken up by the 2.2″ color display. Next to are 2 buttons (power and menu). Below them is a rotating wheel that is used to adjust volume, scroll through menu picks and navigate backwards and forwards through tracks. In addition to pressing the wheel up, down, left and right, it can also physically rotate. Located in the center of the wheel is the play/pause button. The buttons and wheel have good tactile feedback. The only button that I had a slight problem with is the Play/Pause button. I found that I would sometimes need to press it more than once for it register my command.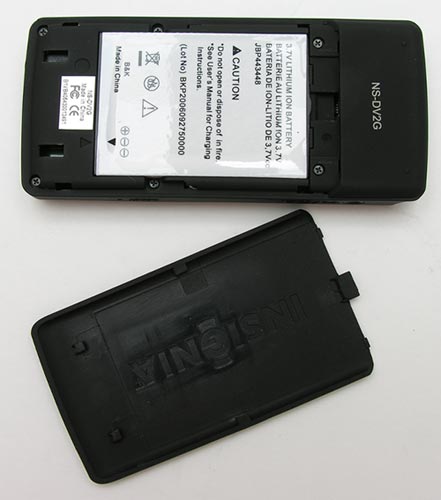 The back of the player slides off to reveal the lithium-ion rechargeable battery, which very much resembles a cellphone battery. According to the specs (I have not conducted any specific battery life tests), on a full charge, this battery will pay continuously for 20hrs. Charge time is approximately 2.5hrs when totally depleted.

On the left side of the player you will find an earphone / line in jack and a reset switch.

On the right side there is a hold switch and a MicroSD flash card slot. The player itself has 2gb of flash memory, but the ability to add to that with a MicroSD card, is pretty nice.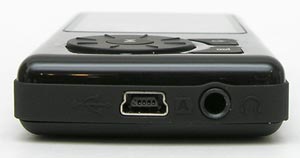 Along the bottom edge you see a mini USB port which is used for both charging and syncing to a PC or Mac. Next to the USB port is an earphone jack. Wait, didn't we already see an earphone jack on the left side of this device? Yes, we did; the NS-DV2G has 2 earphone jacks. The better to share with…
This player is not too big and not too small. It has a nice solid feel to it. A quick gadgeteer squeeze test yielded no flexing, rattles or squeaks. The only real complaint that I have hardware-wise is that the glossy front surface is a fingerprint magnet.
After you charge the battery and turn the device on, you'll be greeted by a wonderfully bright, vivid, crisp color display. The pictures below do not do it justice at all.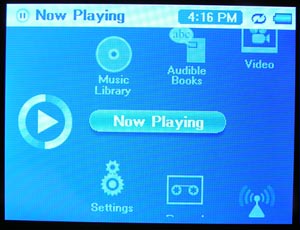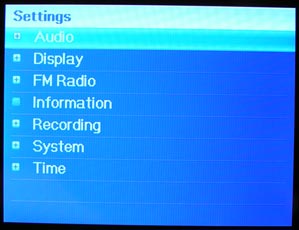 Pressing the menu button will bring up an animated menu arranged in a circular pattern. Rotating the wheel lets you cycle through choices consisting of: Now Playing, Music Library, Audible Books, Video, Photos, FM Radio, Record, and Settings.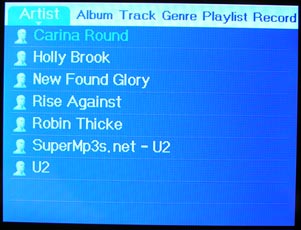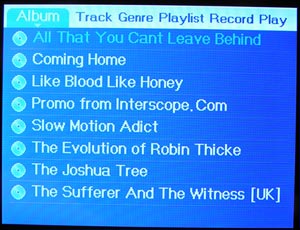 Navigating your music library is not difficult as music is arranged by Artist, Album, Track, Genre, and Playlist. Using the wheel, you switch between these different categorization methods. You then click the wheel up and down to scroll through the entries in the specific list. Clicking left or right will go into and out of the menu for an artist and album. Like most players, you can just click PLay on an artist's name and it will play all the music in all the albums for that artist.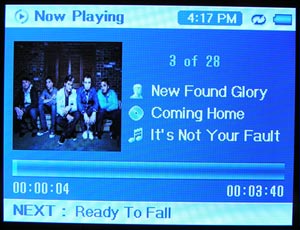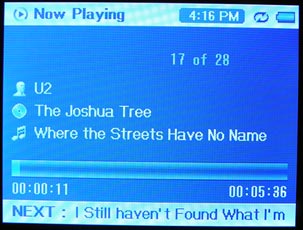 While it is playing a song, it will display the album art, artist name, album name, current track name and next track name. If the track doesn't have any album art, it will display the info as shown in the image above on the right.
Listening to music through this player is great. No complaints at all. Using the default audio settings, music has just the right amount of treble and bass. If you want to make changes, you can change the built in equalizer from normal to rock, jazz or classical settings.
The NS-DV2G has another trick up its sleeve. It can display photos and play video. Yeah, the screen is small, but watching a TV show on this little guy is surprisingly comfortable and fun. The picture is really clear and video is smooth and blur free.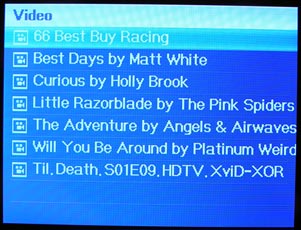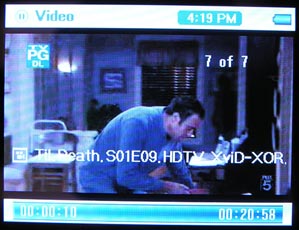 The player comes with several sample music videos and I converted one of my favorite sitcoms to see how it would 'feel' to watch it on such a small device. I have to say, that I didn't really have a problem with it… well except that depending on where you might find yourself, the glossy surface over the display is prone to glare. Other than that, fun! People at work were pretty wowed by it as well. It's always good to be able to wow.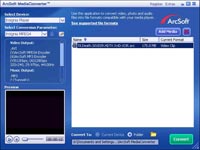 Click thumbnail to see full size image
Included on the CD is a video conversion program. Just drag and drop video files and it will convert and copy them into the player. Easy.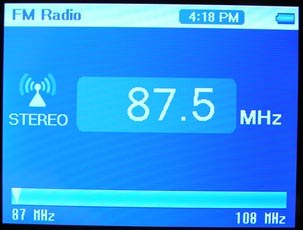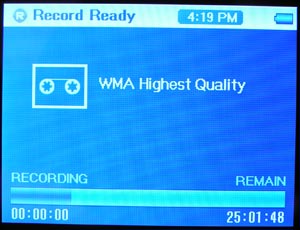 In addition to playing music and video files, this device also has a built-in FM radio. I was really amazed how well it was able to pull in stations even in my basement. Having 20 presets is nice too.
You can also use the NS-DV2G as a recording device. You have to plug a microphone into the line-in jack on the side of the device as there isn't a mic built-in.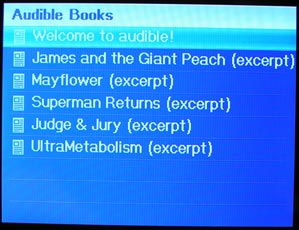 Did you think I was done? You can also listen to Audible books on this device. The device can hold multiple audio books and will keep your place in each one, even through multiple power toggles.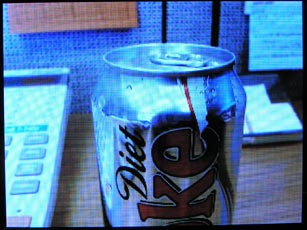 And last but not least, you can even store and view images on the device (or MicroSD card). Using the wheel and play/pause button, you can zoom in on various details in pictures. You can also continue to listen to music and audio books while you view images. The only thing missing is a slide show feature. Instead you have to manually pick an image to view, then using the wheel, click backward and forwards through other pictures.
All of the built in features make this digital player a real winner. Of course there are a few things I noticed about it that can be somewhat annoying. Nothing major, but worth mentioning. If you use the MicroSD card and have quite a bit of info stored on it, it makes boot up time during power on, a little lengthy as the device has to create an index of all the music, videos and photos. Another issue is that while music is playing, scrolling through lists will cause some slight audio glitches. And last but not least, I don't like that you have to start over from scratch when you want to navigate through music. For example, If I navigated to a specific song under the artist name of Snow Patrol, into one of their albums, if I wanted to go back into one of their other albums, I can't just press the menu button and go back up a level to navigate into it. I have to start over and select the artist name etc.
Other than those 3 minor issues, the NS-DV2G is a fantastic little digital media player that could give the iPod nano a run for it's money!
The Insignia NS-DV2G is available at Best Buy in two versions: 2gb – $119.99 and 4gb – $149.99.

Now let's check out the baby brother of the NS-DV2G, the NS-DA1G MP3 player.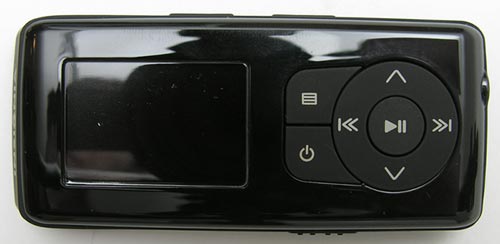 Hardware Specs
1.2″ OLED color display
1G Flash memory (also available with 2G)
Music formats: MP3, WMA, WMA-DRM
Photo formats: JPEG
Built-in FM tuner
Rechargeable lithium-ion battery
Size: 3.1 x 1.3 x 0.5 inches
Weight: 1.2 oz.
Package Contents
NS-DA1G player
Earbuds
USB charge / sync cable
Clear vinyl case
Quick Start Guide
Software CD
Coupon for 1 free Audible.com book download
Coupon for 2 free months and 5 free downloads of Rhapsody access
Like its larger sibling, this player has a glossy black front and a slightly rubberized back. Both surfaces attract smudges and fingerprints. The button layout for this device is similar to the NS-DV2G. There is a power button, menu button, up/down list navigation buttons and prev/next track buttons. On the top edge of the player are 2 small up/down volume buttons and on the opposite side there is a hold switch. Along the bottom edge is a mini USB port for charging / syncing and an earphone jack.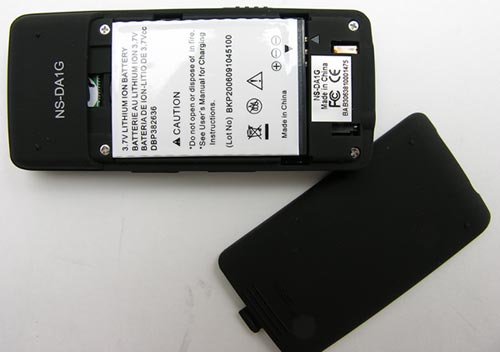 The back cover slides off to reveal a small flat cellphone-like rechargeable battery. Specs say that the battery should play up to 18hrs per charge.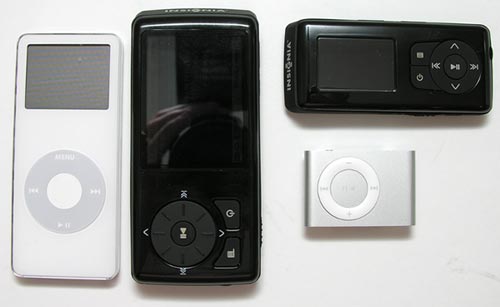 Here you can see both players and how they compare in size to an Apple iPod nano (1st gen) and iPod Shuffle (2nd gen).
The display on this device is bright and crisp. Due to OLED it has an awesome viewing angle too.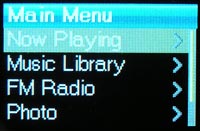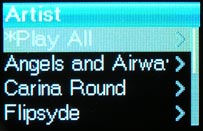 The menu system is easy to navigate. Basically you can browse the stored music by Artist, Album, Track or Genre.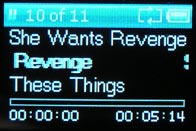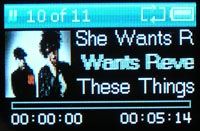 During song playback, you can have it just display the song info, or also the album art.
Like the larger player, this one also has a built-in FM radio and the ability to display photos. The radio in this player isn't as nice as the larger player. Reception isn't quite as good and there are no channel presets.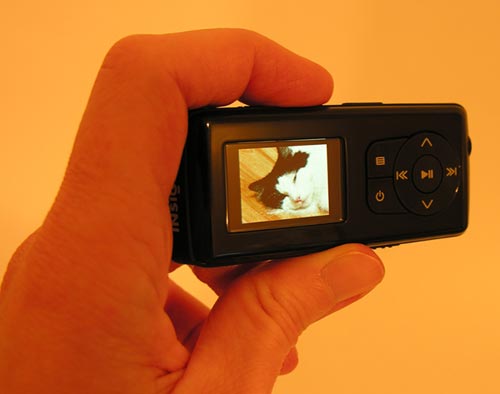 As for viewing photos on the NS-DA1G, It's basically a novelty since the screen is so tiny…
Now you may be wondering just how you go about getting content (songs, videos, photos and audio books) into these players. It's actually quite easy as these players are both plug and play for PCs and Macs. Just plug in the USB cable and drag and drop into the provided folders. Music can be stored in hierarchical folders such as Artist > Album > Songs.
Both players come with audible.com manager software, and Rhapsody download manager. I was able to install the audible software, but after several tries installing Rhapsody, I gave up. It would get to 99% and freeze everytime. In a nutshell, Rhapsody is a service sort of like iTunes. But with Rhapsody, pay a monthly subscription fee.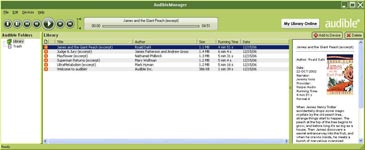 Click thumbnail to see full size image
For the price, this player is comparable to the iPod shuffle. Personally, I'd rather have this device even though it's twice as large. I really like having the display to see song titles and the built-in FM radio is a nice addition.
The NS-DA1G is available at Best Buy in two versions: 1gb – $79.99 and 2gb – $99.99.

04/13/07 Update: A reader sent in a tip to remedy the complaint that I had about the menu system. You can actually hold the Menu button down for a couple of seconds and it will go back to the previous menu screen instead of to the top level menu screen. This is a GREAT tip and makes this player so much easier to use.

Product Information
Price:
Manufacturer:
Insignia
Retailer:
Best Buy
Requirements:

Windows 98 or later; Mac OS 8.6 or later; USB port; CD-ROM drive

Pros:

Nice feature set
Bright display
Great audio
FM Radio

Cons:

Glossy surface attracts smudges
Audio glitches while scrolling through lists
Menu system can be annoying *see update at bottom of review