We use affiliate links. If you buy something through the links on this page, we may earn a commission at no cost to you. Learn more.
Flash card readers come in a huge variety of shapes, sizes and colors. Today I'm going to tell you about the 51 in 1 USB Slim Card Reader that was sent to me by Brando. The ability to read 51 different card formats really sounds impressive doesn't it? Well, things are not always what they appear to be…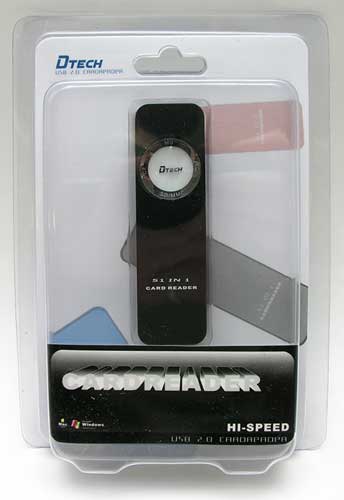 Hardware Specs
USB 2.0 transfer rate up to 480Mbps, backward USB 1.1 transfer rate up to 12Mbps
No external power required, just powered by USB connection cable
Dimensions: 87 x 25 x 13mm
Fully Plug-n-Play and hot swapping support
Lower power consumption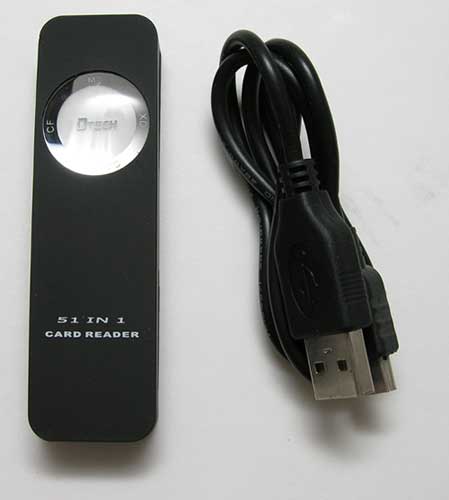 Package Contents
Card reader
USB cable
The best thing this reader has going for it is its compact size. It can easily fit in even the smallest gear bag.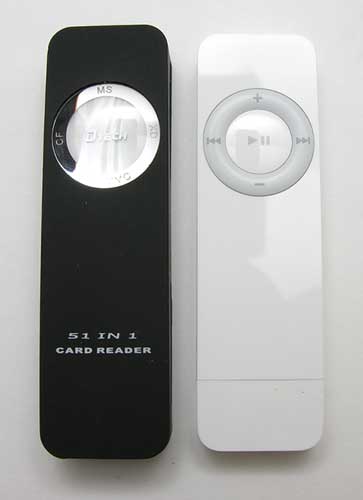 Never miss one of our posts again. Sent MON, WED, and FRI with the latest gadget reviews and news!
Upon first glance, this reader immediately made me think of the original Apple iPod shuffle. It's just too bad that the bottom of the reader does not pull off like the shuffle to reveal a USB connector. Instead, to connect the reader to your computer, you must use the included USB cable.

Although this product is billed as the 51 in 1 card reader, it has just 4 card slots. On the left side you will find a Memory Stick and Memory Stick Pro slot, with a Compact flash slot next to it.

On the right side there is a Secure Digital (SD)/MultiMedia Card (MMC) card slot and a xD slot next to it. In order to read 51 card formats using the available slots, you will need to use various adapters. For example, MicroSD and MiniSD cards typically come with SD sized adapters that they can fit in. Personally, I would be much happier with this card reader, if it had a MicroSD or MiniSD slot instead of the xD slot. I've never owned a device that requires xD cards.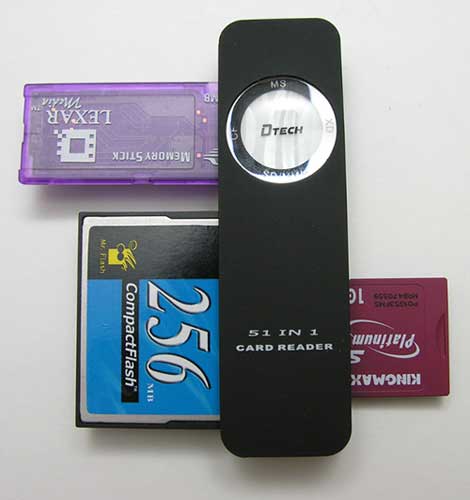 As far as inserting and removing cards, I only had a problem with the MS/MS Pro slot. I found it to be extremely tight.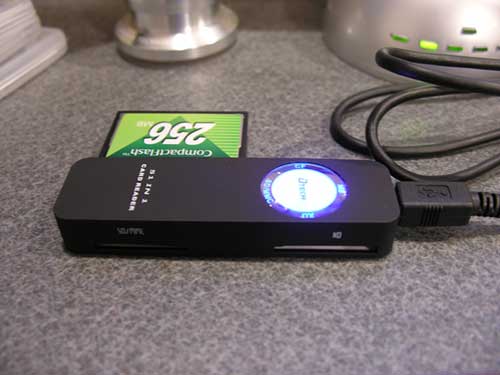 As soon as you connect the reader to a USB port, the circle on the top will glow Blue. It does not flash to signify activity, it just glows steadily.
To get an idea how fast this reader can copy files, I tested it by copying files to and from my iMac and to and from other cards inserted into the reader. The file I used for all the tests was a 118mb .WMV file. The reader was plugged into a USB port on the back of the computer, not through a hub.
Media used:
1GB 80x Lexar CF card
1GB Kingmax SD card (no idea about speed)
Test results:
42.57 seconds to copy file from computer to CF card
29.89 seconds to copy file from computer to SD card
2.06 seconds to copy file from CF card to computer
1.79 seconds to copy file from SD card to computer
72.73 seconds to copy file from SD card to CF card
29.48 seconds to copy file from CF card to SD card
I'm not really sure what to make of the numbers… But in all reality, this reader feels about as fast as other readers that I've used in the past. If you need a small reader and primarily use CF and SD cards, then this one can go with you almost anywhere and won't put a dent in your billfold.
Product Information
| | |
| --- | --- |
| Price: | 14.0 |
| Manufacturer: | Dtech |
| Retailer: | Brando USB |
| Pros: | |
| Cons: | Need card adapters to read the majority of card formats. |