We use affiliate links. If you buy something through the links on this page, we may earn a commission at no cost to you. Learn more.
I really like the Calendar on my Palm. I used to use Agendus but my life is just not complicated enough to bother with all of its features for $30. Still, there are a few features Calendar lacks- like a good detailed weekly view.
Enter NJSoftware's MyWeek 3.2. For $14.95 you get a program that offers a good weekly view of your calendar, integrates your Tasks list, and allows you to rearrange things, drag and drop between days, and more.
MyWeek takes a mere 184k on my Palm TX and opens instantly. The main screen is simple and well organized, even if a bit plain. You can color-code things by categories, highlight current and upcoming events, change fonts, attach icons, and more. Lots of great customization options for tinkerers! Here are screenshots of the basic interface, the same screen with color and icons, and the main preferences screen: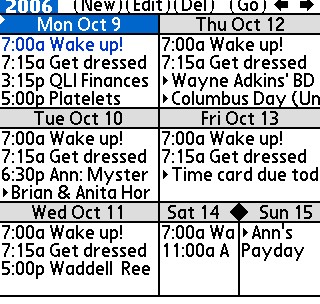 MyWeek main screen, plain version.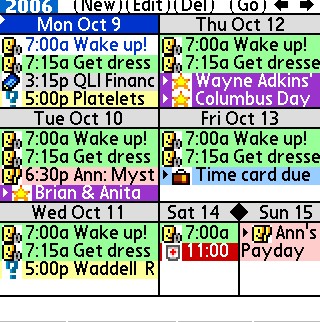 MyWeek main screen with colors and icons (Rock's Collection of Datebk 4 Icons: www.palmgear.com).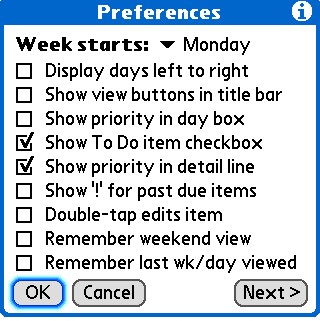 MyWeek Preferences screen.
Never miss one of our posts again. Sent MON, WED, and FRI with the latest gadget reviews and news!
OK, some basic questions:
Does it fill a need? For me, yes. The inability to see the week at a glance in Calendar is a big shortcoming, and MyWeek handles it nicely. Many of the other features are just frosting on the cake. It also should work on pretty near any Palm with OS 3.0 or later.
Does it work well? Yes. the demo version worked flawlessly- opened instantly, worked well with other programs, and performed every function smoothly. It is a bit plain looking, but by no means ugly.
Is it worth the money? I've been debating this with myself since I loaded it. Part of the problem is that I am spoiled by freeware. Part is that stupid little adding machine in my head keeping track of the money I've spent on my Palm or on computer software in general. If it looked a little cooler or did a little more, I'd register it in a heartbeat. If it did a little less or cost a little more I would just ignore it. My ambivalence is actually a sign of how much I like this program.
I have to admit that I am swayed by their trial policy- fully functional demos for a full 30 day trial. While that is a little generous for games, it is a great policy for utilities and productivity programs. I have usually had good luck with companies that have enough confidence to offer this.
Eh. I still have a few days left to try it and debate it with myself! Until then, I am sure I will continue to use it more than programs I have spent a lot more on.
Product Information
Price:
14.95
Manufacturer:
NJ Software
Retailer:
NJ Software
Requirements:
Pros:

Important and useful function for Calendar or Datebook
Very customizable
Easy to use

Cons:

A little plain looking
Seems a little expensive