We use affiliate links. If you buy something through the links on this page, we may earn a commission at no cost to you. Learn more.
My current favorite Bluetooth headset is the Cardo Systems scala-500 that I reviewed
earlier this summer. This headset comes with a clip that allows you to hook it on your eye / sunglasses. Unfortunately, it doesn't work too well if you have thin framed glasses. Evan Koblentz just emailed me with a hack that will keep the clip from at least falling off your glasses. Take a look (pics after the jump):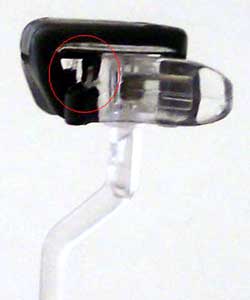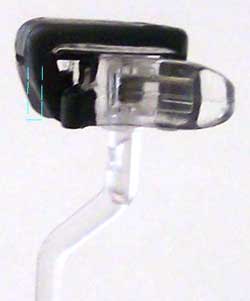 Here are his notes:
Julie,
I had some time to examine the adapter today. I immediately
noticed the problem that you mentioned — on my thin round eyeglass
temples the adapter doesn't stay reliably in one place. It swings and
quickly falls off. So I made two changes.
First, I cut away an inside corner of both of the spring-loaded side
clamps, as shown below in the red circle. With these corners removed
(less than 1/8-inch square), you can see daylight through it — and
you can slide a thin round eyeglass temple through it. This way
there's a constant bottom support causing the temple to be locked
inside the clamps.
Second, I bent the inside clamp (the one closest to your head) inward
at an angle, as shown in below. The blue dashed lines are the inner
part's original position. This causes the side clamps to go around
the inner part, instead of just closing adjacent to it. So now the
whole adapter can NOT fall off until you specifically squeeze the side
clamps.
The adapter still freely swings side-to-side, and freely slides
forward-and-back, riding on the temple like it's a rail. But it no
longer can fall off and it retains its rigidity. If someone wants the
adapter to really stay in place, the solution would be insert a
1/2-inch length of tube in the slow where I modified the side clamps,
and then just crimp the inner clamp tightly around it. I think the
side-to-side swinging is a "feature"
🙂 because that would be more comfortable than having the headset
constantly against your ear even when there's no phone call.
Sorry about the lousy pictures. I'm a terrible photographer.
– Evan