We use affiliate links. If you buy something through the links on this page, we may earn a commission at no cost to you. Learn more.
I've always been fascinated by small tools. I guess it comes from being a little kid and watching my Dad work on things in the garage. I even had my own little toolbox that I kept under my bed. It was actually an old metal fishing tackle box full of parts from little machines that I'd dismantled. That love of small tools and objects didn't leave me as I grew up. That's why I had to take a closer look at the tools made by Peter Atwood when I saw many people on the EDCforums talking about his offerings.
Peter was kind enough to send me two of his handmade tools. A keychain sized pry bar and whistle.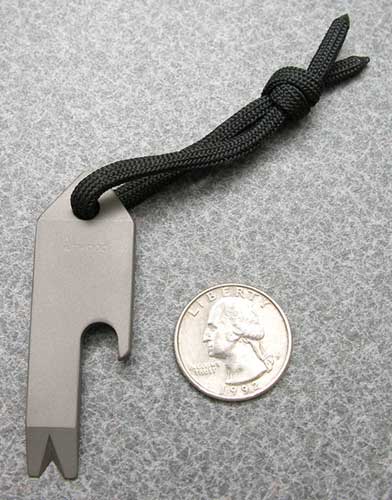 The PryBaby mini is one of many styles and sizes of pocket pry bar tools that Peter makes in his shop. They are made from premium S30v stainless cutlery steel. There are many steps involved in their creation, including sanding, grinding, milling, blasting and finishing. He does all of the steps in his shop including the heat treatment. No jigs or fixtures are involved, the grinding and milling are done by hand and by eye so even if they appear to be very similar each Prybaby is actually slightly different.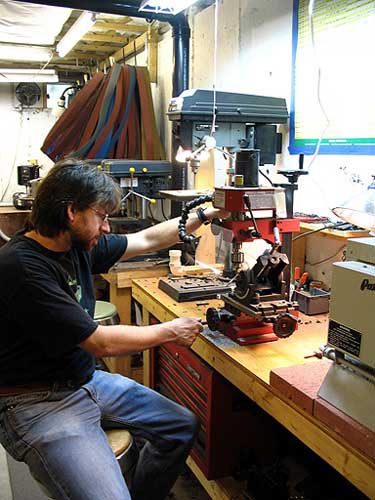 Peter in his knife shop.
Coming from a background in wallpaper hanging and house painting, Peter made the first PryBaby back in 2002 as a handy tool for home renovators. It was able to cover all the bases from removing switch plate covers to opening paint cans to popping beer bottle caps after work.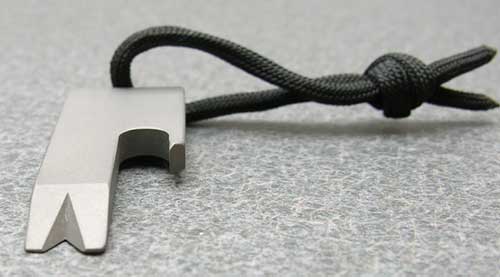 The PryBaby mini is 2.5 long x .75 wide and .375 inches thick, with a soft bead blast finish. One end has a small forked pry bar tool that can be used for all sorts of daily tasks. Some things that come to mind are: staple lifting, nail prying, box opening… there are even more ideas listed on a page at Peter's site.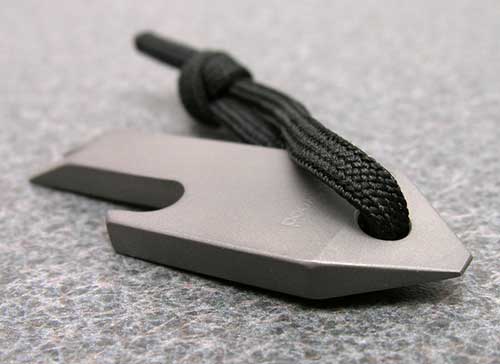 The opposite end has a flat screwdriver head, that can be used to… screw or unscrew slotted screws. Surprise! Then on the side is a bottle cap lifter.
I've not had this tool for long, but it has already helped me open several boxes (I usually get a butter knife out of the drawer for that task… bad habit), replace the license plate on my car, pry out a nail out of the wall so I could hang a picture and a couple of other things that I can't remember at the moment. The PryBaby mini is the perfect keychain tool for almost anyone. After you get one, you'll wonder what you ever did without it.
Price: $35

One of Peter's other popular handmade items is his Tactical Whistle. They are made from a solid bar of 303 stainless steel and are turned on multiple axis state-of-the-art CNC turning/milling equipment.

Each whistle is 2.5 long and .5 inches in diameter. They feature a black Delrin reed insert.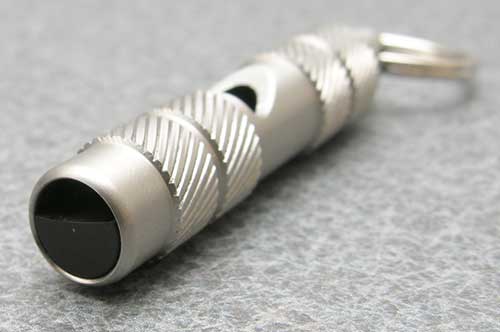 These whistles are corrosion resistant and should last a lifetime.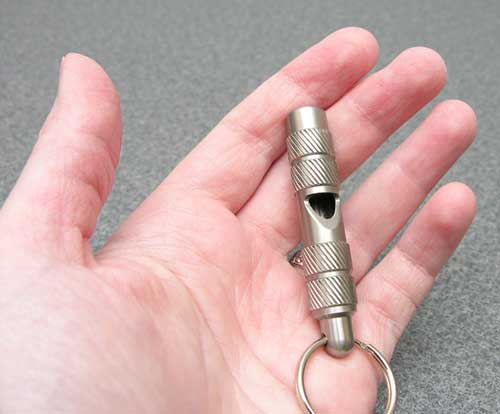 They are small, but boy are they LOUD! I made a test recording, but the sound was so loud that it distorted the recording. Take a listen to the .WAV file linked below:
Sample audio recording of Tactical Whistle
These whistles are great for camping, hiking, boating, and other outdoor activities. They also could come in handy for self-defense… blow one of these and a would be attacker might think twice about messing with you.
Price: $35