We use affiliate links. If you buy something through the links on this page, we may earn a commission at no cost to you. Learn more.
You guys probably know by now that I've turned into a messenger bag junkie. It's not like I need to be admitted into a 12 step program for this addiction, but I can't help but want to try every mess bag that I can get my hands on. The latest one in my possession is the Z Messenger from Zitteli.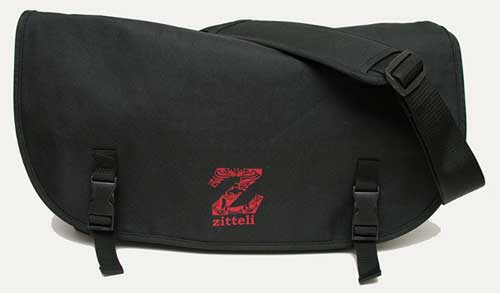 The Z is made of UV and Water resistant P.U. Coated 600 Denier Polyester. It is available in any color that you can imagine, as long as that color just happens to be Black.
The style of this bag is classic messenger style. To me that means, a rectangular shaped bag with a big flap and a large main cargo area. From the front you can see that the main flap is held closed by 2 plastic pinch clips. Velcro is not used under the flap to hold it in place. Actually, this bag uses very little Velcro in its overall construction.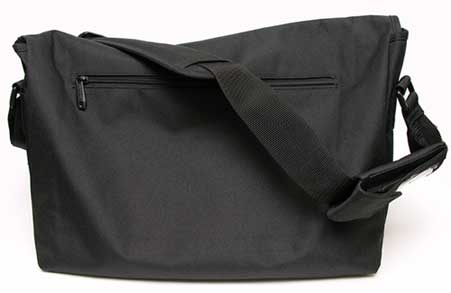 The exterior of the bag is very plain. Besides the Red Zitteli logo, the back side of the bag has a horizontal zippered pocket with a metal zipper pull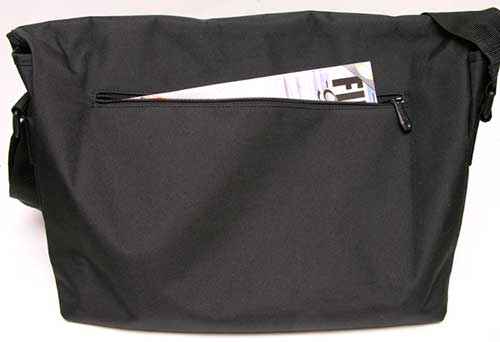 This pocket is sufficiently large enough to hold several standard sized magazines. If it was just a little bit wider and taller, file folders would also fit. As is, you can slide the folders in, but the tabs will stick out.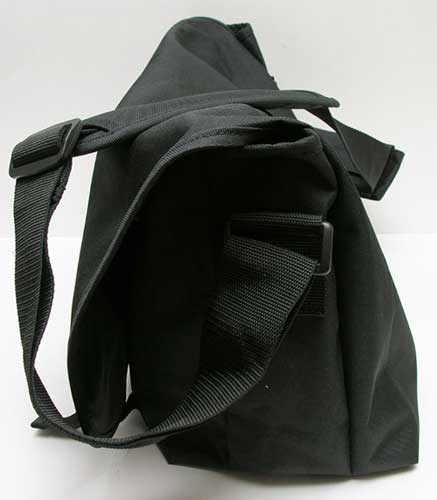 Here is a side view of the Z messenger bag. As you can see, the bag is able to sit on a flat surface and won't flop over. I wish it had a grab handle on top…
The material and construction of this bag is not as quite as rugged as I've seen with other higher end bags that I've reviewed in the past. It doesn't feel like it will fall apart or anything though.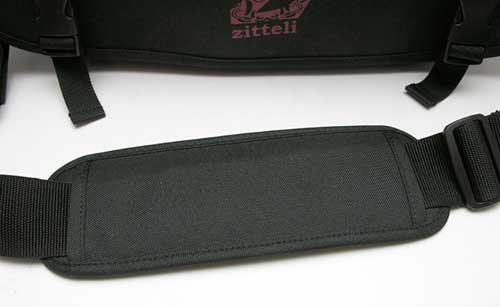 The attached adjustable strap has a nice large shoulder pad with a non-slip surface.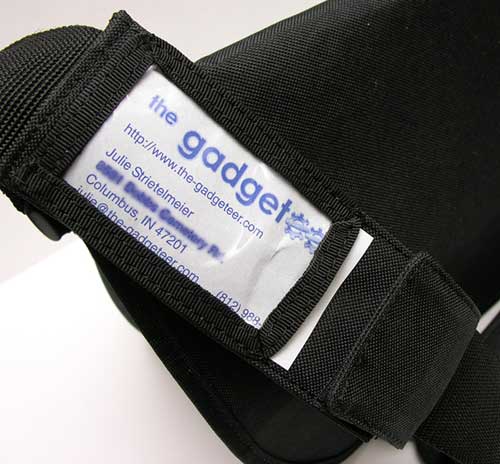 Attached to the strap is an ID card holder / mobile phone holster. Too bad my standard sized business card doesn't quite fit in the slot…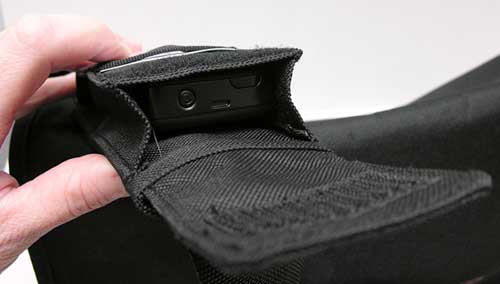 The narrow mobile phone holster is better suited for candy bar style phones. In the picture above, you can barely make out the top of my Sony Ericsson w810.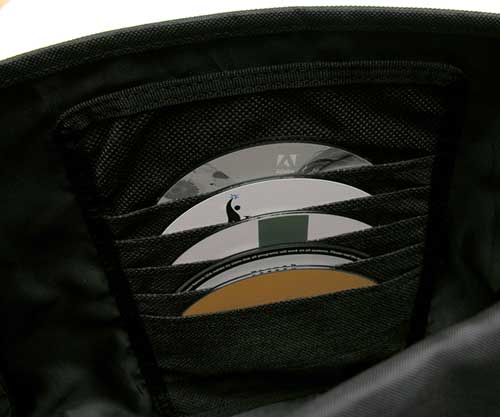 The interior of the bag does not have an over abundance of pockets. on the inside front wall, you will find a vertical set of 5 open slot pockets. These are made specifically for CDs, but of course you could use them for other items. The only problem is that the slots are flat, open and only 5 x 4 inches in size.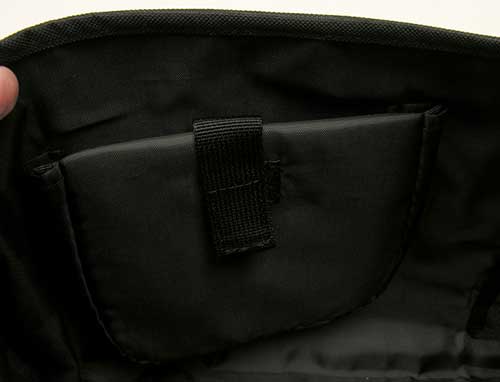 Adjacent to the CD slots is a open topped padded pocket designed for a portable CD player or other device. This pocket is 6 x 7 x 1 inches. Again, the top of the pocket is open, with only a Velcro strap to hold it partially closed. I'd rather see a Velcro flap or a zipper used to keep the contents secure.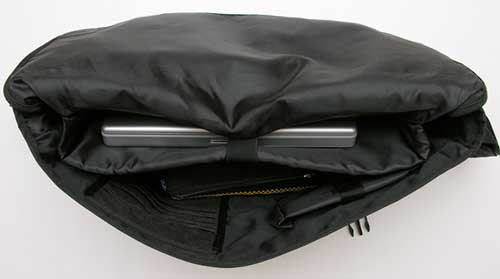 The only other storage compartment inside the bag is a 15 x 11 x 2.5 inch padded laptop pocket on the back wall. It's a pretty large pocket; above you see my 12″ Powerbook inside it. Like the CD player pocket, this one also is only held closed with a Velcro strap.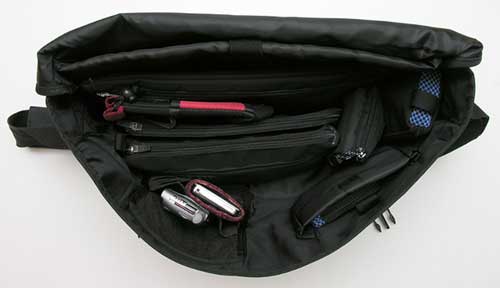 Here's an interior view of the Z with a large collection of my everyday gear. Since the bag is lacking the many pockets that my current fave the Bagaboo bag has, I found that I didn't really enjoy the Z all that much. Even though I prefer the large messenger bag style, I still want a bunch of pockets to organize all my stuff (seen below).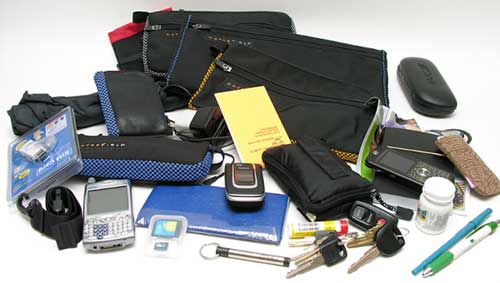 I also didn't really care for the Black satin-like interior. It is hard to find dark objects at the bottom of the bag when the lighting is dim.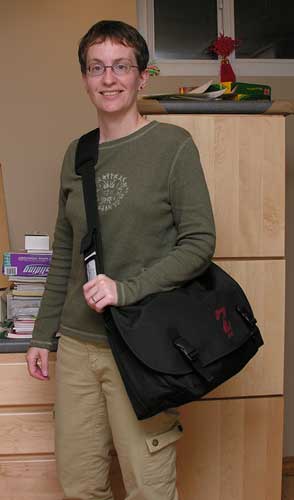 Here I am wearing the Z bag fully loaded with my gear. For reference, I'm 5'5.75″. The bag isn't flashy and due to its Black color, it will blend with any outfit. It's comfortable to carry thanks to the wide shoulder pad.
The Z messenger bag from Zitteli, is an inexpensive shoulder bag, so it is hard to really rag on it all that much. It makes a good bag for those of you that have been interested in trying a messenger bag, but didn't want to spend a lot of money for a name brand like Timbuk2. With the Z, you can spend less than $25, try it out and then if you like the style, move up to something a little more rugged, with more pockets and more color options.
Available from online retailers such as eBags.com.