We use affiliate links. If you buy something through the links on this page, we may earn a commission at no cost to you. Learn more.
My daily gear bag for the past 9 months has been a Timbuk2 messenger bag that I designed using their Bag in a Box kit. This is the bag that actually turned me on to messenger style bags in the first place. Even though I've been happy with the Timbuk2 for quite a while now, I still find that I'm always on the lookout for one that has more pockets, better features, materials etc. Guess what? The Timbuk2 is going bye-bye because I recently discovered Bagaboo Bags.
Located in Hungary, these bags give new meaning to the term 'custom made'. You can not only choose from a wide variety of colors for the interior, exterior and trim, but you can also have your logo sewn into the bag. No one will have a bag exactly like yours.
I sat down one afternoon with paper, pencil and an idea. Below is my idea come to life. Do you like it? There is a whole gallery of designs on Bagaboo's site that can help spur creativity for designs of your own.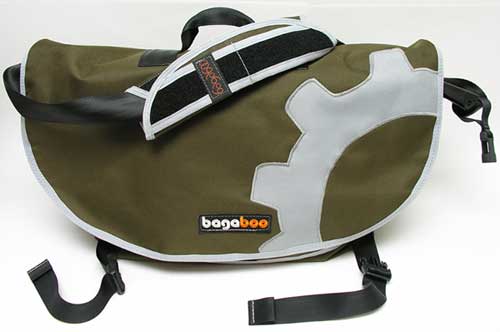 Bagaboo's messenger bags have an exterior made of Cordura and an interior made from truck tarps. Of the 21 exterior and trim colors, I chose Military Green and light Grey. For the interior, I went with Orange.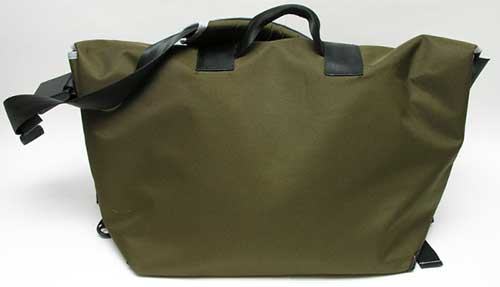 As you can see, the outside of the bag is devoid of pockets. This is by design. As a messenger bag, you want the contents to remain safe, secure and protected from the elements. Cordura is water resistant, and the interior truck tarp is waterproof. Unless you dunk the bag in a lake, your cargo should remain dry.
You might notice the grab handle on the top of the bag. This was a feature I requested. It wasn't listed as an option on the Bagaboo site, but when I asked for it, they obliged. Yay!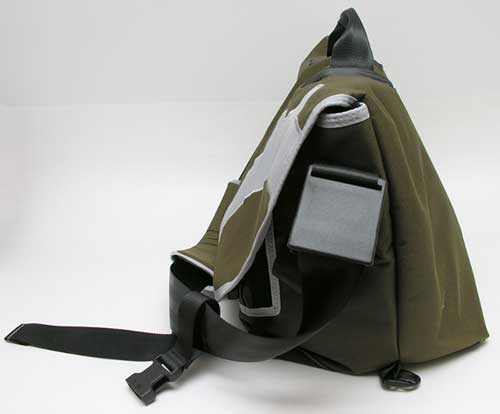 The messenger bags have a choice of strap systems. There is a front adjusting system that is better suited for actual bike riders / messengers, and the side adjust system for people like me, that walk to and from a parking lot. I chose the side adjust system, which consists of a big plastic clip. If you decide to order a bag with the side system, you have to specify which shoulder that you'll be wearing the bag.
The shoulder strap is made from car seat belt webbing. This material makes wonderful shoulder straps because it is strong and comfortable. The strap also comes with a pad which is padded and has a long strip of fuzzy Velcro. The Velcro allows you to attach a phone holder or other accessory pouch.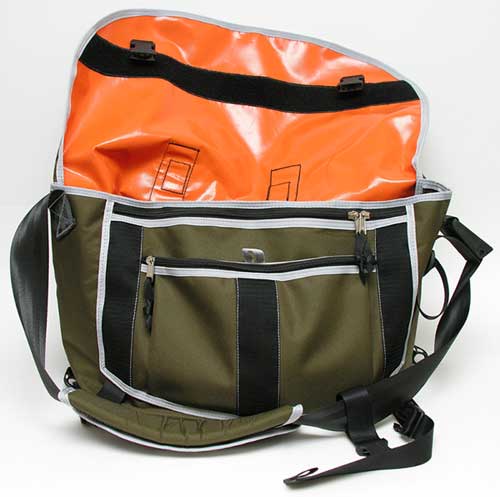 Lifting the flap will reveal 3 vertical strips of Velcro sewn to the outside of a collection of 3 pockets. The underside of the tarp lined flap has a horizontal strip of Velcro, as well as 2 plastic clips. Even when the bag is very full, you won't worry about keeping the flap in place.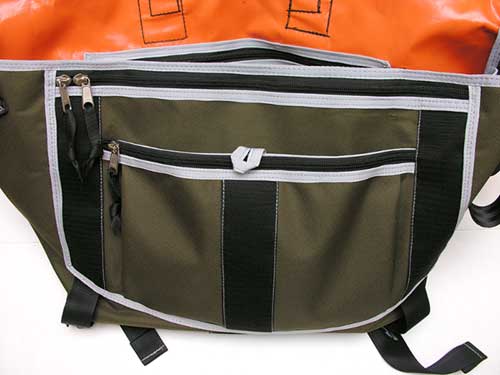 The outer most pocket is approximately 11.5 x 6.5 inches. It is a flat zippered pocket with a pleat on each end.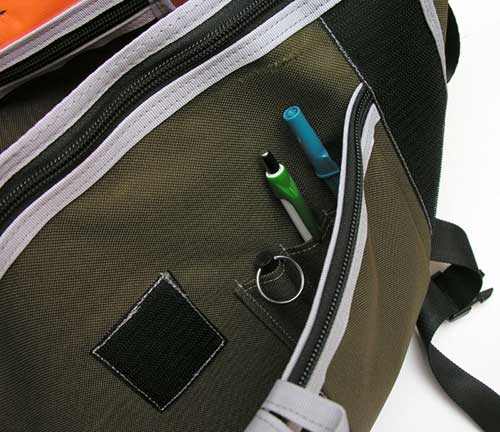 A loop of fabric allows you to pull this pocket out to reveal another flat pocket that is approximately the same size as the pocket in front of it. This pocket has 3 pen/pencil slots though.
The largest pocket lies directly behind the entire set. It is zippered (2 zippers) and is approximately 14 x 9.5 inches.
Now lets take a look at the interior of the bag.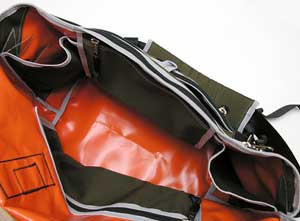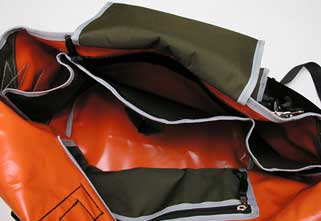 By default, the Bagaboo messenger bags have 3 interior pockets. You can see them at the top of the right most picture above. Two 'corner' open pockets and one larger middle pocket that is held closed with Velcro. As an option (i.e. more money) you can add a small 9 x 5 inch zippered pocket that hangs over the middle pocket I just mentioned. You can also opt for a large 12 x 8 inch flat zippered pocket on the back wall of the bag. A flat piece of foam is included that you can leave in the pocket to pad the back of the bag.
The Messenger bag comes in 4 sizes: Small (21.25x12x7.5in / 54x30x19cm), Medium (23.5x12x8.25in / 60x30x21cm), Large (25.5x12x10.25in / 63x31x26cm) and XL (25x13x10.25in / 64x33x26cm). I went with Medium and am quite happy with the size. It's not too small and not too big, it's jussssst right.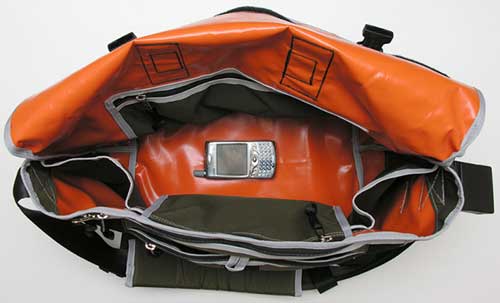 Above you see the empty bag with my Treo 650 in the bottom for a size perspective.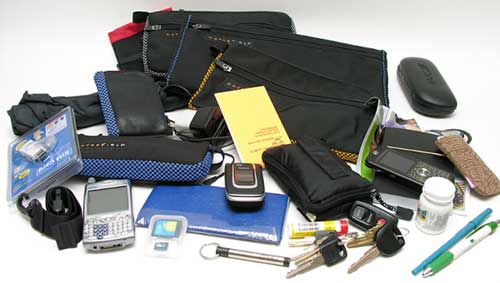 Here is a pile of all the stuff I tote around with me every day.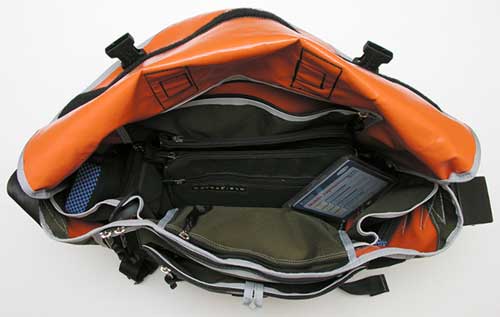 Stick all that stuff in this medium sized bag and there is still a LOT of room left for even more stuff.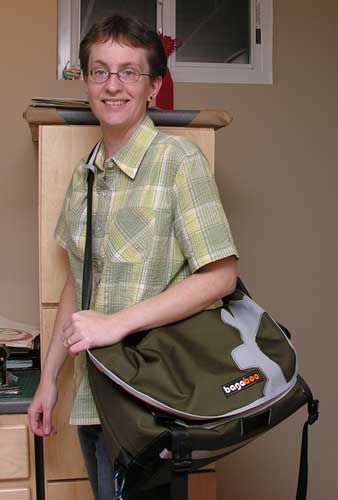 And here I am wearing the bag fully loaded down with the stuff you see above. For reference, I'm 5'5.75″ (yes, I want to count every quarter of an inch I can!). The bag as seen here weighs in very close to 9lbs, but is still comfortable and easy to manage. I really like this bag. At first I wasn't too thrilled with the over abundance of Velcro, but I've learned to tune out the ripppppppppppppp noises. Other than the Velcro, I can't find anything to complain about. The material and workmanship exceeds Timbuk2. It's just a much better bag. Of course it's also 'my' bag because I put my own idea into it with the grab handle and gear design.
As designed, this bag costs 76 EUR (~$97 USD) + shipping. The special design for the exterior varies depending on the complexity. Just for example, the gear on my bag would cost about $15 USD.
Bagaboo has several other bags available as well. I was also sent the Teenage Dirtbag and Pebble bags.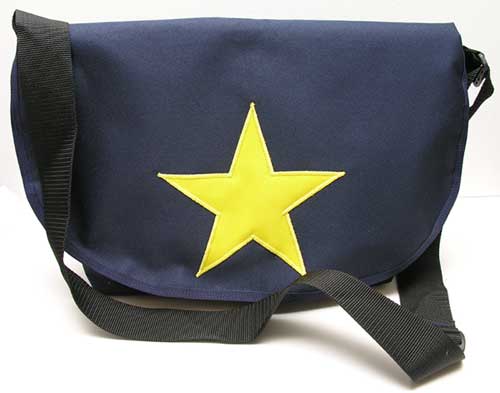 The Teenage Dirtbag is like a light version of the messenger bag. You can choose the exterior, interior and trim colors, but the interior is Cordura, not tarp. The one you see pictured above is the large size.
Under the flap are two pockets. One is an open slot and the other is zippered. The interior of the bag has an inner divider, which is a zippered pocket itself, and has two inner slip pockets. The main thing I don't like about this bag is that the divider does not attach to the bottom of the bag. So, it is more difficult to keep your items organized because they can slip from one side of the bag to the other.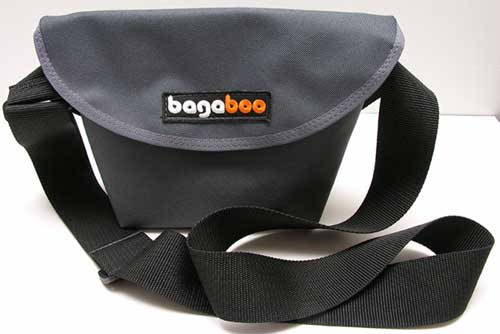 The Pebble is a very small shoulder bag with a Velcro flap and an adjustable shoulder strop. There is a divider inside the bag, which functions as a zippered pocket, too. It splits the bag's inside into two parts. Like the Teenage dirtbag, the divider is not attached to the bottom of the bag.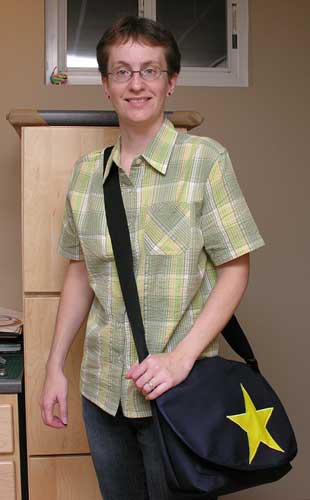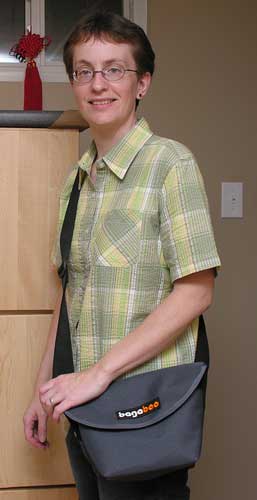 Both of these are cute smaller bags, but not really something I would find myself using on a daily basis. I have used the Pebble while out shopping, but I'm not a fan of the scratchy webbed shoulder strap. I much prefer the car seat belt webbing used in the messenger bag above.
Teenage Dirtbag 28 EUR (~$36.50 USD) + shipping. Exterior design prices vary depending on complexity.
Pebble 16 EUR (~$20.35 USD) + shipping. Exterior design prices vary depending on complexity.
Bagaboo messenger bags are fantastic. If you are looking for a durable bag that you can put your own stamp on, definitely check them out. You won't be sorry.
Product Information
Price:
Manufacturer:
Bagaboo Bags
Retailer:
Bagaboo Bags
Pros:

Custom made
Add your own exterior design
Lots of pockets
Quality materials

Cons: