We use affiliate links. If you buy something through the links on this page, we may earn a commission at no cost to you. Learn more.
I have never really considered myself to be that picky about any of my
gear or laptop bags – just…particular. I know what I need, I know how I
like to organize my gear, and I don't like to be locked into someone else's
vision of how I should manage my stuff. My perfect laptop bag will look
feminine, but not too girly; it will have well organized pockets, but not so
many that I can't find my gear. It will be well made of quality materials so
that it can endure years of use, and it will be stylish without being too
trendy.
When the search becomes particularly frustrating, Julie and I will talk about
one day designing our own "Gadgeteer" laptop bags. But if we were to actually do
it, I doubt that the same concept would even work for both of us. We are
different people, each with our own style; we carry different gear, and certain
features will be more important to one of us than the other. That can make the
laptop bag search seem a bit lonely.
Obviously there are many laptop bag manufactures out there, each making their
own designs that will appeal to a certain core group of people. Making the match
between a particular bag and the right person can be a bit tricky – but
it should not be impossible. It's a matter of trying bags, one after another,
until the perfect fit is found. The problem is, I had not yet found my
perfect bag.
Every time I have thought that I might have found my perfect laptop bag, I'd
find that it has some innate flaw, one that will eventually become the deal
breaker which would force the search's continuance. Sometimes these flaws will
be immediately evident; issues including problems like too much Velcro, poorly
planned pockets, or a style I wouldn't be caught dead carrying in public.
But sometimes these flaws only manifest themselves after I had used the bag for
a while, and I had been placed in a particular situation. These issues might
include poor reinforcement of stress points, inferior materials, insufficient
protection for the contents carried, or finding out that when the bag is totally
loaded it is too heavy to comfortably carry.
After literally years of searching, I have come to accept that there is no
one perfect bag, and that unless a bag is specifically made for me, I
will probably always eventually find some flaw. Whether the flaw will prove to
be a deal breaker or not will remain to be seen. Finding my perfect
laptop bag, the bag that possesses my interpretation of the perfect balance
between fashion and function, has been a multi-year process that has proven to
be quite wearisome at times. That's why I was intrigued when I discovered the
Lap Sack
Perfect Tote; I mean – how
cheeky of the designer to name her bag "perfect". Perfect for whom? Me? That
would remain to be seen…
According to the Lap Sack site, "Suzanne Fonarow, a veteran executive in
the accessories and footwear markets, is the creative energy behind Lap Sack®.
Her inspiration came from her college-aged son, Alex, who wanted a bag that
would protect his laptop and fit into his backpack along with his school books.
Suzanne designed and made the original envelope for Alex and was soon receiving
requests for more. Encouraged by the response, Suzanne took her prototype bag
from coast to coast where she spoke with men and women who embraced the idea of
a fashionable, top-quality laptop bag. Using many of their suggestions and ideas
for the "perfect" bag, she further refined her designs and launched Lap Sack®."
The Lap Sack Tote is available in three color themes: Africa,
which has a "zebra printed Ultrasuede™ exterior with wine leather trim
/wine fabric interior"; Asia,
which has a "coffee bean Ultrasuede™ exterior with dark brown leather
trim/blue and green floral Asian print interior";
and Mexico,
which has an "onyx Ultrasuede™ exterior with black leather trim/bright
multi floral Mexican print interior."
I chose Mexico, which is basically a black on black bag with a bright
patterned interior. The tote came in a large box packed with tissue and wrapped
in fuchsia paper.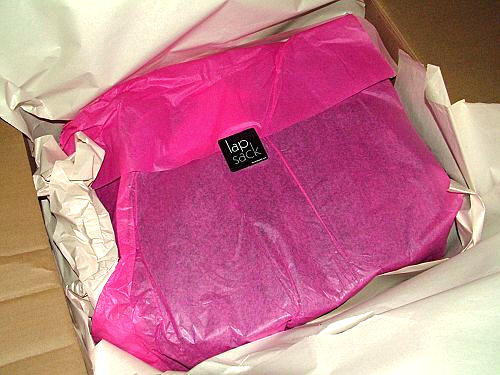 The presentation was great, but I couldn't help myself – I was looking for
the storage bag which I felt should have been included for those times when the
tote is not being used. Obviously this isn't a deal-breaker, just a feature I
appreciate.
When I first unwrapped the Perfect Tote, after enjoying the yummy smell of
quality leather, I was immediately struck by the totes similarity to the design
of  a favorite bag of mine, the

Taylor Tote. The biggest difference, other than the fact that the Perfect
Tore is not composed of alligator skin, is its size. The Perfect Tote is quite
large, measuring 16" across at the top, and 14′ across at its base. The height
of the bag is 13", and its depth is 5". The handles are approximately 20" long
with a drop of 6.5"; this drop is long enough for carrying on the wearer's
shoulders, but not so long that it can't be comfortably carried on the wearer's
arm or in hand.
The front and back exterior panels of the bag are composed of  black
Ultrasuede™; the bag's bottom, gusset, handles and interior trim are made of
hand glazed, vegetable dyed, black Italian leather. The exterior of the bag is
dignified without being too rigid, and the soft Ultrasuede™ feels great to
touch. At first I was worried that it would be a total fuzz magnet, but so far
that has not been the case.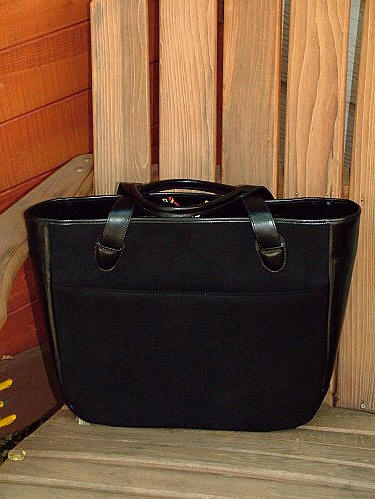 Built into the front of the bag is a 16" wide x 9" deep pocket, perfectly
sized for carrying magazines, legal sized folders, or other items to which
immediate access is needed. This pocket is lined in the same bright "multi
floral Mexican print" fabric as the main compartment.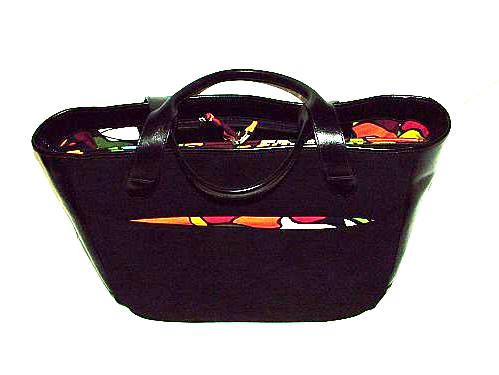 The back side of the bag is plain. Of course, which side the pocket faces is
subjective; it depends on which way the wearer turns the bag. The Ultrasuede™
panels are water resistant, but of course not waterproof. This combination of
fabric and leather trim brings the bag's weight to two pounds, six ounces. I
suspect that a full leather bag would not only add substantially to the cost of
the Perfect Tote, it would also add to the weight of the empty bag…not a good
idea.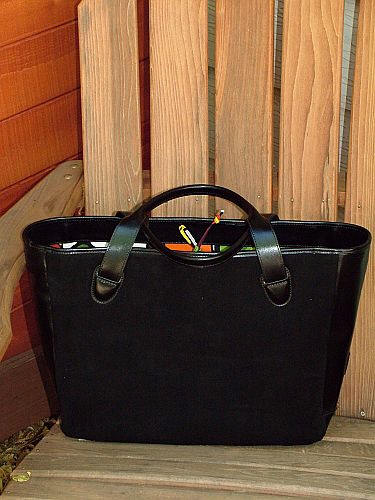 The only branding evident anywhere on the bag is on the left side, in the
form of a small sewn on lap sack embossed leather plaque. I have searched
the bag and can find no other branding, which is quite refreshing in a time when
almost every other manufacturer seems to think that consumers should be their
unpaid billboards.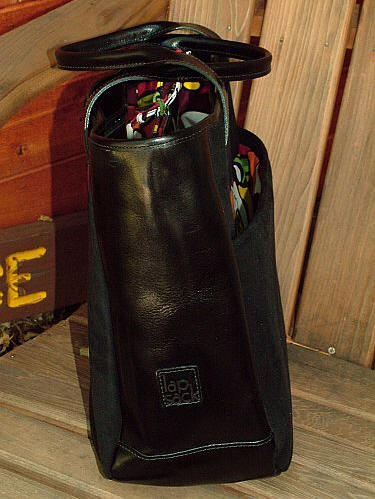 There are four nickel feet on the bottom of the bag for protection, which is
a thoughtful touch. However, I think that an even better implementation would
have been to place the same feet closer to the outer edges of the bag, with
perhaps two more feet in the middle for a total of six. My reason for wanting
the extra support of farther spaced feet (and perhaps more of them) is because I
found that the bag had a tendency to lean when sitting on the ground. I'll
discuss that a bit more, further in the review.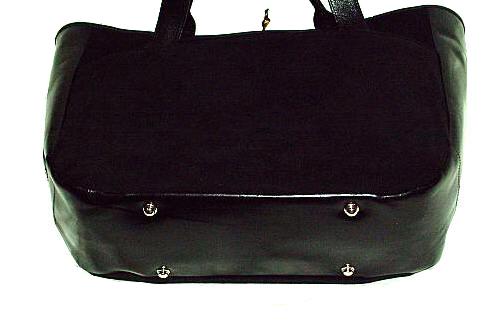 As mentioned previously, the interior of the bag is lined with what Lap Sack
calls "multi floral Mexican print". This bright and cheery fabric
adds a welcome bit of color to an otherwise quite conservative bag. The fabric
lining is treated with DWR™ (Durable Water Repellent)…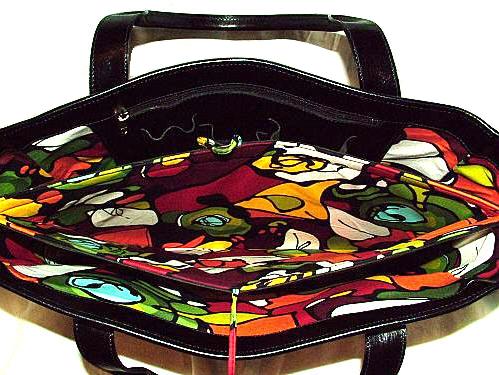 …and it is used to create the "fully padded center laptop compartment
for computers with screens up to 15". This 1/8" padded center compartment
not only holds up to a 15" screen laptop, it also helps the bag keep it's shape
by providing a bit of interior support. Here is a picture of my daughter Sarah's
snugly fitting 14" wide and 1.5" thick Dell laptop (with its 15.5"
screen). Two 6.5" knotted fabric cables are on either side of the laptop
compartment, and they may be tied together to keep the laptop from slipping out
of the pocket when the tote is laid on its side. Obviously this compartment does
not have to be used for carrying a laptop; it is also very handy for carrying
files, notebooks, or other paperwork.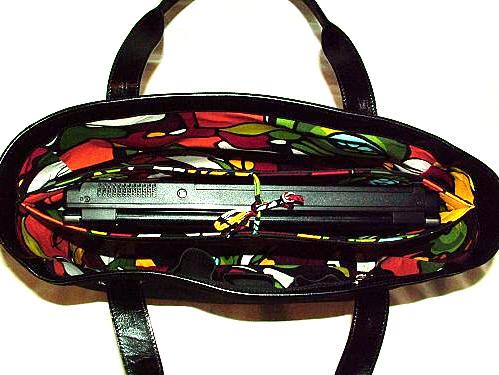 In front of the laptop compartment is a large open pocket measuring
approximately 16′ wide x 13′ tall x 2" deep. This compartment is great for
carrying larger items such as files, notebooks, or smaller organizational bags
for cables and other loose gear.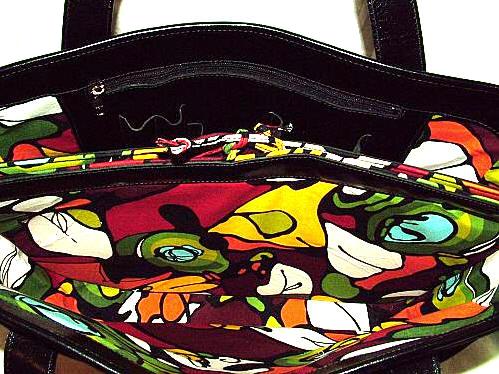 The back wall of the tote features an all leather organizational panel with
two pen slots, a 3" x 2.5" cell phone holder (with elastic sides), and a 5" tall
x 3" wide x 1" deep PDA or eye glass holder. At the top of this panel is a 9"
wide x 6.5" tall zippered pocket. The front wall of this pocket is composed of
the suede from the back of the leather organizational panel, which may or may
not transfer leather-lint to the contents of the pocket. The back wall of the
zippered pocket is composed of the printed fabric.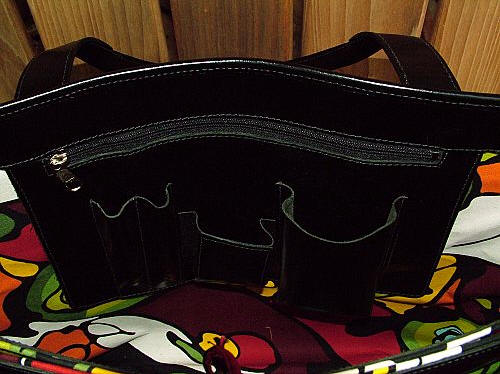 So here is a picture of the tote as it was used this past week while I was in
Arlington Virginia attending my sorority's national convention. Not shown is my
digital camera which fit perfectly in the PDA compartment. Unfortunately, my

HTC Universal was too fat, so it had to lay in the bottom of the tote. I
wasn't too upset with this, however. Once issue that I did have was that when I
laid the tote under my airplane seat, there was nothing keeping the main
compartment of the tote secure. Although my gear did stay in the bag, I was
worried at times that it might slip out and I would miss its escape. No way of
closing the bag's top will likely be a major con for anyone that flies a lot.
The majority of the time, I actually appreciated having unfettered access tot he
bag's interior.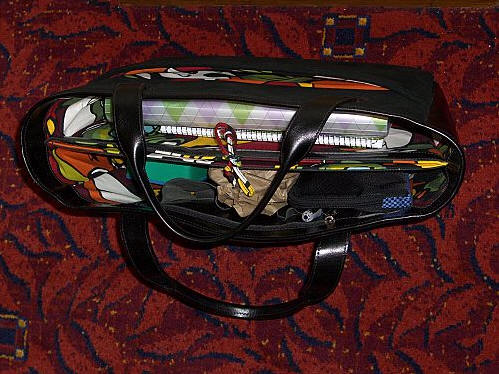 This picture shows the leaning I mentioned earlier. Before anyone suggests
that it was the way I had the bag packed, I'll tell you that it does the same
thing even when it is empty. Depending upon the weight of the items in the bag,
it may fall over when there is nothing to lean it against. As long as there is a
chair or body to support it, the bag will stay upright. Once again, I think that
different placement of the protective feet might make a difference.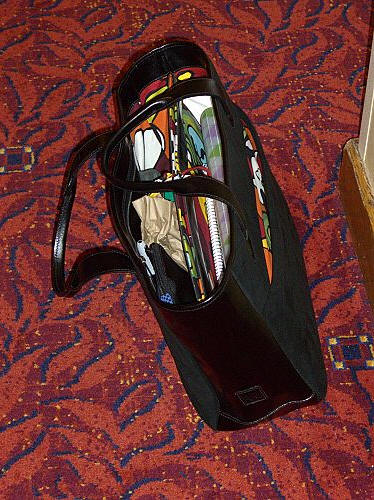 Depending upon how overloaded the bag becomes, its weight can definitely get
"up there". The bag's 1.25" leather straps that compose the handles are flat
from each of their bases, but they are folded into a 1/2" strap for the 10" that
comprises the curve for the wearer's hand, arm or shoulder. For the most part,
this is comfortable enough, but when the bag is loaded the strap can dig into
the wearer. I suspect that leaving the straps at their 1.25" width might have
actually dispersed the weight better.
Since I was at a convention filled with hundreds of
Sigma Kappa sisters, I could hardly
resist recruiting some additional models for this review. For once, I get to
show a bag on a variety of women's heights and body types – YAY! This
is Jill, one of my University of Florida
alumna sisters. She is 5'6", and she's showing the bag as it looks when carried
in hand.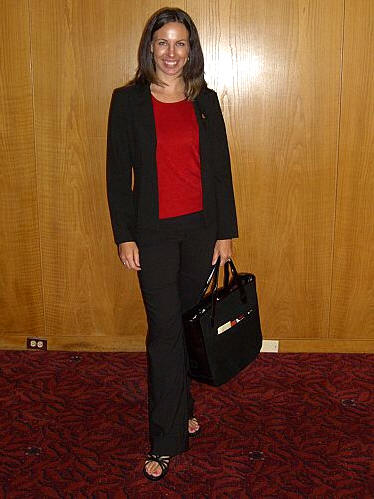 Lisa, another UF alumna, is 5'6". This is a side view of the tote when on her
shoulder.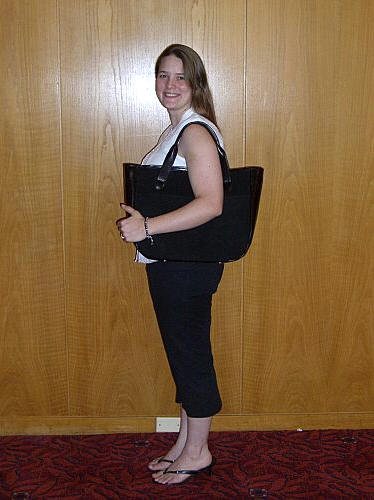 Stacey, an Angelo State University alumna
is 5'3", and she is showing how the Perfect Tote looks from the front when worn
on the shoulder.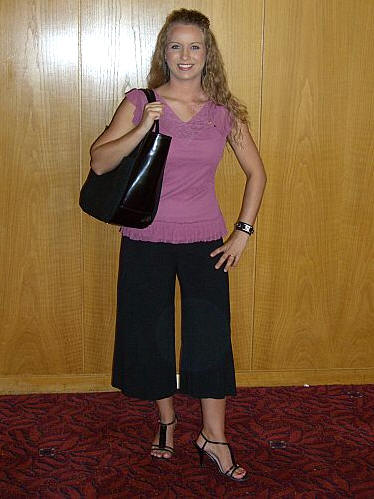 And here's me, at 5'10" with the tote on my forearm. It's a little weighted
down with all my stuff, as evidenced by the funky way the skin on my arm is
twisting, but I am sure that you can get the general idea. ;0)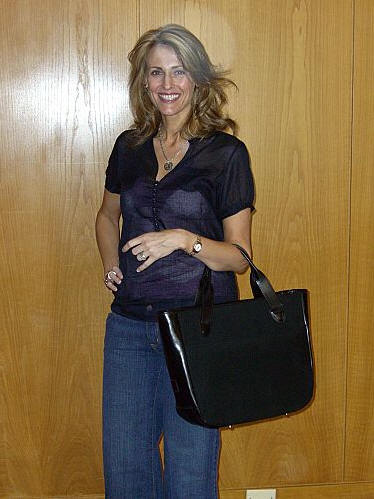 So is the Perfect Tote perfect? Nearly. It obviously has a few issues,
but so far I have not run into any real deal breakers. The exterior of
the bag is fashionable without being too "out there". Those who think that it is
too plain can always purchase the Africa version with its stylish zebra print.
The bag's layout is perfect for my needs; I like its size, its openness and how
the center compartment can be used to carry my laptop or paperwork. The
organizational pockets are very handy; and even though my JasJar will not fit in
the PDA pocket, I can use that pocket for my digital camera or sunglasses – two
items that usually end up in the bottom of any other bag.
I have really enjoyed using the Perfect Tote for the last month, even more
than I thought I might. In fact, I am tempted to also get the brown version
because I like using this bag so much – it is large enough to carry nearly
everything I could possibly want, without being unwieldy. As I mentioned in the
beginning of the review, my needs will not be the same as someone else's; but it
is nice to have finally found a bag that I might have designed for myself.
Product Information
Price:
295.0
Manufacturer:
Lap Sack
Retailer:
Lap Sack
Requirements:

Up to a 15" screen laptop

Pros:

Fashionable
Well made of quality materials
Comfortable on shoulder or arm, or in hand
Large without being unweildy

Cons:

Expensive
Tends to lean when not supported
Interior items are not secure if bag is laid on side