We use affiliate links. If you buy something through the links on this page, we may earn a commission at no cost to you. Learn more.
For those times when you don't care to use earphones or earbuds to listen to the music stored on your iPod, you need a good set of speakers. Stereo speakers come in all shapes, sizes and price ranges. Typically, you get what you pay for. Cheapo speakers will offer up matching cheapo sound, while higher end speakers systems will bring a smile to your ears.
Lately I've been fortunate enough to have access a tabletop speaker system from SpeckProducts. Yes, that is the same company that sells iPod skins and the now infamous iGuy. SpeckProducts is branching out these days and is now selling the SpeckTone Retro iPod Tabletop Speaker System.
Hardware Specs
Analog circuitry
28 watt output with a 4″ subwoofer and 3″ drivers
Auxiliary stereo input jack
Package Contents
SpeckTone tabletop speaker
AC Adapter
2 Free Matching Skins (video & nano)
Black foam spacer for nano or mini
Warranty Card & Users Guide
Hardware Design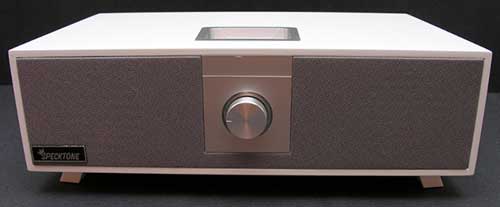 The SpeckTone Retro name definitely fits the design of this product. It has a late 50's / early 60's look that may or may not appeal to consumers. I actually like the high-gloss lacquered wood cabinet with its sharp angles and simple styling. Available in White, Black and a funky Green, this speaker system will blend in with most homes and / or offices. Its 14 x 6.5 x 5 inch footprint means it won't require much space on a table or bookshelf.
Front
The front of the speaker is rectangular with a large chunky metal volume knob in the middle. An LED ring at the base of the volume knob glows Green when the speaker set is powered on.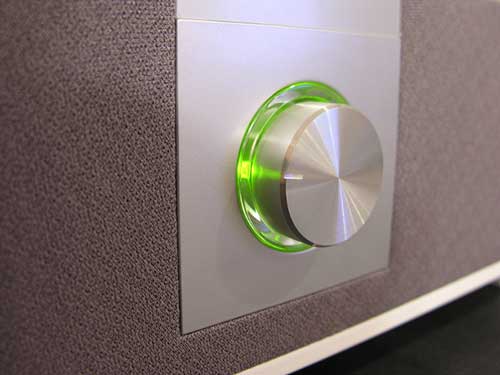 Surrounding the knob on all sides is a Grey knit fabric that covers the actual speakers. In my opinion, this more than anything, gives this product the overall retro feel.
Back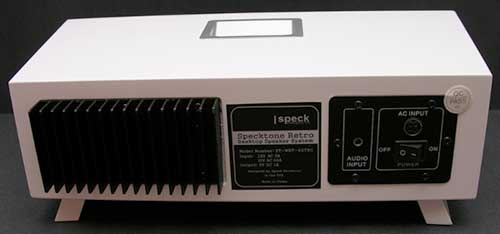 On the back of the speaker, you will find the Power switch, auxiliary audio input jack and power connector. A large set of heavy metal fins takes up quite a large area as well. These fins are for heat dissipation.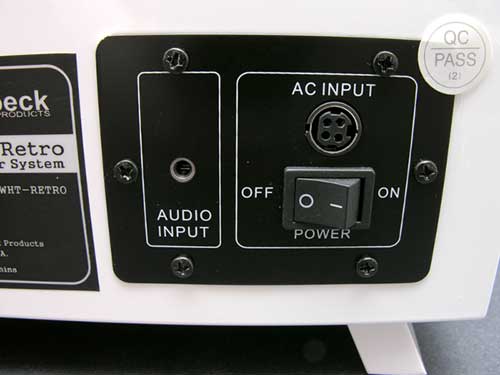 The 1/8″ AC Input jack gives you the ability to use this speaker with audio devices that don't start with an 'i' and end with a 'Pod'. Any music player with an earphone jack can be connected to the SpeckTone by using a 1/8″ audio cable. This cable is not included with the speaker system.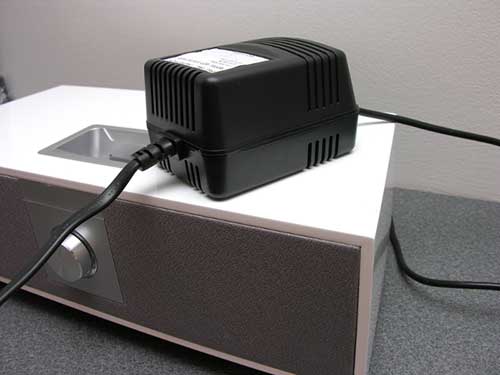 The AC adapter that is included with the SpeckTone is big and ugly as you can see in the picture above.
Top
The iPod dock is located on the top surface of the speaker system. It is a full sized dock that can accommodate the iPod Video, iPod with color display, iPod 4G, iPod mini and iPod nano devices. I was able to test the SpeckTone with an iPod Video and iPod nano.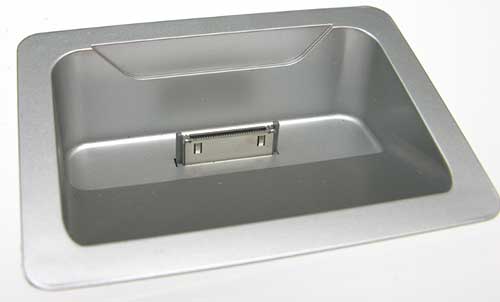 Provided with the speaker are several neoprene stick on spacers. These spacers can be stuck to the back wall of the dock, to prevent damage to the dock connector when using thinner iPods like the nano.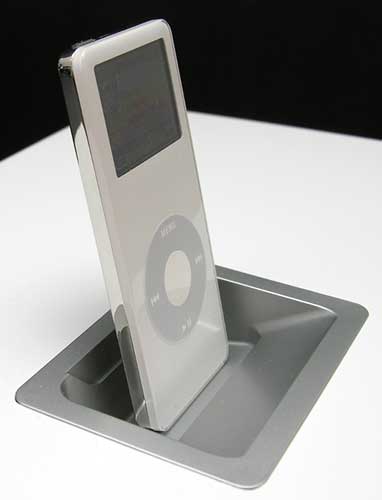 Here you can see the nano and the gap behind it. The stick on spacers would help protect the docking connector from any undue flexing, when used with thinner players. If you happen to use a case with your nano or mini, it's very possible that you'll not need to remove the case to connect with this speaker. Just plug it in and you're good to go.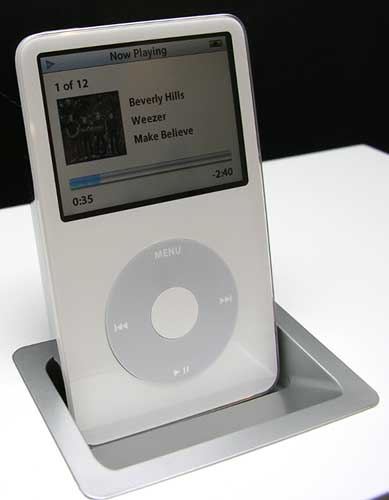 The iPod Video on the other hand, is a perfect fit and does not require the use of spacers.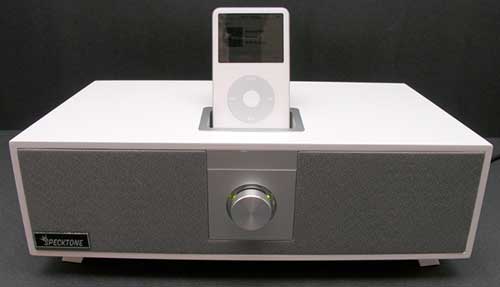 An added feature of this system is the fact that will charge your iPod's batteries while the iPod is docked and the speakers are powered on.
Bottom
If you flip the SpeckTone system upside down, you can see the built in 4 inch subwoofer which is protected by a metal grill.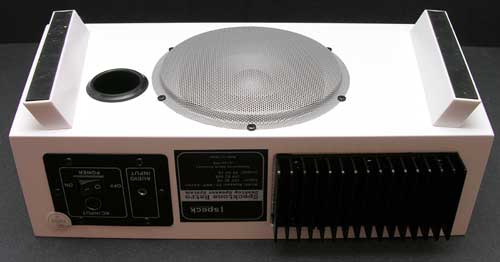 The angled legs keep the subwoofer approximately 1 inch above the table top. The bottoms of the legs have a strip of soft rubber, to keep the speaker system from sliding around on the table.
So, how does the SpeckTone Retro tabletop speaker system sound? First of all, before I say anything, I want to be upfront and tell you all that I've been spoiled for several months with the Audioengine 5 Speaker System. They are the best speakers I've ever heard so far in my life. Yes, I know I'm gushing, but I really do love them.
To make a fair test, I unplugged the Audioengines and didn't use them for 2 weeks while I tested the SpeckTone. During that time period, I was happily surprised at the audio quality that this small tabletop system could produce. No, the SpeckTone Retro doesn't sound as good as the Audioengine 5's, but you have to keep in mind that the Retros cost 3 times less than the Audioengine speakers.
The SpeckTone volume level is outstanding. I couldn't even turn it up to halfway… it is really that loud. Treble levels are clear and crisp and bass levels are pleasantly thumpy. So as far as sound quality, I can recommend this little system for almost anyone. Of course I have to find something to complain about, even if it is somewhat nit picky. What I'd really like to see included with this system is a small remote control. As it is, if you place the SpeckTone on a bookshelf, it is pretty inconvenient to get up to change volume or songs.
In my opinion, SpeckProducts have produced a really nice speaker system, that is easy to use, looks great and provides very nice sound, while not requiring a lots of space or lots of cash.
Product Information
Price:
149.95
Manufacturer:
Speck Products
Retailer:
Speck Products
Requirements:

iPod Video, iPod with color display, iPod 4G, iPod mini, iPod nano

Pros:

Good sound
Charges iPod while powered on
Small footprint

Cons:

Power switch on back of speaker
No remote control