We use affiliate links. If you buy something through the links on this page, we may earn a commission at no cost to you. Learn more.
Does anyone truly enjoy visiting their local post office? I don't think I'm the only person that doesn't look forward to standing in line during my lunch hour or after work, just to buy a few stamps or to mail a package. As a result, in the past couple of years, I've used the USPS website to print my priority mail labels. This saves me wasting 30 minutes or more standing in line. But it always seems that I'm out of regular first class stamps, or if I do find unused stamps in a drawer, I'm never sure if they are the current value. Today I'm going to tell you about the DYMO LabelWriter Twin Turbo. This dual printer just might be the solution to all of your postage printing and label printing needs.
DYMO is not a new company, it was first established in 1958 in California, where it introduced the first personal label maker: the embosser. 48 years later, DYMO is still selling personal label printers, along with industrial and professional label printers. The Twin Turbo falls into their professional printer line. This desktop sized device features not one, but two label spools. This allows you to print address labels and postage without the inconvenience of swapping media.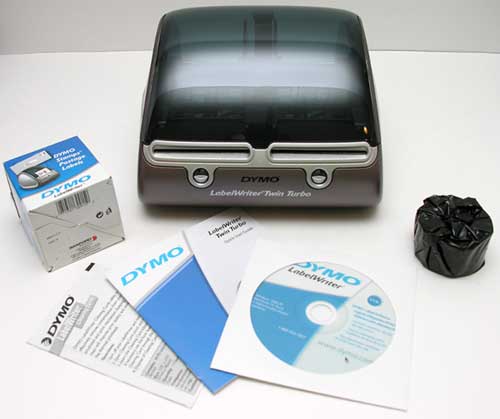 Package Contents
LabelWriter Twin Turbo printer
Power cord
AC adapter
USB cable
One roll of address labels
One roll of postage stamp labels
DYMO software and manual on CD
Quick Start Guide
The printer has a footprint of approximately 8 inches wide x 7 inches deep x 5.5 inches high. It is made of Grey plastic with a smokey see through cover that remains closed except when loading or unloading the label rolls.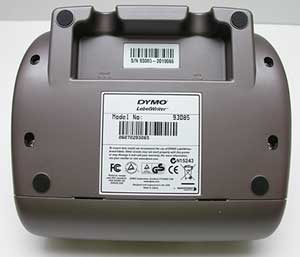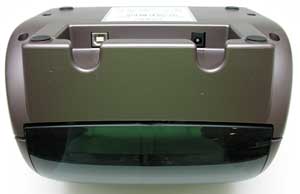 The Twin Turbo connects to your Windows or Mac computer via a full sized USB cable (included). Connectors for both the USB cable and AC adapter are located on the bottom of the printer. Convenient cutouts allow you to route the cables out the back side of the printer.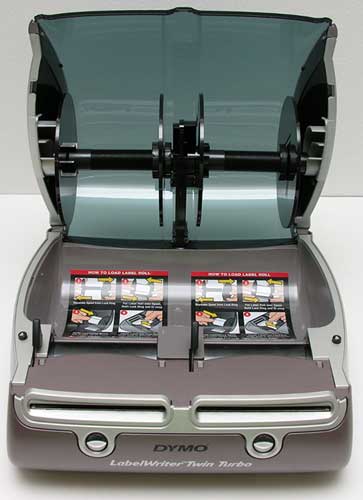 Opening the cover reveals the two black plastic label spools. The spools lift right out of their holders, without any tools or effort.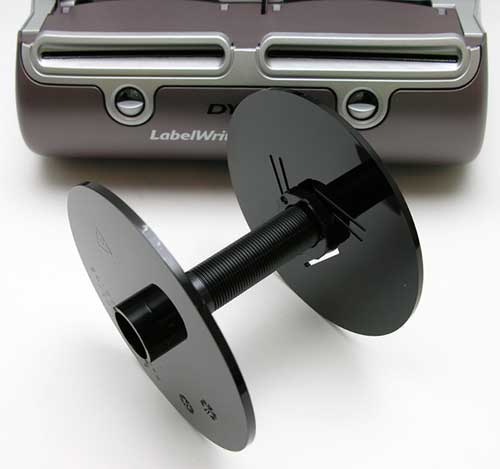 The right side of the spool (the guide) slides off to allow for the address labels or postage labels to slide on.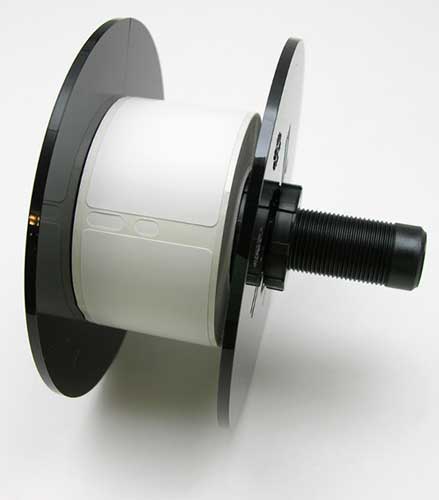 Included with the printer is one roll of address labels and one roll of postage stamp labels. Loading them on the spools is a very simple task. You just slide them on the spool so that the label feeds from the bottom of the roll. Then you slide the spool guide back on and press the sides firmly so that there isn't a gap on either side of the roll.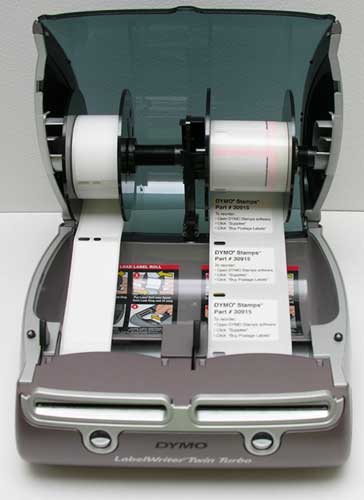 After you do this with both rolls, you place the spools back into the slots in the printer cover and feed the labels into the label feed slots. Little cutout slots in the labels enable the printer to accurately know when a new label starts and stops.
The labels are the only media that you have to install into this printer. It doesn't use ink. The labels are thermal, which means that heat is used to create the images. Replacement labels can be purchased directly from DYMO. Prices vary depending on the type of label, but regular address sized labels are about $20 for 2 rolls of 350 labels each. Postage stamp labels are $16 for 200 stamps.
Before you can print your first label or stamp, you must first install the included drivers and label application. Lucky for me, DYMO has Mac drivers and software. Yay!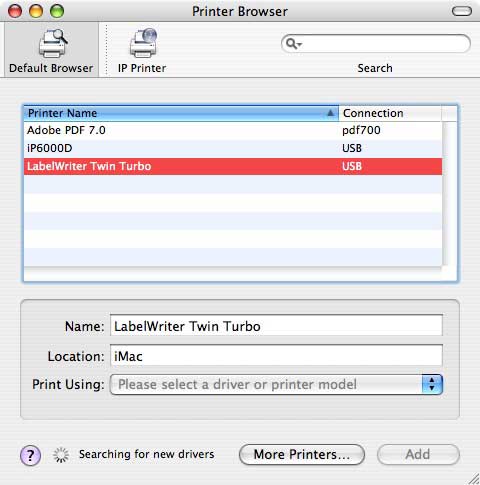 After a quick driver install, the new printer shows up in the Printer Browser and is now ready for use.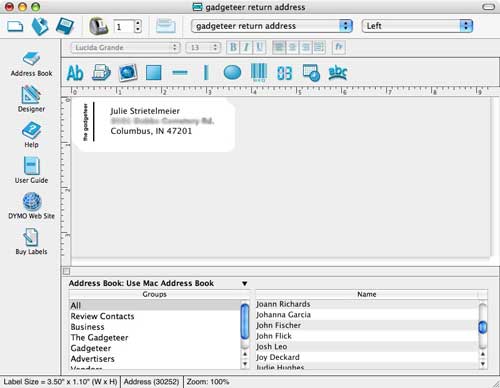 The label making software is easy to use and interfaces with the built in Mac address book or you can create your own labels from scratch. Labels can even include curved text and graphics. Above you see that I rotated "the gadgeteer" and placed it on the left side of my label. Some basic clip art is also included with the software.
In addition to regular address labels, the Twin Turbo can print file folder labels, name tags, price tags, etc. The maximum size labels that can be used are up to 2-5/16″ wide.
Besides labels, this printer can print postage stamps. In order to print postage, you have to create an account through Endicia and download another application. Don't worry, the account and software are both free. There is no monthly fee or minimum balance required as long as you sign up through DYMO instead of directly through Endicia.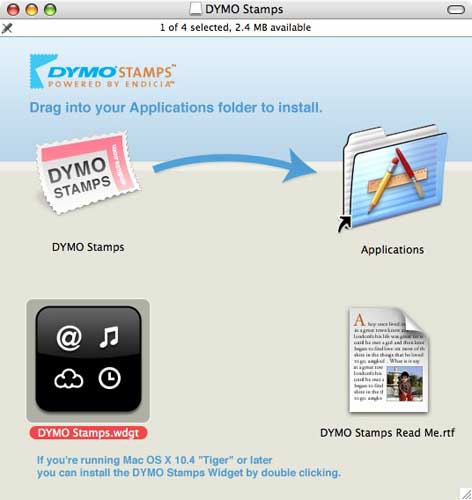 After the account is created and the software is installed, you must add some money to your account. You can purchase as little as $10 and as much as $500 at one time. I'm cheap, so I started with $10. Your credit card or checking account will automatically be billed for that amount and then you can print stamps until the balance is depleted.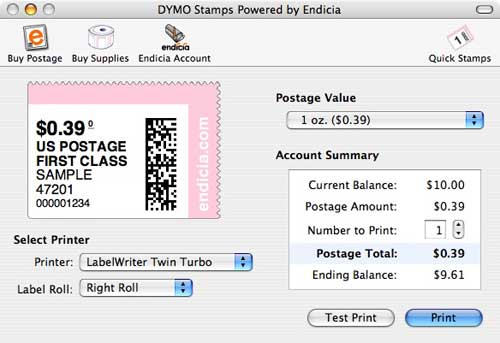 The stamp buying / printing interface is very simple to use. You just choose what price of stamp to print and the quanity. Then click the Print button and before you can say postmaster general, your stamps have printed.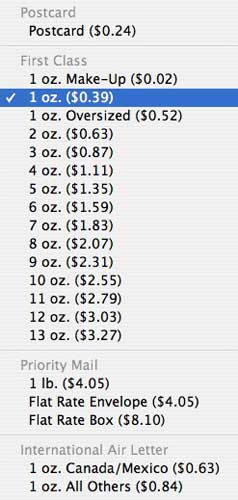 Above you can see all of the choices available for stamp printing.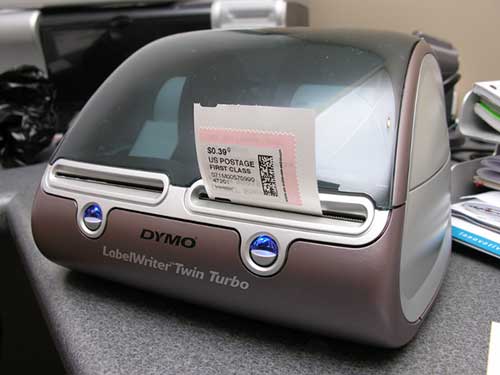 When the stamp(s) finish printing, they can be torn away from the printer using the built in serrated edge.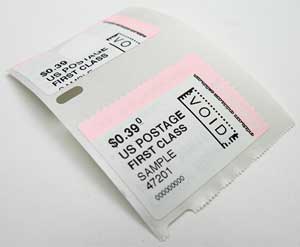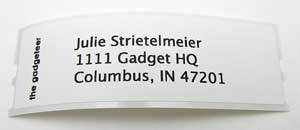 On the left is a regular first class stamp and on the right, a simple custom return label that I created.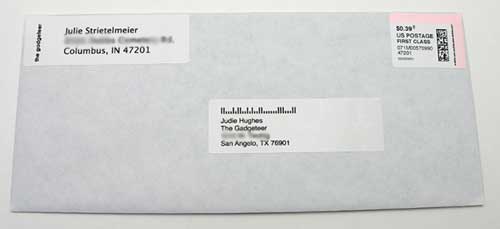 Here's a letter all ready to go in the mailbox. Neat, quick and simple. I didn't even have to lick a stamp either! Yay! I really like how convenient and easy this printer is to use. There are only a couple things could make this printer even better. #1: Lower the price a little. $190 puts it up in the "I really have to think about this before I buy it" range. #2: A power switch. As it is, the printer is always on. Electricity isn't free you know. #3: A counter in the software that would tell me how many labels / stamps I had left to print before new labels need to be ordered. Yes, I'm just being nit-picky on the last 2. I really do like this printer a lot and it's now earned a permanent place on top of my desk.
Update 05/20/15
I wrote this review 9 years ago and am still using this printer today. I mainly use it to print labels but I occasionally use it to print stamps too. The time of year that I use it most is during the holidays when I send cards and packages to The Gadgeteer team. It's still working great and I can still buy labels and stamps for it, so I'm happy.
Source: The sample for this review was provided by DYMO. Please visit their site for more info.

Product Information
Price:
189.99
Manufacturer:
DYMO
Retailer:
DYMO
Requirements:

PC running Windows 2000 or XP, with CD drive and USB port.
-or-
Mac running OS 10.2.8 or higher, with CD drive and USB port.
Internet access for DYMO stamp printing.

Pros:

Simple to setup
Fast printing
No ink cartridges to buy
Can customize labels with graphics

Cons:

Expensive
Always on, no power switch