We use affiliate links. If you buy something through the links on this page, we may earn a commission at no cost to you. Learn more.
Help Wanted
Hey all! I've got a geek gadget harness for someone to review.
This is a Civilian Labs Business Class LT Harness System Bag from
Semson's and
Company, in Green and Black. First person that emails me
volunteering to write up a review with some pix (you have to model
it too!), gets it.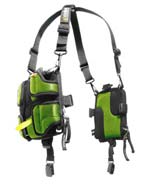 I might throw in a few other goodies as a thank you, to go along with it. :o)

Thanks to the 12 people that emailed me last night. I now have someone to send the bag to. :o)