We use affiliate links. If you buy something through the links on this page, we may earn a commission at no cost to you. Learn more.
I've been trying out two different PalmOS software titles from a company called ShSh Software. The first one is 2day. This application is an
excellent do everything "today" style application.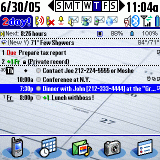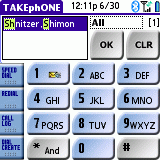 In addition to displaying your upcoming appointments and tasks,
this app can also be used as launcher and will display the status
of your Emails, SMS, IM, Voice-memo, Voice mails, missed calls and
alerts.
The other application that I've been testing, is TAKEphONE. It is a replacement for the Phone app on the Treo 650. It's a lot nicer than the stock app because it has powerful number searching features and the ability to start emails and SMS messages right from the number lookup screen.
I really both apps and have made them permanent occupants on my Treo 650.