We use affiliate links. If you buy something through the links on this page, we may earn a commission at no cost to you. Learn more.
If your main computer happens to be a laptop instead of a desktop, you may find it difficult to use
a cramped keyboard, track-point or touch pad as your primary methods of input. Adding a full sized keyboard and
a mouse will enhance user experience, but they will also expand the desktop footprint. One way to gain
back some valuable tabletop real estate, is to raise your laptop up and out of way. The Laptop Stand Up will do just that. Your laptop will sit almost
perpendicular to the surface of your desk, giving you room for a full size keyboard and mouse in front of it.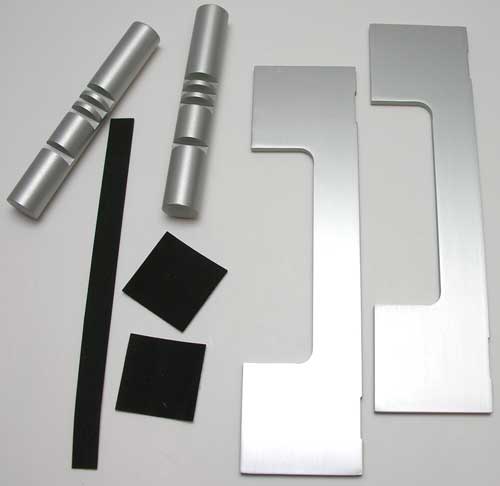 Stand parts and Neoprene stick on pads
Constructed of solid Aluminum and available in Black Anodized, Silver Anodized and Silver Polished, I was sent the Silver Anodized version. There are four separate pieces that comprise the stand. Two round base pieces and two vertical flat pieces. Setup is simple. The two base pieces are placed on the desk parallel to each other, about 6 inches apart with the slots facing up. The vertical pieces slide into the slots so that the indents on the bottom edge of each piece line up. Simple.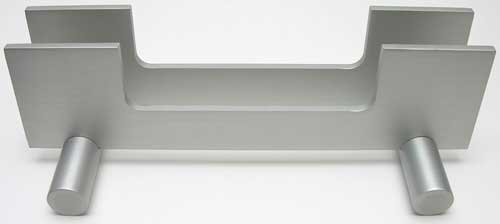 The back vertical pieces can be adjusted to allow for different laptop thicknesses. This stand will accommodate laptops less than 1.75 inches thick.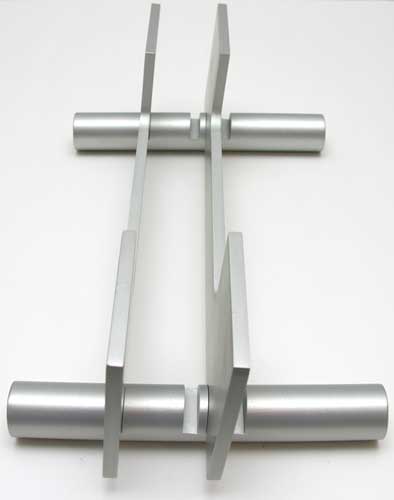 To help prevent potential scratches, the included stick on black neoprene pads can be affixed to the front and back vertical pieces if desired.
The first laptop that I tried the stand with was my 12″ Apple Powerbook. I was bummed when I realized that the Powerbook screen does not open a full 180 degrees. Even when placing the back vertical support in the last slot, the angle still did not offer a very good viewing angle.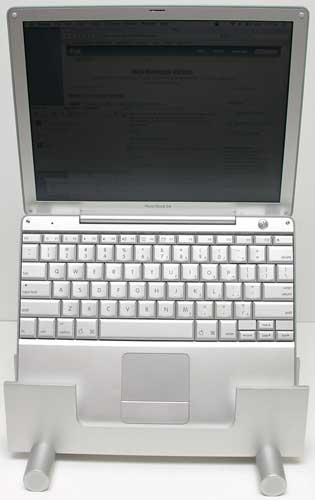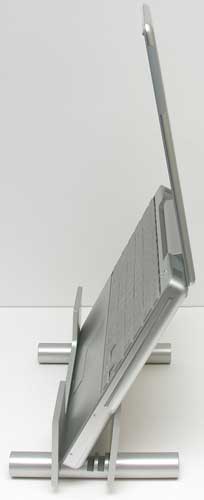 Never miss one of our posts again. Sent MON, WED, and FRI with the latest gadget reviews and news!
In order to use your laptop with this stand, the laptop's display needs to be able to open to a minimum of 160 degrees. Unfortunately, the Powerbook looks to only open to approximately 135 degrees.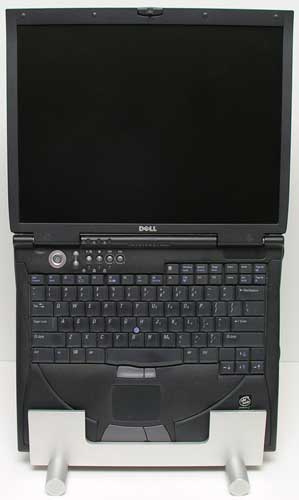 I had much better luck with my old Dell 8800. As you can see, the display on this laptop will open a full 180 degrees.
The are a couple issues that I see with using this stand. One is the fact that not all laptop displays can open more than 160 degrees. You also have to take into consideration the location of the CD drive on your laptop. If it happens to be located on the front edge, you will not have access to it while in this stand.
Then there is also the fact that the components that make up this stand are not secured together in anyway. The vertical supports just rest inside the slots. So, it's possible that the stand could collapse with your laptop in it, if the table it was resting on was jostled.
All in all, the Laptop Stand Up is a well made product that looks sleek and sexy. It is also easy to assemble and disassemble. Depending on the style of your laptop, this stand may or may not be optimal for you though. So just make sure you consider the location of your CD / DVD drive, thickness of your laptop and most importantly, the maximum angle that the display can fold open, before you considering buying this stand.
Product Information
Price:
49.99
Manufacturer:
Laptop Stand Up
Requirements:

A laptop computer less that is less than 1.75" thick and can open to at least 160 degrees

Pros:

Sexy design
Easy to setup

Cons:

Not compatible with all notebooks
Pieces not securely attached to each other