We use affiliate links. If you buy something through the links on this page, we may earn a commission at no cost to you. Learn more.
Sometime back in May or June I decided to try a different approach for my
photography business. Rather than the traditional portrait stuff, I
decided to see if I could make a nickel selling action shots. So far my
little endeavor (iphotsports.com) seems to be paying off
pretty well. Anyway, getting round to the point, in order to properly
shoot action shots, I had to purchase a digital SLR (Canon 20D), lenses,
and other accessories. I very quickly found that I was outgrowing my
Roadwired Photo/Video Bag.
After looking around at potential replacements, I decided that what I
needed was a camera backpack. The folks at Crumpler
had just the ticket in their Karachi Outpost backpack. Before I go on
about the backpack, I would like to talk a bit about Crumpler's rather
unique website.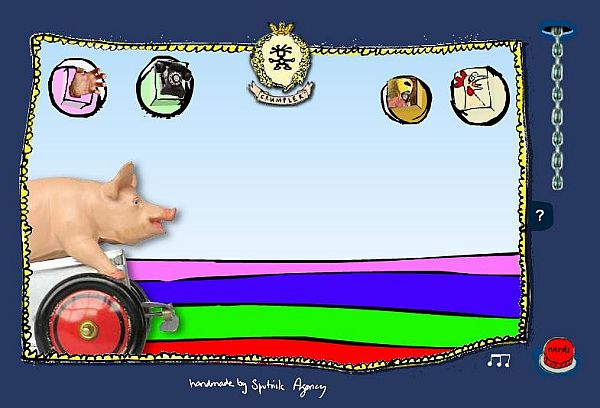 The site is interactive with an interesting, to say the least, soundtrack.
This is certainly the only site that I have ever visited that provides the
visitor with a way to fling mud (at least I hope it is mud) onto their
page. You just press the button in the lower right hand corner. Press it
repeatedly and the site will look like this.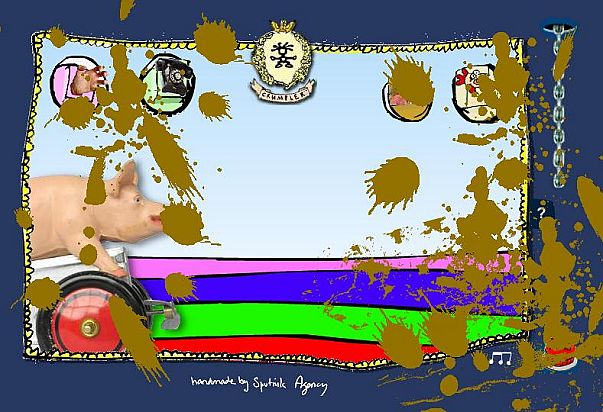 Of course, none of this serves any useful purpose, but it is fun. You pull
the chain on the right side to reset and start all over. I found the
overall design of this site to be so unique that I ended up visiting the
site of the ad agency (The Sputnik Agency) that
'handmade' it. I ended up killing an hour or so downloading video clips
from some of their TV commercials (the commercials for the Predator
Australian Rules football shoes by adidas were a scream). OK, so now that
I have completely bored you to death — on to the review!
Now I am REALLY going to start writing about the Karachi Outpost
photo/video pack. First, let me show you a couple of shots of the bag.
Here they are as modeled by my son at the "Run Like Hell" 5K run in
Indianapolis last Halloween.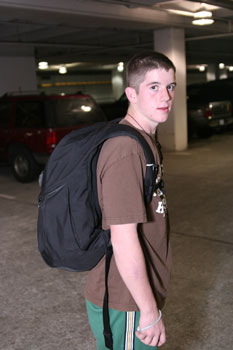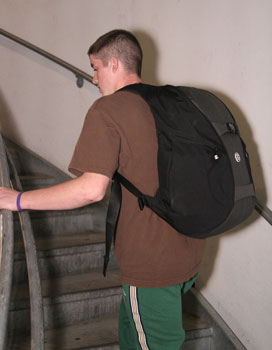 A fine looking individual, but enough about my son. The bag looks pretty
solid, too. The firmly padded shoulder straps set nicely on the shoulder.
Note the cross strap which ties the two straps together across your chest.
There are also handy d-rings for clipping small accessories.
Never miss one of our posts again. Sent MON, WED, and FRI with the latest gadget reviews and news!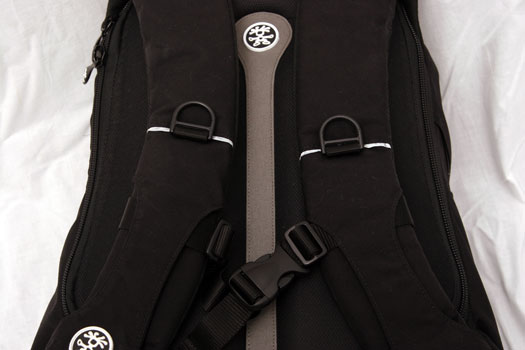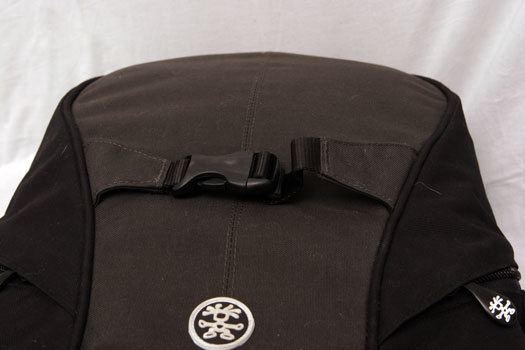 On the opposite side there is a fixed band, as well as an adjustable band
with buckle that could be used to stow a tripod or possible to slip over
the extendable handle of your suitcase at the airport. Speaking of
airports, Crumpler states that this bag will fit all but the smallest
overhead compartments.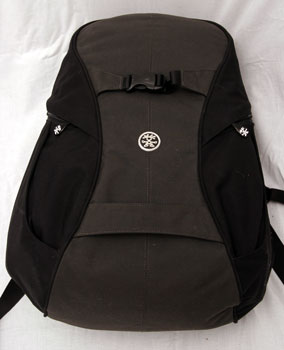 The two zippers you see a little over midway on either side of the bag
allow access to the expandable pockets on the exterior of the bag. These
pockets are fairly thin-walled (no padding), so they are not suitable for
fragile electronic gear. I stow small items like my mini tripod in these.
Now lets talk about the zippers. Inside and out, this bag has the
sturdiest most durable zippers that I have ever seen. The pull tab feels
solid in your hand and sports the Crumpler logo.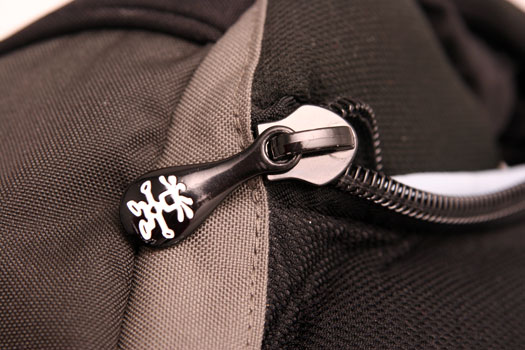 One more external detail before we move inside. The 'back' side of the
pack — meaning the surface that presses against your back when wearing
the pack, is very nicely padded and includes what Crumpler calls a "spine
slot" which basically prevents any pressure from being applied to your
spine. Your nervous system will really appreciate this feature. This
padding will also help to cushion the equipment inside when the pack is
off your back.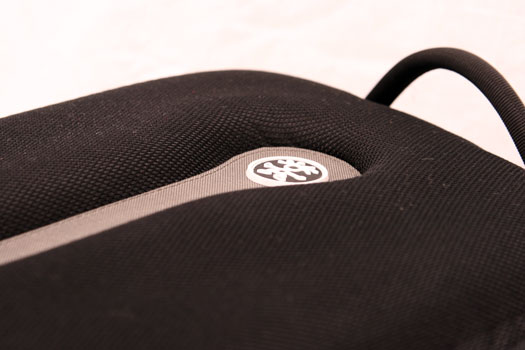 Let's take a peek inside (you have been so patient). Here is the inside as
configured for my equipment. Like most photo/video bags, the layout is
customizable using the included velcro panels and compartments.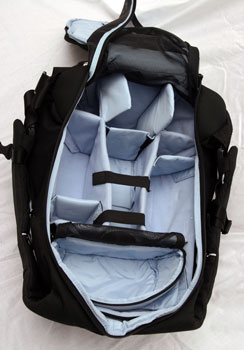 In fact, you can actually removed the entire inside compartment —
effectively converting the Karachi Outpost into a simple backpack.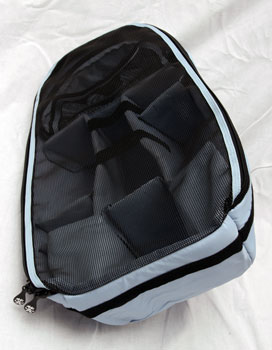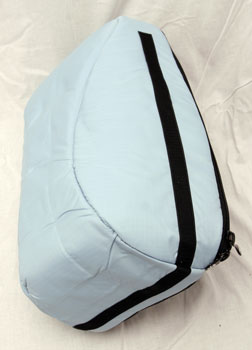 This removable compartment is heavily padded to augment the padding built
into the backpack. I actually had the whole works, fully loaded with my
camera and accessories, roll out of my van and onto the blacktop shortly
after I started using the pack and I was not even worried about damage.
This pack makes me feel very secure about my equipment.
Here is a picture of the pack fully loaded. Note the heavy mesh cover over
the main compartment. This keeps the individual pieces in their proper
compartments.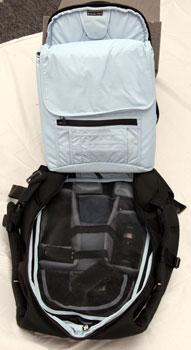 This mesh cover comes with a double zipper of the same heavy construction
as the zippers on the exterior of the bag.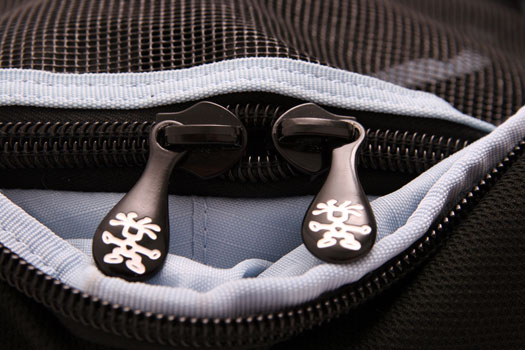 The bag comes with two dividers with flaps to help hold their contents
(you can see them on the right side of the photo below.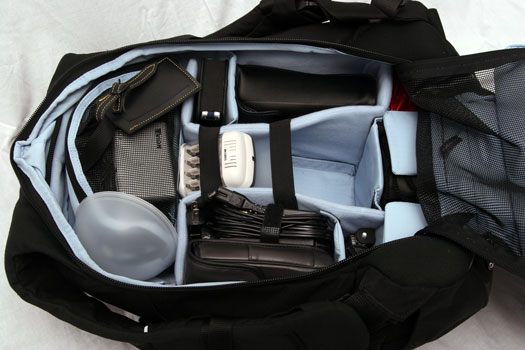 On the left side of the photo above you can see the internal zippered
compartment, although it is partially obscured by the cap of my Lumisphere
flash diffuser that my friend Lee out in New Jersey provided. The zipper
on this compartment is a smaller version of the heavier zippers found
elsewhere on this bag. I keep all of my smaller items in here.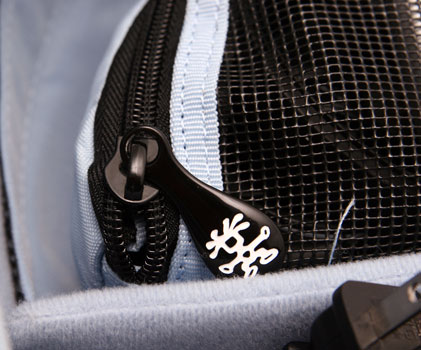 As if carrying all of you photo equipment wasn't enough, the Karachi
Outpost also comes with a laptop sleeve large enough for a 17″ laptop.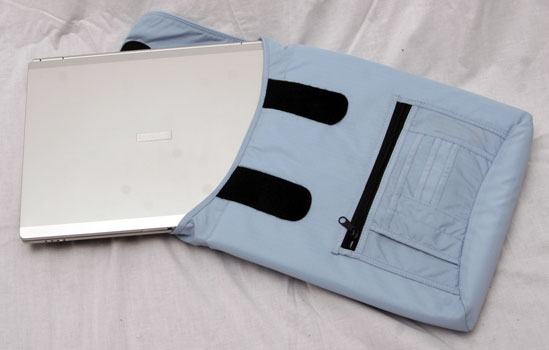 As you can see, the laptop sleeve is removable and includes a six pocket
organizer.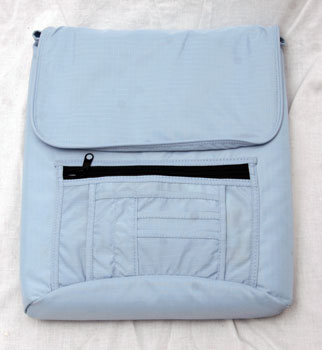 The sleeve is held in place inside the lid of the main compartment by a
velcro loop strap and large velcro patch.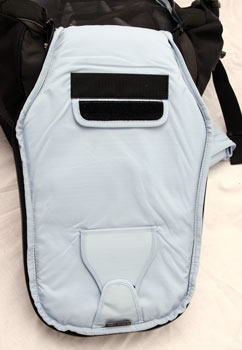 To give you a sense for Crumpler's attention to detail, the large velcro
patch used to secure the laptop sleeve has a velcro flap to cover it when
the laptop sleeve is not in use.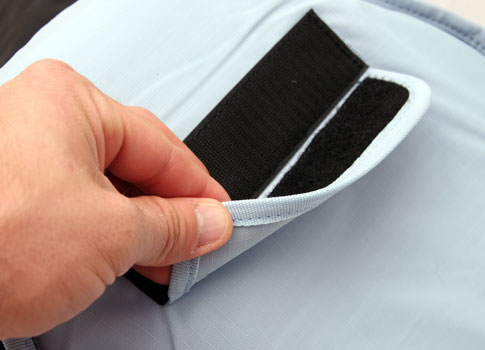 Here is a shot to give you an idea what the Karachi Outpost photo/video
pack can carry (Minus the Canon 20D I used to take the picture).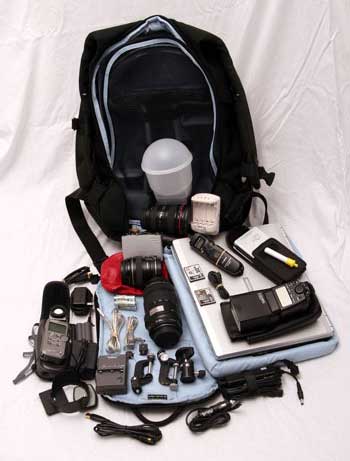 The overall dimensions are as follows:
15x22x12in [external] 10.5×15.5×1.5in [laptop sleeve]
38x56x30cm [external] 27×39.5x4cm [laptop sleeve]
Materials: Water resistant 1000D Nylon shell & 420D Ripstop Nylon lining
I have now been using this backpack for over three months (as Julie has
been reminding me on a daily basis for quite some time — "Where's my
review?", she asks). For my purposes, this is the perfect solution. I
carry everything I need to do professional photographic work on my back,
excepting a method for printing. There is actually room in there for one
of these new mini portable printers, but I don't have one. Julie?
The pack provides excellent padded protection for valuable camera gear,
looks nice. As an added bonus, it does not 'look' like a photo/video bag,
which should reduce the chance of theft. I carry a pretty heavy equipment
load comfortably (yes, I sometimes carry it myself rather than using my
son as a pack mule) with the Karachi Outpost bag. I highly recommend it.
List Price: $350.00AUD -> $260.00US Dollars as of 28 Nov 2005
Available in Dark Brown/Light Oatmeal/Oatmeal or Gun Metal/Black/Mid Grey
Julie found it at Adorama for $225.00
Bonus pic of my son and I in costume at the "Run Like Hell" halloween 5K
run in Indianapolis.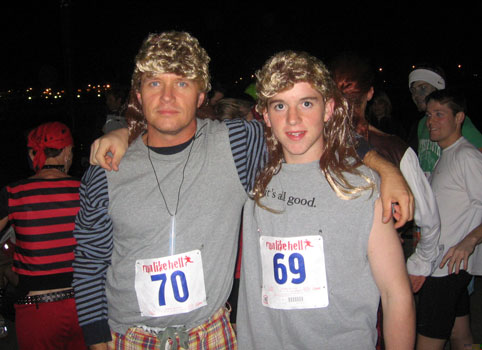 Updates 06/17/15
Still the best bag I ever had. The first bag lasted for 7 years of everyday use. But it had to be replaced due to a zipper issue which Crumpler did that for free. I still use the newer bag every day. It holds 2 DSLRs, 5 lenses and other accessories. Highly recommended.
Product Information
Price:
Manufacturer:
Crumpler
Pros:

Excellent protection
Heavy duty construction
Large capacity
Stylish

Cons: