We use affiliate links. If you buy something through the links on this page, we may earn a commission at no cost to you. Learn more.
When I bought my O2 XDA II Mini in February this year, I
thought "Now this device will be a keeper for at least a
year". How silly of me. As soon as I started reading about
the HTC Universal, I knew that was going to change. A device that had a
built-in keyboard, WiFi and VGA was for me!! As the device
materialized, I was very interested still, but the size and price were
huge!! There was no way that I was going to spend on a PDA Phone what
could be spent on a decent laptop. Besides that, there was also the
size factor. When I got the Mini, I was exposed to the world of a
small, all-in-one device that could do the duty of both my phone and
PDA.
Then I started reading about the HTC Wizard. This device
seemed perfect. Built-in WiFi? Check. Keyboard? Check. Size? Just
right. I placed an order for the K-JAM with Expansys Australia on 24th
October. They expected it to ship in 10 days. That seemed fine. But,
then that date kept bumping up. Searching through various forums, I
found out about an Australian-based company called
AnythingOnline.
A quick call to them on Friday, 31st October, found that they had stock
(51 in stock!), and that they would ship on Monday. I immediately went
to their site and placed an order. It was slightly more than Expansys,
but they could guarantee me that I would get it next week. I emailed
Expansys that I wanted to cancel my order, and sat in wait for next
week when my i-mate K-JAM would arrive.>
The
Arrival 
True to their word, the K-JAM showed up on Tuesday morning at
my dad's office. I was at school, so had it sent there so he
could sign for it. It was a painful day at school, as dad SMSed me at
9am to say that it was on his desk (at my request unopened). Not only
did I have to wade through 6 classes during the day, but I had to wait
for him to get home from work!!!! 
He got home at 5:30pm, and I was ready to tear into this sucker
First Impressions 
(1/11/2005 – 2/11/2005)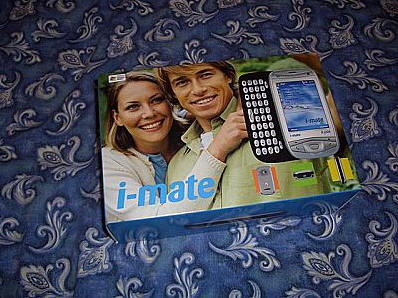 The i-mate K-JAM box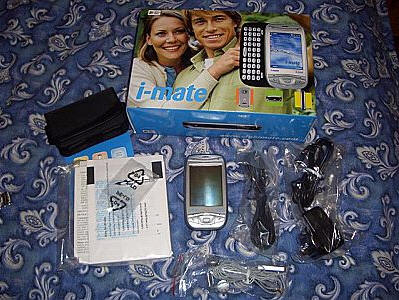 Included in the box were the following items: 
i-mate
K-JAM
1250mAh
Battery
2
Styli (one in device, one spare in box)
AC
Adaptor (Australian plug)
USB
to miniUSB Charge/Sync Cable
Stereo
2.5mm Headset with Answer button and volume control
CD
With ActiveSync 4.0 and Outlook 2002
Slip
Case (will take about later)
i-mate
Pamphlet
The obvious glaring omission for a device of this price is a
cradle. I like to be able to dock my PDA somewhere that I can see the
screen, but I can live with it. I did with the Mini….
When I first opened the box I was quite surprised at the size
of the device. I had seen pictures on the internet that showed the size
of the HTC Wizard next to the HTC Magician (which I had prior to the
Wizard), but in hand it just seemed amazing that they could pack
everything into a device this size. Unfortunately I sold my Magician
before I received the K-JAM, so I can't directly compare
them, but here are some photos with other devices I currently
own.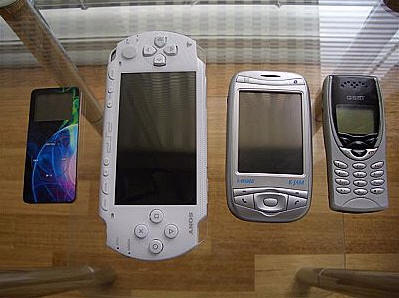 iPod nano, Sony PSP, K-JAM, Nokia 8210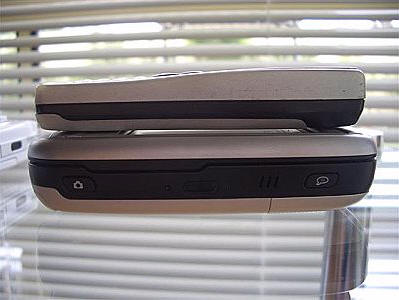 Nokia 8210 and K-JAM – funnily have the same size
colours!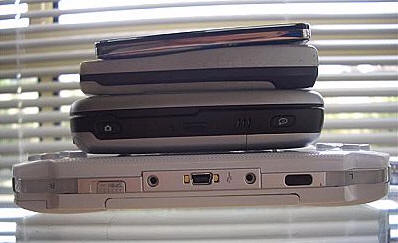 From top: iPod nano, Nokia 8210, K-JAM, PSP 
The extra thickness of the device (compared to the Magician)
is noticeable, but during use it is fine. I did find that it was really
bulky when combined with the bundled case, so until I receive my PDair
case, I have resorted to using the device without a case.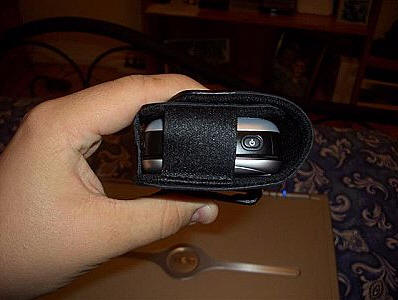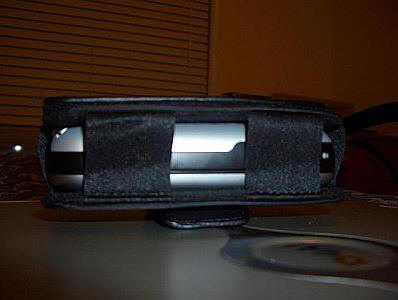 At the moment this suits me fine, but I intend to get a screen
protector ASAP. It is definitely worth it to have the built-in
keyboard! But more on that later…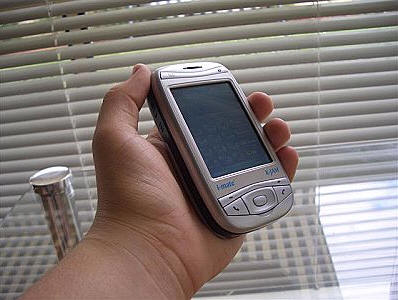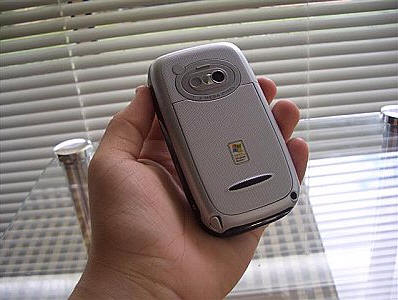 The first thing I did before I turned it on was insert my SIM card and
512Mb miniSD card. After I had gone through the silly tutorial (yep,
the same one from WM2003, and PPC2000 I think) I did a soft reset to
prevent all the bundled programs installing, including an Anti-Virus
program which at the moment is useless, as I have read they slow down
the device ridiculously. By doing this I have likely saved myself a lot
of trouble, and have a much more stable device. 
So far I have installed my main apps, some of which are certified for
WM5 and some that aren't. I haven't experienced any
problems with them. On my device I have: 

TCPMP

Total Commander

PHM Regedit and PPC Plus

SPB GPRS and Pocket Plus

Opera Mini (MIDlet one)

MS Stock Scramble (MS Games Pack)

Monopoly

Macromedia Flash ActiveX

AvantGo 5.7

Skype 1.2 Beta

Agile Messenger (the free one)

AE Uptime

PocketRAR

MS Voice Command 1.5
The Hardware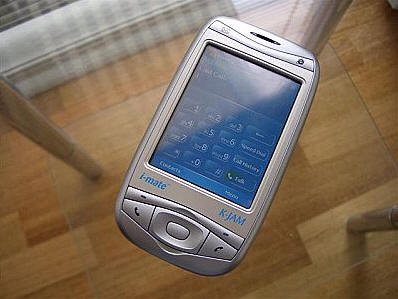 The i-mate K-JAM 
Before I look at the device, lets look at the specs: 

TI OMAP 850 200mhz Processor

128Mb ROM (~47.5Mb available)

64MB RAM

Quad-band GSM Radio with GPRS/EDGE – 850/900/1800/1900Mhz

Integrated WiFi Radio – 802.11b/g

Bluetooth 1.2 (2.0 update expected soon)

miniSD slot

Integrated Stereo Speakers

2.8" QVGA LCD – 240×320 Resolution

Built-in slide-out QWERTY thumboard

1.3MP CMOS Camera with Flash Light

miniUSB Port (charging and syncing)

2.5mm Stereo headphone/headset jack

Windows Mobile 5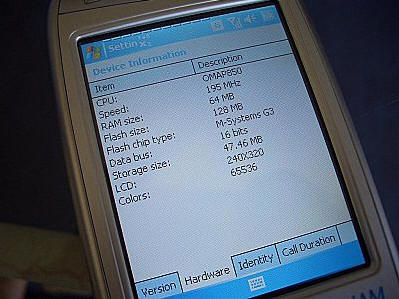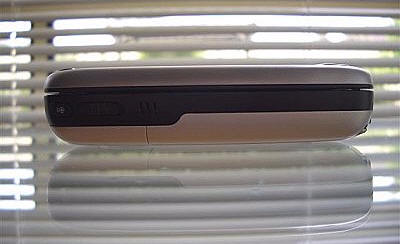 Left Side: Comm Manager Button, Volume Slider, Left Speaker 
I, as were many people online, was initially a bit afraid of the use of
the OMAP 850 processor in the K-JAM, but after a bit of reading, I
figured it would be ok. I have found it to just as good as my XDA II
Mini which had an XScale PXA272 416Mhz processor. It has stood up to
all the applications I have installed, including Skype which states
requirements of a 400 MHz processor. The only area that I have noticed
where the XScale beats the OMAP by any noticeable difference is playing
video in TCPMP. TCPMP has optimizations for the XScale so I figure
that's why. Don't get me wrong, I can play videos
that are formatted for the PPC, just not ones with the highest
bitrates. This isn't a concern for me, as I rarely play video
on my PDA anymore (using the PSP for that). Overall, the system
performance is great.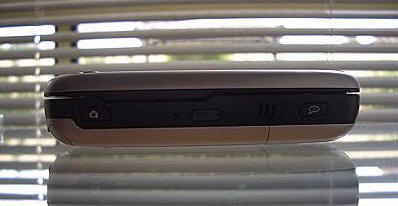 Right Side: Camera Button, IrDA, Right Speaker, Voice Dialer
Button 
Using the K-JAM is just as easy, if not easier, as it was with the
Mini. The K-JAM is the perfect size between PDA and phone, so no
looking like an idiot when you hold the phone to your head to take a
call. I am very happy with its call quality, which I have noticed seems
better and louder than the Mini. The person on the other end can hear
me clearly too. I should also mention the speakerphone on this device
is excellent. I can hear the caller easily over the stereo speakers,
and they can hear me quite clearly from 3 metres away.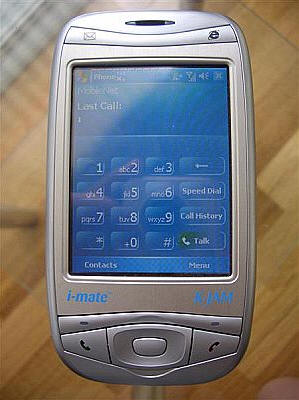 The screen on this device is EXCELLENT. It is a lot brighter than the
one on my Mini, and I typically use it at half brightness because it is
so bright. The 2.8" size is excellent, as things are not too
small, but the higher density of the pixels gives a sharper picture
with less black lines between them. 
Next up is the WiFi. I have had a PDA with built-in WiFi before (the
iPAQ 4355), and it is soooo much better than having an external WiFi
card. The sheer convenience of just taping an icon and having WiFi come
on is fantastic. Not only does it have WiFi, but it also uses the newer
(and faster) 802.11g standard, with a maximum throughput of 54Mbps. Not
doing any scientific tests, I can say that it is much faster than my
Mini with Sandisk SD WiFi card was at transferring files. I transferred
a 6Mb MP3 file in less than 15 seconds, which took a lot longer using
the Mini + SD WiFi combo. The b/g radio does offer better performance,
which is great. It doesn't really help with internet access
though, as 3Mbps Cable sees little (if any) benefit over the faster
connection.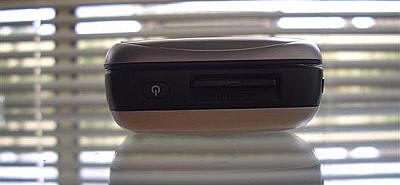 Top: Power Button and miniSD Slot 
I have only used the Bluetooth for syncing, but it works very well for
that. It seems a lot faster than the Mini did, but this could also be a
combo of WM5 and ActiveSync 4.1. It is a lot easier to setup BT
ActiveSync now that there are options in ActiveSync on the PPC for
it. 
The speakers in this device are AWESOME!!! I have never heard such a
loud PDA before. Ringtones are deafening, as are playing MP3s. At
highest volumes on MP3s there is some distortion, but even at the
highest they go with good quality they will blow you away. I was always
annoyed when I would miss a call on the Mini because of the low ringer
volume, but I know this will not be an issue for this device!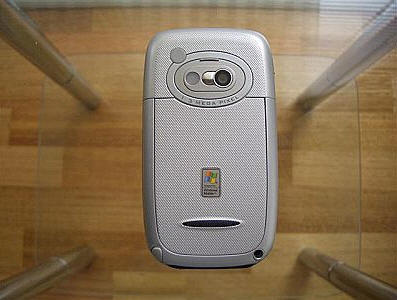 Back: 1.3MP CMOS Camera, Flash Light, Removable Battery Door 
The camera isn't anything to get excited about, its still
pretty poor, but an improvement on the Mini's camera. The
Flash Light does help, but only if the camera is within 50cm of the
target. It is rather useless, but never mind. If you're
looking for a good camera, you aren't looking at a PDA to
fulfill that need.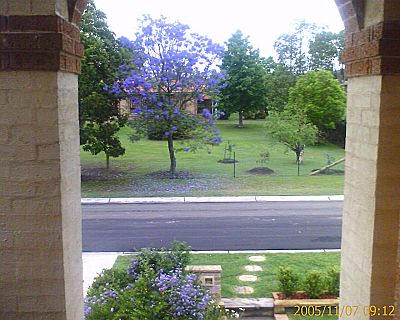 Daylight – no flash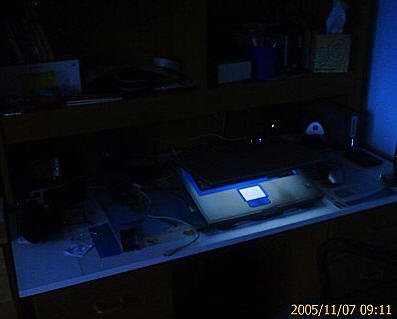 Inside – no flash
But as I said with the Mini, a camera is better than none, and this one
will do if you don't have your good camera handy but want to
take a snap of something.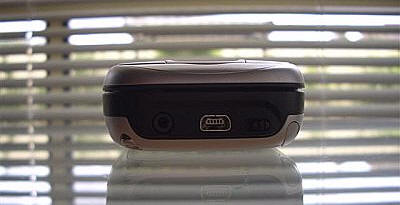 Bottom: Lanyard, 2.5mm Headset Jack, miniUSB port, Battery Cover
Switch, Stylus 
Now it is likely that one of your main reasons (as it was mine) for
buying the K-JAM (or other variant) is the built-in thumboard. The
thumboard has a blue backlight for seeing it in the dark. I am very
happy with the keyboard. I tried the HTC Blue Angel keyboard, and the
membrane style wasn't that great. This keyboard has separate
buttons that have great tactile feel, good spacing and are a decent
size. The device automatically switches into landscape when you slide
the keyboard out which is a nice feature. I haven't had any
problems using the keyboard so far, and have found it to be better than
the one on my iPAQ 4355. The backlight can be a bit annoying when it
isn't quite dark, but its not too bad. HTC have done an
excellent job of fitting a decent keyboard into a small device like
this, without having to sacrifice screen space like with the iPAQ
hw65/67xx.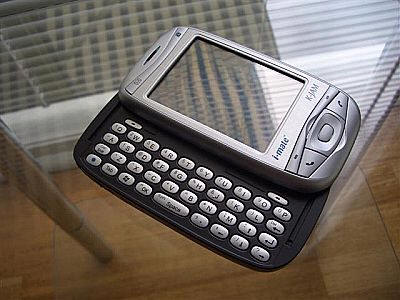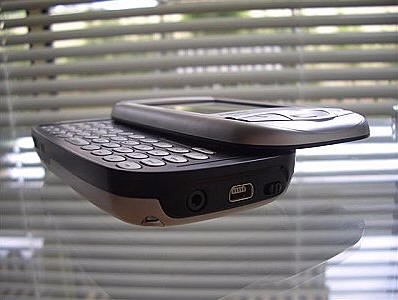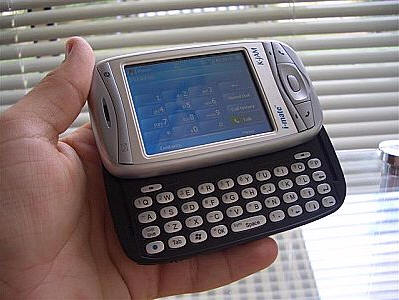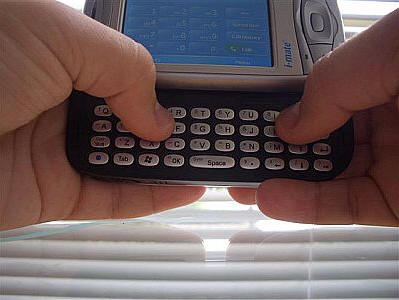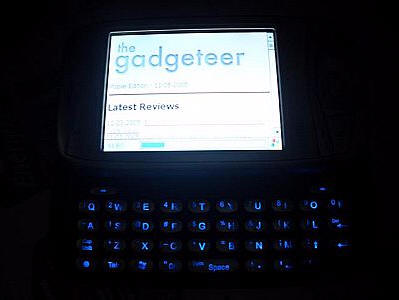 The keyboard backlight 
Having the soft keys definitely comes in handy when you get a stylus
like the one supplied. It is a bit better than the Mini, because of its
thickness, but it is a return to the telescopic days. This stylus is
ridiculously small when collapsed, and on occasion it doesn't
extend when removed from the silo.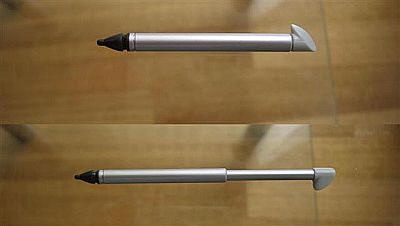 The hardware buttons on the face of the device are very study, have
excellent feel and do not flex at all. They don't wobble like
I found on the Mini. The only issue I have found is the top two buttons
have started to wear off.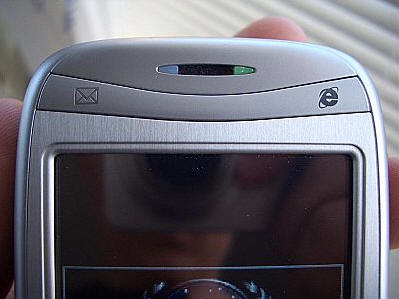 They are cut into the metal, and filled with a grey paint, but the
paint has started to wear off. The Messaging icon was half gone, so I
scratched the rest off. I expect the IE icon to go soon too. It looks
fine without the paint, just a bit lighter. The Send/End keys light up
their appropriate colours which is a nice touch.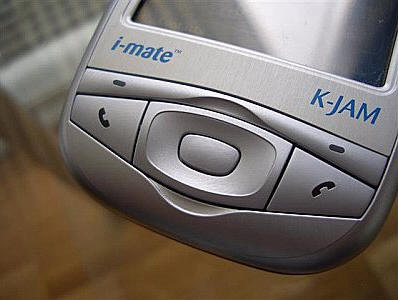 The case that comes with the device is not that great. Unless you want
to carry it on your belt, it's too thick to put in a pants
pocket. It would be ok in a jacket pocket, but even then I think
it's a stretch. I have been carrying the device without a
case and that seems to work pretty well. It makes it easy to use the
keyboard, as there is no case in the way to obstruct use of the device.
I have a PDair case ordered, so I will see if I will continue without a
case or use the PDair one.

Update 13/11/05: Received the PDair case, and its fit just wasn't that
good. The K-JAM wouldn't sit straight in it, and the way is clang to
the device (a piece of plastic between the screen and keyboard) seems
to strain the slider. I have sent it back and am waiting to receive a
replacement case (the PDair Aluminium version for the K-JAM).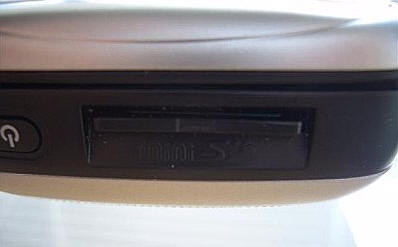 The K-JAM uses a miniSD slot, which is absolutely tiny!! I ordered a
512Mb card off eBay at the same time as I placed my order with
Expansys, so I got it well before I received the K-JAM. As you can see,
compared to other memory cards its tiny.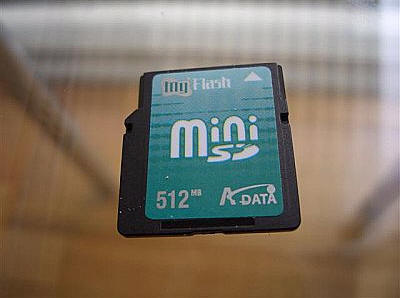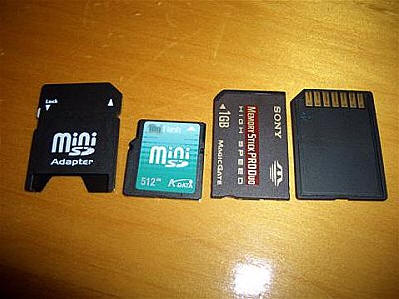 miniSD Card and Comparison between miniSD Adaptor, miniSD, MS Duo and
MMC
The battery in the K-JAM is a 1250mAh Li-Ion removable
battery. So far, I am very impressed with the battery life of this
unit. I can use it for about 7hrs, with a combination of WiFi, BT,
GPRS, Calls and music, in addition to standard PIM functions. I was
amazed that it could last this long under such stress!!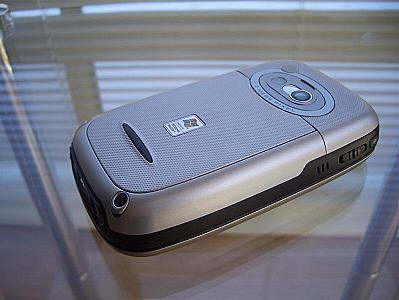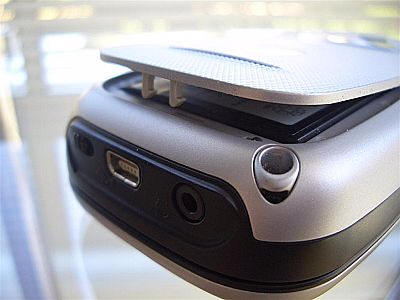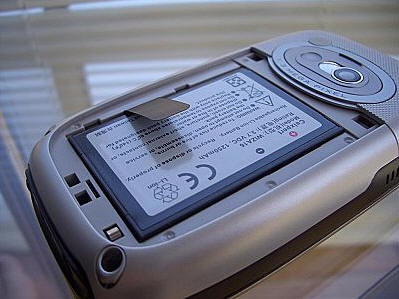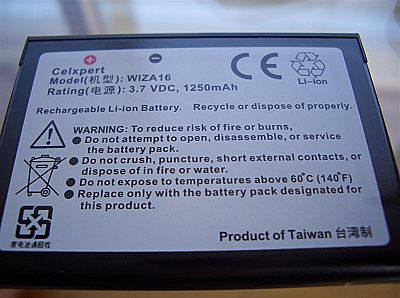 That OMAP processor must really be saving power. I rarely got
about 6.5hrs of that sort of use on my Mini, and that doesn't include
using my SD WiFi! 
That about does it for the hardware side of the device. Lets look at
the software. 
Software 
The K-JAM comes with Microsoft's latest addition to the
Windows Mobile lineup: Windows Mobile 5. The greatest thing I have
found about the new operating system is the one-handed operation of the
device by using "soft keys" to navigate programs
(just like the MS Smartphone OS has done since the beginning). This is
great on a small device like the K-JAM, as it means you
aren't constantly reaching for the (toothpick) stylus. This
is especially important because of the keyboard, as it is preferable
not to have to keep taking out the stylus all the time. 
Older applications may not yet have soft key support, which is quite a
shame as it makes navigation a lot easier. It would be great if WM5
could detect when an app has only one or two buttons on the menu bar
and automatically assign them to soft keys. 
As you will see in the following screenshots, the included applications
all take advantage of the new soft keys. On my Today screen I have used
a registry mod to change my right soft key to Agile Messenger.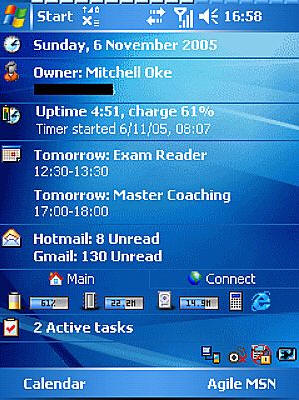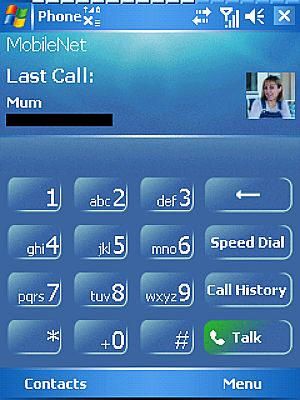 Today Screen and Phone Screen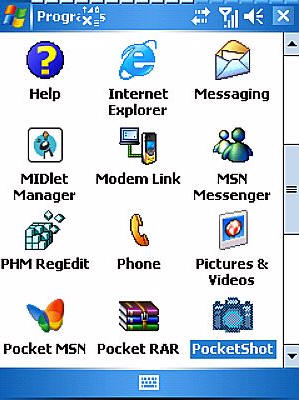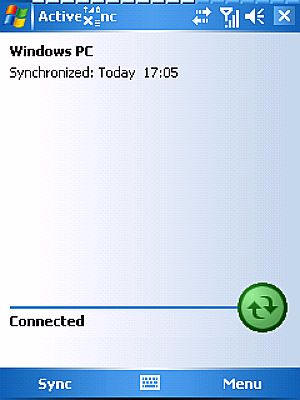 Programs and ActiveSync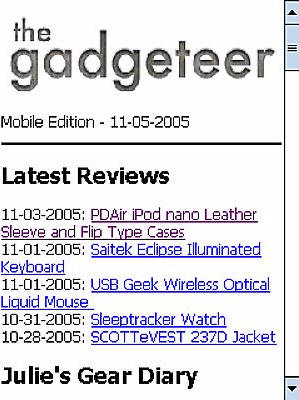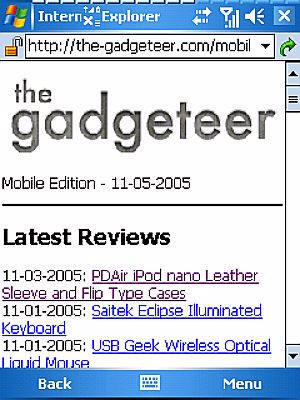 Internet Explorer in Full Screen and Standard view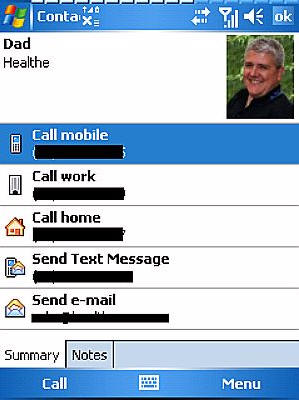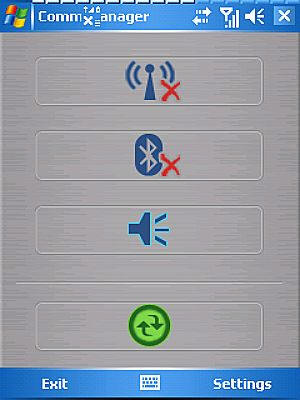 New Contacts View with Picture Support and Comm Manager (Toggle
WiFi/BT/Sound ON/OFF)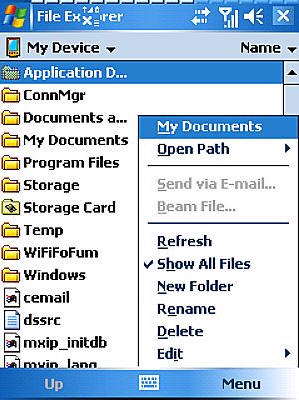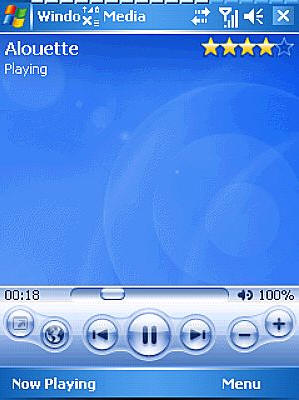 File Explorer (with new Folder Up button) and Windows Media Player 10.2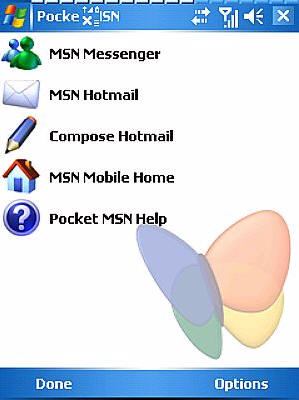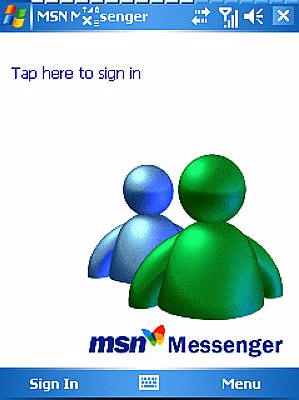 Pocket MSN (not a dead web link but a menu!) and MSN Messenger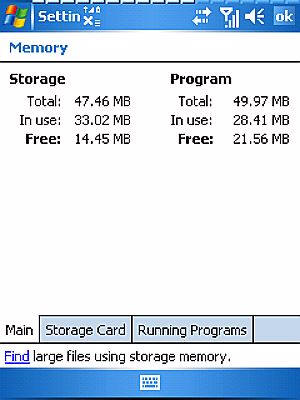 Memory Panel (notice lack of allocation slider due to WM5 memory
configuration) 
I won't go through all of the various WM5 features, as they
are largely the same as WM2003. For a great review of WM5, have a look
at
this
BargainPDA article. 
Conclusion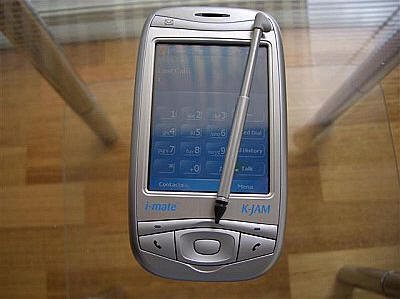 Overall, I am very happy with my purchase. The device doesn't
show any slowdowns as the processor might suggest. Even though you only
get a fraction of the 128MB ROM for your own use, the portion you do
get is bigger than that on 64MB devices. I have loaded all of my
applications into ROM, only having music and files on my 512Mb miniSD.
WiFi and BT work very well, and the 802.11g radio does make a
difference in the speed of file transfers over the network. The screen
is excellent, and very bright. I wish it used SD cards, as I already
had an SD card, but miniSD isn't too expensive so
it's not really a problem. 
Price: AU$1127.40 delivered 
Manufacturer: HTC and branded by i-mate 
Purchased:
AnythingOnline
Product Information
Price:
Manufacturer:
i-mate
Pros:

Combined Quad-band Phone/PDA
Good performance
802.11g WiFi (54Mbps)
Bluetooth 1.2 (or possibly 2.0 with upgrade)
Excellent thumboard
Excellent screen
Decent ROM available to the user (47.5Mb)
Small size
Windows Mobile 5

Cons:

Telescopic Stylus (although its not too bad)
miniSD slot instead of standard SD
A bit on the thick side
Case that makes the device VERY thick
No where near 128Mb ROM available (47.5Mb available to the user)