We use affiliate links. If you buy something through the links on this page, we may earn a commission at no cost to you. Learn more.
I received my unbranded unlocked GSM Treo 650 today (thanks Mike!). Good news, it works perfectly! I even upgraded the firmware. Yay! I'm super happy at the moment. Even the signal strength here in the gadget cave is good! :o) Maybe the Treo gods don't hate me after all. I am still waiting for the cursed (hacked Sprint) Treo to get shipped back to me from buyer #2. I'm debating on putting it up on eBay as a PDA only to try to recoup a few $$'s. I've heard from a couple people that the reason why Verizon won't activate now it is that they have some new rule that the ESN# has to be from a real Verizon phone and has to be in their system. Anyway, I'm considering this story closed… I'm sure you're all sick of hear about it by now anyway ;o)
In other news, I have a loaner Pocket PC with a built in GPS to take a look at called the OnCourse Navigator. Look for a review soon.
Speaking of reviews, the plan is to post my Palm TX and Palm Zire 22 reviews Friday. Cross your fingers for me.
Got a surprise in the mail from Waterfield today. Their pink leather small Cozmo bag. They had asked if I wanted to write a review, and I had told them that I wasn't sure it was different enough from the review I'd already written almost 3 years ago.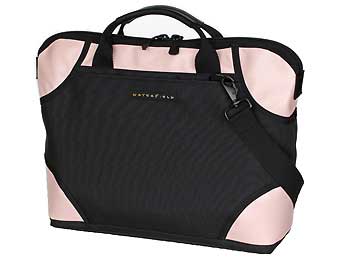 Besides the girly pink leather, the rest of the bag feels a bit stiffer, it sits up much better without falling over. There's a new small zippered pocket inside one of the outer pockets. Other than that, it's the same great gear bag. Hey guys, this might make a nice holiday gift for the female gadget geek in your life.