We use affiliate links. If you buy something through the links on this page, we may earn a commission at no cost to you. Learn more.
I was doing a search on eBay recently, looking under "stingray" and hoping to
see some interesting small clutches. I didn't find a clutch that I would want to
buy, but I did find an auction for the most amazing leather wallet and solid
sterling silver chain. Although I wasn't in the market for either, I was truly
impressed by the artisan's use of leather, stingray and sterling silver. Luckily
there was a link to the artist's site, and that is how I discovered
Ron Bryant and
One Too Many Design. After
spending at least an hour drooling over his selection of
custom bags,
custom
wallets and his
limited
edition bags and wallets, I knew I had to place an order. But of
course I wasn't going to order anything simple, oh no…
My first letter to him went like this:
Hi,
I saw your auction for the

Mexican Death Wish &
Heavy Hitter
combo on eBay and followed the link to your site. I am just amazed by your work
in leather and silver! Your site is like a candy shop, and I don't even know
where to start…so I will start small.
I am interested in getting a custom wallet / clutch made, similar to the
Rob Roy
style with the thinner leather flap and single snap, instead of the wide
flap with two snaps. This would probably need to be a little bit thicker than
the typical wallet, however.
On the bottom side, instead of there being a slash pocket with credit card
slots, I need a pocket the length of the wallet and about an inch deep –
something suitable for sliding a PDA into. My current PDA measures 5" long, 3"
wide and up to 0.75" thick, depending on whether I am using the extended battery
or not. Since this PDA is on the larger size, I don't anticipate needing any
more room for a future model. I usually swap out every nine months or so, and
obviously I would want this wallet to work with just about any PDA.
On the front of this deep pocket it would be nice to have a slim half slot,
large enough for a single ID to poke from.
On the other side, I need five or six credit card slots, with a couple of slash
pockets directly behind for holding and separating bills and loose checks.
Ideally, the wallet would measure about 7" long, be about 4" wide, and about 1.5
– 2" thick.
I would like a Chinese dragon design, similar to the

custom weekend bag's dragon. It would be awesome if the dragon's head could
be on the front of the wallet, with a single silver cross for the snap. Whatever
leathers you deem appropriate would be fine, but I would request that the base
color be in the dark brown family.
Does this sound like something you would be interested in doing?
Best regards,
Judie Hughes
Ron sent me an
email saying that I should give him a phone call the next day and we could
further discuss the details. After talking for just a short time, him asking my
preferences such as favorite color, did I like black or brown better, suede or
smooth leather, etc.,  Ron said he had an idea of what I wanted and we
settled on a price. He sent me a PayPal invoice for half with the agreement that
I would settle up once the wallet was ready.
Ron explained that he is a "one man show" and that there
were a couple of orders ahead of mine, but once he got started on the wallet, it would
come together quickly. I told him I could be patient. I lied – HA!
A couple of weeks went by, and I got a call from Ron saying
he was about to start on my clutch. We talked a bit more about what I did and
didn't want, and we decided that since it would be more clutch than simple
wallet, it really needed to have a detachable wrist-strap. Once we had those
details hammered out he said it would be ready in a couple of days. True to his
word, I soon got a call saying that it was ready and he would ship it out the
next day. Ron sent a PayPal invoice for the balance, and since that day happened
to be Veteran's Day and the Post Office was closed, he sent it FedEx.
Today, I got it….
The overwhelming smell of quality leather tickled my nose
as I unwrapped the tissue swaddling the clutch and the wrist-strap.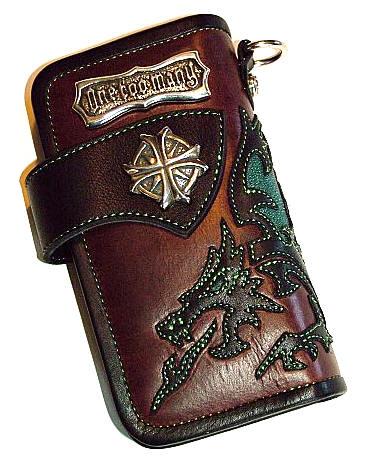 Measuring 7.5" inches long x 4" wide x 2" thick, my clutch is composed of
chocolate brown leather bordered and trimmed with black. A hand-pieced dragon is
stitched to the outside of my clutch, and it is trimmed with green stingray. All
stitching is done in contrasting green stitching. The sterling silver snap I
requested is present, as is the lagniappe of a sterling silver "One Too Many"
plaque on the front. That could describe my PDA obsession. ;0)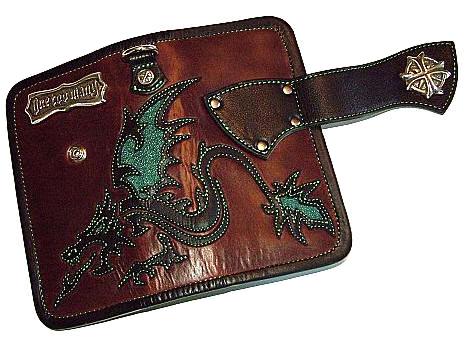 Here is a picture of the full dragon, which is just amazing to see in real
life. The exterior of the wallet is gorgeous, but the interior needed to be
functional – something that would carry all my basic daily wallet necessities.
This meant I needed it to hold a couple of credit cards, my driver's license,
insurance cards, loose ranch checks and gift certificates, have a pocket for
receipts and bills and a pocket that would hold my current PDA. Whew! When I
ordered the wallet, my daily driver was the iPAQ 4700, but at this time is the
PPC-6700.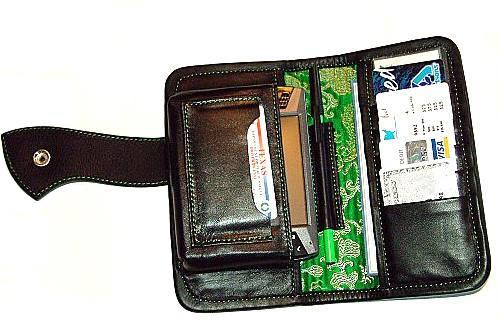 Even though I am not using it, I had to try PAQo in the pouch…and it fit
perfectly, even with the extended battery. Of course, the PPC-6700 is not as
wide as the iPAQ, which meant I had enough room to slide a tube of lip balm into
the pocket and then the PDA phone. Because all of the slash pockets face the
inside of the wallet, their contents are kept securely in place.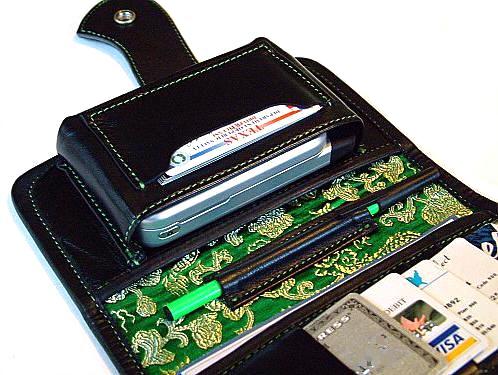 The interior is lined completely in a heavy green silk brocade with a dragon
design. Ron even added a surprise – a black leather pen loop which I hadn't thought to request. It
holds a BIC pen or stick stylus perfectly.
For times when I am not carrying my wallet inside a bag, I can attach the
wrist-strap and carry it as a clutch…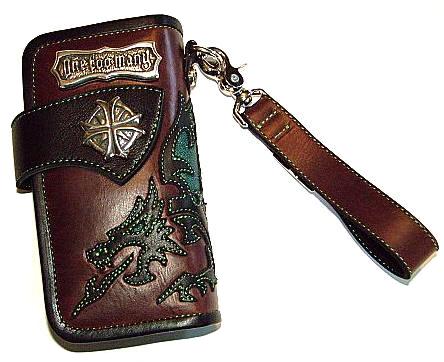 If you have been looking for the perfect wallet, clutch, bag…or pretty much
anything that can be custom made of leather, an
email to Ron would be the right
place to start. :0)