We use affiliate links. If you buy something through the links on this page, we may earn a commission at no cost to you. Learn more.
A couple of days ago I reviewed the rugged
Maxpedition

Fatboy Versipack, which I have been using as my casual gearbag. Quite a few
of our readers either wrote me personally or posted in the

Fatboy's forum saying that they had been looking for such a bag – but they
needed one that was a little bit larger. Well, today I'll be talking about the
Fatboy's big brother – the
Jumbo
Versipack. These two bags share the same comfortable sling design, are made
of the same rugged materials and they both feature a plethora of pockets in well
thought out locations. The major difference, other than the addition and
subtraction of a few key features is in their sizes. Where the front portion of
the Fatboy's main body measures approximately 10" tall x 9" wide x 4" deep, the
Jumbo Versipack's measures 12" tall x 12" wide x 6" deep.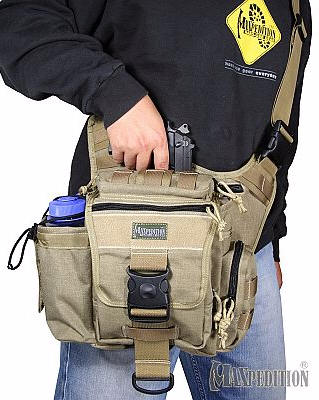 Photo courtesy of the Maxpedition site
As with Maxpedition's
other bags, the Jumbo Versipack is composed of 1000-Denier
water and abrasion resistant, light-weight ballistic nylon fabric which has been
coated with DuPont Teflon fabric protector. The
various components of their bags are held together with
high tensile strength composite nylon thread

and all straps are made of high
tensile strength nylon webbing. All Maxpedition bags use YKK #10 high strength
zippers and zipper tracks and UTX-Duraflex nylon buckles.
The Jumbo is available in black, OD green and desert tan; I was sent the
desert tan version, which for all practical purposes is basically a deep khaki
color that will go with just about everything. It took all of five seconds after
this bag arrived for Steve to tell me that it was his new gear bag. Well
ooookay. ;0)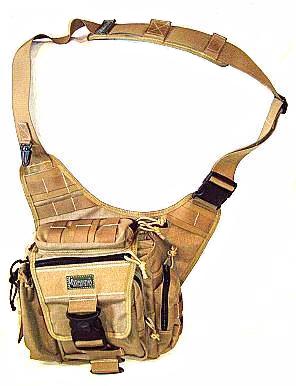 Included in the package are the bag and a Velcro holster. What use would one
have for a Velcro holster? We'll get into that later…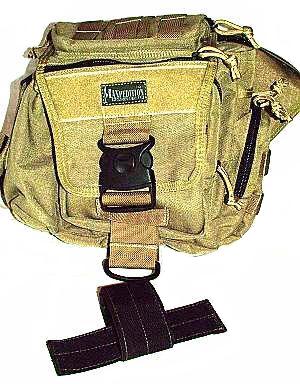 The back of the bag has three padded mesh inserts which will help protect the
wearer from sore spots when the bag is loaded down. There is also a 2.5" Velcro
clip which will attach to the wearer's belt for added security and support.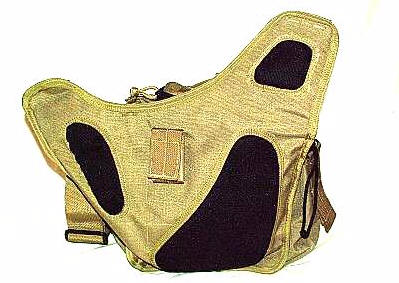 The adjustable strap has a removable 11" long x 2.5" wide non-slip shoulder
pad which has three Velcro points with which it is secured. Notice that there is
a metal clip on the strap, which is a handy place to attch a key ring.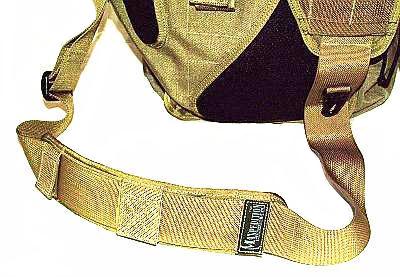 My first impression of the Jumbo, once I was able to pry it from Steve's
fingers, was that it was missing
the mobile phone pouch – but there were a couple of extra features that made the
loss less painful. In addition to an extra zippered pouch on the top flap of the
main compartment, there was also a water or soda bottle compartment. Since I
have already mentioned the water bottle pocket, I might as well start there…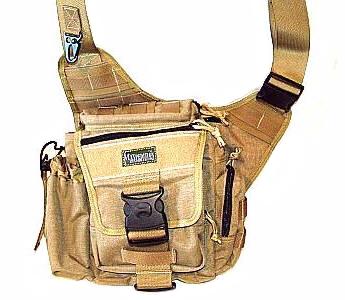 Located on the left side of the bag, what I really like about this pocket is
that it can fold completely flat when it's not needed. A little known personal
peeve of mine is bags that have dedicated water bottle pockets. Why? Because I
am not usually carrying any, and so I hate having this great big empty pocket
that is ill suited to anything else but carrying a bottle flapping about
uselessly. Steve said he keeps his sunglasses in that pocket and it's perfectly
suited to hold them securely.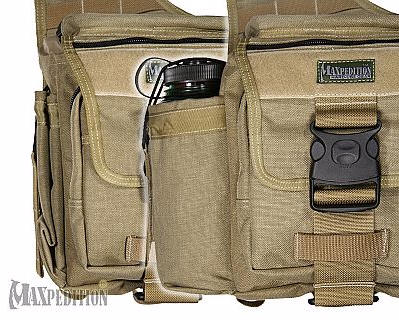 Photo courtesy of the Maxpedition site
There is a plastic toggle clip on an elastic strap that secures the
generously sized 7" tall x 3.5" wide and 3.5" deep pocket, which will hold a
30oz (one liter) bottle securely. In addition, there is a double-banded
elastic cord that comes through a round grommet built into the side of the main
compartment which ends with a 4.5" strip of Velcro sewn onto a stiff ballistic
nylon strap. When I first saw the strap, I thought it was a bit excessive, until
I figured out how useful it was for flattening the pocket when the sides were
folded in. The elastic cord that comes through the side of the bag can be drawn
in and tightened from the inside of the bag by using a built-in plastic toggle
clip.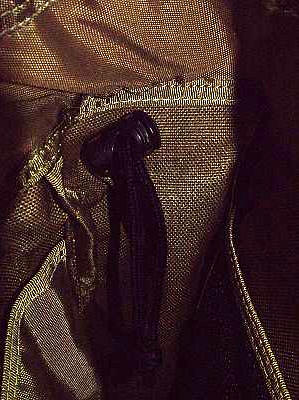 The hidden toggle inside the main compartment of the bag
The whole point is that if you want to carry a water bottle or some other
bulky cylindrical item, there is this
great big pocket ready to accommodate it…but after the drink is done, or on
days when nothing is being carried, the pocket won't be this big empty thing,
just flapping about.
I really like the forethought that went into this feature. According to the
Maxpedition site, this pocket can also be used to carry a handheld radio, but I
would imagine it would also work with larger handheld GPS units and bulkier
flashlights.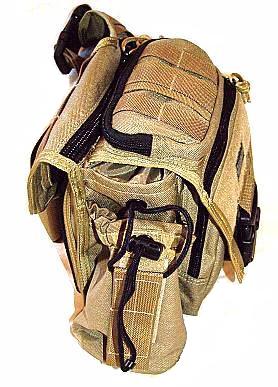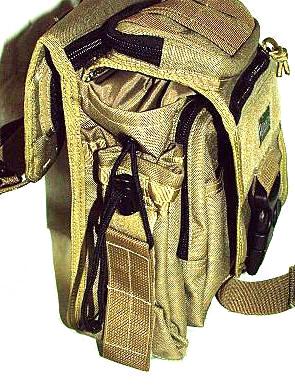 It get's even better, though. There is another grommet – this one located on
the bottom of the bottle compartment – which allows condensation or spilt liquid
to drain through the bottom of the bag, keeping the pocket from getting funky.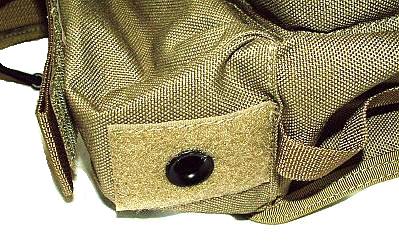 The Velcro surrounding the grommet is part of the bit that the strap will
attach to when the pocket is folded away. Okay, I am done obsessing about this
pocket! Let's move on… ;0)
On the right side of the bag is a dual YKK zippered pocket measuring 6" tall
x 3" wide 2" deep. The exterior of the pocket has two heavy nylon straps with four
sections made to hold
Maxpedition's modular clip-on accessories. This is as good as any time to
mention that all of the zippers on the bag have easy to grasp 2" long
nylon cord pull. Even with gloves on, there should be no problem managing their
opening and closing.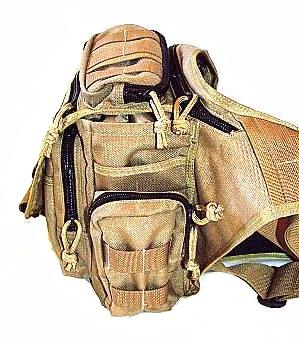 Notice that there are an additional two nylon straps on the
lower right side of the shoulder strap for attaching clip-on accessories

Inside this compartment is a patch pocket that Steve uses for carrying his
handgun's extra clip. It is also a great area to keep folded cables, power
cords, or other odd items which might need their own dedicated pocket.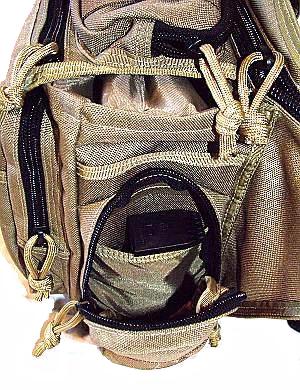 Along the back wall of the Jumbo Versipack's front is a 9" wide zipper that
opens a cavernous 9.5" tall x 9" wide pocket. According tot he Maxpedition site,
this pocket creates "an effective concealed carry system utilizing the Fatboy
shoulder sling concept." Inside the pocket are two 5.5" long x 2" wide strips of
Velcro…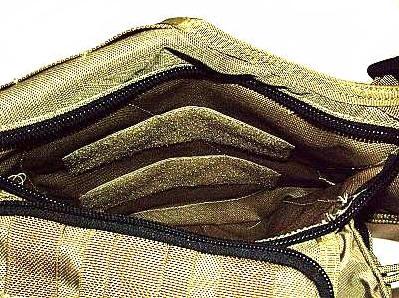 which effectively anchor the included Velcro holster.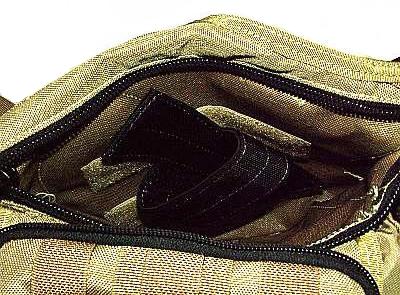 In turn, the back wall of the bag will now support a full sized concealed
handgun. If you don't carry a handgun, there is an optional "hook & loop modular
three clip holster" which, although the name implies gun-clips, can also be used
to hold smaller flashlights and multi-tools.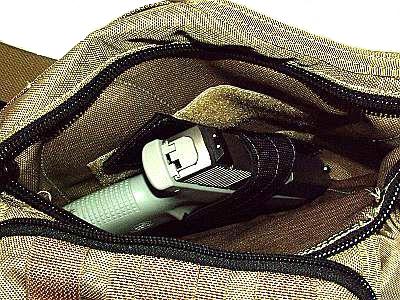 This pocket is large enough to hold a 9" tall x 6" wide x 1.5" thick book –
although the zipper will not close.
The pocket on the top of the middle portion's flap is a so convenient, I wish
that my Fatboy had it! Measuring approximately 7" long x 3.5" wide x 1" deep, it
is a handy place to store a Bluetooth enabled PDA mobile phone, or really any
item to which the wearer wants quick and easy access. The top of the pocket has
three nylon straps that can accept
Maxpedition's modular
clip-on accessories.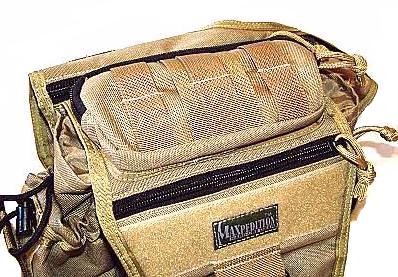 Steve uses it to store his cigar paraphernalia.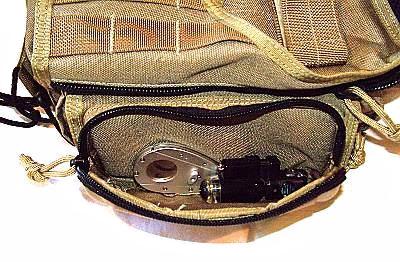 Directly in front, on the front of the bag's flap is a 7" x 5" pocket. Unlike
on the Fatboy, this pocket does not continue to the top of the flap, under the
portion that would be covered by the previously discussed pocket. This would be
such a convenient spot for memory cards, change, memory card adapters, anything
small that might get lost elsewhere in the bag.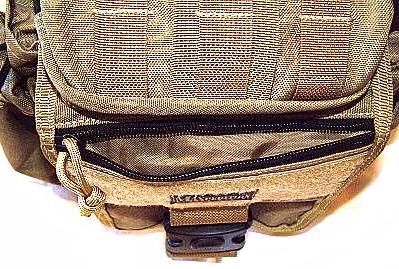 Look at the large plastic clip on the front of the Jumbo…do you know how
much I like using it?! Everything I don't like about smaller "pinchy" clips is
missing in this easy to use and lockable specimen. Well, maybe lockable is not
quite an accurate description as it doesn't lock with a key per se, but the
middle slider can be moved down into the "Locked" position which keeps the clips
from being opened accidentally. When the slider is pushed into the upward
""Open" position, a gentle squeeze on the clips rounded pinchers will open the
middle section. If all clips were like this one, then I wouldn't ever mind them.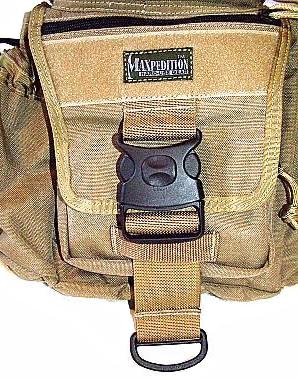 Notice the wide D-ring at the bottom of the nylon strap which passes through
the clip? That allows the wearer to adjust the bag to fit the middle section
whether it is stuffed full or relatively empty. There is also a patch of soft
loopy Velcro on the front of the bag which I suspect can be used to attach one
of
Maxpedition's Velcro based accessories.
Once the clip has been undone, the main portion of the bag is exposed
revealing the cinched nylon storm collar on the top, and a 5" tall x 6" wide
slash pocket on the very front.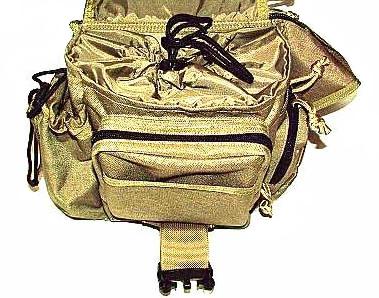 When the plastic toggle clip is undone, the storm collar can be folded down
into the interior of the bag, left undone and open, or secured every time. It's
up to the wearer to decide based on what's being carried, what the weather looks
like, and how quickly the interior needs to be accessed.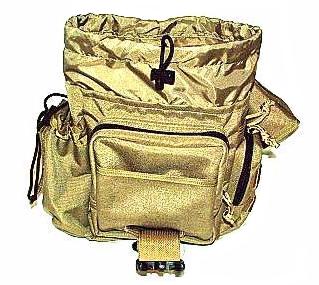 Behind the front slash pocket is a zippered 6.5" wide x 6" tall x 1.5" deep
compartment which features a mesh pocket on its interior wall. Also inside this
compartment is a convenient keyring lanyard.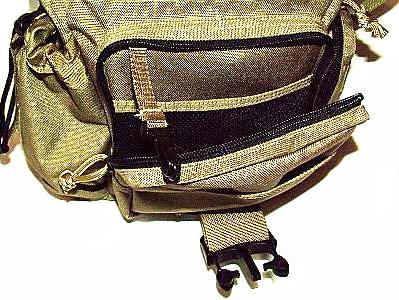 Behind this pocket is the main compartment of the bag, which measures
approximately 9" tall x 9" wide 3" deep. On both the front and back walls of
this compartment are patch pockets, the rear being made of mesh and measuring
about 6.5" tall and 8.5" wide. The front pocket is made of the same nylon as the
storm collar, and it measures the same size as the rear.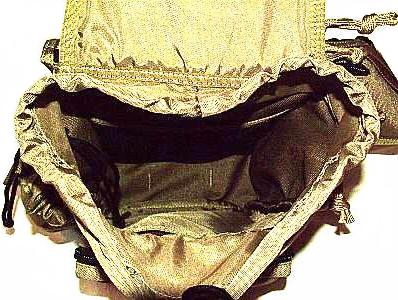 Now here's the deal about this main pocket. I know I said it measured 9" x
9", but since the bag is not hard sided, it can technically accept a slightly
larger item without any trouble. For instance, I can carry a 10" tall x 8" wide
x 2" thick book with no problem and latch the lid with no problem. I can also
insert Sarah's Fujitsu P2110, which measures 10.5" wide x 7.5" deep x 1.5"
thick. Bear in mind that this pocket does not have any built-in padding, but if
something soft is added to the bottom, such as a small piece of egg-crate foam,
it can and will hold this sized laptop with no problem.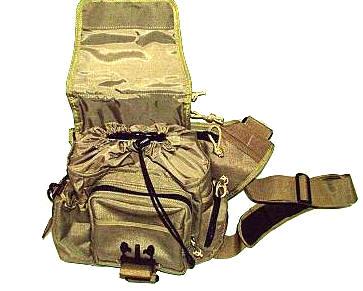 In this instance, the storm collar just needs to be utilized to protect the
sides of the laptop.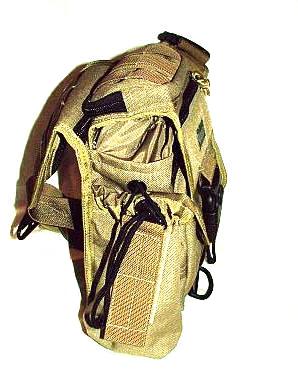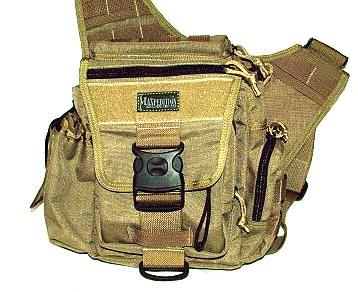 The bag shuts fine, though the flip-lid looks a little bit distended.
Carrying a laptop in a pocket that was not obviously designed to hold one may or
may not be out of the wearer's comfort zone. However, the option is there if the
laptop is small enough.
This review would not be complete without a shot of my matching
Maxpedition
Rat Wallet attached to the strap. Maybe I will let Steve keep it, since his
bag doesn't have a dedicated mobile phone pocket, and since the wallet does
match his bag.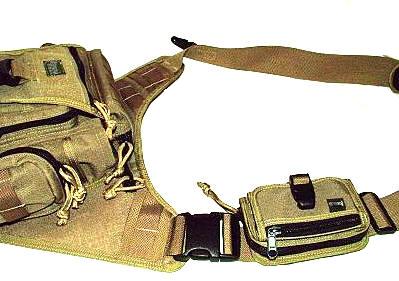 Here is a shot of the Jumbo Versipack next to the more petite Fatboy – the
Jumbo looks naked without any embroidery to dress it up, don't you think? ;0)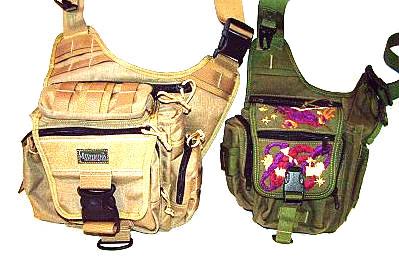 Here is Steve carrying the Jumbo Versipack. He is 6'4", so that should give
you an idea of how large the bag is when carried on a taller guy.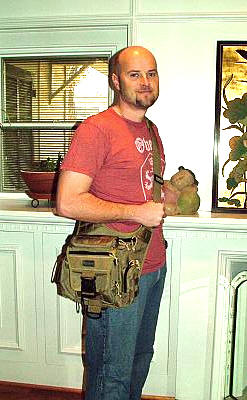 The Maxpedition Jumbo Versipack is a great option for someone that likes a
sling-style gear bag, wants tons of pockets and the ability to add even more,
but that needs a larger bag than the Fatboy Versipack. The material used for
these bags is tough, weather and dirt resistant – I would almost say
indestructible, but then I am sure that someone would have to go
prove me wrong! Because of the larger clip on the front, I would almost say that
I like this bag better…but I do like the Fatboy's more petite size. Your needs
will dictate which bag you'd prefer – but I think that either way you'll be
happy with your choice.
Maxpedition offers a lifetime limited warranty on their bags against defects
and flaws in materials and workmanship. The warranty may be read
here.
 
Product Information
Price:
78.99
Manufacturer:
Maxpedition
Pros:

Extremely versatile - can be worn two different ways
Very well made
Built tough!
A plethora of specialized pockets and the ability to add more
Large locking clip on front is very easy to open

Cons: