We use affiliate links. If you buy something through the links on this page, we may earn a commission at no cost to you. Learn more.
SCOTTeVEST's latest line of technology enabled clothing seems to have something for
just about everyone. These new garments span the price and style spectrum. On one end you have T-shirts for the minimal crowd, while in the middle there is the comfortable and affordable Sport TEC jacket. Then at the far end of the pricing scale you find the gorgeous Milan leather jacket for the gadget rock star in all of us.
Judie and I have been busy (ok, mostly Judie) bringing you in depth reviews of each of
SeV's new version 4.0 products, to help you decide which one(s) might be perfect for you. Up for inspection today is the 237D 3 season jacket. You might wonder what 237D
stands for. It's a reference to the number of days during a calendar year that you'll be comfortable wearing this jacket.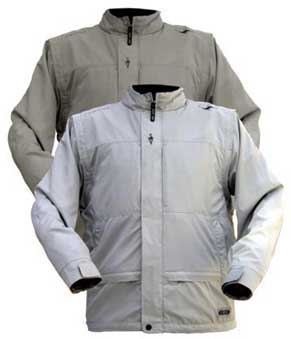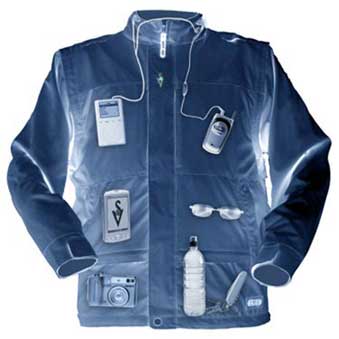 Julie's comments are in Black, Judie's are in Blue and italicized.
The 237D is an update of the Version Three.0 Spring-Fall jacket that I reviewed last year. Like the name
implies, this new jacket can be worn during the Spring, Fall and Winter months due to the hood and removable sleeves. The main differences between the 237D jacket and its predecessor, the Version Three.0 Spring-Fall, are the Detachable Cargo Cache, built in elastic battery holders for both AA and AAA batteries, SeV Solar Panel compatibility, additional magnetic closures and 2 more pockets.
The jacket is composed of a 100% Nylon shell which has
a stain and water resistant Teflon coating. The exterior feels similar to
brushed cotton – very soft, while the interior is lined in silky polyester which
features the SeV logo. The 237D has 33 pockets, which means that
there should be more than enough room to stow just about anything someone might
like to carry. Since Julie received this jacket in stone and I received
it in olive, we can take turns talking about its various features. I'll
start, as always, at the top…
My jacket is a men's size medium, which has a 2.5"
stand-up collar. Notice that on either side of the collar are fabric epaulets
which blend in with the shoulders of the jacket. These epaulets are suitable for
clipping a walkie-talkie or even for catching a dangling arm from a pair of
sunglasses.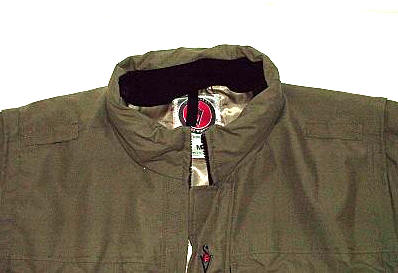 The collar is lined in soft micro-fleece which will
feel quite soft on the wearer's neck. Under the back side of the stand-up collar
is a hidden hood. The hood is composed of the same nylon fabric as the jacket's
exterior, and it can be completely detached from the collar by undoing the
attaching zipper. There are also plastic bungee clips on either side of the hood
which will keep it secured around the wearer's face during nasty weather.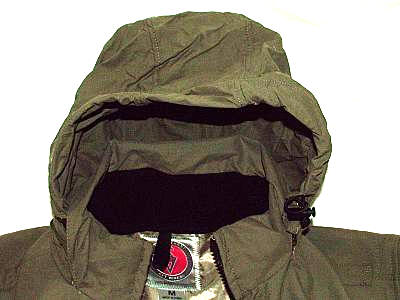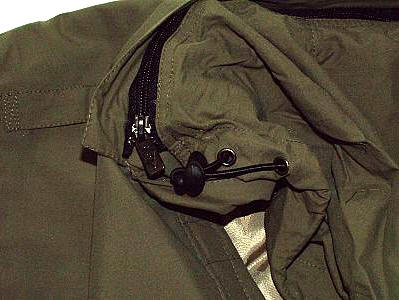 I was sent the Stone version of this jacket in men's size small. Like the Rodeo jacket that I just recently reviewed, this size was too big for me. Judie's medium was too big for her
in the shoulders, so no pix for you! ;o) Now for my usual comment regarding SeV garments: We need jackets for girls!
I'd like to expand on that – this jacket would have fit
me better if it had not been gathered at the bottom. The size really was fine –
it just hit in an unflattering spot and since it
didn't have the zipping side vents that jackets such as
the

Milan and the

Tactical 4.0 have… well, it just wasn't particularly flattering on my
body. :0(
As in SeV's other popular jackets, their patented PAN (Personal Area Network) is also an important feature in the 237D
jacket. It allows you to channel the wires / cables for your electronic devices
through the lining of the jacket. For example, you can store your iPod nano in
one of the interior pockets and route the earbud wires through the PAN and up to the collar area.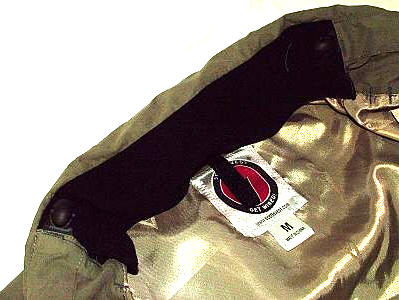 This is a hidden conduit system, similar to the Personal Area Network, located
on the inside of the collar that holds wires in place. Users no longer have to
wrap wires around their necks with this bilateral connection. By securing the wires for your earbuds, you can then hold them in place using the collar loops.
Inside the collar area are 2 collar loops which are made of strong elastic cord. These collar loops hold the earbuds and headphones in place.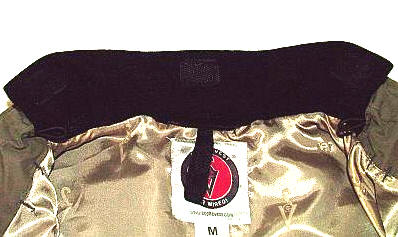 On either side of the collar, just inside the jacket are two small mesh pockets
for storing earbuds when they are not in use.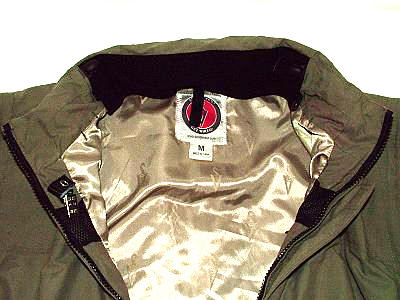 This jacket has been designed for wearing in different types of weather, so as result, you can remove the sleeves to convert it into a vest for warm weather months, and seal up the front magnetic wind flap for the more blustery months.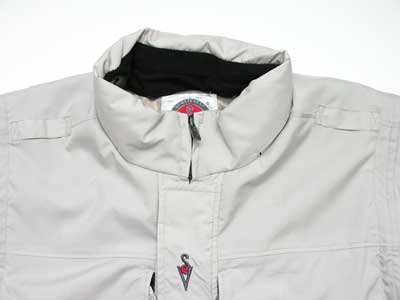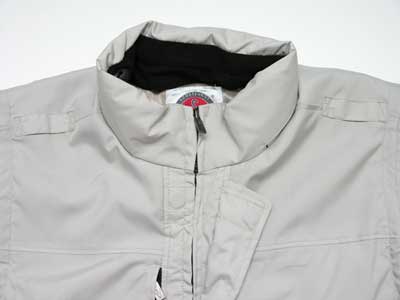 Left to Right: Magnetic wind flap closed, magnetic wind flap open
The main zipper for this jacket is a 2-Way zipper. It gives you maximum access to all of those inside pockets. This is perfect for cycling or when you sit down and don't want to completely unzip the jacket to be less restricted. All you have to do is just pull up the lower zipper to give yourself some extra breathing room.

There are two PAN enabled vertical slash pockets in the breast area on the front
of the jacket. Each is secured with a SeV logo'd  zipper which stays hidden
under the seam the pocket is built into until it is needed. These pockets
measure approximately 5.5" wide and a generous 10" deep. They are secured by
hidden magnets, so there is no need to keep them zipped if quick access is
needed. One of the special features of these pockets is that they use the
HangingPockets system so that their weight is supported from the wearer's
shoulders, not just from the pocket origin. This keeps the pocket from sagging
when items like PDAs, digital music players, radios, binoculars or other heavy
items are being carried.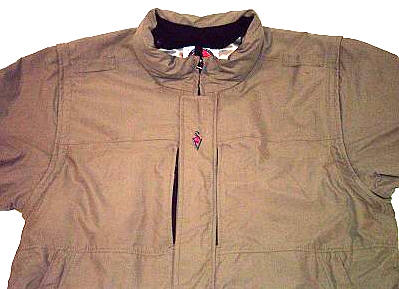 There are also deep zippered hand pockets on both sides. In addition to zippers,
both pockets have magnets at the openings to help keep them closed. This may or
may not be annoying to some people as you have to separate the magnets in order
to put your hands inside the pockets. After you get used to it, it doesn't
require much effort to slide your hands into the pockets in one swift motion. It
just feels awkward at first. Both deep hand pockets have a zipper that divides
the pocket into two areas (pockets). These pockets are ergonomically designed so
items can't fall out, even if you forget to zip it closed.
Directly inside the pocket is a 4" x 4" patch of Velcro
which is part of the Detachable Cargo Cache Plus (DCC+) system. This system
allows the wearer to attach items such as their PDA, or a hopefully licensed
concealed weapon, and other accessories which can be supported by the Velcro
wall.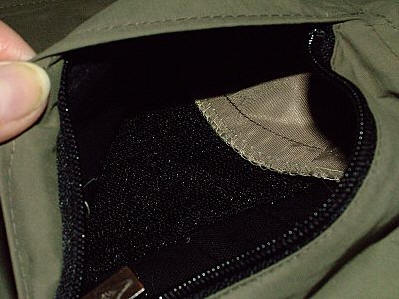 Deeper inside the pocket are various sections and
dividers – including a small change pocket secured by a Velcro tab and a
zippable pocket divider which will allows a bottled drink to be carried upright,
secure in a wide elastic loop. The pocket on the right has a removable keyring
attached to a plastic coil.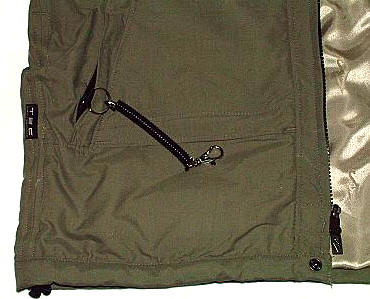 At the bottom of the jacket's front are two zippered
PAN enabled 6" deep x 9" wide pockets.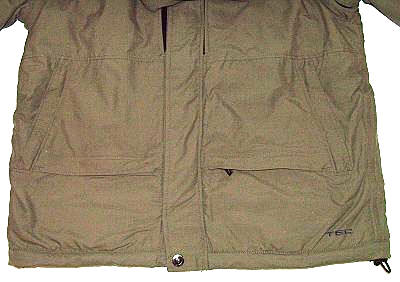 These pockets do not have magnets nearby, so they are a
safe place to store magnet intolerant items such as hotel keys with magnetic
stripes and credit cards.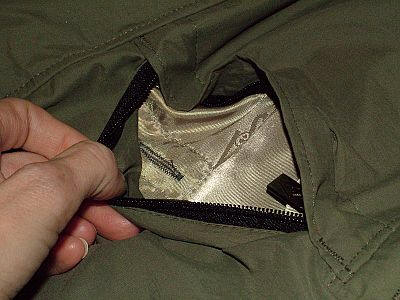 The very bottom of the jacket has a bungee clip on each
side which allows the jacket to be drawn in around the wearer's hips.

The rear of the jacket has a deep PAN enabled zippered pocket which measures
approximately 15′ wide x 11" tall. This pocket is perfect for carrying files,
magazines, or other flat items. The zipper is hidden by a cloth vent, and under
that vent are two patches of Velcro which work with the optional solar panel
system. An SeV branded snap keeps the pocket closed even when unzipped.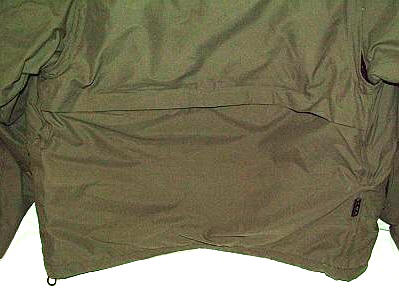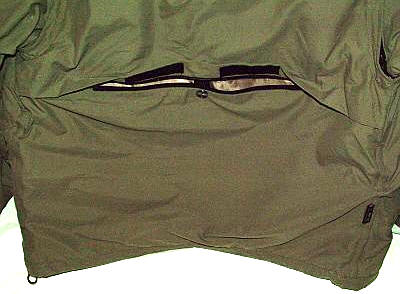 Because of the way that the deep rear pocket uses Scott's HangingPockets to help
distribute the content's weight and the PAN system which allows wires or other
items to leave the pocket through the interior of the jacket, this pocket can
even accommodate a Camelbak Water System.
The 237D can also become a true vest, as the sleeves are removable at the
shoulder. Their cuffs are adjustable to fit any size wrist, through a simple
Velcro system…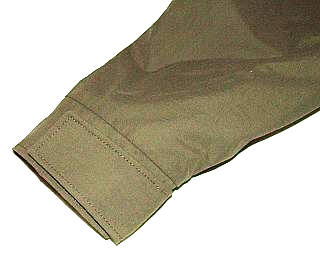 …which can be opened…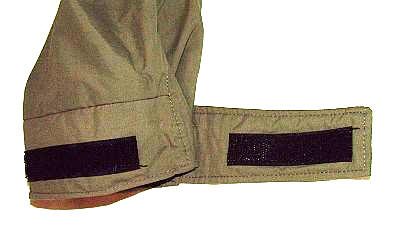 …and then closed again to fit at any point.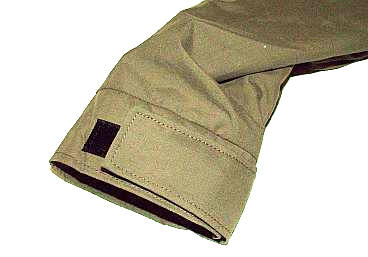 Now let's take a look at the interior of the jacket!
Below you will see a full view of the interior left side. The main jacket interior and sleeves are lined in a bronze silk-like material with little SeV logos sewn into the fabric. The silkiness of the material makes it easy to pull the jacket on over bulky sweaters and other long sleeved garments.
Speaking of logos, SCOTTeVEST is doing a much better job with the 4.0 line of products. Logos aren't as prolific. They are tastefully sprinkled here and there so as to be noticeable, but not overpowering.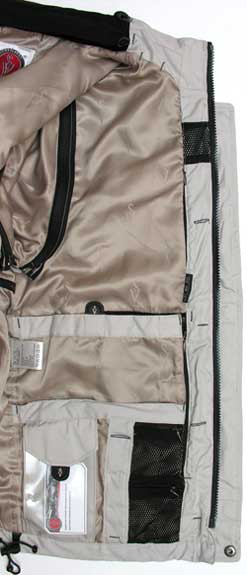 Parallel to the main zipper there are 2 Pen / Stylus pockets on each side of the jacket.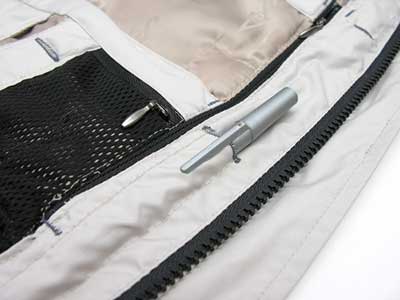 These long narrow pockets are wide enough to hold a standard BIC style pen. I fond that pens with rubber finger grips do not slide into the pockets very easily, so stick with smooth barreled writing instruments.
Directly under the mesh earbud pocket is a vertical hidden pocket set into the
seam next to the placket. A small zipper keeps the pocket secure, and inside the
roomy 6" wide x 9" tall chamber which is suspended by the HangingPockets system
is an elastic cable with an attached gator clip. A blue SeV eyeglass chamois is
included.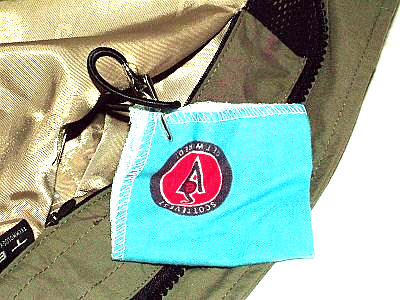 The next pocket is a 12" deep x 9" wide affair that allows for quick entry when
the vertical zipper is undone and the pocket's exterior is held in place with a
series of magnets. This is what i have called the "SWAT pocket" in other SeV
reviews, because directly behind this flap is a 4.25" tall x 4.25" wide DCC+
patch which can also hold a handgun's Velcro holster or other item which is
suspended from the Velcro holder.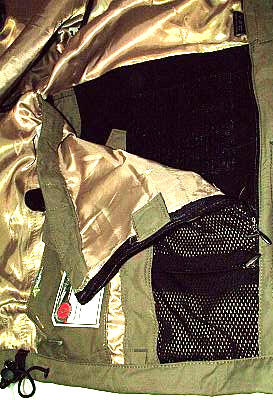 At the bottom of each DCC+ pocket, there are 2 sets of battery holders. Each set can hold 4 batteries; 1 set of AA's, and 1 set of AAA's. Photographers would probably appreciate this feature as they could easily carry batteries for flashes and their cameras in these slots. The only problem is that it is kind of awkward to slide the batteries into the loops because you can pretty much use only one hand and you can't see what you're doing.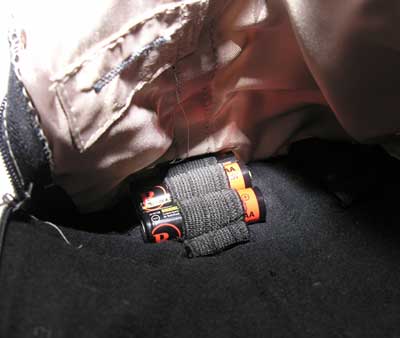 On the exterior of the SWAT pocket is a 7" tall x 9"
wide pocket that can either be used as a single pocket when something larger is
being carried, or which can be divided in two by the strips of Velcro which run
vertically between the front and back portions of the pocket.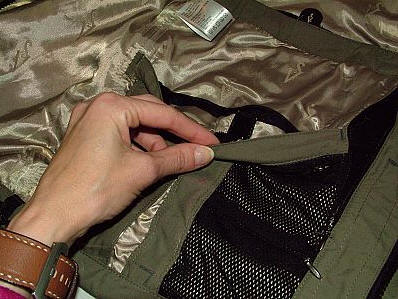 On the front of this dividable pocket is an
organizational panel which includes a plastic-fronted see-through 6.25′ tall x
3.25" wide pocket which is kept secure by a flap with a patch of Velcro. There
is a pen or stylus slot in between that pocket and a set of two zippered mesh
pockets which stack on top of each other.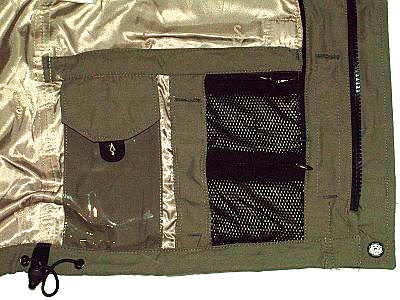 Below you will see a full view of the right inside interior of the 237D jacket. You know what would make this jacket almost perfect, would be a removable fleece liner. With that feature, this could be converted into a good winter jacket.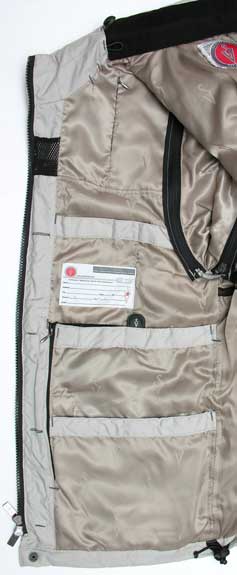 The right side of the jacket, from the top down, starts
with a hidden zippered pocket which measures approximately 6" tall x 3" wide. It
is the perfect place to hide a digital music player, a mobile phone, or a pager.
It is also a good place to place items which are sensitive to magnets, as there
are none nearby. Attached to the mesh earbud pocket is a clippy-badge-holder,
for lack of a better description.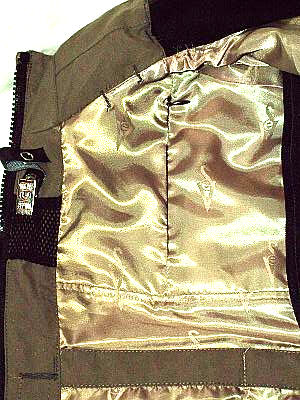 Next is an open, unsecured pocket which measures 6" tall x 4.25" wide. This is a
good place to keep things that need immediate access – such as a mobile phone
for a person that does not use a headset. in the right side of this pocket is a
hidden zipper which leads into a
Secret Pocket measuring approximately 5.5" tall x 4′ wide.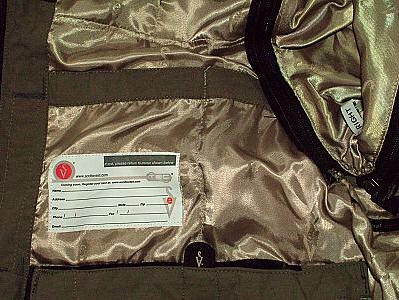 Directly below those pockets is another deep SWAT pocket, which is the mirror
image of  the one on the left. At the bottom is a zippered PAN enabled 7"
tall x 9" wide pocket, perfect for holding loose items.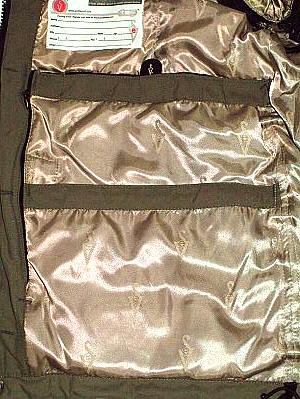 And there you have the nickel tour folks. Like all of SCOTTeVEST garments that we've reviewed in the past, this one has been made with quality materials and designed to last. With 33 pockets, you are almost certain to have the storage capacity to do away with your gear bag, or at least carry a much much smaller one.
You'll also have the added benefit of being able to
keep your headset wired and ready to go for your digital music player, mobile
phone, and two-way radio.
The 237D is definitely a masculine jacket. I'm not sure there are many women (even geeks like Judie and I) that will be totally happy with it. If you are female and looking for an SeV jacket, I say either splurge on the Milan, or go with the Sport TEC.
However, if you are a guy that has been looking for a
reasonably priced SeV jacket that has all of the coolest 4.0 features and comes
in colors other than black, then the 237D may be exactly what you've been
waiting for.
Product Information
Price:
159.99
Manufacturer:
SCOTTeVEST
Pros:

Available in colors other than black
Tactical DCC+ system present for those that need it
A plethora of pockets in thoughtful locations
Most zippers are worked into seams so they blend
Two-way zipper pull on front

Cons:

Gathered bottom wasn't very flattering on Judie's butt
Small was too big for shrimpy Julie