We use affiliate links. If you buy something through the links on this page, we may earn a commission at no cost to you. Learn more.
One of the things that I most like about reviewing LED flashlights is
discovering some of the interesting shapes and styles offered; I guess
that at times I can be a sucker for a cool looking light. But good looks will only carry
a torch so far . To earn my approval flashlights must also be incredibly
bright, easy to use and rugged enough to withstand my personal brand of
klutziness.
When I saw the
Aurora 1.5
Watt Nichia Jupiter LED Flashlight on the
J2LEDFlashlight site, I'll admit that
the first thing that impressed me were its looks. The greenish-gray machined
aluminum body has distinctive grooves cut into its head and base, which reminded
me of the cylinder on a revolver. I also liked that the cross-hatching on the torch's shaft and head looked like it would give a
non-slip property that I have found missing in other lights.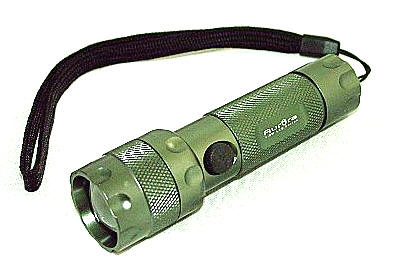 Once I had the Nichia Jupiter in my hands, I was not disappointed. The
flashlight lived up to the site's posted pictures, but it was actually a bit
smaller than I had expected. In my case, smaller is better, so that was a good
thing. The light is a compact 4.33" long x 1.14′ wide at its head, and it weighs
just 3.4 ounces with battery and lanyard installed. A black nylon belt pouch is
also included in the package.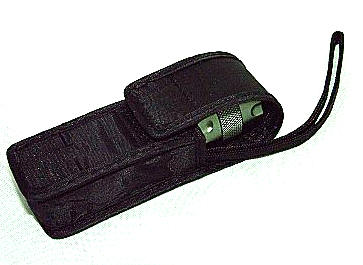 In hand, the Nichia Jupiter is comfortable and it feels quite solid,
with no creaking or flexing. The only part of the light that can actually be
twisted is the battery end, so there really aren't any parts that can break or
offer any "give". Although it doesn't weigh much at all, it feels quite
substantial and tough. This size flashlight is very pocketable and would not take up
much room in a gearbag or purse. The lanyard on its end offers security
when the user is holding it at night or in foul weather.
The Nichia Jupiter can be stood on either end, but no light will appear if it
is standing on the head end, and the lanyard should be removed in order for it
to stand solidly on the battery end.
The Nichia Jupiter is water resistant, as evidenced by its almost entirely
sealed construction. The battery end has the only opening, and a fair amount of
moisture will be kept out by its black rubber gasket. The flashlight is not
waterproof, however – so don't plan on taking it along for deep sea diving or
anything crazy like that.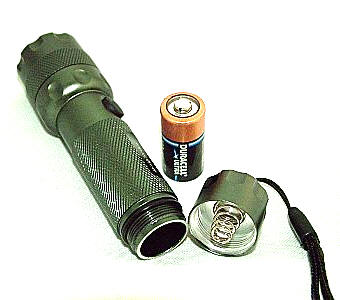 The Aurora uses a 1.5 Watt
Nichia LED with an
output power of 43 lumens. It reported to have a burn time of four hours, with
maximum output for three hours. In my testing, I found that it burned at what
appeared to be full power for approximately 2.5 hours, dropping to slightly less
bright at that time, and then something in the vicinity of 25 – 50% brightness
before it became very dim and pretty much unusable at about three hours 45
minutes. The clicking on / off button is covered in flexible rubber.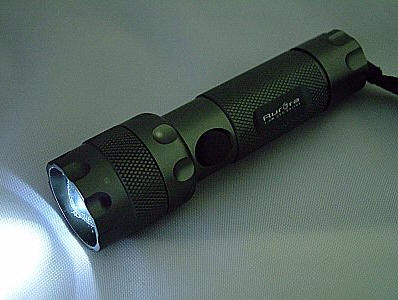 I really like the beam on this light, it is an incredibly bright bluish-white
that propels in a tight circle. At the far end of my 37 foot long pitch black
hallway, the Aurora lit almost the entire door with its strong beam.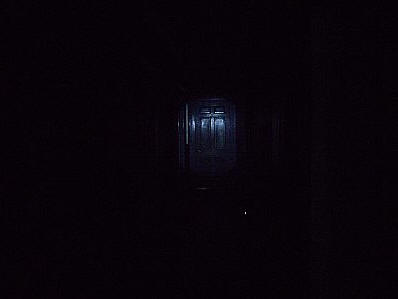 If you have been looking for a small and very bright LED flashlight
that can be tucked into the corner of a gearbag or briefcase but that isn't
too large to occasionally carry in a pocket, then you should take a look at
the Aurora
1.5 Watt Nichia Jupiter LED Flashlight.
The
Aurora 1.5 Watt Nichia Jupiter LED Flashlight is available from
J2LEDFlashlight and other retailers.
Product Information
Price:
32.5
Manufacturer:
J2LEDFlashlight
Requirements:

One 3V CR123A Battery (included)

Pros:

Extremely bright
Rugged and water-resistant design
Comfortable shape
Pocketable

Cons: