We use affiliate links. If you buy something through the links on this page, we may earn a commission at no cost to you. Learn more.
Alkaline battery technology was introduced in the 1950s, and it quickly
became a major part of everyday life. According to a 2004
online report,
approximately three billion household batteries are sold annually in the
United States, "averaging about 32 per family or ten per person." As
stated in this same report, in the year 1992 alone, approximately 101,400
tons of alkaline batteries were sold. Say it with me now…"GAH!"
Because alkaline batteries are single use items – meaning that they can't
generally be recharged, it should be safe to say that just about all of
those 101,400 tons eventually wound up in a landfill somewhere. Not
counting disposals from years previous to 1992, and only figuring in disposals
from 1992 to 2004, it could be said that in the past twelve years approximately
1,216,800 tons of alkaline batteries have made their way into
landfills across the country.
In this world of portable gadgets and gizmos, alkaline batteries will
probably continue to be a necessary evil for many years to come. Whether they be
D cells for a flashlight, C cells for a walking robot, AA cells for a portable
CD player, or AAA cells for a remote control, even in this day of rechargeable
batteries there are still plenty of devices that call for the older single-use
standard.
Other than the obvious issues that arise when such a massive amount of
non-recyclable waste is disposed, additional environmental concerns have arisen
because of the use of heavy metals in alkaline batteries. Because of those
environmental concerns, both
Energizer and
Duracell have
produced non-Mercury alkaline batteries since the early 1990s. Batteries now
draw their power from the use of steel, zinc and manganese. According to the
Duracell site,
"It is important not to dispose of large amounts of alkaline batteries in a
group. Used batteries are often not completely "dead." Grouping used batteries
together can bring these "live" batteries into contact with one another,
creating safety risks."
Well most of us know that there is usually still a little bit of life left in
what we consider a "dead" battery ready for disposal, it just may not be enough
juice to power the electronic device with which we were using it. Once the
battery reaches that lower level of charge, it seems essentially worthless – but
is it? Wouldn't it be great if there were a way to resuscitate the life back
into an alkaline battery – to bring it back up to a usable level?
The idea of recharging alkaline batteries is not new, but Alkaline battery
chargers have been offered to the public in the past, and they were not very
successful because they did not live up their promise of creating reliable
multi-use batteries from traditional alkaline disposables. I believe that there
are also quite a few people who are reluctant to recharge alkalines because they
believe the company warnings about possible ruptures and leakage if it is
attempted.
When Think Geek approached us about
reviewing the Battery Xtender Alkaline
Battery Recharger, because it was a product they might be interested in
carrying, I was skeptical to say the least. I think my first statement was along
the lines of, "Ah, so I get to be the guinea pig?…well, what happens if the
batteries blow up?!" But then curiosity got the best of me, and I agreed to try
it out.
When the Battery Xtender arrived, the first thing I noticed was that it was a
bit larger than the battery chargers I have used in the past, because it was
made to work with D, C, AA and AAA cells. The charger measures approximately
6.5" wide, 5.75" deep, and 2.3" thick and weighs 14.2 ounces.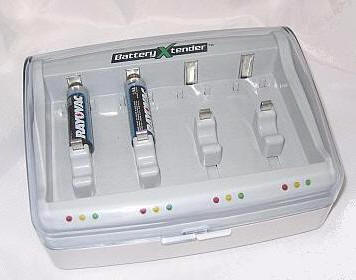 Never miss one of our posts again. Sent MON, WED, and FRI with the latest gadget reviews and news!
As you can see in this picture, there are four battery slots which can slide
up or down to accommodate the various lengths of the different sized cells it
will accept. There is also enough space in between the slots so that fatter
batteries will not touch each other. An included wall charger plugs into a port
on the right side.
According to the included manual, batteries should be checked for corrosion,
leakage or other damage before they are inserted in the Battery Xtender. The
Xtender is for indoor use only and is should be operated in an open area where
air can easily circulate – never in a drawer or confined area. Since there is an
outlet nearby, I decided to use it on the table in our breakfast nook.
The Battery Xtender is composed of an opaque gray plastic body with a
transparent gray plastic flip-lid. The flip-lid is nice and thick which I was
glad to see, because in the back of my mind I thought it might help protect my
table when the batteries began to bubble and leak. Oh ye of little faith…
According to the manual, the Battery Xtender "is designed to recharge
ordinary 1.2 to 1.5-volt alkaline batteries BEFORE they become discharged.
Batteries rated from 1.2 to 1.5 volts can be safely placed in the charger.
Nickel-Cadmium and Nickel-Metal Hydroxide operate between 1.2 and 1.25 volts.
The Battery Xtender cannot recharge an alkaline battery if the battery is dead.
NiCad and other rechargeable batteries recharge more fully when they have first
been fully drained of power. This differs from ordinary alkaline batteries."
Now is a good time to mention that the Battery Xtender can be used not only
with alkaline batteries, but also with Nickel Metal Hydroxide (NiMH), Nickel
Cadmium (NiCad), Zinc Carbon, Titanium and Rechargeable Alkaline Manganese
(RAM). There is a note that "Rechargers specifically designed for these types
batteries may provide optimum recharging performance." However, Lithium
batteries should not be used in the Battery Xtender. Because the Battery Xtender
should only be used with those batteries which properly fit in its bays, meaning
basically that the negative and positive points are on opposite sides and the
battery is long enough to fit in the bay, 9-volt batteries and other oddly
shaped or extra short batteries can not be charged in this device.
Batteries must be inserted with their positive posts against the stationary
top and negative bases against the spring loaded sliding negative contact. AA
and AAA batteries fit in between the spring loaded posts shown below, whereas C
and D cell batteries will press down the spring-loaded posts, indicating to the
Battery Xtender the correct charging current for their size. Any combination of
battery sizes can be used, and one to four batteries can be charged at the same
time. Here you can see a AA battery next to a C cell. Notice how the posts are
pushed in by the width of the larger battery?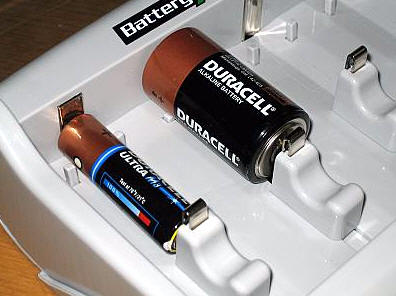 Once the batteries are in place and the unit has been plugged in, it's time
to pay attention to the red, yellow and green LEDs at the base of each battery's
bay. Red indicates that either the battery has not been properly inserted or it
is dead. Remember that a dead battery can't be recharged, so it will have to be
discarded. As the following picture shows, a yellow LED will glow to indicate
that the battery is charging. Once charging is complete, the LED will glow
bright green and the current will be automatically shut off going
to that particular battery.
The pictured set of four AA batteries has been used to charge my iPAQ 4700 in
the

BoxWave Battery Adapter for MiniSync. Even though the batteries were not
completely discharged, there is a point (around 50%, if the built in gauge is to
be believed) where these batteries just stop charging the power-hungry iPAQ.
Throwing the batteries away at this point would be completely wasteful, as a 50%
battery should still be good for something, just not for what I need it
to do.
Now, according to the Battery Xtender's manual "it is a good idea to have
two sets of batteries" that are used for a particular device, "one in use
and the other set recharging. This will ensure that powerful batteries
are always available and also promote longer battery life." If 50% life is
as good a place as any to stop using a battery in order to more frequently
charge it, then it would appear that the BoxWave Adapter and the Battery Xtender
might be a match made in heaven.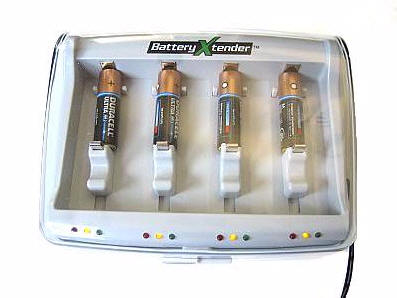 According to the
Battery Xtender site, "The "Battery Xtender"
Alkaline Battery Recharger uses patented microprocessor control techniques to
continuously monitor and control the charging of up to four batteries
simultaneously. There is no temperature rise in the batteries being recharged,
and careful control of the process ensures that there is no buildup of gas or
pressure. Fifteen years of testing and improvement has gone into the development
and as a result the performance has been fine tuned to achieve manifold
increases in the number of times the original energy of the battery may be
recycled through recharging. Other features of the battery charger include
automatic adjustment of the charging currents in proportion to the size of the
batteries being charged. These features have been the subject of additional
patent applications."
One thing that slightly surprised me was the amount
of charging time that the Battery Xtender takes. After inserting the batteries,
I assumed that they would be done charging in three to four hours, like regular
rechargeables. However this was not the case. It can take anywhere from 8
to 16 hours to recharge a set of batteries, depending on their amount of
discharge. Eventually the Battery Xtender's LEDs will glow green green,
but since no sound is made it may slip the user's attention that they are
finally done charging. Thankfully, each individual bay will automatically
shut off once a full charge is reached, and the alkaline battery will not be
overcharged.
These four AAs took approximately ten hours to fully
recharge. As long as I continue to recharge them before they are completely
discharged (or "dead"), then they should last for multiple charges.
Interestingly enough, it seems as if the recharged batteries are lasting about
as long as they did when new, which I didn't really think was possible. I am
currently on the sixth cycle of use and recharge – and so far so good! I
am hoping to reach at least ten…
I have used the Battery Xtender with Duracell,
Energizer and Rayovac "non-rechargeable"
batteries. So far, I haven't run into any snags or issues – other than the
longer than average charging time. Because this product does take a while to
properly charge the batteries without overload, the previously mentioned battery
management practice is key. If there are always a set in the charger that have
just finished recharging, then once I hit a stopping point with the current set
of batteries in a device I can seamlessly perform a swap.
The Battery Xtender has really surprised me because
I didn't think it was possible to safely recharge alkaline batteries to a
new-new capacity. Now that it has been repeatedly proven to me by this device, I
am happy to recommend it. If you are tired of constantly replacing the alkaline
batteries in your electronic devices, your kids' toys, or your AV remote
controls, then you should take a look at the Battery Xtender. Not only will it
help lighten the load on your wallet, it will also lighten the load on our
landfills.
RCUniverse
has an excellent video interviewing a Battery Xtender representative, which can
be seen

here.
Product Information
Price:
40.0
Manufacturer:
Battery Xtender
Pros:

Allows multiple quality charges from regular alkaline batteries
Shuts off when charge is complete
Ecologically sound as it promotes recycling and cells from landfills for a longer period of time
Saves the inconvenience and expense of constantly buying new alkalines

Cons:

Takes quite a while to complete a recharge cycle