We use affiliate links. If you buy something through the links on this page, we may earn a commission at no cost to you. Learn more.
It's trivia time folks! If you've been part of the PDA 'scene' for any length of time, you should automatically associate luxury PDA cases with one company in particular: Vaja. We've reviewed many many of their cases from as far back as the year 2000. Now, how many of you can remember the luxury PDA case maker that came BEFORE Vaja? Here's a clue… their cases were made in Italy and were for the Palm V. Anyone? Anyone? Does the name Ondata ring any bells? I reviewed their Palm V case in 1999. At that time, no one had seen a luxury PDA case and the price tag of $119 seemed insanely high.
Then in 2001, Ondata changed their name to Orbino and I reviewed another Palm V case. After that review, they pretty much dropped off the radar and Vaja has taken the lead as the premier handheld device case maker on the market. Well guess what? Orbino is back with a new luxury leather case. This time with what they call the Universale Palm PDA case.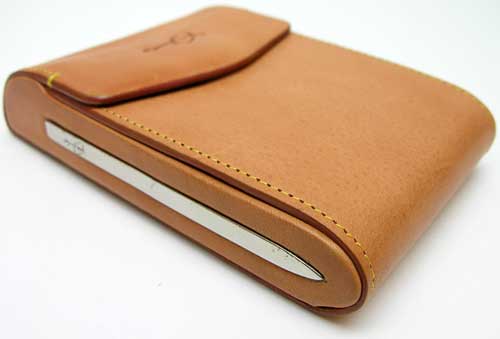 From the name, you have probably guessed that this is a generic case. Generic in the sense that it has not been made to fit one specific PDA. It is made to fit Palms no greater in size than 5 x 3.1 x .5 inches. They say Palm, but of course any PDA of that size will work. Available in 9 colors (Black, Red, Sage Green, Smooth Brown, Yellow, Burgundy, Burnished Brown, Caramel Tan, Natural Hide and Pebbled Brown) and 3 special leathers (Crocodile and Shark), I was sent the Natural Hide version of this case. Natural hide is exactly what the case looks like too. I've done a bit of leather working myself, and the leather used appears to be a quality piece of thick, undyed, cowhide.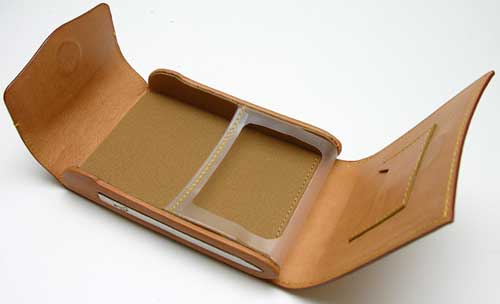 The way this case is designed, it has a flat tray where the PDA is housed, and 2 flaps. One on the bottom and one on the top. The top flap has the Orbino logo stamped into it and
a strong magnet which keeps both flaps securely closed. The bottom flap has a small leather pocket that can hold an SD card.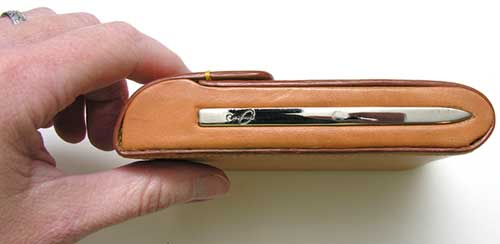 The sides of the case have Palladium rails affixed to them. This is a metal that is even more precious than Platinum. The rails are very shiny and have the Orbino logo stamped into them. Since the sides of the tray are already very rigid and thick, these rails really don't serve a purpose, other than to add style to the case.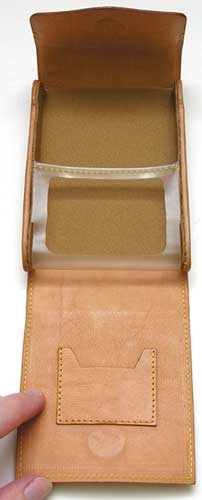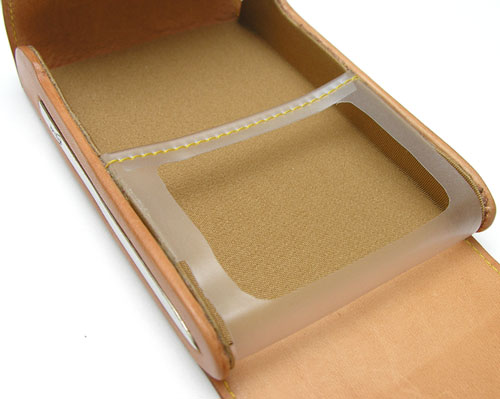 Never miss one of our posts again. Sent MON, WED, and FRI with the latest gadget reviews and news!
The "tray" is made of very stiff leather and with what appears to be a canvas liner. Sewn into the tray is a semi-transparent nylon holster. Here's where I start having problems with this case… This holster has one large cutout, with a 'bar' going across the middle of the case. The holster material looks and feels cheap in my opinion. If you notice in the right hand picture above, the bottom of the holster isn't even attached to the sides of the case. I really don't care for this method of holding the PDA at all. *** See note at bottom of review.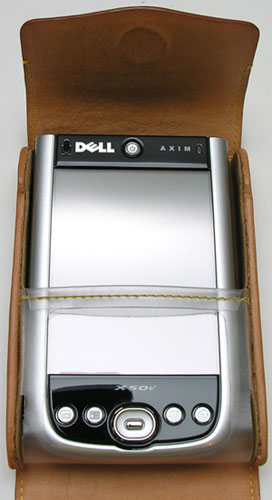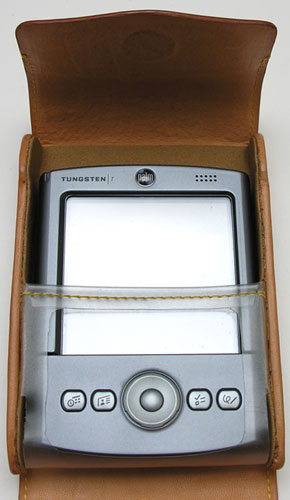 I dug around for some PDAs that fit the size criteria and at the moment, all I could come up with was the Dell X50v and a Palm Tungsten|T. As you can see from the pictures, using the PDA while in this case will not be an easy task. The holster will get in the way. I can't think of any specific PDAs where this will not happen. Even if there was a PDA that this holster could accommodate, using the PDA while in the case isn't comfortable due to the boxy nature and flap configuration. There isn't an easy to way to keep the flaps from folding back up into your way while holding the case/PDA in one hand.
In my opinion, Orbino should have just sewn the bottom flap to the tray and turned this into a generic PDA pouch, instead of what they think is a play-through case. Even though this is a handmade case with above average materials, $120 (or even as much as $325 for the Crocodile version!) is just too much to pay for a case of this design.
*** Well, right after I posted this review, I went back to Orbino's site and see that this case no longer has the cutout in the holster. It looks to be the same except for that one detail… Even so, I still do not like the holster.
Price: $120.00 – $325.00
Pros:
Can accommodate PDAs of less than 5 x 3.1 x .5 inches
Handmade
Palladium rails
Cons:
Nylon holster design is cheap looking and not convenient for any PDA
Flaps get in the way of using this as a play-through case
Product Information
Price:
120.0
Manufacturer:
Orbino
Pros:

Can accommodate PDAs of less than 5 x 3.1 x .5 inches
Handmade
Palladium rails

Cons:

Nylon holster design is cheap looking and not convenient for any PDA
Flaps get in the way of using this as a play-through case