We use affiliate links. If you buy something through the links on this page, we may earn a commission at no cost to you. Learn more.
How many of you wear your college warm-ups on the weekends? Mmmm hmmmm, and
how many of you graduated more than 10 years ago? Yeah, that's what I thought.
Maybe it's time to think about ditching those threadbare sweats and trying on a
pair of lounge pants.
Now before you start getting visions of Hugh Hefner in his pajamas and
smoking jacket, let me be the first to assure you that lounge pants are simply
the more mature, better dressed brother of the cotton fleece that we all lived
in during our college years. Lounge pants are as comfortable and snuggly as your
most favorite pair of warm-up bottoms – but they are tailored just enough so
that their wearer won't mind running to the store in them, much less being seen
in them while bumping into a long lost buddy from college.
Since they are being reviewed here on the Gadgeteer, it should be obvious
that the lounge pants I will be covering today aren't the run of the mill track
pants – these are made specifically for people like us…those which love their
gadgets and like to keep them handy.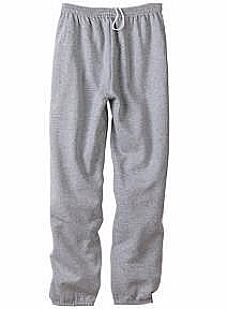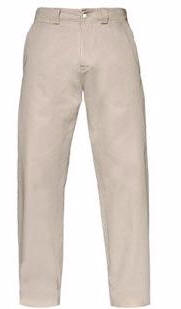 Picture on left courtesy of

Hanes, Picture on right courtesy of
SeV
Let's do a bit of clothing alchemy by adding one part
classic sweats to one part
SeV Hidden
Cargo Pants, which will result in…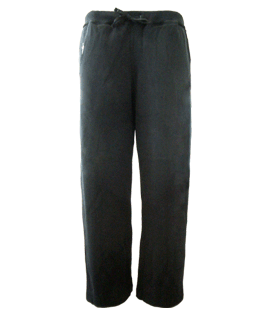 …SeV Lounge Pants,
one of the newest offerings from SCOTTeVEST.
Composed of soft, thick pre-washed 100% combed cotton, the SeV Lounge Pants are
available in sizes Small through Extra-Large and in the colors Black or Ash
Gray. Since these pants were designed primarily for men, Laura Jordan was kind
enough to send me a small gray and a medium black pair, so that I could see
which fit and felt better.
Once they arrived, I decided then and there that the SeV Lounge Pants felt and
looked better than any pair of "sweats" I've ever owned. Well, I should
clarify…they felt better in my hand and looked better laid out on my bed. I
hadn't yet actually tried them on. As I was opening the package, my husband
Steve did an "oooh and ahhh" routine, saying (and I quote), "baby, those are
fine!", which was all the encouragement I needed to go to the SeV site and order
him a gray pair in extra large. :0)
Never miss one of our posts again. Sent MON, WED, and FRI with the latest gadget reviews and news!
Handling them, I was surprised to find that these lounge pants weigh in at
approximately one pound 12 ounces. They feel substantial – like a three season
pant, and their texture reminds me of a

fine merino wool sweater. Take a look at the close-up of their material…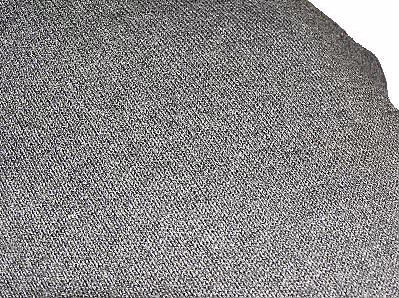 …see what I mean?
Because the inseam on the lounge pants runs right at 30", and anything shorter
than 32" puts me in high waters, I decided to keep and review the mediums in
black. This decision was based on the fact that they fit a bit looser and
because they hung a bit lower in the crotch – making up for missing leg length.
So I sent the small gray pair back.
About a week later, Steve's gray pair showed up – along with another gray pair
for me, this time in medium. Laura had decided it would be fun for Steve and I
to match, and so she had included an extra pair for me. This worked out very
well because my daughter Sarah had begun eye-balling the black pair, but I
digress…
So where was I? Ah yes…talking about the differences between SeV lounge pants
and your favorite pair of sweats…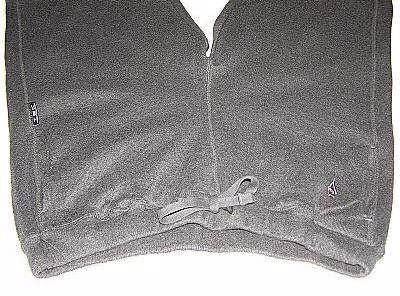 Even though the 2" thick ribbed waistband does have what feels like a 1.5" wide
elastic tape inside, there is no puckered waistband typical to casual sweats.
The drawstring is not a string at all, but is instead a flat woven cotton tape.
The two visible side slash-pockets are similar to other warm-up bottoms I've
worn, but unlike them these pockets are quite deep – going down a bit of
the leg's length instead of in a half-circle that would later become a wadded
mess after the first wash and dry.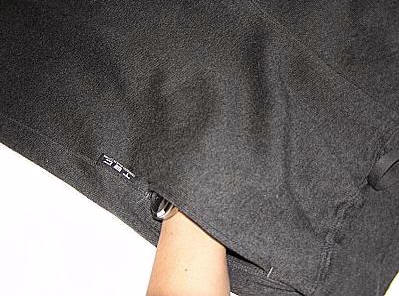 That's my left hand shoved about 8¼" inches
into the left side open slash pocket. I was able to open my hand wide and just
touch the edges of the pockets – when splayed, my hand measures almost 8" across
from pinky to thumb. According to the card I found in the pocket, it could hold
a small pair of binoculars or some other similarly shaped item.
Of course, being SeV means that these open slash pockets are more than they
appear to be. In fact, this left pocket actually houses a few surprises. Notice
how I am holding the pocket opening now? In this view it is possible to see the
way that the material is kept tightly closed by the magnets sewn into the
material's layers.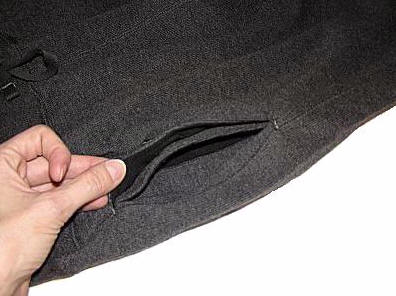 This front layered pocket is even longer than the first, I measured my hand from
the top of my middle finger to the edge at 11⅛". Unlike the open slash pocket,
it is divided into three wells which are specifically sized to hold a mobile
phone, a pen and a wallet.
Now, if you are like me, (read: a female with a waist, hips and thighs) it is
not likely that you will be stuffing all sorts of items in these layered
pockets, because it will give the appearance of having the lumpiest body ever.
Fortunately for them, guys are not built the same way. Their waist is usually
about the same size as their hips, meaning that the wide legs of these lounge
pants will allow them to carry all sorts of items without obvious bulges
appearing. More on that later…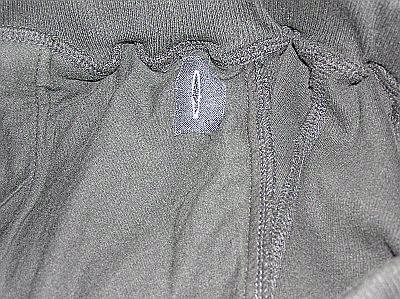 Lest I forget, there is a reinforced button hole which allows wires to be run
from either of these two main pockets. Yes, even their Lounge Pants come
complete with Scott's famous Personal Area Network (PAN). This will work nicely
with wired cellular headsets (as long as the cable is long enough) as well as
with a digital music player's headset.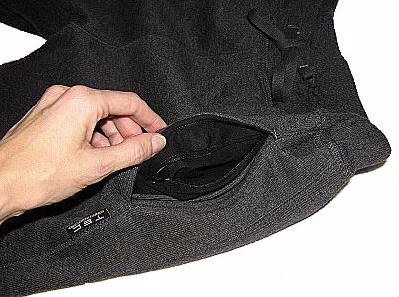 Tucked discretely into the front lining of the hidden pocket is a zippered
pocket which measures approximately 8¾" deep and about 6" wide. This secure area
is a great place to keep change, keys, memory cards, or any items that the
wearer needs to protect from loss.
The right side slash pocket is the same as the left, and once again, there is
the deep hidden pocket secured with magnets.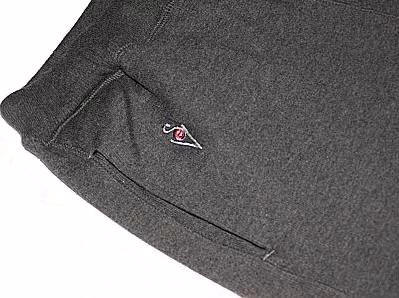 The right side's hidden pocket is divided into two deep wells. Once again there
are two reinforced button holes so that a wired headset can be run discretely
from the pocket up to the lounge pant's waistband. There is no zippered pocket
on the right side.
Moving to the rear of the pants…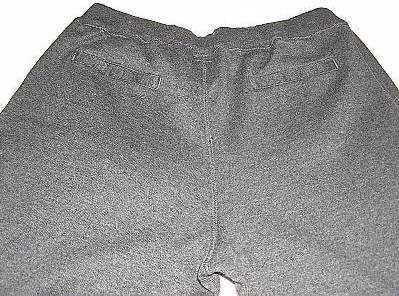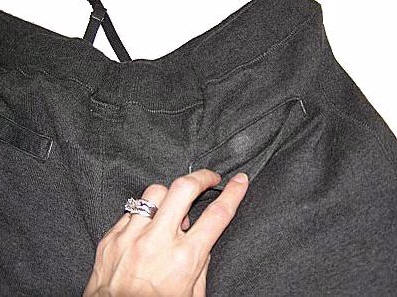 The two back pockets add a dressier element to the lounge pants, each is set 4"
below the waistband and is kept secure by magnets sewn into the pocket's lining.
Each of the butt pockets is about 7¼" and my hand
splays open almost all of the way – so approximately 7" wide. I laughed out loud
when I read the little card in the right butt pocket – it said, "this pocket
can be used for handcuffs (you never know…)." Ha, as if! ;0)
So that makes what…ten pockets so far? That means
I am missing one.
Found it! There it is – dangling inside the
waistband on the right side, a little open 2" x 2" pocket – perfect for a pocket
watch or other tiny item, perhaps a single key that needs to be kept handy.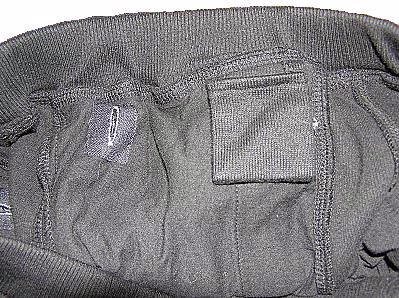 The last feature I want to mention are the pant
legs. They have a generous 20" opening which will drape nicely over your
trainers- no scrunchy elastic ankles that make the wearer look like an eighties
"tuck and roll holdover" here.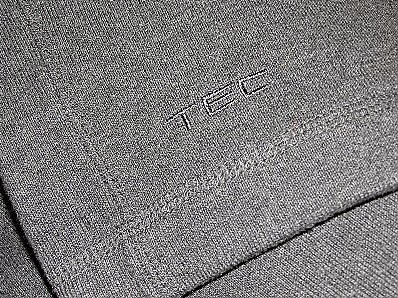 Note the unobtrusive embroidered TEC label in matching thread?
Love it!
Well, those are the SeV Lounge Pant's features in
a nutshell, and they sound great so far – right? So the last remaining feature
to cover is their fit. Since I happen to have three pair and three willing
models, we shall jump right in.
Because these are men's pants, they have a longer
rise than Sarah and I usually wear on our pants. In other words, the measurement
from the crotch to the top of the waistband on the front side is 13", whereas
most of our jeans hit more at 8". While you'll notice that these are not quite "M.C.
Hammer pants", the lower crotch is a bit different. The pants hang a bit lower
than we are used to – but it also means that they are mega-comfy.
Here are the medium black pair on Sarah. She is 5'6 and quick to bust a move…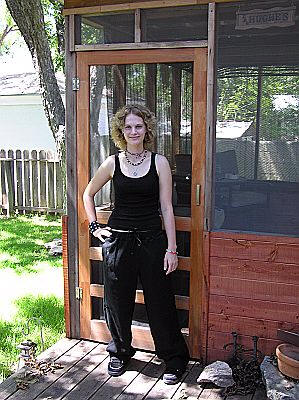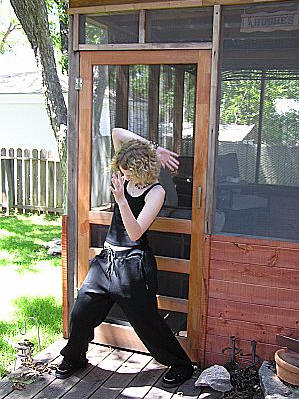 Here's 5'10" me. Laura actually found a freak pair with an inseam of 32", so
I am quite pleased with how long these are. If the lounge pants weren't so
thick, I would have been living in them all summer long. As it is, I now
have yet another reason to wish for cooler weather!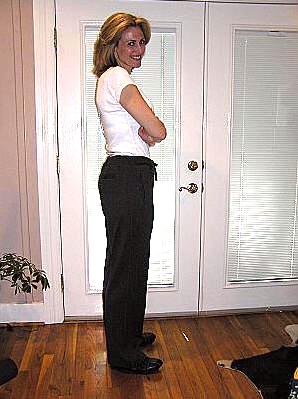 However, I probably won't ever use these pants to their full potential
because the pockets are in the exact places which no sane woman wishes to
emphasize – the butt, hips and thighs! It's okay though, because I love them for
just what they are – a beyond comfy pair of casual pants. :0)
Now it's time to see the lounge pants on Steve. He is 6'4. It's not fair! He
can load the pockets and the pants hang beautifully – no obscene bulges or
bumps. Because of SeV's pocket design, there is no annoying tug from the
pockets. If you think about it, traditional sweatpants have pockets that are
sewn onto the side seam. If they are loaded with much more than a pair of keys,
then they will begin to drag down. SeV pockets are attached at the waist which
helps distribute the weight of the pockets' contents. In other words, the
waistband is supporting the pockets – not the side seam, which eliminates ugly
and uncomfortable sag and drag.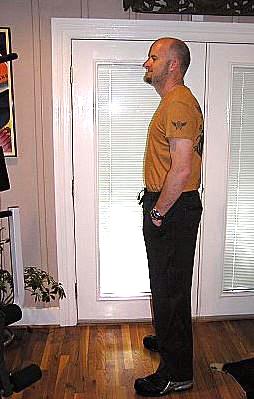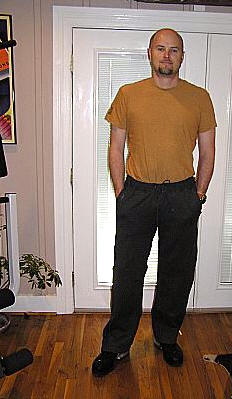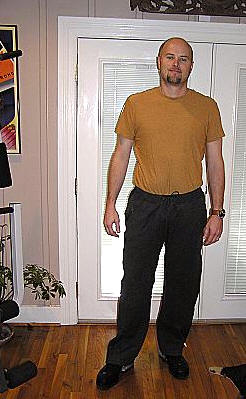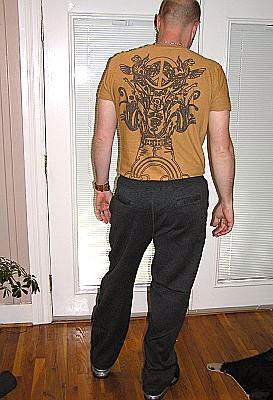 Here you can really see the difference between a curvy female's and a fit
male's bodies. Ah well, it's not like I am willing to give up my curves just to
carry my iPAQ in my pants. ;0)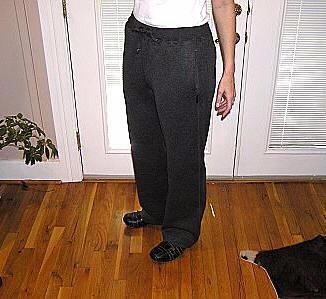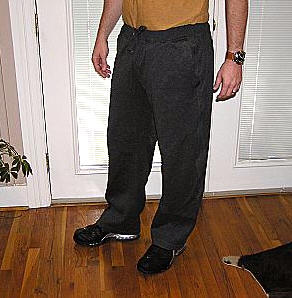 Here is a piece of information that I almost forgot to add, and
it's important! The care tag says to "machine wash warm on the gentle cycle and
tumble dry low". I washed ours on cold / gentle (because I wash everything in
cold) and dried them on low – and they came out perfect! No shrinkage, and they
did not need ironing. So it is now a proven fact that you do not have to be a
rocket scientist to launder these pants – that is so long as you don't set the
knob to your dryer's "jet engine heat" setting. ;0)
So there you have it.
SeV Lounge Pants
in and of themselves are wayyyy nicer than any pair of sweat pants. Add
to that their ability to carry all sorts of gear and their built in PAN network,
and you have got one must have article of clothing for the upcoming cool months!
Price: $109.99, but with a special introductory
price of $69.99
Pros:
Extremely well made of superior materials
Extensive pockets will hold all sorts of items
Gray & black go with just about everything
Extremely comfortable – you will want to live in them
Cons:
Girls with curvy figures will not want to load the pockets
 
Product Information
Price:
109.99
Manufacturer:
SCOTTeVEST
Pros:

Extremely well made of superior materials
Extensive pockets will hold all sorts of items
Gray & black go with just about everything
Extremely comfortable - you will want to live in them

Cons:

Girls with curvy figures will not want to load the pockets