We use affiliate links. If you buy something through the links on this page, we may earn a commission at no cost to you. Learn more.
Laptop desks are nothing new, but the Laptop Lap Desk from Xbrand has an added feature that may cause you to add it to your shopping list. This rigid black plastic laptop desk has a flip out mouse pad, that is great for those of you that hate using the built in touch pad or eraser head on your computers.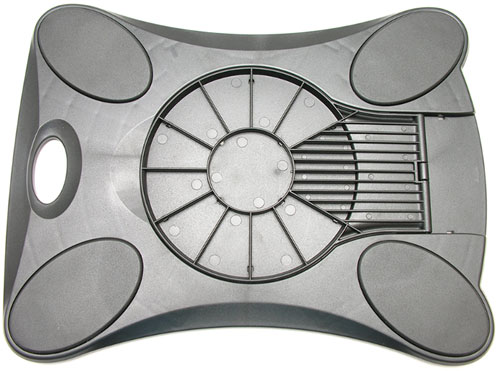 Folded up, this compact desk is approximately 1 lb. and 14 x 11 x .5 in. When the round plastic mouse pad is un folded, the length of the desk extends to about 20 inches. Using the desk in this configuration may not work depending on the type of chair you're sitting on. Fortunately for me, my the arms of my Lazy Boy are sufficiently wide enough to accommodate the desk.
Rubber pads are located on all four corners on both the top and bottom sides of the desk. These pads keep your laptop from sliding around on top of the desk and keep the desk from sliding around on your lap.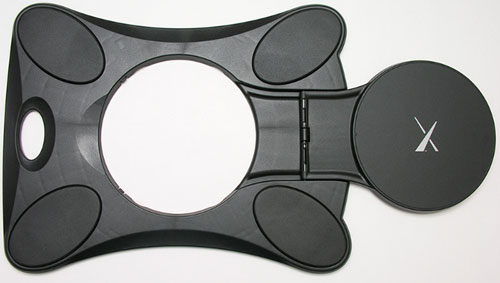 You'll notice that when the mouse pad is folded out, there is a hole in the center of the desk. The folks at Xbrand say that this helps to keep the bottom of your laptop cooler. I actually found that it helped to keep my actual lap warmer. That said, I have an older than dirt laptop that does tend to heat up quite a bit.
The Laptop Lap Desk from Xbrand isn't a spectacular breakthrough in lap desks, but the addition of the mouse pad gives it that extra something that may cause you to consider buying it over similar products.
Price: $34.99
Pros:
Compact
Fold out mouse pad
Cons:
Mouse pad may get in the way of chair arms
Hole in desks allows heat from laptop to heat lap
Product Information
Price:
34.99
Manufacturer:
Xbrand
Pros:

Compact
Fold out mouse pad

Cons:

Mouse pad may get in the way of chair arms
Hole in desks allows heat from laptop to heat lap