We use affiliate links. If you buy something through the links on this page, we may earn a commission at no cost to you. Learn more.
A long time ago, I was the owner of an HP Jornada 420. It
was slow, had terrible battery life, and very limited onboard memory – but the
display was a real head-turner (at the time). Flash forward a few PDAs, and my
ailing Sony CLIÉ TG50 was being held together with tape. Although by now
physically quite decrepit, it addressed all the issues that my old 420 had. It
was fast, had amazing battery life, and did ok (but not great) with its limited
memory. Also, in true Sony fashion it took a cosmetic beating, but continued to
function. 
When Windows Mobile 2003 SE came out with VGA I thought it
was time to take another look at PPC. The popular VGA PPC units hit just a
little off-target for me, though. The iPAQ HX4700 and Toshiba e805 were a bit
big, but with ok battery life. The Dell X50v and Asus A730w were pleasingly
svelte, but reportedly had poor battery life. Sure Dell put out an extended
battery – but who wants a bulgy handheld (that might not fit in a Vaja case)?
Didn't the PPC gods get it? 
FUJITSU-SIEMENS (FSC) TO THE RESCUE 
Fujitsu-Siemens doesn't market consumer computer equipment
to the US market, but they do produce PPC units for other markets under the
"Pocket LOOX" moniker. The Pocket LOOX 720 is a VGA PPC that shares features
with the other VGA units – dual expansion, dual wireless, (relatively) ample
memory. However, it does this while being on a par with the little guys for
size, and packing a whopping 1600mAh battery to go toe to toe with the big guys
for battery life. Heck, those crazy FSC engineers even wedged a 1.3 mega pixel
camera and consumer IR into this thing.
Hardware Specs 
Processor: Intel PXA272 520 MHz
Operating System: Windows Mobile 2003 for Pocket PC Second Edition
Memory: 64 MB Strata Flash (28 MB useable as Looxstore) and 128 MB SDRAM
Display: 3.6" Transflective VGA TFT (65K colors)
Graphics: no dedicated graphics processor
Interface: USB 1.1 slave and host, Infrared (consumer IR), Bluetooth 1.2,
WiFi (802.11b)
Dimensions and Weight: 122 x 72 x15.2 mm, 170 grams (sorry for the
euro-measures!)
Battery: 1640 mAh Lithium-Ion rechargeable (user replaceable)
Expansion: SD I/O / MMC card slot and CF Type II slot 
Package Contents 
Fujitsu-Siemens Pocket LOOX 720
 USB docking station
Carrying case
USB client/host sync cable
AC adapter with cable (UK)
Microsoft Companion CD
Getting started manual (print)
Safety instructions and warranty flyer (print)
Easy Guide (CD)
Warranty manual (CD)
Software Voucher
As a Palm OS loyalist, I had my concerns about speed and
battery life. I've never had to think about charging the CLIÉ and I can't count
the number of times my old iPAQ 3750 pooped out on me. I also had reservations
about buying a PDA from overseas – the verdict still seemed out on how
Fujitsu-Siemens would honor the warranty. When word came out, though, that the
apocryphal PalmOne Lifedrive was not to be a VGA unit – I could resist no
longer. I surfed on over to ExpansysUSA
and forked over $600+ for a LOOX 720. The folks at Expansys had some initial
trouble with the international order and my cc, but were helpful in resolving it
right away, and my order was shipped the same day. 
While waiting for it to arrive, I was beside myself with
anticipation. I had stopped by my local Radio Shack to pick up a UK->US plug
adapter. The LOOX has an A/C adapter that is rated from 110-220VAC, but the
physical plug is the UK style dual prongs. I also needed to pickup some screen
protectors but no accessories for the imported LOOX are available at any of my
local retail outlets. I promptly ordered one of the bulletproof screen
protectors from Brando (who carry several accessories for the LOOX). When I
finally got my hands on the big outer box, I found that Expansys had shipped a
small plug adapter already, free-of-charge. Now that's thoughtful! 
The LOOX has the smallest physical screen of any of the VGA
units, but next to my CLIÉ, the tightly-packed pixels looked like alien
technology from the 25th century! The screen is bright and the text
is small but crisp. It's maybe a little lighter than the aluminum-clad CLIÉ, and
in-hand it feels like the same size (although it does not have an integrated
flip cover – curses!). The styling is neither too flashy for work, nor too
stodgy for the cool-kids at the local Internet café. It does pass Julie's
squeeze test, but you can definitely tell the case is colored plastic.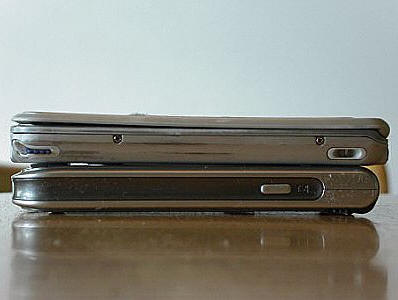 TG-50 (top) & LOOX 720 (bottom)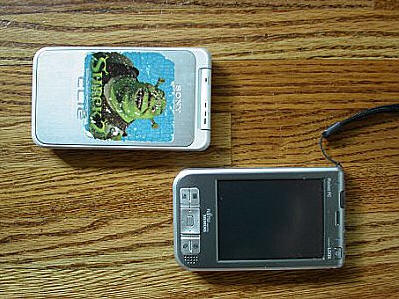 Nothing says "I mean business" like a big Shrek sticker …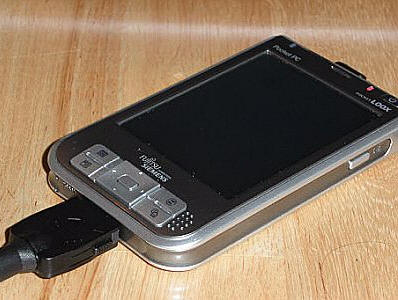 The "Honda Accord" of  PPCs
PHYSICAL: 
The case itself is two tone light silver and dark gray. It
has 4 app buttons flanking a small, square D-pad near the bottom.
Fujitsu-Siemens (hereafter FSC) assigned calendar, address book, today, and "E2C
connect" as their apps. E2C connect is the LOOX wireless connection manager. The
buttons are not too small, but they are placed so low on the unit that it's very
hard to use them one-handed. The D-Pad is also a bit on the small side. It has a
separate button for the center button that is a little loosely seated. I am
concerned that it might not survive any heavy action-game activity. The face
also houses an adequately-loud speaker near the bottom right. The top holds a
blue/green wireless activity LED, another speaker, an orange charge LED, and a
little power button.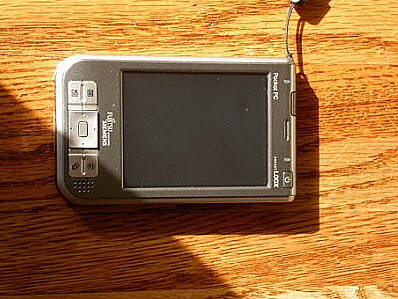 LOOX Face  
The left side holds a lanyard loop near the top, a "speed"
button and a rocker switch. The rocker switch is great – but the button travel
distance is short and doesn't give any feedback. It's sometimes hard to tell
whether or not the button has been depressed (before its action is triggered). I
guess that short travel is what makes it "speedy."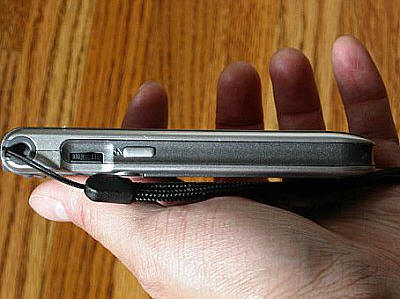 Left side
The right side holds the voice recorder button. This button
has the same issues as the "speed" button. I haven't had any trouble actuating
either, though.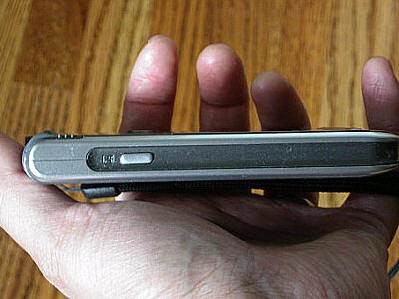 Right side 
The bottom holds the reset hole, a microphone hole, and the
cradle connector. The top holds the slugs for CF and SD card slots, the stereo
headphone jack, and the IR port. The SD slot is spring-loaded and the CF slug
(or a card) is held in by friction. I know there's debate on whether a
spring-loaded flap is better than a slug (which one could loose).  I personally
think a flap might be a better way to go; but not serious criticism of the LOOX.
One thing that is annoying is that the reset mechanism is the pinhole-type that
requires a paper clip or the special point inside one's stylus. I've never
broken a stylus in my life, but I pretty immediately snapped off the little
pin-point inside my LOOX stylus. (This is more of a commentary on the flimsiness
of the stylus, and not on how often the LOOX needs to be reset!). FSC
thoughtfully included a spare stylus in the box. Maybe they could have made them
a little heartier, and only sent one!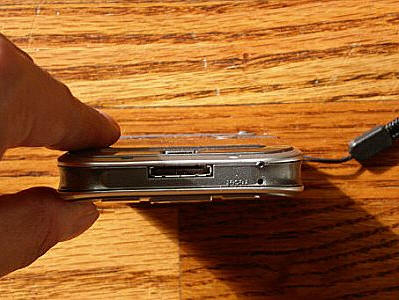 Bottom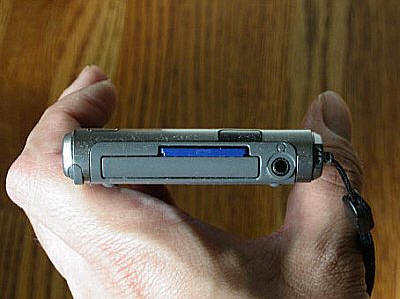 Top
The back holds the camera lens, a cell phone-style button
mirror, and a white LED "flash." It also holds the chintziest feature on the
whole unit – a very flimsy battery cover. I have yet to experience any trouble
with the cover, but its thickness is a matter of hairs. The battery itself is
held in by a separate clip – so I don't think the cover's flimsiness could have
too serious an effect.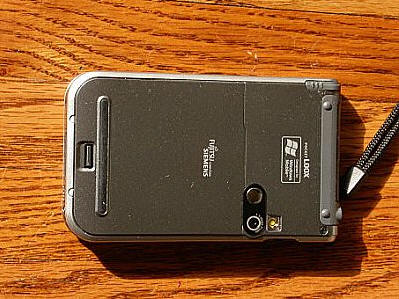 Back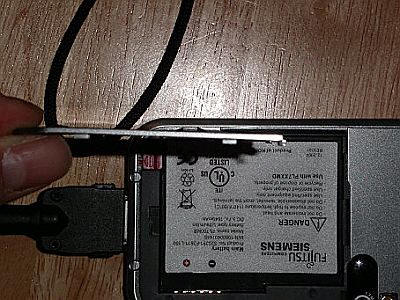 Thin battery cover
The included cradle is nothing to write home about,
although it's been thoughtfully weighted. There is no flip cover on the LOOX, so
I had already determined I would have it in a case with a screen cover. I'm not
a big fan of cradle "sync-able" cases; and one is not available for the LOOX in
any event. One can easily sync using just the cable itself. FSC included a
second A/C to LOOX adapter so, with an extra power source, you can charge the
LOOX in two locations (home and work, say). One thoughtful inclusion was a spot
on the cradle to charge a second battery – a user-replaceable battery isn't
really useful unless the replacement has some juice! 
FSC had to make some compromises to give the LOOX a
reasonable size, and get to their stated 12-hour battery life. My measurements
put the screen at only 3.5" diagonally (FSC claims 3.6"), though I honestly
don't notice the difference between it and the screens of the HX4700s at
CompUSA. The other big omissions are the lack of a graphics accelerator (2d or
3d) and FSC's decision to implement the 520 MHz XScale CPU part. I'm not a big
handheld gamer; but I was worried that the higher-resolution screen and slower
CPU would make the response sluggish. 
PERFORMANCE: 
The LOOX runs Windows Mobile 2003SE at a very usable speed.
With performance set to "auto" and fully loaded with OzVGA, Pocket Informant,
SPB Pocket Plus, Pocket Breeze, and Pocket Weather all active, it hesitates a
bit launching the Pocket Informant agenda dialog, or redrawing the Today screen.
Not more than a quarter second or so – just enough to tell you that it's working
hard. I'm not sure if this is due to the CPU or the lack of a dedicated graphics
accelerator. It's not an impediment unless you're someone who demands everything
be absolutely instantaneous. I'd have to say that the GUI experience is
comparable with running Zlauncher on my 200 MHz CLIÉ. 
 It certainly seems to run Tomb Raider at a good clip!
Unfortunately, though, the built-in buttons don't map correctly, so you can't
actually play Tomb Raider.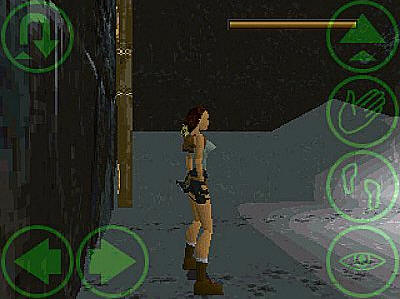 If only I could draw my guns!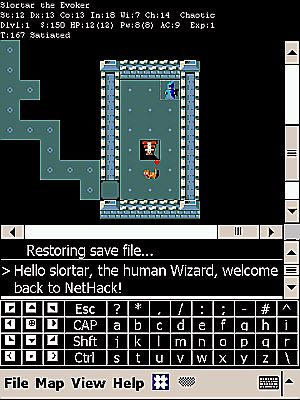 The real killer app for VGA 
(Thank goodness Nethack runs perfectly). 
So far battery life has been acceptable. It's light-years
beyond my old iPAQ 3750, and very reasonable with both wireless off.  
STORAGE: 
FSC included 128 MB of actual SDRAM (maybe they were
feeling generous with that 1600 mAh battery). So far, I can say that I've never
been concerned about running out of storage or program memory. I personally
don't store a lot of multimedia content on the LOOX – but for applications, the
storage is ample. Of course, one can expand the available storage space using
either of the expansion slots and once I dropped in a "small" 512mb SD card,
storage vanished from my horizon as a concern. This is one area where the PPC
really outshined the CLIÉ. The LOOX also provides 28 MB of the flash space as a
"Looxstore." I pretty much immediately exceeded its capacity as a non-volatile
backup location – but it's handy for storing apps I don't want to swap out with
an SD card.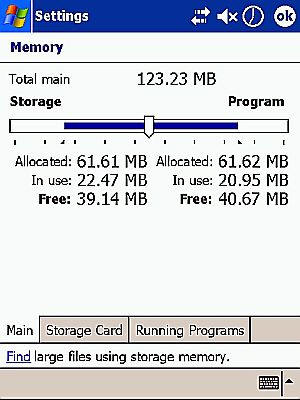 Memory screen 
SCREEN: 
There's a scene in the movie Amelie where a character in a
photograph is having an argument with himself about whether Amelie is belle
or jolie. I have the same issues with the screen. After getting over the
awe of VGA resolution, I have to say that the screen itself isn't that
exceptional. On the other hand, it isn't objectionable in any way, either. It's
visible both indoors and outdoors. The LOOX will produce 65k colors, but they
aren't overly vivid. The backlight is even and fine details are adequately
distinct.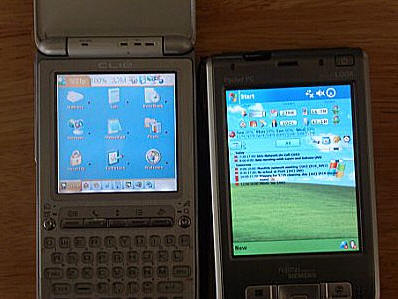 ClieTG-50 next to LOOX, max brightness 
CAMERA: 
The 1.3 mega pixel camera that FSC included is more of an
emergency backup camera than anything else. It take's better pictures than
either of my camera-phones – but not by a lot! In dim lighting, the LED "flash"
does just a tiny bit more than nothing at all. In daylight or normal indoor
lighting, the camera produces adequate results.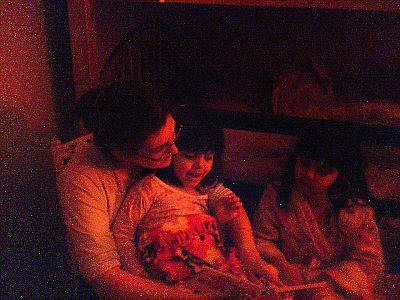 Night mode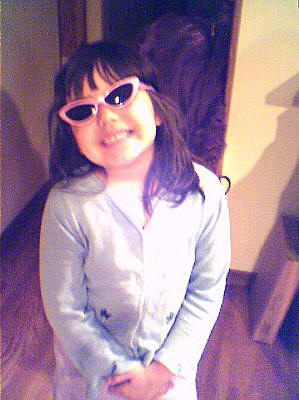 LED "flash" 
SOFTWARE/FEATURES: 
Rather than bundling software, FSC included a voucher with
five software "points" redeemable at a special online store. The selection at
the store,

http://www.pocketloox-choice.com/ is less than stellar. Although the LOOX
boasts a Consumer IR transceiver, it ships with no remote-control software.
Vito-Remote is available at the software store, but it is probably not
best-in-breed (although it officially supports both the LOOX IR and VGA
resolution). SPBPocketPlus was the other app I picked up, and it was worthwhile.
FSC did bundle a wireless manager (E2C), a backup app (FSC Backup) and a custom
menu app (FSC SpeedMenu). E2C and FSC Backup are adequate for their purposes.
FSC SpeedMenu is intended to capitalize on the "speed" button and rocker switch
to provide one-handed operation. To be honest, the interface was so utilitarian,
I didn't use it anyway. 
CONCLUSION: 
The Pocket LOOX is a great mix of 1600 mAh battery + VGA
screen + small size. It is a little exotic here in the USA, but accessories are
readily available online. The LOOX doesn't have the breadth of accessories
available to an iPAQ or Axim. Vaja, for instance, does not yet make a case for
the 7xx series (although they do make a LOOX case for the older model). FSC
offers a standard 2 year warranty, but forum posts are mixed on US owners making
claims. It is a great PPC for people looking for an even mix of features.
Price: $609
Pros:
Great mix of size and battery life
Rocker switch (if you like rocker/jog dial style switches)
WiFi & Bluetooth
Dual memory card slots
Ample system SDRAM
Consumer IR (for controlling TVs, etc)
"In a pinch" digital camera
Cons:
Software voucher only good on limited number of titles
Slower 520 MHz processor, no graphics accelerator (may not be an issue)
Buttons a little small and low for playing action games
Concerns about international warranty claims
No retail accessories in USA
Fewer 3rd party accessories available (where's the Vaja case!)
Product Information
Price:
609.0
Manufacturer:
Fujitsu - Siemens
Pros:

Great mix of size and battery life
Rocker switch (if you like rocker/jog dial style switches)
WiFi & Bluetooth
Dual memory card slots
Ample system SDRAM
Consumer IR (for controlling TVs, etc)
"In a pinch" digital camera

Cons:

Software voucher only good on limited number of titles
Slower 520 MHz processor, no graphics accelerator (may not be an issue)
Buttons a little small and low for playing action games
Concerns about international warranty claims
No retail accessories in USA
Fewer 3rd party accessories available (where's the Vaja case!)