We use affiliate links. If you buy something through the links on this page, we may earn a commission at no cost to you. Learn more.
Product Requirements:
Device:
A 3.5mm jack on any portable
audio/video device
I'm not a dedicated audiophile,  but I do love
listening to my music on quality headphones. But I also like to write on my
laptop at the local coffee bars, and full-size headphones, unfortunately, are
impractical to carry around on a daily basis. In-ear headphones appeared to be
the best choice. But I was unsure how well they would work for me, and wanted to
start with a reasonably priced set, just in case this turned out to be one of
those "What on earth was I thinking?" moments. I compared several different
manufacturers' models, and decided to try the Sony MDR-EX81SL.  Interestingly
enough, the EX81SLs are currently a Japan-only Sony product, and are only
available via "gray-market" mail order in the United States.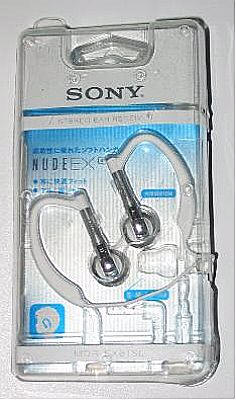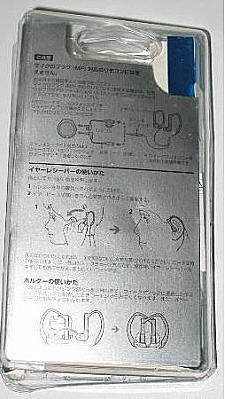 The EX81SLs had two obvious advantages over the
competition: the reasonable price ($57 via mail-order), and the over-the-ear
plastic hangers to hold the earpieces in position. Other in-ear monitors that I
explored had no mechanism to keep the earpieces in place… they looked too
likely to fall out or be pulled out by an inadvertent tug on the cord.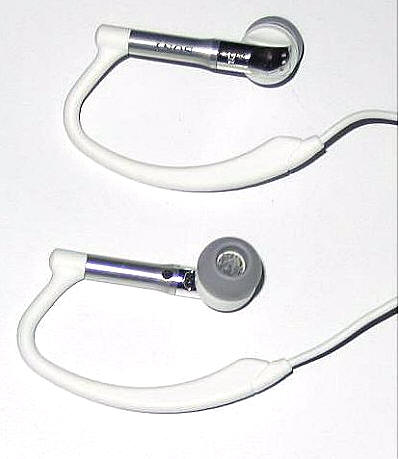 Another key point was the small, soft, comfortable
silicone rubber earpieces. Sony provides three sets in different sizes. My
current set gives every indication that they will last for years. 
The EX81SLs  are not recommended for people with
small ears. I suppose this means that my ears are somewhere around the norm,
since the earpieces fit perfectly for me! 
And the audio quality? Surprisingly good, for
headphones in this price range. When firmly placed in the ear canal, they're
also good at blocking out low-level external noise. (Note: the headphones have
to be placed completely in your ear in order to achieve the best quality
audio.)  I do have to use a signal booster on airplanes (I use the Koss
battery-powered booster), but with that addition, the EX81SLs provide an
excellent audio experience in-flight as well. 
The EX81SLs come with a very short cord and an
extension cord. I'll just be blunt: the short cord is too short, long enough for
a MP3 player strapped to my upper arm, but not long enough for a MP3 player
attached to my waist. Because of this, I have yet to use the earbuds with just
the original cord. The extension cord, on the other hand, is a little too long,
but practical enough for daily use. You can unintentionally turn the EX81SLs
into mono-channel audio by not firmly plugging the extension cord into the cord
adapter.  
Sony provides a tiny plastic case to enclose just the
earpieces, and a more practical cloth pouch to hold the earpieces and cords. I
find that I miss my wind-up-the-cord clamshell case from previous low-end earbud
products.  If I don't remember to use a twist-tie when I put the earbuds away,
it'll take me a few minutes to untangle the cord when I remove them from the
pouch.  
Specifications:
Type: Lateral, In-the-ear, closed, dynamic headphones
Driver unit  9mm Diaphragm
400 kJ/m3 highly magnetic neodymium magnets
Cord: Approximately 0.5m (OFC litz wire) / approximately 1m extension cord. 22"
from the end of the left earpiece, extension cord adds an additional 41" inches
Plug: Gold-plated, L-Shaped stereo Mini Plug
Power Handling 100mW
Sensitivity  100dB
Frequency range 16 to 22,000 Hz
Supplied Accessories :
Earpiece Holder Case, Soft Carrying Pouch, 1.0m Extension Cord, Ear Pieces
(Small, Medium, Large).  
The EX81SLs are available in black or white, the
white option clearly a nod to IPod owners.
The final verdict? The EX81SLs so comfortable and
provide enough of a quality audio experience, I'm now using them at home instead
of my full-size headphones, as well as on the road. I may upgrade to a more
expensive set of in-ear monitors at some future date, but the EX81SLs are a
perfect starter set for someone who wants to try these kind of headphones, with
the convenience of earbuds but with an improved audio experience. Highly
recommended.
Price: $57
Pros:
Excellent sound
Good bass
Comfortable to wear for extended periods
Cons:
Inadequate carrying pouch
Odd lengths of cord and extension cord
Product Information
Price:
57.0
Manufacturer:
Sony
Pros:

Excellent sound
Good bass
Comfortable to wear for extended periods

Cons:

Inadequate carrying pouch
Odd lengths of cord and extension cord