We use affiliate links. If you buy something through the links on this page, we may earn a commission at no cost to you. Learn more.
Product Requirements:
USB port
About a year ago, Julie reviewed the
Fliklite LED Torch.
At the time, I thought that it was a great flashlight, but I knew it
wasn't something that I would want to carry with me every day. Compact as it
was, the torch (as they are called in the United Kingdom) was still a bit bigger
and heavier than I would have liked. Of course, plenty of opportunities arose
during the last year when I regretted not having a bright flashlight with me
always. Now I am glad that I waited…
For the last couple of weeks, I have been enjoying the use of a unique item
that I have found to be indispensable, the Angus Noble
Indium LED Flashlight.
While this product is first and foremost an extremely compact yet bright light
source, it is also a marvel of modern ingredients, combining a beautifully
machined and anodized aluminum case with six bright-white LED lights that are
powered by a rechargeable cellular phone battery.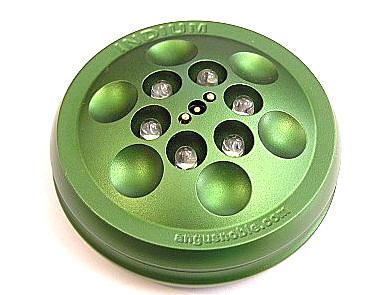 The Indium is available in six colors: Red, Green, Blue, Purple, Graphite and Titanium.
I was allowed a choice, so of course I requested green – my favorite color.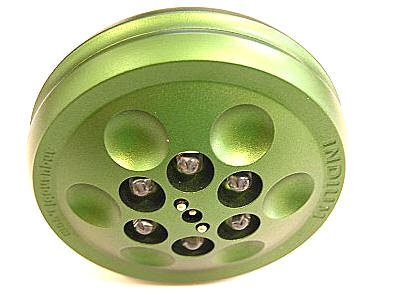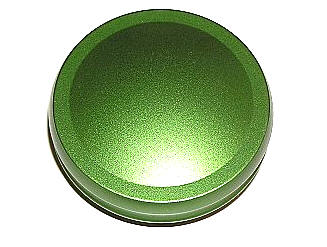 The flashlight arrives in a black cardboard tube package, which includes the Indium, a neck
cord, a USB charging cord for international customers – or a wall plug in the
UK, and simple operating instructions.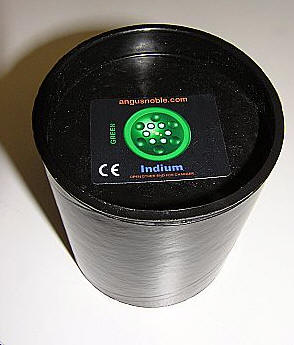 The Indium measures 2.45" in diameter and is 1.03" thick; it weighs 3.5
ounces. Unlike other flashlights which follow the classic design of a stick with
a lighted end, the Indium is all about spheres, smooth surfaces, compact size
and pleasing design.
Hardware Specifications
Battery: Lithium-ion prismatic cell rechargeable battery technology
with inbuilt auto-sensing circuitry to ensure the battery is not overcharged.
Light Source: Uses 6 high intensity white LED's with a lifetime of over 100,000 hours
Switch: Touch sensitive switch with gold plated pins
Switch Functions: First Touch – Full Power, Second Touch – Half Power,
Third Touch – Flash Mode, Fourth Touch – Off
Water Resistance: Splash proof case – not submersible
Size: The case diameter is only 63mm x 27mm thick. Weight 50g
Light Levels: Two light levels, low and high, and flashing mode.
Voltage: 5v DC
Run Time: 4 hours Full Power, 8 hours Half Power
Recharge Cycle: 4 hours for full charging of completely flat battery
Battery Life: Approximately 10 years
Case: Anodized solid aluminum case
Accessories: Supplied with wall socket charger and carrying cord
Warranty: 12 months
Options: USB cable to recharged Indium from a computers USB port
According to the Angus Noble web site, "The
Indium torch casing is machined from solid Aluminium bar stock on
computer controlled machines. This gives the
Indium torch case precision and quality. After machining, the cases are
anodized in a range of brilliant colours. Anodizing is where the surface layer
of the aluminium is oxidized and then colour dyed. This dye then becomes part of
the aluminium surface.The Indium light source is manufactured by Noble
Design in Devon, UK, with the aluminium bodies machined by Primrose Engineering in Herfordshire, UK. "
The result is an aesthetically pleasing, solid, splash-proof design. In hand,
the Indium has smooth surface that feels good to touch.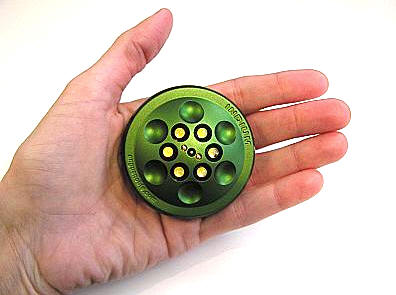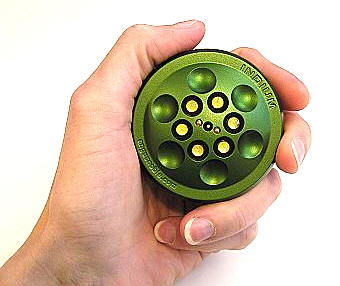 I love how it has a compact, flat design that will easily fit in a pocket,
gear bag or purse.
Unscrewing the two halves of the Indium reveals the interior circuitry and
the rechargeable battery.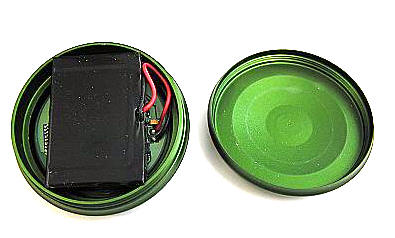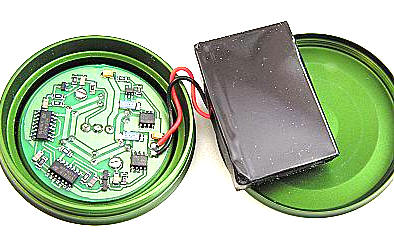 The Indium is operated by lightly touching a fingertip to the two gold plated prongs that straddle
the charging port in its center. If a simple touch does not work, then it may be
because the user's skin is too dry. Lightly dampening the fingertip will provide
the necessary moisture.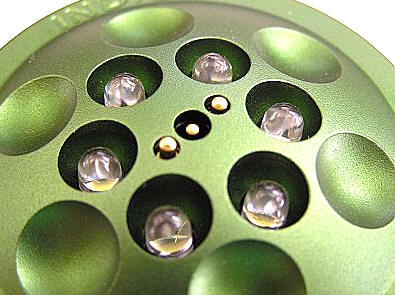 One quick tap of the finger on the two prongs will turn the LED lights on full-bright, another tap
activates half-bright, and a third tap causes the LEDs to rapidly blink.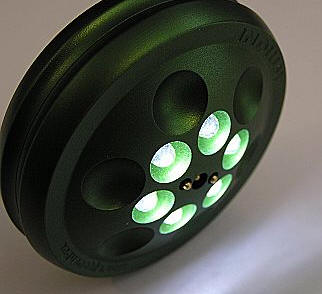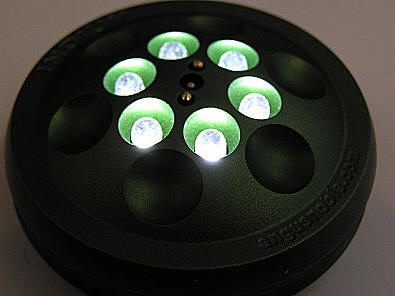 Because it uses this type of switch, there are no moving parts in the
flashlight, which means "there are no contacts to wear out or corrode."
In other words, the Indium should last just about forever.
Using the Indium is a joy. It is so portable that I always have it with me. I
stow it in a pouch in my bag, and have found that it can be safely kept in this
manner with no fear of it accidentally being switched on. Of course, if a metal
rod is unintentionally laid across the tops of the two pins, then the circuit
will be complete and the light will come on. All this means is that you should
not carry your Indium in the same compartment as your letter opener or

Rotring pen. You wouldn't want to do that anyway, as it might scratch the
anodized finish. <horrors!>
If you live in the UK and you order a Indium, then you'll be sent a wall
socket charger. However, those that live in the US and the rest of the world
will receive a USB charger.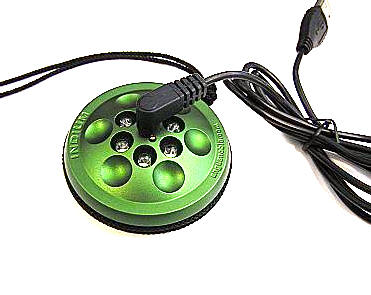 I have to admit that I am glad I live in an area that gets this
otherwise £6.95 item; I find it extremely
convenient to charge my flashlight in this manner. When I travel with the
Indium, I'll be able to use the USB charger in conjunction with the
BoxWave
VersaCharger, which I never leave home without anyway.
Good looks are one thing, and ease of operation
is great, but if the light that's cast isn't very bright then the product isn't
worth recommending. Well, there is no fear of that happening! The Indium casts
an incredibly bright bluish-white light. I was able to measure 37 feet of cast
forward light in our long windowless hallway. I suspect that the beam would have
gone on a bit further had the hallway been longer!
I haven't really touched on this feature yet,
but due to the grooved center design of the Indium's outer edge, the removable
neck cable can be added with a simple couple of knots. When the Indium is worn
in this manner, a solid beam is cast directly in front of the wearer –
hands-free!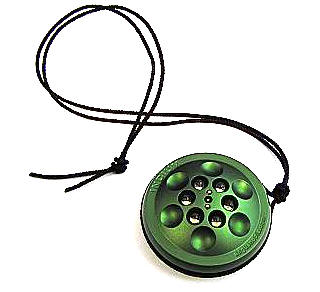 Walking at night is much safer as not
only will the path ahead be well lit, the wearer will also be easy to spot. The
blinking function of the flashlight is especially good for anyone that needs
maximum visibility while out at night. Bike riders, kids trick-or-treating, even
just neighborhood walkers.
As if the Indium Torch wasn't unique enough, it is also possible to get it
custom engraved on the back. What a great gift for someone special!
It is hard to describe what makes the Indium such a neat item to own. Beside
the fact that it is an excellent flashlight, it is also one of the most
unique and beautiful conversation pieces I have seen. Over the past couple of
weeks, I have shown it to many people and asked their opinion. Every person that
held it and played with it said that they loved the design. Some were a
little bit put off by the price at first, but all agreed that even if they
couldn't justify buying one, they wanted to own one. One of the college students
I showed it to said that it would be a very welcome gift…parents, are you
listening?
The Indium LED Torch is now a permanent fixture in my bag. Never again will I
be caught in the dark!
There is a list of mainly UK
dealers on the Angus Noble site for those that would like to handle one
before purchasing. Knowing that not all of his customers will be able to
experience the Indium in person before purchasing, Angus Noble offers a very
generous 28 days no-questions-asked

return policy.
Price: £49.99
(approximately $100)

Pros:
Charges via USB
Beautiful design that is aesthetically pleasing and highly functional
Extremely far reaching bright light
Rechargeable, so no need to replace batteries
Takes up minimal room in bag, pocket or purse
Can be worn on a neck-cord for hands-free operation
Excellent gift for anyone
Cons:
Expensive