We use affiliate links. If you buy something through the links on this page, we may earn a commission at no cost to you. Learn more.
When the Sony PlayStation Portable (known from here on out as the PSP) was
first announced in May of 2004, gaming enthusiasts began clamoring for
information on this state of the art handheld gaming console. Even though this
device was originally released only in Japan (December 12, 2004), that didn't
stop people here in the US from importing this highly coveted gadget at crazy
inflated prices to keep from waiting till it would be available state side.
Could you blame them, this thing is hot! Way more exciting than the earlier
launch of the Nintendo DS. Lucky for me, I
had Brando! He went above and beyond
the call of duty to help me get my hands on one of these terrific game machines. Thanks Brando!
As always, let's start with the specs…
Hardware Specs
CPU: 2 32-bit MIPS processors
Memory:  Main – 32MB / Embedded Dram – 4MB
Display: 4.3in diagonal, 16:9 Widescreen TFT LCD, 480 x 272 pixels, capable of
displaying 16.77 million colors
Communication: 802.11b Wireless
Input / Output: USB 2.0, Infrared, Memory Stick PRO Duo
Game cartridge slot: UMD (Universal Media Disc)
Size: 6.7 x 0.9 x 2.9 in. (170 x 23 x 74mm)
Weight: (with UMD disc installed) 10.2 oz. (290g)
Power: Rechargeable lithium-ion 1800 mAh battery
Package Contents (Japanese Value Pack – may differ from US packaging
when available)
Sony PlayStation Portable
Demo UMD
32mb Memory Stick Duo
Ear buds
Remote
AC Adapter
Hand strap
Slip case
 
On the day I received the PSP from Brando, I was super excited.
Unfortunately, I soon realized that I wasn't going to be able to actually
play with my new toy right away. Why? Well, because it didn't come with
a game disc. It did come with a demo disc, but all it did was just mock me by
showing trailers for several cool games available or soon to be available for
this console. I went searching for sites that had games available and found that
GeekStuff4U could send me 2 titles to
try out. Yay! But I would have to wait a week or so before getting them. Boo!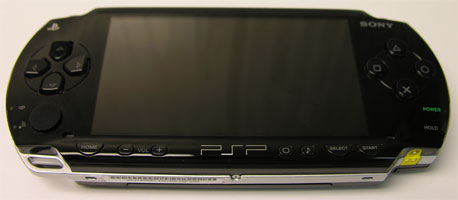 Never miss one of our posts again. Sent MON, WED, and FRI with the latest gadget reviews and news!
After the long and painful waiting period, the games arrived and I was ready
put this bad boy through its paces! And what a bad boy it is. Right out of the
box, it is a wonder to behold. Much like a product from Apple, Sony knows how to
make consumer electronics that look gorgeous. People aren't going to be happy
when I say that the Nintendo DS is a hunk of junk looks-wise when you compare it
to the PSP.
Rectangular with rounded outer edges, this unit is designed to be held
comfortably between your two hands. That said, the PSP has a definite heft to
it. Playing while laying on your back with the device raised above you, may
quickly result in fatigue. Besides being a little heavy, this is a large device.
Like the Nintendo DS, you are not going to carry it around in your pocket.
Transport via backpack or gear bag is fine though.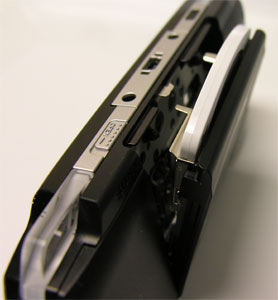 People have been reporting that the PSP is somewhat fragile feeling. That
twisting the unit while a UMD is inserted can sometimes cause the disc to eject
and fly out. I had to perform the requisite Gadgeteer creak test to see for
myself. First I shook the unit and did notice that the power button rattles a
bit. Otherwise, the unit is solid with respect to rattles. As for the creak
test, no amount of light twisting would cause the UMD in my PSP to eject of its
own accord. I did notice that the door to the UMD cavity was prone to minimal
flexing though due to being made of relatively thin plastic.
In my opinion, the PSP doesn't seem to be a toy that you would give to a
child. For one thing, it is quite a bit more sophisticated in both hardware
design and games than the Game Boy series. This is an expensive device that
while solidly made, may only be rugged enough to give to an older child that can
truly respect their toys.
Back to the hardware tour…  The front of the PSP looks like it has
been carved out of one piece of solid black Lucite. Like the
Sony
HMP-A1, the design looks very sexy, but with the slick surface, it very
prone to smears and fingers prints.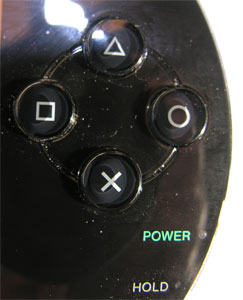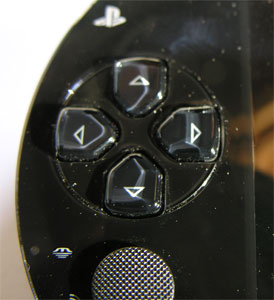 This device has more buttons than any handheld gaming device that I've ever
seen. There are 4 thumb accessible buttons on each side. The left 4 buttons are
for navigation, while the right 4 buttons are the standard PlayStation menu
interaction buttons. Seven small buttons along the bottom edge of the PSP give
you access to Home, Volume up/down, Display brightness, Sound toggle, Select and
Start. The directional and menu buttons are all good sized and easy to press.
They have enough tactile feedback so that you know when you've pressed one. The
directional buttons are angled so that your thumb will not easily slide off when
you're moving from button to button at a quick pace. The other buttons are
pretty small and a little difficult to press. Especially the tonight volume and
brightness buttons.  There's another button on the front of the PSP that I
actually missed at first. I thought it was a speaker grill! Yes, I'm blind…
Under the directional buttons is an actual analog joystick. This stick is spring
loaded with a serrated thumb pad to prevent slippage. It works really well in
games like Ridge Racer.
The display on the PSP is large and g-o-r-g-e-o-u-s. It has to be the largest
handheld gaming console screen to date. At 4.3 inches diagonally, it's even
bigger than my HP HX4700 iPAQ! Being
able to comfortably see all the action on the screen without having to squint is
great! This is the first gaming device that has actually given me the same
feeling that I get when playing games on a large TV screen. You know the feeling
you get when you're playing a racing game and you go into a spin and you almost
can feel the spin. I've never felt that way with a Game Boy or
other handheld device. I do feel it with the PSP, and I like it!
The colors are vivid, and graphics are crisp. Depending on the game, you do
notice some jaggies here and there though. That said, I didn't notice any ghost
or other annoying screen behaviors. The screen is evenly lit and the three
brightness settings allow you to adjust the screen to your liking. I always run
mine on the middle setting which is more than bright enough in any environment.
I should also mention that my unit has no dead pixels which is excellent as I
have read that some people have found some on theirs.
Located on the top of PSP are status LEDs for Power / Charging, WiFi and
Memory Stick Duo activity.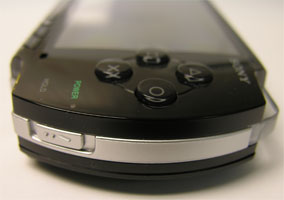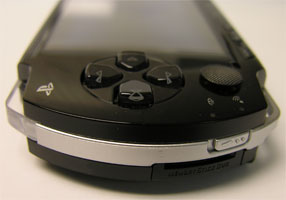 On the left side of the device is the WiFi switch, and on the right side is
the Power / Hold switch. The Power switch is spring loaded. You have to slide
and hold it up for a few seconds to toggle power. If you just quickly slide the
Power switch up and let go, it will cause the unit to go into sleep mode so that
you can quickly restart a game at a later time. If you slide the Power switch
down, it will lock into the Hold position.

Along the bottom edge of the PSP, you'll find the AC adapter connector
(yellow), the headphone / remote connector, and lanyard connection point.
Included with the PSP are a set of earbud and a remote control. These come in
handy when you want to listen to music (MP3s) on your device. More on that in a
minute…

The top edge of the PSP has two clear shoulder buttons, the IR port, mini USB
port and UMD compartment latch. The UMD latch is a slider switch that opens the
disc compartment. Think of it as an eject button. When you open it, the disc
springs out of the compartment just enough so that you can grab the edge and
pull it out. When you insert the disc, you have to press it down into the holder
in the door so that it snaps in place.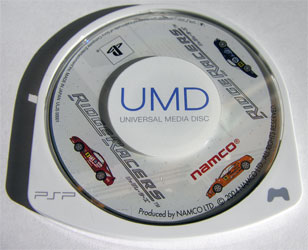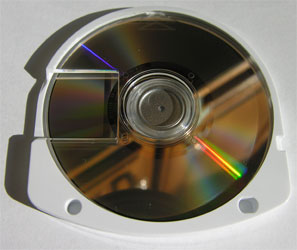 The UMDs are small little 1.8GB capacity discs enclosed in a plastic caddy. A square window in
the caddy allows the PSP to read the data from the disc as it spins. The problem
is that this window is always open. It doesn't have any type of spring loaded cover. Dirt, dust and even
finger prints can easily wreck a UMD if you aren't really careful while handling
them. This is another reason why the PSP is not a good system for children. The
actual UMD games come in a large plastic DVD like case that won't be very
convenient to carry around even in a gear bag. I'm sure there will probably be
UMD carrying case accessories out in the near future (I hope).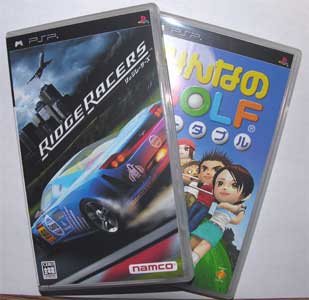 The UMD is a spinning drive. As such, it makes a noise during disc access.
The noise isn't loud, but it is noticeable. The sound that the UMD makes while
it is spinning sounds like something shuffling. The PSP doesn't vibrate during
access, so that's good.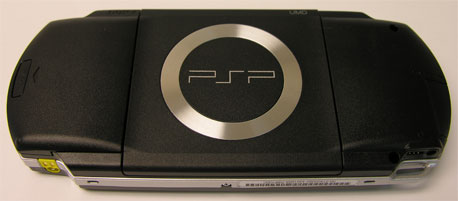 The back of the PSP has the battery compartment and Memory Stick Duo slot.
Included with the PSP is a 32mb MS Duo card. You can copy music, pictures, video
and games to the memory card and let the PSP play them for you. This expands the
PSP into a media player in addition to just a gaming console. If you don't have
a card reader that can read the small format Duo, you can just plug in a USB
cable with a mini connector into the PSP and then into your PC. It will mount
the card as removable drive. My PSP didn't come with a mini USB cable, but I
found one for another gadget and found that it worked just fine. I did discover
that you have to format the Duo before you start copying files from your PC.
Why? Well, if you don't, the special hierarchy of folders that the PSP looks for
won't be there and it will not know that you have music or other media available
to it. There is an option in the PSP menu to format the stick. Once you do that,
you're good to go.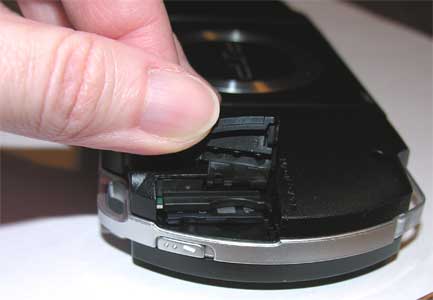 Memory Stick Duo Slot
I should talk a little about battery life as that is one of the major
concerns / complaints about this device so far. According to Sony, the PSP
should be able to play games for 4-5 hrs at a time as long as you're not using
WiFi. Now, all I can tell you is my own experiences as I haven't done any
scientific battery tests… I've played Ridge Racers 10 mins here and 20 mins
there several times throughout the week on only one battery charge. As for total
play time on one charge, it's hard to say. Maybe 3 hrs or so? I've never been
one to just sit down and play games for hours at a time. I'm more of a pick it
up, play for a bit then sit it back down kind of gamer. That might change if I
had some more engrossing type of games. Right now I just have Ridge Racers and a
golf game that is too difficult to really figure out since I do not understand
Kanji. Now if I had a really cool RPG, I bet I could get sucked into playing a
game for 1-2 hrs at one sitting. So, for right now I am not going to complain
about the battery life. For me it is working out great so far. I can see how it
would not be great for travelers or people away from a power outlet. I should
also mention that battery life will depend on how often the PSP has to access
the UMD for info. It's easy to understand that the more it has to spin up the
disc, the lower your battery life is going to be. Here's also hoping that
extended batteries will be an available accessory in the very near future.
Regarding the PSP hardware, it's just plain lovely. This device is both sexy
to look at and hold. I don't know how Sony is getting away with only charging
~$250. I mean, their later model CLIÉ PDAs were up to $700 or so! If I had to
change anything about the hardware, I would maybe add a hard drive so that it
could be a REAL media player in addition to gaming device.
The main interface is simple and easy to figure out even without reading a
manual or user guide. Good thing because the manual I received was all in
Japanese. The first time you power on the PSP, you are given the ability to
choose a language.  Japanese, English, German, Dutch, Spanish, French,
Italian, Russian, and Portuguese are the available choices.
Basically you have 5 main functions across the screen. The main functions are
Settings, Photo, Music, Video and Game. As you use the left and right
directional buttons to scroll through these functions, sub functions appear
below the main heading.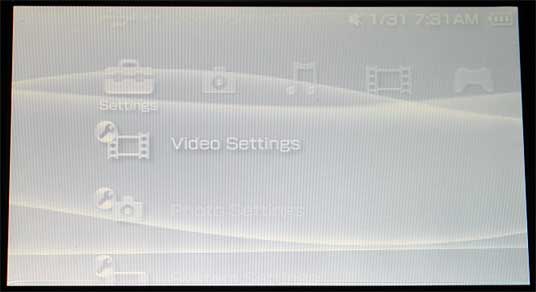 Main interface screen
The settings function gives you access to all the main settings for video,
photo, music, WiFi etc. This is also the menu that you use to format the Memory
Stick Duo, set the time / date, password protect the device and even implement a
parental lock based on game ratings.
Setting up WiFi was a snap. I basically just allowed it to use all the
defaults. I didn't even tell it the name of my wireless network (SSID) and it
connected just fine. I couldn't do a darn thing, but hey, I could connect. 
Oh, I was able to have the PSP check with Sony to see if there was a software
update. It didn't find one, but it checked ;o) It's really a shame that a simple
web browser wasn't included as part of the feature set.
The Photo function allows you to view images that are stored on the Memory
Stick Duo. Sorry, you can only view .JPG files. .GIF, and .BMPs are not
supported. Small thumbnails of the pictures are displayed so that you can easily
scroll through them. When you find one that you want to view full screen, you
select it.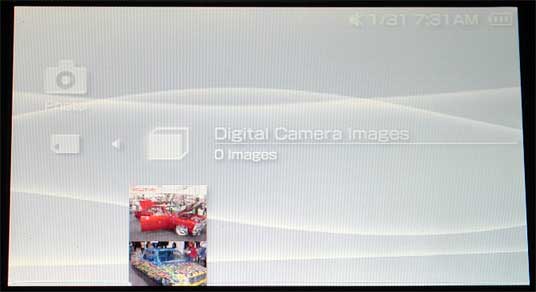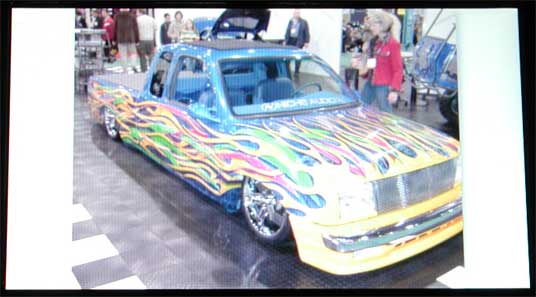 You can also view all the images in a slideshow if desired.
The Music function turns your PSP into a digital audio player capable of
playing Sony's own ATRAC3 and ATRAC3plus files as well as good old MP3s. Yay!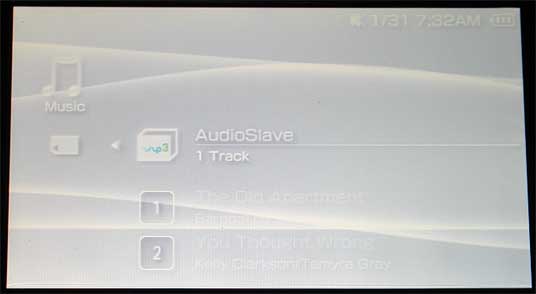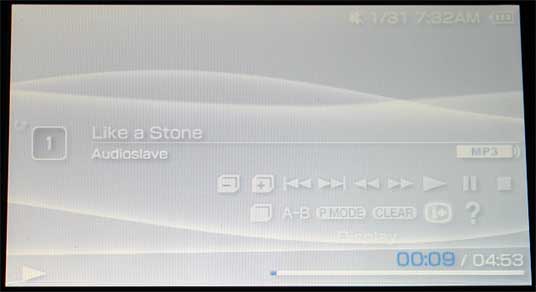 The included ear buds and remote look like they come from the land of iPod.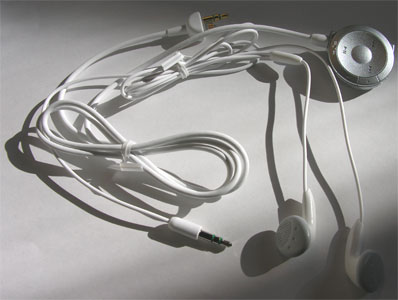 In Video mode, you can play movies and video clips. Unfortunately, the only
supported format is MPEG4. You have to jump through some hoops in order to
convert regular .mpg files to .mp4, but once you do it's a lot of fun to watch
movies on this device.  You can even use the wired remote to control video
playback.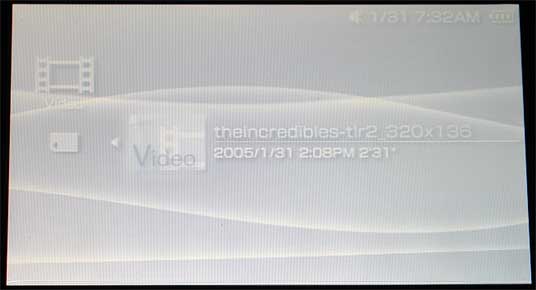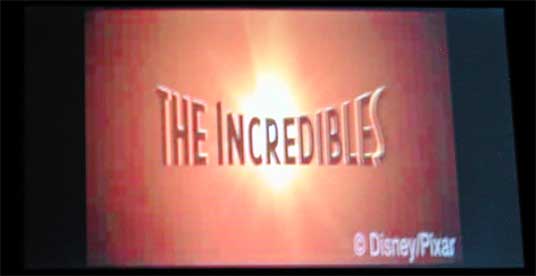 Of course the main reason to buy the PSP is to play games right? Well, I have
to say that the games are great! Yeah, I only have one that I really like –
Ridge Racers, but even though I don't really like the Mini Golf game all that
well, it still looks fantastic.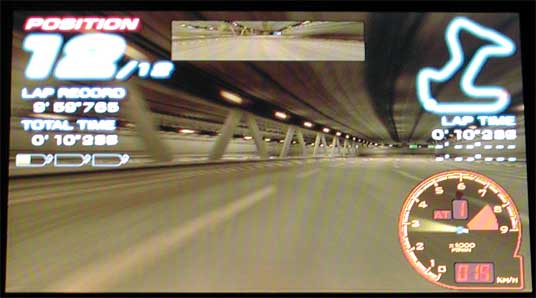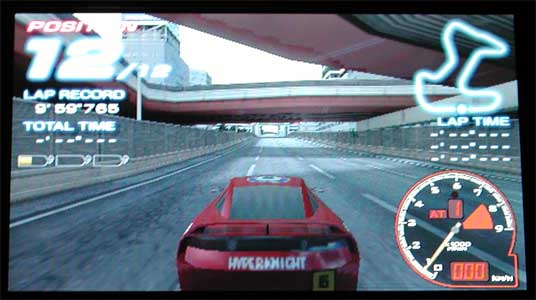 Ridge Racers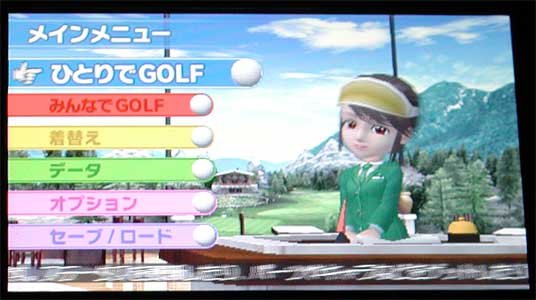 Mini Golf
The only thing I don't like about using UMDs for games is that you have to
load them into memory. If you're loading a game from scratch, the PSP screen
will blank (turn completely black) for up to 15 seconds or so. The first time
this happened, I was wondering if it had died on me or something. Kids might get
impatient having to wait for a game to load. Adults probably wont mind as much.
The wait is worth it actually.
Note: another use for the Memory Stick Duo is for saved games.
Ok, so what is the bottom line? Pretty much that I love this thing and
everyone should buy one. No seriously, I do reallllllly like the Sony PSP. I
don't say that lightly given the fact that I only have 1 game that I'm playing
so far. There's just something about this device that makes me want to pick it
up every time I walk by it. Yeah it's pretty, but the games are fun. More fun
than any handheld gaming device I've owned so far.  But there are some big
gotchas that go along with my praise. One gotcha is battery life. But maybe the
biggest gotcha is just how viable is the PSP in the current handheld game
console arean? Even though a device is 'better' than another device as far as
hardware and features, it always comes down to the games. Will the PSP come out
with some excellent games that make this the device to buy? That's very hard to
predict. I don't feel too confident given the fact that I've been here before. I
was in love with the Atari Lynx way back when. It was an excellent handheld
gaming console. Better sound, better graphics than the Game Boy… but it failed
because the Game Boy was already very well established with 100's and 100's of
games. Will the same thing happen with the PSP? Very possibly. Even probably. I
sure hope not though! I have my fingers crossed that this device will enjoy a
long life. For those of you considering a handheld game console purchase, in a
few months when you go to your electronics store to choose between a Nintendo DS
and a Sony PSP, I sure hope you choose the PSP!
 
Price:$249
Pros:
Gorgeous hardware
Gorgeous screen
Games feel like full size console games
Photo, Video and Music features
Cons:
Short battery life
Not available in the US yet
Fingerprint magnet