The Gadgeteer is supported by readers like you! If you buy something through links on our site, we may earn an affiliate commission at no cost to you. Thank you! Learn more.
Product Requirements:
HP iPAQ

rz17xx/rx37xx/rx34xx/hx47xx Series
Series PDA
If you have been waiting for a replacement stylus for your iPAQ hx 4700 that
includes a ball-point pen, then the wait is over.
PDair has released their
3-in-1 Stylus which
fits in the iPAQ's silo, just as the original stock stylus.

Hidden under the top end is a reset pin and under the stylus end is the
ballpoint pen. I find it quite handy to have the small black ballpoint pen
available when I am traveling light. While it is great for signing credit card
slips or other quick uses, it would (obviously) be too awkward and uncomfortable
for penning anything other than a quick note.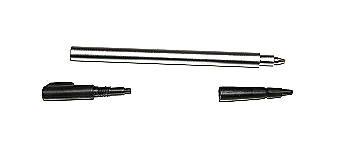 As you can see in this comparison shot, it is very similar to the original.
But instead of being a solid black plastic stylus, there is now a flashy metal
shaft.

The original stylus weighs 0.1 ounces, and the PDair version weighs 0.2
ounces. Of course, in something this light the doubled weight doesn't seem that
substantial, but if you like a slightly heavier stylus, then you should notice
the difference. Here you can see the stylus in the iPAQ 4700's slot. It fits
perfectly and snugly, there is not fear of it accidentally falling out of the
silo.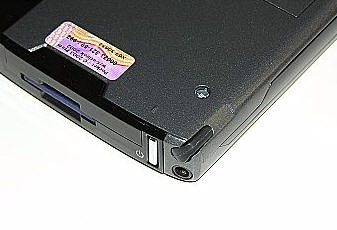 If you would like to add a slightly heavier replacement stylus that includes
a black ballpoint pen, then look no further than the
PDair
3-in-1 Stylus.
The styli and other PDair accessories are available from these
online retailers; be sure to
check prices because they can vary wildly.
Price: $17.95
Pros:
Includes a black ballpoint pen
Weight twice as much as the stock stylus
Cons:
None
Product Information
Price:
17.95
Manufacturer:
PDAir
Pros:

Includes a black ballpoint pen
Weight twice as much as the stock stylus

Cons: