We use affiliate links. If you buy something through the links on this page, we may earn a commission at no cost to you. Learn more.
Product Requirements:
Portable CD, Mini-Disk, Tape or MP3
player and four AA batteries
One of the first things that happened when I got my
digital music player, was that I
realized I didn't always want to listen to music over headphones. Thankfully, I
do have several options. When I am sitting at my computer, music can be played
through my desktop. When in the car, I can
broadcast music through an FM
radio station. When I am at the beach this Christmas, I will be able to use a
self contained portable music speaker system.
How can I brave taking my digital music player and a speaker system to a
place where it will probably get wet, you ask? Because I have a water resistant
and splash-proof

Pioneer PCR-BS10 Portable Speaker. Yah baby, bring me another piña
colada while I listen to Keane!
Available in translucent green or red plastic, this speaker system measures
approximately 10.5" long x 7" tall x 3" thick.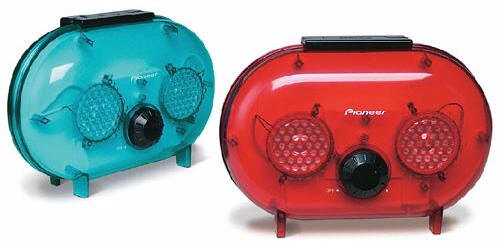 Photo courtesy of the
Audio Cubes site
Powered by four AA batteries, the Pioneer features a clamshell design that
puts two 2.25" 8 Ω speakers and a volume knob in the front compartment.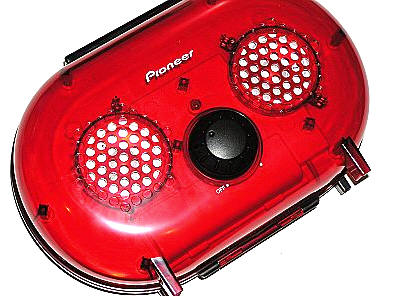 The speakers appear to be made of some sort of clear springy plastic. This is
most likely because they are water resistant.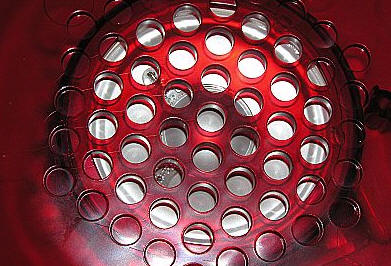 Inside the inner rubber-gasket protected chamber is the battery panel, as
well as an approximately 9.5" long x 6" tall x 1.5" wide hollow to stow any
music player that will fit. A 3.5mm mini-plug is taped to the inner wall. When
it is plugged into the headphone jack of the inserted player, music will play
through the speakers.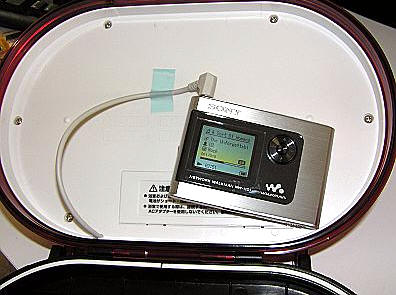 The only downside to this chamber is that it is not padded in any way. If you
put your player inside, then it will most likely rattle around a bit, depending
on its size in relation to the chamber. With that in mind, it is best to keep
your player inside a case of some sort. Here you can see my HD1 in its cheesy
little slip-case, which is at least better than nothing.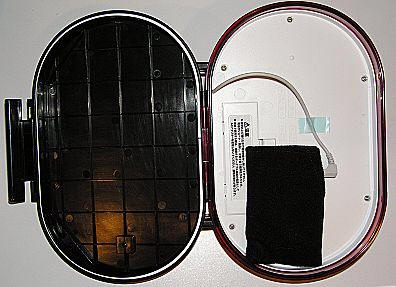 Before shutting the clamshell with the folding locking clasp, the user's
preferred settings for the music player must be selected.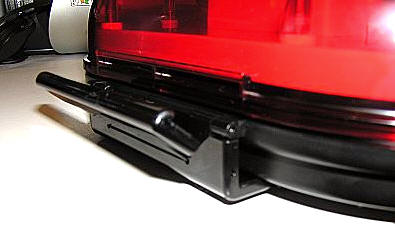 Once the case is closed, the only adjustments that can be made are to turn
the speakers on or off,  and the turning of the exterior knob to the
desired speakers' volume. When the speakers are turned on, a red light will glow
directly above the volume knob. If the volume knob is turned off, then the
player will continue to run. So unless you don't mind killing your battery, you
must remember to also turn off the player.
Sound though the speakers is not bad at all. I believe that the quality of
the recording being played bears a direct relation to how it sounds through the
speakers. With that said, I have been listening to music for the last three
hours here at my desk and outside. I believe that the player will work
wonderfully indoors, and it will be more than loud enough for personal use
outdoors. Obviously this speaker system will not play loud enough for a pool
party, but it will be perfect for setting on a table as rays are soaked up by
the pool.
The back of the Pioneer has a raised round disk onto which a plastic ring
clips. This ring is great if you have a hook you want to hang everything from,
or if you have a shoulder strap you can attach. The ring can also be removed,
should the user prefer.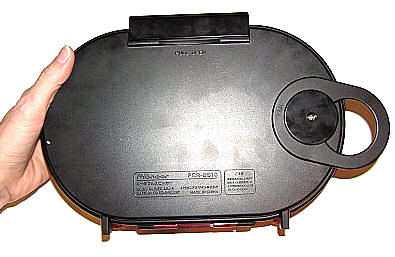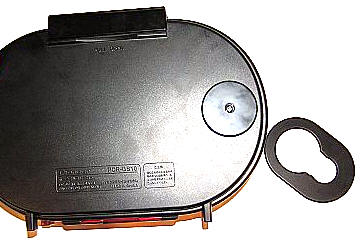 Since I am never one to believe that something is so, just because I am told
it is, I had to see if the Pioneer was indeed "water resistant and splash
proof." After all, what good would it be for me to pack it for the trip if it
wasn't going to perform as advertised.
With that goal in mind, I squirted the front of the player with water.
Through it all, the speakers continued to play without distortion. When I opened
the clamshell case, I found the interior to be completely dry. Not too shabby!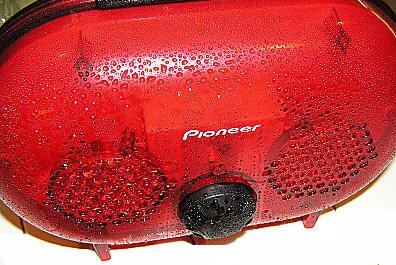 I have been using the Pioneer for over five hours straight now, and the
batteries are showing no sign of giving up. I am not sure what the total battery
life will be, but I would guess that it should be sufficient for a long day at
the beach. I do think it would be wise to invest in some rechargeable AAs,
though.
Okay, that settles it – the Pioneer is coming with me to Hawaii! If you are
looking for a portable, self-contained way to play your music in a less than dry
environment, then you should definitely take a look at the Pioneer.
The

Pioneer PCR-BS10 Portable Speaker is available from
Audio Cubes and other retailers.
Price: $49.00
Pros:
Water resistant and splash proof
Amplified Sound
Easy to pack
Easy to carry
Easy to use
Cons:
Lack of access to the player while it is in case
Product Information
Price:
49.0
Manufacturer:
Pioneer
Retailer:
AudioCubes
Pros:

Water resistant and splash proof
Amplified Sound
Easy to pack
Easy to carry
Easy to use

Cons:

Lack of access to the player while it is in case