We use affiliate links. If you buy something through the links on this page, we may earn a commission at no cost to you. Learn more.
Ready for a cube toy that is unique, weird and addictive?
UberOrbs (recently renamed from Magnetoids)
will be the first item your co-workers will pick up when they visit your desk.
What are they? They are two highly polished, elliptical shaped magnets that are
made of a of smooth ceramic or glass like mineral called Hematite.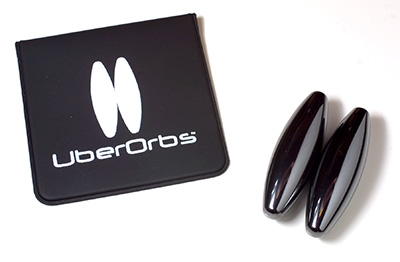 Package Contents
2 UberOrbs
Vinyl carrying case
Instruction sheet
If you are anything like me, you find magnets irresistible. When I was a kid,
I would take apart (i.e. destroy) toys, old appliances, etc, just
to get to the magnets inside their motors. Now that I'm an adult, I've been able
to control my destructive impulses and just play with my UberOrbs.
UberOrbs are not your typical magnets. For one thing, they have a unique
shape which just begs to be handled. You can click, clack, snap and swivel these
little guys to your heart's content. They are great for stress relief or just
for fiddling with while on the phone etc.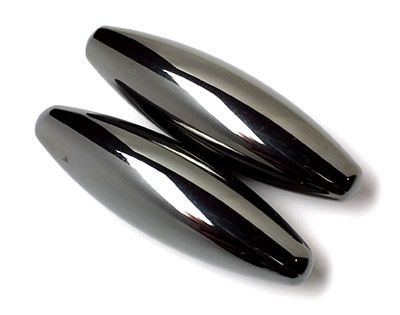 They are also super strong. You sandwich your hand in between the orbs by
placing one magnet in the palm of your hand and another on the opposite side.
You can spend minutes / hours / days coming up with wacky tricks for these orbs.
But probably the most unique aspect of this toy is the sounds that they can
produce. They whir, squeak, smack, and buzz (click
for .WAV sound file). People will wonder what the heck you're doing when
they hear the noises coming from your cube! Pets will freak out and kids will
never give them back once they discover them.
With a price tag of only $19.99, this toy is inexpensive enough to pick up
one for your best friend's Christmas stocking and one for yourself!
 
Price: $19.99 (Available from ThinkGeek.com
)
Pros:
Addictive
Unusual
Cons:
Addictive
Product Information
| | |
| --- | --- |
| Price: | 19.99 |
| Manufacturer: | Think Geek |
| Pros: | |
| Cons: | |