We use affiliate links. If you buy something through the links on this page, we may earn a commission at no cost to you. Learn more.
My love of handheld gadgets doesn't end with PDAs, it extends to portable gaming
devices as well. I've owned quite a few over the years… The original Game Boy,
Game Boy Pocket, Game
Boy Color,
Game Boy
Advance SP, Atari Lynx, Sega GameGear,
Game Park GP32
and now the Nintendo DS.
Everyone has been excited about the new
Nintendo DS handheld because it brings some exciting new features to the
handheld console arena that have never been included in similar products before.
It also drops the ball in a couple areas too… Until the Sony PSP comes out,
this guy is going to be getting all the buzz… but I'm getting ahead myself…
Specs first.
Hardware Specs
CPU: ARM9 67Mhz and ARM7 33Mhz processors
Memory:  4MB
Screens: Upper Screen: 3in diagonal, semitransparent reflective TFT color back
lit LCD, 256 x 192 pixels, .24 DPI capable of displaying 260,000 simultaneous
colors,  Lower Screen: The same as top but with transparent analog touch
screen
Wireless Communication: 802.11 & Nintendo's proprietary format
Audio: Virtual surround sound, built-in stereo headphone / microphone jack
Game cartridge slots: 1 DS slot, 1 Game Boy Advance / SP slot
Size: (closed) 5.85 x 3.33 x 1.13 in.
Weight: (with DS cartridge installed) 9 oz.
Power: Rechargeable lithium-ion battery, 6-10 hours continuous play depending on
use per 4 hours recharging time
Package Contents
Nintendo DS
Instruction Booklet
AC Adapter
Hand strap
Metroid Prime Hunters demo game
Extra stylus
The first thing that I noticed upon seeing the product packaging and the unit
itself was that the words Game Boy were no where to be seen. Then my impression
of the DS as soon as I removed it from the box was that this device was
definitely not as portable as previous Game Boy models. Unless you are a fan of
huge cargo pants pockets, you'll be putting this gaming device in your backpack
or gear bag. No more back jeans pocket transportation kiddies. Unfortunately,
with the new dual screen design, there really isn't a way around the added bulk.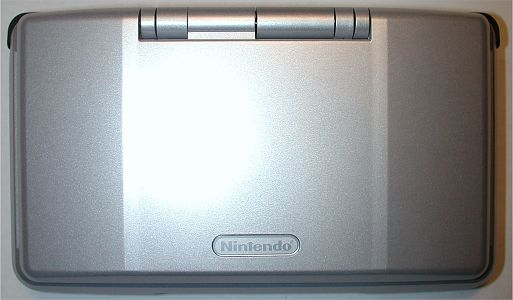 When closed, the DS actually looks like a GB Advanced SP that has had 'wings'
added to it. The plastic is even the same  silvery color as my SP. Speaking
of the plastic, it feels light weight and does flex slightly on the bottom near
the cartridge slots. Not enough to really harp about though… If you have
cartridges in both slots, you'll not even notice. So the unit doesn't exactly
pass the Gadgeteer creak / squeeze test with flying colors, but it's close
enough.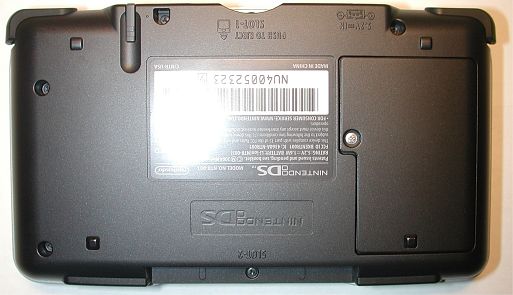 In hand, the device is a little too heavy to play with for an extended period
of time while laying on your back with your hands holding the DS above you. This
has always been my standard gaming posture for playing Game Boy and Pocket PC
games. With the DS, it's more comfortable to just sit straight up while playing.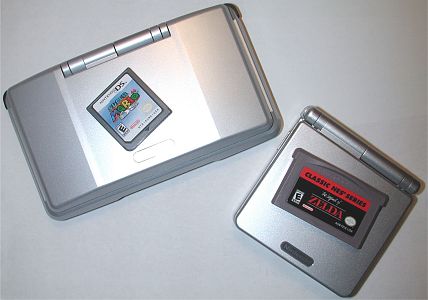 Then hinge on the DS is almost identical to the hinge on the GB Advanced SP.
It snaps open and closed with a slight spring loaded action. While there isn't
any type of clasp or lock to keep the cover closed, you can hold the DS upside
down, and the cover will not fall open of its own accord.

At the front of the DS is a volume level slider switch, the Game Boy Advanced
game cartridge slot and the microphone / headphone combo connector. The volume
level slider switch has smooth action and is easy to adjust when needed. GB
Advanced cartridges fit flush with the front face of the device when fully
inserted. The DS has a built-in microphone, but the mic / headphone combo jack
will accept a one piece headphone / microphone to be sold by Nintendo later…
Until it is available, you can still plug in any old set of 3.5mm plugged
headphones that you already have and they will work great.

On the rear of the DS you will find a stylus silo (no, the DS is not a
PDA…), lanyard attachment point, DS game card slot,  the external
expansion connector (otherwise know as the AC adapter jack), and the two
shoulder buttons.  The stylus (and spare) that ships with the DS is a short
plastic toothpick. The included hand strap that you can attach to the DS doubles
as a thumb stylus that helps to keep fingerprints off the touch screen. The
external expansion connector / AC adapter jack accepts the included AC adapter
and also the adapter from a Game Boy Advance SP. The two shoulder buttons are
spring loaded tactile buttons that are active depending on the game cartridge in
use.
Opening the DS reveals the dual screens. This is a new feature for handheld
gaming consoles, and has been the source of speculation and murmurings ever
since the DS was first whispered about. Both screens are color, 3 inches
diagonally, 256 x 192 pixels, backlit, bright, and vivid. The only difference
(apparently) between the upper and lower screens is the fact that the bottom one
is a touch screen.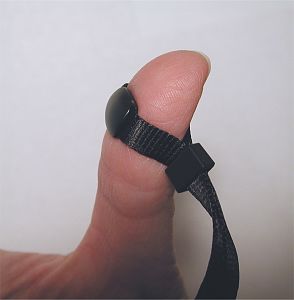 For DS cartridge games, the main game view is in the top screen. The bottom
screen is typically used for menus, inventory, maps, etc. I wasn't sure how
beneficial this feature might be until I actually started using it with the
first DS game (only game so far) that I purchased: Super Mario 64 DS. So far I
haven't bothered to remove the stylus when I need to tap the screen. I just use
my thumb. Yes, the screen gets all fingerprinty after awhile, but it just feels
awkward to me to use the stylus or even the lanyard thingy. Actually interacting
with the touch screen is similar to a PDA, it is sensitive and does not have any
sponginess to it.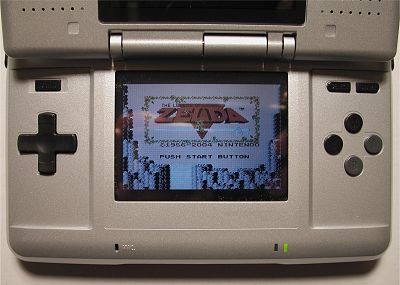 If you're playing a Game Boy Advanced game, you have the option of either
playing the game from the top screen or the bottom screen.
The graphics and display quality on the DS is much better than the one on my
Game Boy Advance SP. For one thing it is way brighter. The DS is back lit
instead of front lit like the GB Advance SP. The difference is very noticeable.
Action on the display is crisp and clear. I've not noticed any blurring at all.
I haven't had the chance to try the DS outdoors in full sunlight yet because
it's been pretty gloomy here in good old Columbus, Indiana the past week.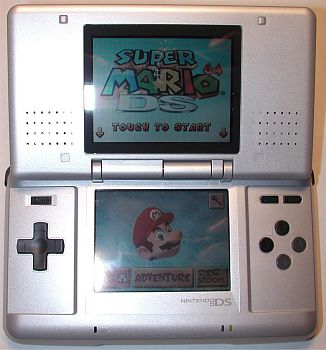 On either side of the top screen are the speakers. Let me tell you, the sound
on the DS totally blew me away. It has a virtual surround sound mode that sounds
better than my PC. Maximum volume level through the speakers is not super loud
(parents will be happy for that!), but I think it is loud enough for all but the
noisiest environments. Through headphones, I notices sounds not evident through
speakers. For example, when I listened to Super Mario DS through headphones, I
could hear blub, blub water sounds when Yoshi was swimming underwater. This
sound is absent when listening with the built-in speakers.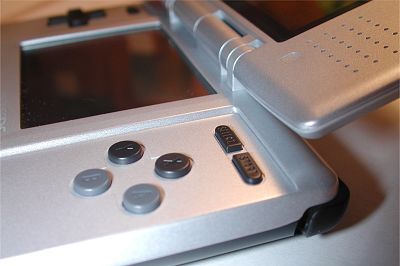 On the left side of the lower screen there is the Power button and 4 way
joy pad. On the right side of the display there is the Start, Select, A, B, Y and
X buttons. All of the buttons are made of black plastic and have audible click
tactile feedback. Former Game Boy owners will notice the addition of two extra
buttons: Y and X. These new buttons function differently depending on the games
you install.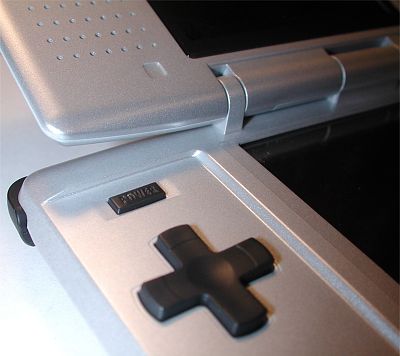 Below the lower screen you have the Microphone and two LEDs. The left LED is
the battery recharge indicator. It glows orange while the battery is charging,
and turns off when charging is complete. The right LED is the power indicator
status LED. It is green when the DS is turned on and turns red when the
batteries are getting low. This LED will blink rapidly when the DS communicating
wirelessly. The same LED will blink slowly when the device is in sleep mode.
As for battery life, I've not had the chance to test this out totally. But if
the battery is anywhere near as good as the Game Boy Advance SP, people will not
complain. This might be off topic, but I was very surprised the other day when I
turned on my GB ADV SP and it powered up. Why should I be surprised at that?
Ummmm, because I'd not recharged it in over a year! No, I'm not kidding!!!!
Speaking hardware only, the DS is impressive. Yes, it's larger and bulkier
than any Game Boy to date, but you have to pay for the fact that it has the dual
displays and great sound built in. I'm not sure how kids will take to this
device since it's not as portable as the GB ADV SP… Time will tell.
Let's shift to software now. I'm not going to talk about specific games
though, just the software built into the DS. My first impression after charging
the DS and turning it on was that I was setting up a new PDA. It asked me to set
the time, date, my birthday, favorite color, nickname, etc. I also had to
calibrate the touchpad with the stylus. I was already wondering how long it
would be before someone released a PDA-type cartridge for this device. It even
has a built in alarm  to alert you after a predetermined time. Too bad all
you can do when the device is in alarm mode is wait for it to go off. You can't
play a game or even turn the device off… It would be cool if you could set an
alarm to stop a game at a specified time. Parents might appreciate a feature
like that to alert them when game time is over for their little rug rats.
Another feature that is pretty useful is the Sleep feature. You can just shut
the screen anytime you want and the device will go into power saving sleep mode.
Open it back up and your game resumes where it took off.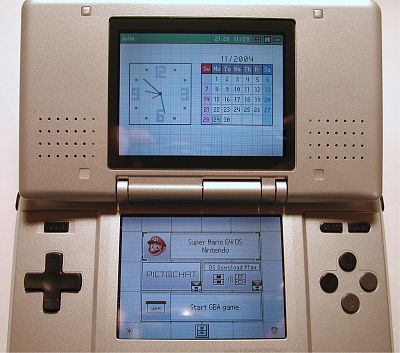 The DS has two power on modes that you can choose from. You can either see
the menu with date/time every time you power on, or you can set it to
automatically load a game if there is one inserted in slot 1 or 2. If you have a
game in both slots, it will always load the DS cart. In the manual mode, you can
choose which game you want to play if you have both slots occupied. It's pretty
nice to be able to carry two games with you all the time…
I guess this is as good a time as any to tell you all about my biggest gripe
about the DS. It's not the size or the bulk. It's not the price of the device or
the price of the DS cartridges either. It's the fact that you can't play
original Game Boy cartridges on this handheld! I was very very very disappointed
when I realized this fact. I still have several original carts that I enjoy
playing. Prince of Persia being one of my faves… The thing I don't understand
is the fact that the GB ADV SP can play original carts just fine! So if the DS
has a GB ADV SP slot, then why the heck can't we use that slot for original
carts too? Someone with more knowledge than me, please answer this question.


Since there are so many original
carts still out there, it's a shame not to be able to play them on this system
too…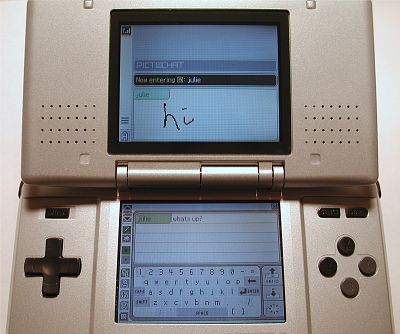 In addition to the alarm clock, time and date features, the DS also has a
applet called Pictochat built in. Pictochat is sorta like Microsoft's Netmeeting
white board meets instant messaging. It uses the DS's built-in WiFi to connect
to other DS's in its vicinity to type and draw messages to other users. You can
type on a popup keyboard or draw pictures using the stylus. I'm not real sure
what the real advantage is for this feature, but hey, it's there if you want to
use it. Of course, I didn't buy two DS's, so I was unable to test it.
A better use for the built in WiFi is the ability to play games with multiple
players. Depending on the game cartridge, you can either play games with all
users having the specific cartridge installed in their respective devices, or
games that only require a host to have the cartridge. Again, with only one DS, I
was unable to test this feature. What would be really nice would be the ability
to use the built-in WiFi to surf the web or use a real instant message program.
One little annoyance that I want to point out is that whenever you quit out
of the Pictochat or game download (WiFi / multi user) features, you have to turn
the DS off. You can't just exit out of the application and start playing a game.
As of this writing, DS games are pretty scarce. There are only 12 games
displayed on the Nintendo DS website, with 8 of them supposedly available as of
11/21/04. When I was lucky enough to purchase my device, the only games
available at Circuit City were Super Mario 64 and Madden Football. Not really a
football kinda girl, I skipped that title and just purchased Mario. A demo
cartridge of Metroid Prime Hunters is included with the DS, so even if you're
lucky enough to find a DS but unlucky enough to get games, you'll at least have
something to play!
I guess it's bottom line time… What do I think of the Nintendo DS? I love
the displays, love the sound, like having two cartridge slots, can deal with the
bulk, but hate that I can't play my original Game Boy cartridges. With a price tag
of $150, and new games at $30-40 this isn't a cheap toy to buy and continue
using. That said, I have found my short time with this device to be enjoyable.
My advice would be that if you already have a large collection of GB ADV games
and a GB ADV SP, don't upgrade to the DS just yet. Wait till more games become
available or until the Sony PSP comes out. For those of you that don't have a
handheld game system at all and just can't live without the DS, go for it…
It's a fun device that has a lot of potential… at least until the Sony PSP
comes out ;o)
Price: $149.99
Pros:
Dual screens
Great sound
Great graphics
Wireless capabilities
Cons:
Can't play original Game Boy / Game Boy Color cartridges
Only a few games available as of this writing that take advantage of the dual
screen design
Bulkier than previous models
Product Information
Price:
149.99
Manufacturer:
Nintendo
Pros:

Dual screens
Great sound
Great graphics
Wireless capabilities

Cons:

Can't play original Game Boy / Game Boy Color cartridges
Only a few games available as of this writing that take advantage of the dual
screen design
Bulkier than previous models