We use affiliate links. If you buy something through the links on this page, we may earn a commission at no cost to you. Learn more.
Product Requirements:
Device:
Camera or accessory with standard ¼ inch tripod
mount hole
 
Have you ever been a situation where you need a tripod, but forgot to bring
one along? Perhaps you want to use your camera's self-timer function, so you can
be in the picture, too. Throw a ClamperPod
in your camera bag and you can mount your camera on a car window, tabletop, or
any other stable flat object. Here is the ClamperPod being demonstrated by my
lovely wife Sarah.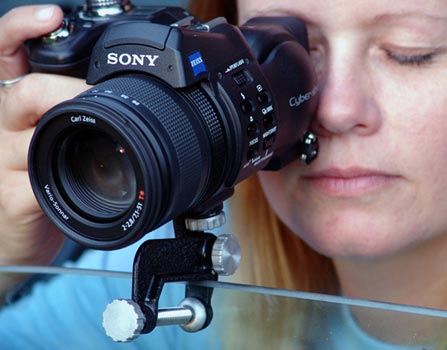 There are two different models available, the ClamperPod (for mounting to
flat objects) and the ClamperPod2 (for mounting to tubular objects). They are
both small and lightweight and will fit easily in your camera bag. The only
difference between them is that the ClamperPod2 has a rounded jaw inside the
C-clamp.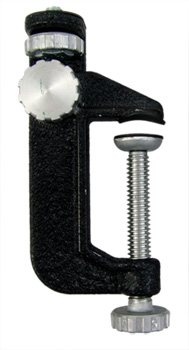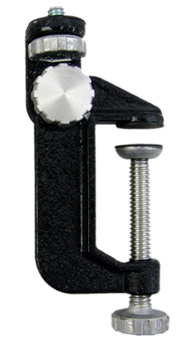 On several different occasions I have found myself wanting to take a
telephoto picture in low light, but the slow shutter speed always caused my
photos to come out blurry. My hands are not as steady as they used to be.
On my way in to work the other day, I saw three deer about a hundred feet
from the road. I actually had my tripod in the trunk, but I knew they would
simply run away when I opened my car door. I parked the car and rolled down my
window about half way. After mounting my camera onto the ClamperPod's screw
thread, I clamped it down on the window and started firing away.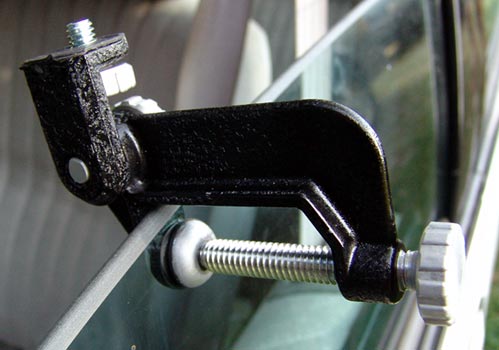 I did find it rather awkward to frame my shots just the way I wanted to with
the ClamperPod's built in swivel mechanism. When I made it back to the house, I
made sure to put my Sunpak ball head attachment in my camera bag to avoid
running into this problem again.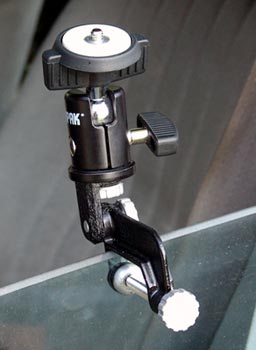 The folks at www.clamperpod.com also offer a
Precision Mini Ball Head
attachment. If you don't already have something like this, I highly recommend
it.
With the ClamperPod, you can turn practically anything into a sturdy mount
for your camera. For example, I attached it to a chair as pictured below.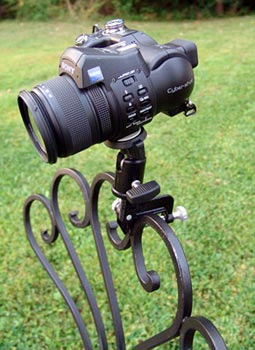 For tubular mounting, you'll have to shell out a few more dollars for the
ClamperPod2. Here it is shown clamped to one of the legs of our pool ladder.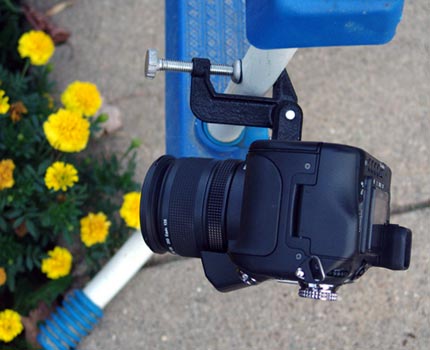 You could also use this device for photo-related accessories that have a
standard tripod mount. For instance, I may use my ClamperPod to mount one of my
reflectors for an outdoor shoot.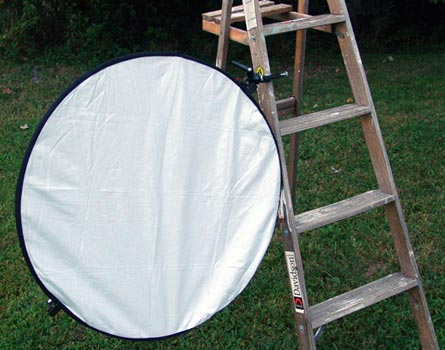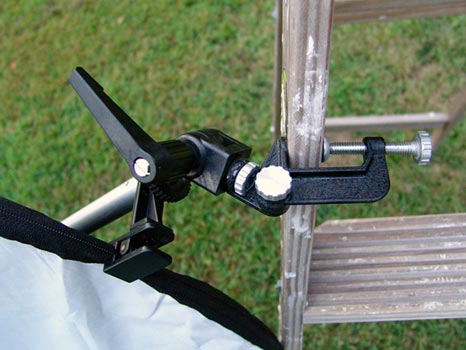 The jaws on the ClamperPod allow you to attach it any object from 3/16 inches
to 1 7/16 inches thick. The ClamperPod2 can attach to tubular objects from 3/16
inches diameter to 1 ¼ inches diameter.
I have only been carrying the ClamperPod in my camera bag for a couple of
weeks and I have already used them both on a couple of occasions. They are a
sturdy, lightweight substitute for a tripod.
Price: $14.95/each
Pros: 

Sturdy
Lightweight
Easy to use
Fits in camera bag
Cons: 
none
Product Information
Price:
14.95
Manufacturer:
ClamperPod
Pros:

Sturdy
Lightweight
Easy to use
Fits in camera bag

Cons: