We use affiliate links. If you buy something through the links on this page, we may earn a commission at no cost to you. Learn more.
Product Requirements:
Device:
Slim l aptops from 12" up to 17" inches wide
These days mobile warriors have a wide variety of choices when it comes to laptop bags. Backpack style bags and attache style cases tend to be the types most often seen carried by the laptop user on the go. Today I'm going to show you another option that both looks great and offers great protection.
Laptop Armor cases from Matias fit slim laptops that are between 12 and 17 inches wide and are available in black leatherette, black aluminum, silver aluminum and white aluminum styles. I was sent the black leatherette 12-15" slim and silver aluminum 12-15" slim cases to review.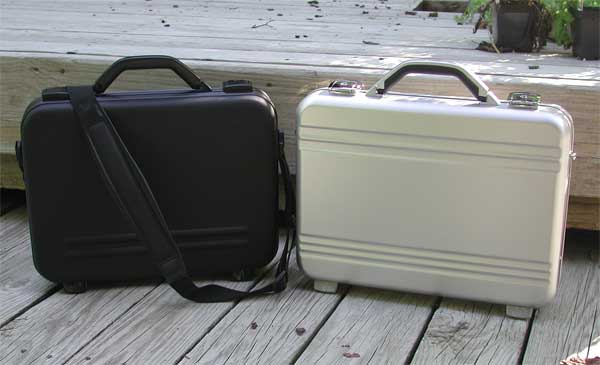 You have to admit that these cases look really sexy. But when a company gives a product a name that contains the word armor in it, the consumer is pretty much gong to expect that said product will be a built like a tank. I'm happy to tell you that the Laptop Armor cases definitely are. How do I know this? Go to the Matias web site and have a look at the QuickTime video showing a demonstration of them dropping a laptop in one of these cases from 10ft onto a concrete floor. Yes, the laptop survived, and no, I didn't try my own similar tests… I'll trust Matias on this one :o)
The outer shell of the leatherette case is made of a specially formulated synthetic EVA material which is similar in appearance and feel to nubuck leather. It is much stronger than leather as well as being waterproof and easy to clean. The outer shell on the silver aluminum case is made of: aluminum. Imagine that! Both case styles look great and can easily fit into both a casual or business setting.
The interior of both cases is the same. The padded lower half of the case is an empty cavity ready to hold a laptop, while the outer edges of the case are lined with the loop side of hook & loop Velcro. 7 long Velcro pads and 11 short pads are included with each case to customize the fit to a specific laptop. As you can see below, several pads are attached to the walls of the bottom shell. There is also a Velcro strap that should be used to secure the laptop while it is in the case.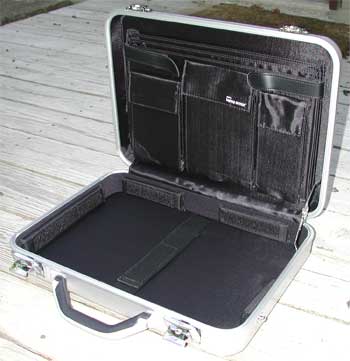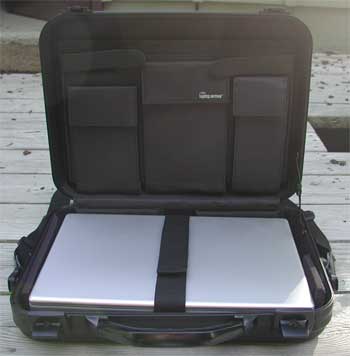 I tested both cases with my 15" Apple Powerbook, and am happy to report that it fit perfectly.
When you fully open the Laptop Armor lid, the hinge on the right side locks into place to allow access to the built in collection of storage pouches and file folders.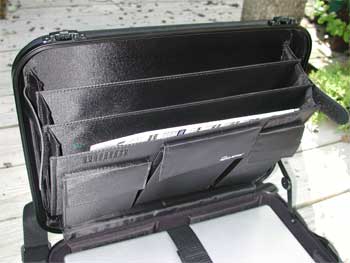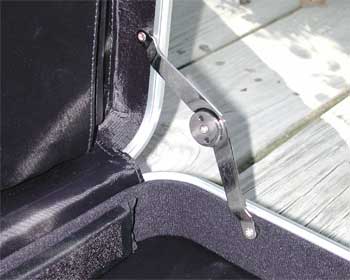 Peeling away the Velcro straps on each side reveal 3 accordion style folders that are spacious enough for large format magazines and papers. Three pouches on the outside of these folders allow you to hold chargers, PDAs, iPods etc.
You really can't load up these cases very much due to the fact that they can't expand like a soft laptop bag can. You also don't want to put large pointy objects in the pouches as they could press against the outside of the laptop when you close the case.
Speaking of closing the case, heavy duty metal lockable latches are used to keep the case securely closed. These latches are easy to use and have smooth action when opening or closing them. I really like the fact that you do not have to manually hook the latch over a catch in order to close it. These latches are made so that they automatically line up when you close the lid. They are almost effortless to use.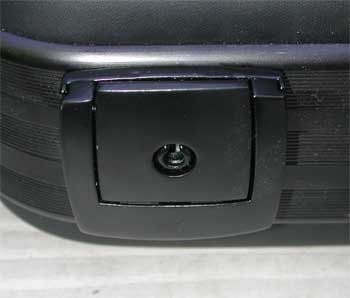 To transport the Laptop Armor, you can use either the non-padded handle on top of the case, or attach the included padded shoulder strap. A small metal button is located on either side of the case. A latch on each end of the shoulder strap enables you to easily attach or remove the strap as needed.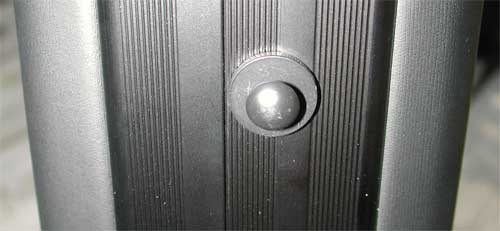 Strap button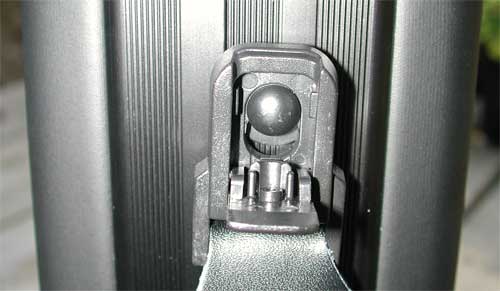 Unlatched strap lock
There are 4 wide plastic feet attached to the bottom of the case. These feet keep the case from falling over when you place it on a flat surface.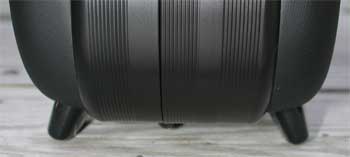 As with everything in life, there are a few trade offs… While Laptop Armor cases are extremely protective and great looking, they are also heavy and hard. The leatherette case I reviewed was 4lbs 2oz. empty, while the silver aluminum was 5lbs. When I loaded up the leatherette with my 15" Powerbook, power adapter, a couple magazines, iPod, and my billfold, the weight went up to hefty 11lbs 8oz. Ouch!
There's also the fact these cases do not have a soft exterior. Trying to walk really fast or even running with this case while it is on your shoulder may knock you around a bit as it bangs against your side or back. So, for me personally, I wouldn't be likely to use this as a travel case. It really doesn't have enough space to hold all my gear and I wouldn't want to run with it through an airport. However, I would use one of these cases as an everyday laptop case when I had just a short walk into the office. I know it would protect my laptop while also catching the eye of people passing by. What more could you want in a laptop case?
Price: $99.95 – $179.95 depending on style/size
Pros:

Great style
Great protection

Room for magazines, papers and 'stuff'
Cons:
Not soft
Heavy
 
Product Information
Price:
99.95
Manufacturer:
Matias Corporation
Pros:

Great style
Great protection
Room for magazines, papers and 'stuff'

Cons: